Loom Knit Herringbone Stitch
Cast-on, stitch and Bind-off
I will demonstrate and walk you through the herringbone stitch on a loom. Then we will talk about 2 cast-ons you can use as well as a better bind off. If using it for a hat, you could still use a drawstring or gather bind off but this is for a flat panel in the video.
Cast-on:
I recommend using a castor that will cast on complete stitch to work counterclockwise or from right to left.  Meaning when you finish casting on the working yarn will be on the right of the loom.  In this video I demonstrate the double e-wrap cast-on and the cable cast on.  A long tail cast on would work nicely, too.
Herringbone Stitch:
See notes below for main stitch written out.  It is a 2 row stitch pattern repeat.  Knit from right to left for row 1 using the u-knit stitch with the combination below. Then work row 2 using e-wrap which is the loom version of "t/l" or through back loop.
Bind-off:
Complete row 2. I recommend using a crochet hook to work from opposite the working yarn end (right side of loom). Pick up the first 2 stitches.  Lift the back loop over the front.  Pick up next stitch and repeat. When 1 loop left, cut working yarn and pull through.  Weave in tails toward the back of the knitting.
Tips:
-knit below is a u-wrap stitch
-tbl is through the back loop which is an e-wrap stitch so k2tog t/l is an EW2tog if you need to think of it that way.
-when knitting two together it will be easier to knit the first stitch, move it to the second and work the bottom loop over the top.
Here is the Herringbone Stitch pattern written out:
Row 1: *k2tog, slip on the first stitch (move knit stitch back 1 peg, pick up previous stitch and place on empty peg*, repeat between *,* until 1 remains, knit 1
Row 2: *k2tog tbl, slip on the first stitch (as previous row)*, repeat between *,* until 1 remains, knit 1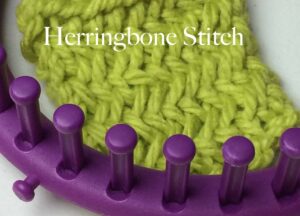 A needle version will be out very soon!
Thanks for watching. Be sure to Like, comment and subscribe.
Happy Looming!!
Kristen at GoodKnit Kisses