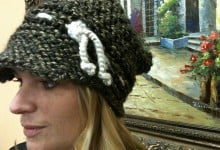 Loom a Hat
Learning to Loom a Hat on a knitting loom is the most basic pattern and you will find it simple, easy and very addictive!
Usually people start with a hat or scarf when beginning to loom knit. This video is for a baby hat but can easily adjust to any size using any circular loom or yarn. On the larger gauge plastic looms, found in most craft stores, use our Loom Knit Hat Chart. For more advanced sizing when you get at a more comfortable level: Use our HAT CHART to find the right length to knit. To get the right gauge test the loom with the yarn you want to use and make a swatch. Doing some simple math after measuring your swatch can help you calculate how may pegs to use. Be sure to look at the head circumference and use with our swatch calculator to get the perfect fit. http://youtu.be/9DR5mN19Mbc
Learn to Loom a Hat with a decreased crown.  A decreased crown method allows for a "less bulky" top of the hat. (Update Feb 2015!!—>) Here is a NEW EASY Method!! Modified Gathered Bind Off https://www.goodknitkisses.com/modified-gathered-bind/
Common Suggested brims style are:
Brimless (sometimes called rolled; can be confused with hemmed)
Hemmed (cast on edge is brought back up after brim length is doubled and added back onto needles; continue knitting in the round – also sometimes called rolled but "hemmed" is a more accurate way to describe to discourage confusion.)
Garter (Alternate a full row of Knit followed by a full row of purl.  Repeat until desired brim length is achieved)
Rib or Ribbed (Alternating series of knits and purls evenly throughout row.  For example a 1×1 rib would be knit 1, purl 1 and repeat.  This works on a multiple of 2.  For a multiple of 2 or 4 a 2×2 rib can be achieved; *knit 2, purl 2* and repeat between *,*. Also written as *k2, p2* rep bet *,*. Other rib brims can be made but depends on row stitch count.
OTHER Loom a Hat tutorials:
Banded Beanie
Part 1: Banded Beanie with Decreased Crown
Part 2: Banded Beanie with Decreased Crown
Part 3: Banded Beanie with Decreased Crown
GoodKnitKisses Vlog talk on decrease crowns
Infant Hat Loom Decrease Crown 24 Peg Round Loom Loom a Hat
Youth Hat Loom Decrease Crown 30 or 31 Peg Round Loom or Child beanie Loom a Hat
Adult Hat Loom Decrease Crown 36 Peg Round Loom with CC Loom a hat
PART 1 Decrease Crown 48 Peg Round Purple Knifty Knitter loom sm gauge Adult
PART 2 Transfer 48 peg Decrease Crown to 24 peg Round Knifty Knitter Loom
How to Loom Knit: Visor for Newsboy Hat 48 peg loom Loom a Hat
Loom Knit: Earflaps Part 1 Start Earflaps
Loom Knit: Earflaps Part 2 Join Earflaps to hat
Formulas Ear flaps, Visor Brims & Decreased crowns on knitting loom
Earflap Talk on Knitting Loom: 24 peg blue circle loom Knifty Knitter
Loom Knit Basics: Weave in extra yarn tail
Finish and Weave in drawstring of hat
Loom Knit Hat Brim that doesn't roll Garter Stitch
Loom Knit Stitch Patterns: Garter (k & p)
https://www.youtube.com/playlist?list=PLEA2932AB653044E9
Related Articles