Loom Knit Stitches
I'm often asked, "What's the best stitch for a hat/blanket/dishcloth?"  That's a really hard question to answer because there are so many options. This article will help YOU to look at loom knit stitches and stitch patterns to choose what is best for your project.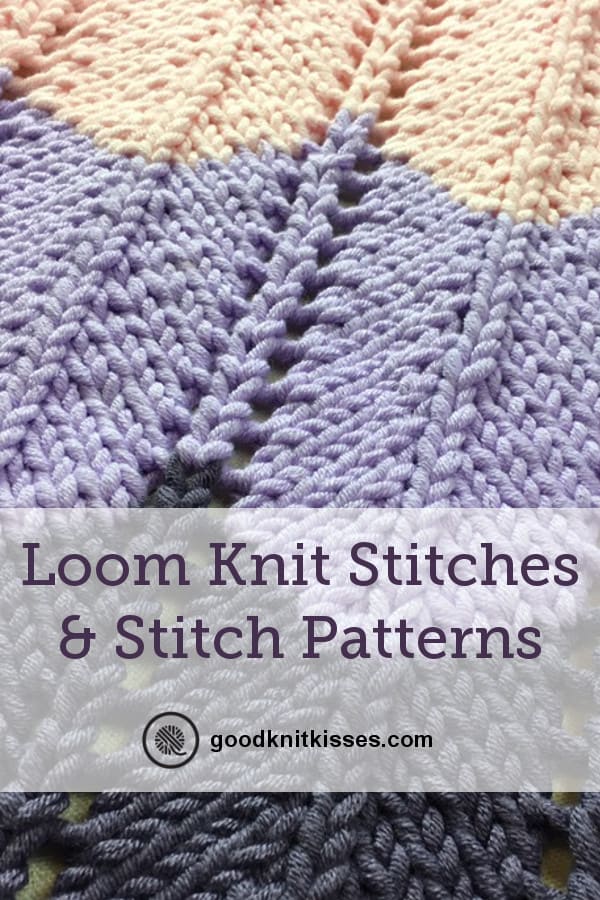 First, we need to look at the difference between a stitch and stitch pattern. A stitch shows you how to work a single element.  For example, the ewrap knit stitch, purl stitch or slipped stitch are individual stitches.  Think of these as the building blocks of your stitch pattern.  The stitch pattern combines stitches in a specific way to change the look of the knit fabric.  Examples of stitch patterns are garter stitch, stockinette, ribbing, etc.
Loom knit stitches have the same names as their needle knit counterparts but we have to work them differently on the loom.  Below you will find a list of loom knit stitches and loom knit stitch patterns with links to a video or article on how a stitch or stitch pattern is made.  Please keep in mind there are times that a stitch or stitch pattern has several names for the same stitch so if you may see the stitch with a different name.  We tried to reference multiple names for these stitches.  This is not meant to cause confusion but to help if you find a pattern and you are not familiar with the stitch.  Just visit our site to search for that stitch name and see if we have referenced it.  If you would like to contribute to knitting up samples and working through stitch patterns for our resources library please click the contact page or up top.
We hope to continue to add to this library and welcome guest articles from experienced loom knitters who would like to collectively short and keep expanding our horizons!
Thanks!
Loom Knit Stitches
Loom Knit: Easy Bobble or Popcorn Stitch.
Loom Knit: P2tog or Purl 2 Together and YO or Yarn Over.
Loom Knit Stitch: Double Knit 8 or EW or Twisted Knit.
How to Loom Knit: Knit (k) Stitch.
How to Loom Knit: Beginner E wrap (ew) Stitch now with CC.
How to Loom Knit: Purl (p) Stitch.
Loom Knitting Single Rib Stitch.
Loom Knitting Twisted Knit Stitch.
Loom Knitting: Stitches side by side, Rib Stitches & Twisted Knit Stitch.
Loom Knit Stitch Patterns
Loom Knitting: Decrease Figure 8 Stitch.
Loom Knitting: Increase Figure 8 Stitch.
Loom Knitting: Figure 8, Fishnet or Diamond Lace Stitch.
Loom Knit Hat Brim that doesn't roll Garter Stitch.
Loom Knit: Seed Stitch.
Loom Knit: Moss Stitch.
Loom Knit Stitches: Crossed Stockinette (ew & k).
Loom Knit Stitch Patterns: Garter (k & p).
How to Loom Knit Triple Knit Stitch.