Loom References: Loom Video Playlists
Bookmark and use our Loom Knit Video Playlists to help you find loom knitting videos easier. Better yet build your own list to keep handy on your YouTube login.
Loom Stitches
http://www.youtube.com/playlist?list=PL86D25FB98D3A82F8.
Casting On
http://www.youtube.com/playlist?list=PL8AC812E6EF5AB0A5.
Bind off
http://www.youtube.com/playlist?list=PLD6FA3B397EB43BC1.
Videos on long loom
http://www.youtube.com/playlist?list=PLA914B9AA56C1629A
.
Important loom techniques when questions arise
http://www.youtube.com/playlist?list=PL5FAAD2A7EEBD31CF.
Visiting my main channel you'll see more Loom Video Playlists. These should give plenty of options to help.
Http://www.youtube.com/goodknitkisses
Be sure to subscribe for my new videos to come to your email inbox as well 🙂 I make sure everything is appropriate for General Audiences.
For after help from me or many of my loomy helpers and friends, please join our loom knit club of Facebook! People are active 24/7
Http://www.facebook.com/groups/LoomKnitClub
I hope that helps you!! P.S. Here is a more complete Beginner Loom Video Playlists in order for what I think might be helpful for the absolute beginner. https://www.youtube.com/playlist?list=PLspNyS4jO47zxkKIUv-bEJeaj0lqqB2J4.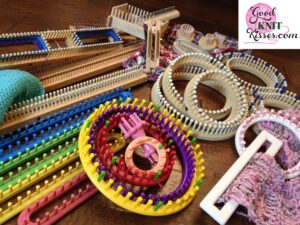 A tip from Kristen Mangus: Video playlists are quite handy and I encourage you to subscribe to YouTube.  If you have a gmail account you can have a YouTube account you just need to activate.  You can also choose to keep who you subscribe to and personal information private of course.  But it is handy to log into YouTube and be able to see from any of your devises which videos you have viewed recently, saved as a favorite and even made or favorited playlists.  Many crafters will make playlists of music videos to play in the background while they knit or crochet.  Give it a try!