Sock Math is necessary to have a nice fitted sock.
Use this sock chart to help determine average measurements for socks for: Premie, Newborn, Infant, Baby, Toddler, Child, Teen, Woman, Man, Adult.  Then knit up a swatch with the yarn you want to use in the main stitch pattern.
Be sure to use the needles or loom intended. Knit a 3×3 swatch and measure 2″ across.  Divide that number by two for your "gauge". For help on measuring a swatch see our article. For Loom Gauge to Needle Gauge see this article (hint if converting from needle pattern you'll need this).
PIN IT!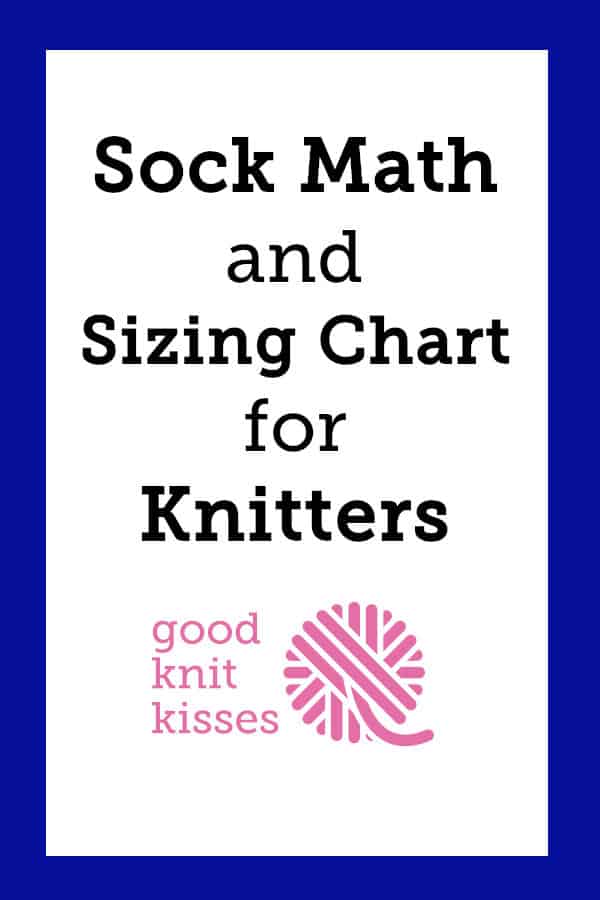 Sock Math for knitters:
1. Measure around ball of your foot (at widest part near toes) with foot resting on it's weight.
2. Multiply the measurement you took in Step 1 by your stitch gauge (# of stitches in 1″). (Gauge is determined by measuring a swatch made with intended yarn and tools).
3. Multiply this number by .90.  This step subtracts 10% to create negative ease.  Negative ease is what allows the sock the stretch over your foot giving a fitted sock.
4. Round the result from Step 3 to the nearest even whole number.  The result is the number of stitches to cast on.
Example for size 12 women's feet:
1. Measurement of ball of foot: 9.5″
2. Ball of foot times stitch gauge:  9.5″ x 7 = 66.5
3. Result from #2 with negative ease adjustment: 66.5 x .90 = 59.85
4. Round stitches to nearest EVEN whole number: 60 pegs cast on
(Click image to see larger image.)
**If you need to determine cast-on stitches or rows to knit please use our calculator in our app,  or the following formula. For further instructions refer to our blog on calculating from a swatch.
Cast-On Formula used:
Swatch is S stitches and measures W wide. The stitches per inch is S/W and desired width is dW. The Stitches to Cast-On = (dW x S/W).
Now for the Rows Calculations:
Measure the swatch number of rows and enter the number of rows and the measured length. Then enter the desired length of project and press 'Rows needed are->'.
Formula for rows needed = (dL x R/L) where dL is desired length, R is number of measured rows and L is length measured.**