Inside: Learn about Kristen Mangus of GoodKnit Kisses. Includes history, inspiration and the mission and vision of GKK.
Hi I'm Kristen Mangus with GoodKnit Kisses. Thanks for stopping by!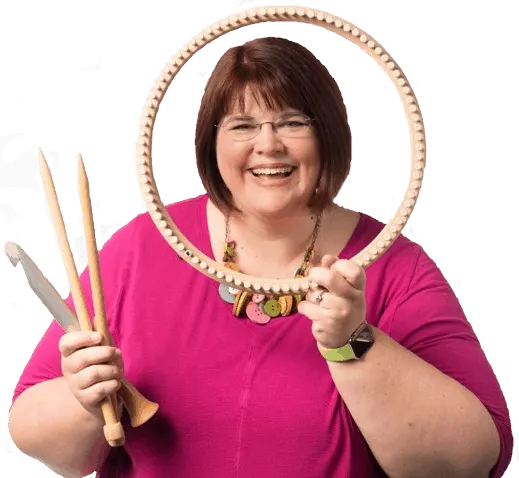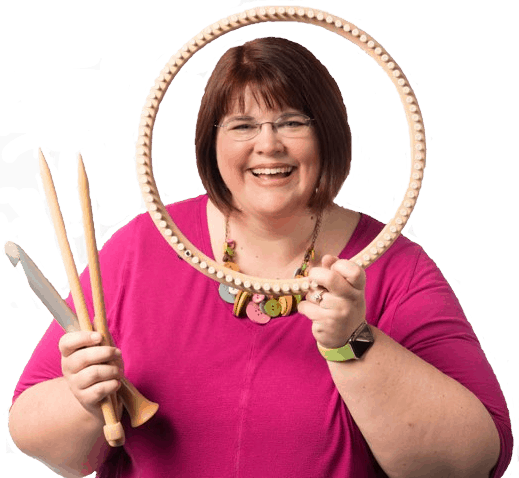 I am a designer who loves to loom knit, needle knit and crochet. My passion is teaching others to craft through tutorial videos on YouTube and my Facebook live broadcasts and group. My motto is, "Stitch your love and love your stitches." I want you to be able to put your love into each project by giving you the skills you need to succeed in your craft. I design each pattern and tutorial to teach you not only what to do, but why so you can increase your crafting knowledge. I live in the beautiful state of Texas with my husband, our three kids and two hyper pups.
Please use and share this site as a FREE resource for your crafting community.
To purchase GoodKnitKisses patterns, please visit my Etsy shop or look for my patterns on Ravelry.com. Your purchases help support me and allow me to continue to provide FREE video tutorials. Thank you!
Have fun and Happy Crafting!
---
Mission Statement:
To inspire, encourage and empower people through education and design.
Vision Statement:
Our vision is to leave an inspired crafting world for future
generations that continues to teach and reach others.
---
About Kristen Mangus
Kristen's History:
Kristen Mangus studied Interior Design at Texas Christian University which was FIDER accredited. Graduating in 1999 with a Bachelors of Science degree in Interior Design Kristen also received a minor in Lighting for Visual Presentation. Studies in Lighting required extra training in school and with professionals in retail design, stage & theatre, Dance/ Ballet and hospitality (hotels and art display). Kristen is highly skilled in space planning, forecasting for future challenges and tackling now as well as problem solving for current challenges. Kristen sat for her NCIDQ examination and passed in 2001 and has been a registered Interior Designer with the State of Texas since 2002.
In college Kristen had picked up a job at MJDesigns (was after the split from Michaels MJ Designs; they became two different companies). In a bit of trivia, Kristen was on their sand volleyball team and help win the company a championship trophy! She worked in the floral department churning out custom bows for clients from the hair-bow, to packages to huge car bows! This was fun for her as she even crafted in high school making mums for Homecoming for extra cash with her mom as well as hair bows and jewelry. In junior high and high school Kristen called her crafting business Kristen's Krafts!
At MJDesigns she learned more about the crafts she used to enjoy as a kid and designing floral arrangements as well. She went on to pick up several side crafting gigs after leaving MJDesigns including Wedding floral designs and planning. She called that business Angelbearries Floral Designs and alway had that entrepreneurial spirit. Kristen had also learned as a child to crochet a bit from her great Aunt and self-taught how to finger knit, latch hook and plastic canvas. However she didn't pick up any other yarn skills until married with children.
Inspiration to Knit:
When experiencing the pains of postpartum depression after her third child in 2010, Kristen decided to pick up knitting and crochet books and learn as a form of crafting therapy. The books came in and she studied them feeling a bit overwhelmed. Onward then, to a late night trip to Walmart, Kristen happened upon a set of Knifty Knitter looms and thought…this looks easier! Having carpel tunnel at the time meant the looms should be less strenuous and they were! She found the directions were not as great as they should be and was disappointed with the designs. "Why can't loom patterns look like needle versions?!", she thought. And so her journey started from there. In 2011 Kristen Mangus started the YouTube channel for GoodKnit Kisses (known as GoodKnitKisses on YT). It has been quite a journey so far and through having 3 kids, a full time career, then YouTube at night it finally became time to jump all the way in.
In late August 2014 Kristen Mangus left her job and took the leap of staying home with her kids and working on GoodKnit Kisses YouTube full time.
It's been a wonderful ride since that time and GoodKnit Kisses has grown by leaps and bounds. Over the years Kristen has filmed hundreds of video tutorials, designed dozens of patterns for loom knitters, needle knitters and crocheters, been featured on Knit & Crochet Now, HSN and written several publications about loom knitting.
We hope you join Kristen and GoodKnit Kisses as we continue to help you stitch your love and love your stitches!