DIY Water Balloons | Loom Knit and Crochet
by Joann Gay
Splish! Splash! Splat! Who doesn't love a good water balloon fight? We all do! What we don't like is the mess it leaves in the yard. What's the answer? DIY Water Balloons!
Here's just some of the multitude of reasons these are better than traditional balloons:
Reuseable
Economical
No mess
Easy to "fill"
Safe for young children, pets and wildlife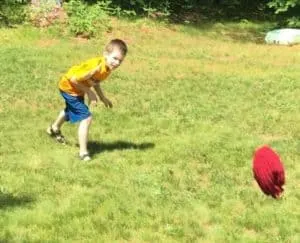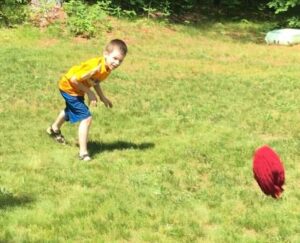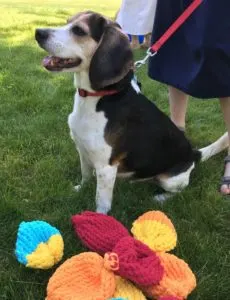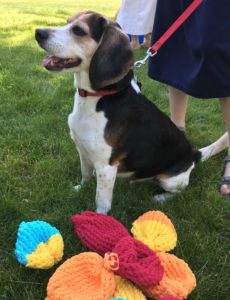 Someone recently shared some pictures in the GoodKnit Kisses Facebook group showing the most creative summer pattern: crochet water balloons! This original design was created by Megan Meyer of Left in Knots and it is pure genius. If you're a crocheter you are going to love this pattern. It is fast and easy to work up and kids of all ages love them. Here's the link to the crochet pattern on Left in Knots.
My sister was visiting last weekend and we were talking about how fun it would be to make some for our kids. While I still crochet occasionally, my true love is loom knitting. We were watching Kristen's live Facebook broadcast on Monday and the water balloons came up. One of the viewers mentioned wanting a loom knit pattern for the balloons. Why didn't I think of that? I accepted the challenge!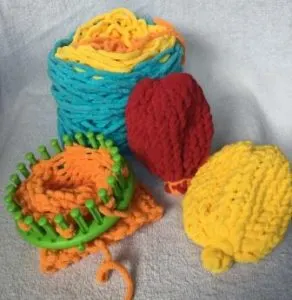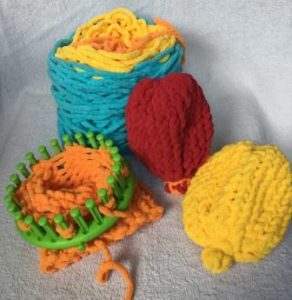 Loom Knit DIY Water Balloon Pattern
Loom: 24-peg baby hat loom
Yarn: Bernat Blanket Stripes (or any Bernat Blanket Yarn) – 1 skein (220 yds.) makes 12 balloons
Supplies: loom hook, tapestry needle (for weaving in ends)
Abbreviations:
EK – Ewrap knit
SK – Skip peg with working yarn behind the peg.
Instructions:
Cast on 24 pegs in the round using the Modified Drawstring Cast On. [GoodKnit Kisses video for cast on]
Rounds 1-9: EK all
[Now we will begin to decrease the balloon. We'll be working in groups of 6 pegs. Think of your loom divided into four parts of six pegs each. I'll be referring to all pegs as Pegs 1-6. As we move stitches to decrease we will be creating empty pegs. Do NOT wrap these pegs. They must remain empty. As we continue to work the rounds all empty pegs are skipped and the working yarn is carried behind the pegs.]
Round 10: *Move stitch from Peg 1 to Peg 2. Ewrap Peg 2 and knit both loops over. EK 4* Repeat from * to * 3 more times [20 active stitches and 4 empty pegs remaining]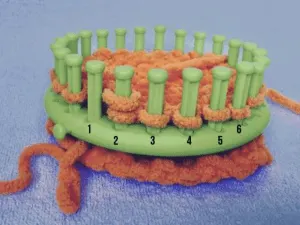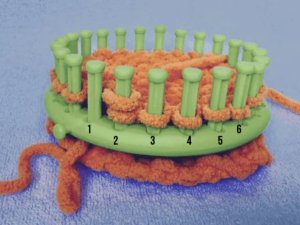 Rounds 11-12: *SK1, EK5* Repeat from * to * 3 more times
Round 13: *SK1, EK2, Move stitch from Peg 4 to Peg 5. Ewrap Peg 5 and knit both loops over. EK1* Repeat from * to * 3 more times [16 active stitches and 8 empty pegs remaining]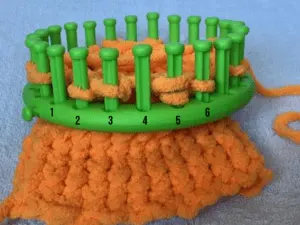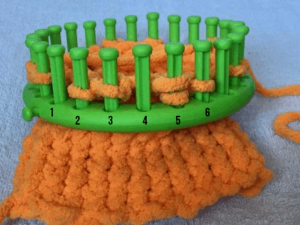 Round 14: *SK1, EK2, SK1, EK2* Repeat from * to * 3 more times.
Round 15: *SK1, Move stitch from Peg 2 to Peg 3. Ewrap Peg 3 and knit both loops over. SK1, Move stitch from Peg 5 to Peg 6. Ewrap Peg 6 and knit both loops over. Repeat from * to * 3 more times. [8 active stitches and 16 empty pegs remaining]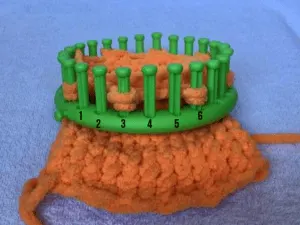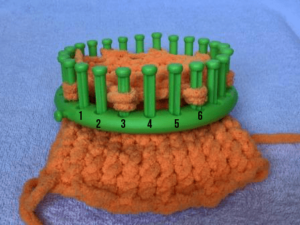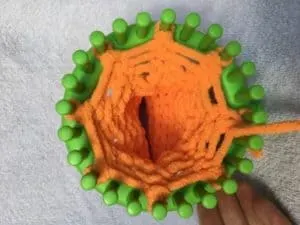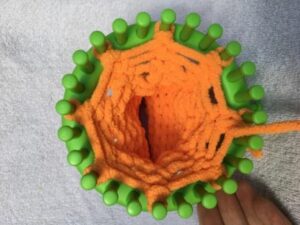 Finishing:
Next cut working yarn leaving a 12″ tail. Drawstring bind off the remaining 8 pegs by placing the yarn above the stitch and pulling it all the way through (as if to knit) then pull the stitch off the peg. Move on to the next peg and repeat. Once all pegs are bound off. Finally pull the end closed and wrap the yarn tail three times around about 3/4″ above the bottom. (See picture below show with contrasting yarn.)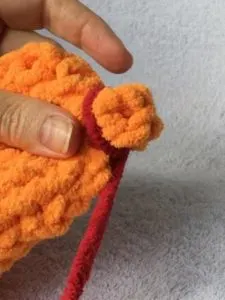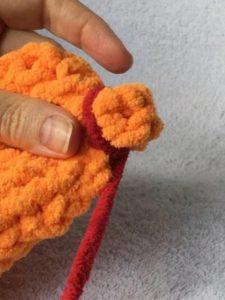 Next let's cinch up the top and finish your DIY Water Balloons. Be careful when closing the top since the blanket yarn can break if it pull it too hard. (I figured that out the hard way!) The hole at the top doesn't need to close tightly for them to have a perfect balloon shape.
Fill them up by dunking them in a bucket of water. Have some cool, summer fun with the whole family! Wring out and lay flat to dry so you can use them all summer long.
PIN IT!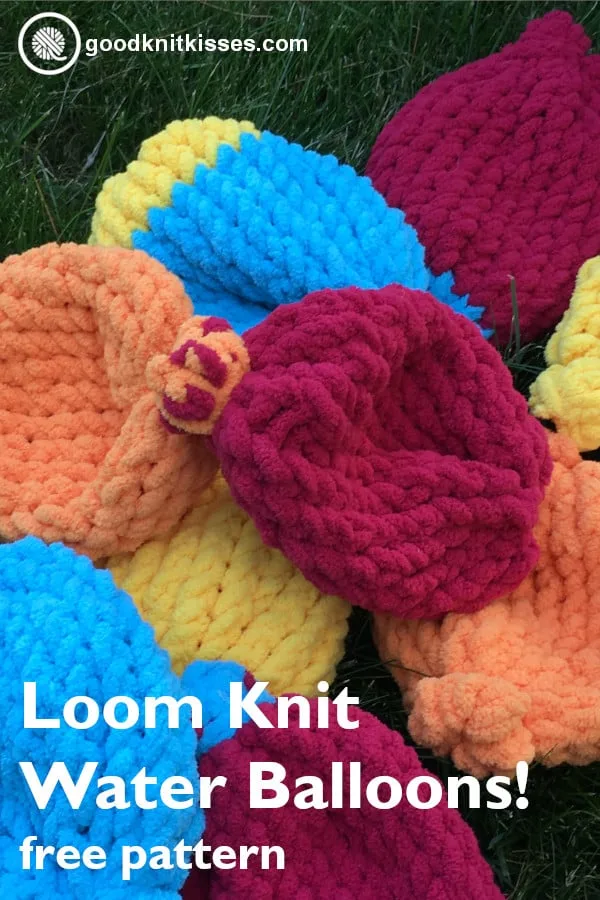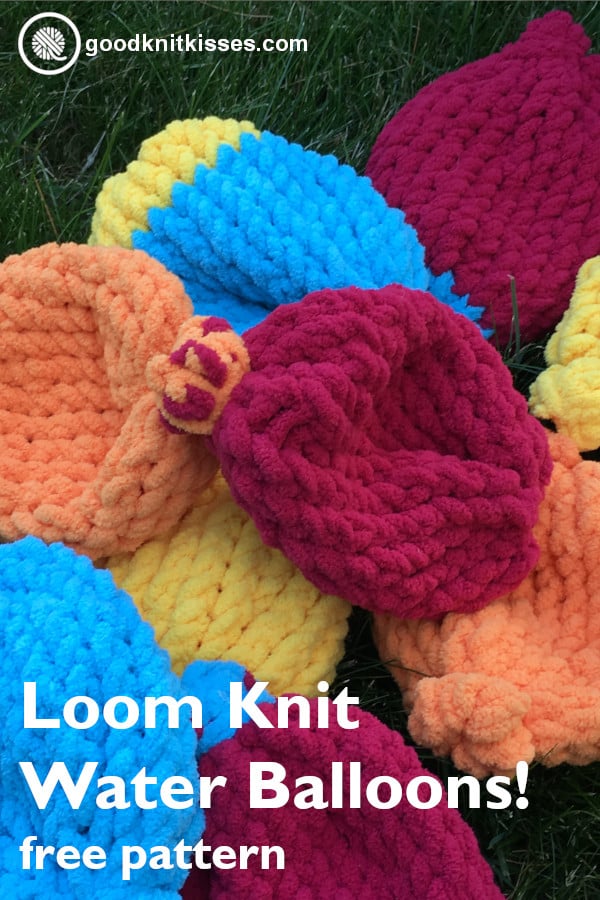 Now go make a SPLASH with your DIY Water Balloons!!