Handmade Wool Dryer Balls
Broadcast by: Kristen Mangus, Guest Speaker: Carol Blakeley
Why use handmade wool dryer balls?
Reduce drying time in half
Help reduce static
Saves you money on your energy bill
Chemical-free
Good for the environment
Clothes last longer
These will last for at least 6 months to a year depending on the amount of laundry you do.
There are many ways to make wool dryer balls out there; this is my version that works for me it is fast & easy.
Notions: scissors, large needle, pantyhose or knee highs (get these from the dollar store)
Yarn: 2 skeins 100% wool brand will work as long as it is 100%, I use Patons Classic Wool 209 yards. You should be able to get 3 balls from one skein.
Notes: I find 6 or more wool dryer balls to most effective.
Instructions:
Step 1: Wind a bit of wool around your fingers. Remove from fingers start wrapping the yarn around this piece. Continue wrapping the yarn around and forming ball until you have used 1/3 of the yarn. Cut yarn leaving a 3 or 4 inch tail. With the tail threaded into the needle start weaving in the end. Push the needle through one end of the ball to the other end repeat 3 or 4 times or until the tail is completely hidden. Optional: to make them more colorful wrap a different color wool around the ball 5 or 6 times. Repeat weaving in the tail.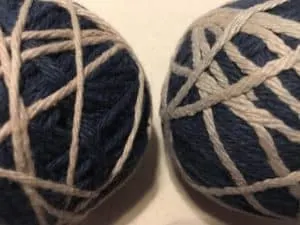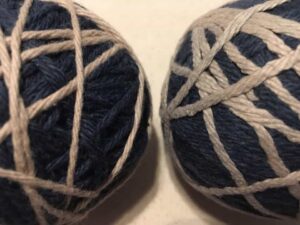 Step 2: Put One wool dryer ball into the pantyhose or knee high at a time (knee high should hold 2 or 3 balls). Tie a knot after each ball. If you don't tie the knot the balls will felt together and you will have a mess worse than any yarn barf you have ever seen. Trust me I've been there.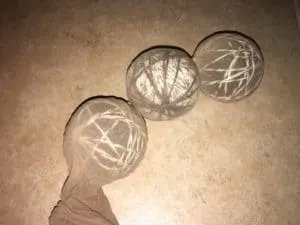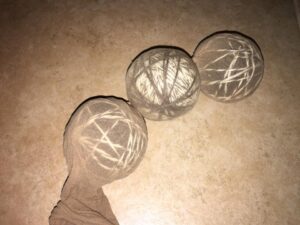 Step 3: Now it is time for the felting process. Put the pantyhose covered balls into your washer the on hottest setting to felt them faster. If you want them felted more I put them through another hot water wash cycle or two. You do not need to add detergent.
Note:After the wash cycle the pantyhose/knee highs will be tangled together that's okay because the dryer balls will be removed from the pantyhose.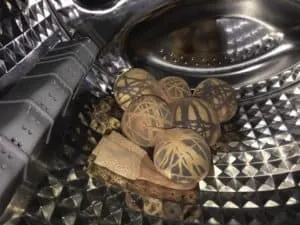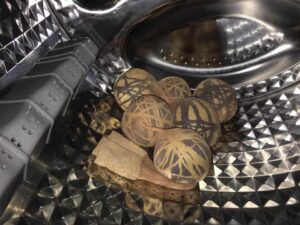 Step 4: Put them in the dryer on a hot cycle. Repeat if the dryer balls still feel damp or wet. Once drying is complete remove each ball from the pantyhose. Cut after the knot the pantyhose may be stuck to the dryer ball but just peel it off.
That's it now you have wool dryer balls! If you want scented ball just add 6 or 7 drops of your favorite essential oil to the dryer ball.
Options:
Dryer balls can be made from 100% cotton using the same process. Just note cotton will not felt like 100% wool. Cotton absorbs moisture so they will reduce drying time.
Recycle an old 100% wool sweater.
Crochet a ball and stuff with cotton yarn.
Watch the full broadcast below and follow along while you make your own handmade wool dryer balls: