Ice Cream Cone Cocoon – Loom Knit
Designed by: Jeanie Perez
Ice Cream Cone Cocoon. Ice Cream Cone Hat…with a cherry on top!
Ice Cream, Ice Cream we all scream for ice cream! Every time I would look at Bernat baby blanket yarn in peachy it reminded me of sherbert or ice cream. I needed to make a baby cocoon and thought how much fun it would be in a ice cream cone shape.
Just think of the fun flavors you can make the Ice Cream Cone Cocoon and Hat set using Bernat Baby Blanket yarn.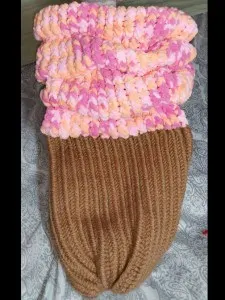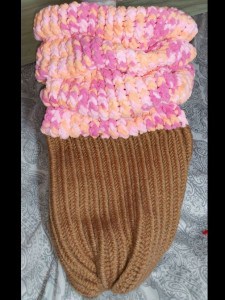 Materials:
Looms:
41 peg Knifty Knitter yellow round loom (or 40/41 similar extra garge guage brand as Boye, Loops & Thread, etc) – Ice Cream Cone cocoon
31 peg Knifty Knitter red round loom – Ice Cream hat
Notions:
loom tool
scissors
Clover medium pom pom maker (or make by hand or other means).
Yarn:
ICE CREAM FLOVOR COLOR – Bernat Baby Blanket – Peachy was used for the ice cream section of the cocoon and the hat.
CONE COLOR (BROWN) – Stitch Studio by Nicole – Camelback yarn was used for the cone section of he cocoon. However you may use a yarn of your choice.
CHERRY ACCENT (RED) – Red Heart Super Saver – Red was used for the pom pom.
Stitches:
ew = ewrap
Instructions:
Knit in the round for both cone and hat. cocoon is knit from opening of cocoon towards the end of the "sack". The hat is knit botton to crown, following same techniques as the Ice Cream Cone Cocoon Brim and Body pattern.
Ice Cream Cone Cocoon Brim:
Using Bernat Baby Blanket E-wrap cast on all stitches. This is the color for your ice cream flavor. (Kristin's design tip. If you want Mint Chocoloate chip knit all in mint green and hand sew in the chocolate chips. You could also tie in a knot from the inside and leave the tails in the cocoon for a quick make. Do not leave long strands connecting so they do not get caught on babies hands or feet.)
Ice Cream Cone Cocoon Body:
Rows 1 – 8: E-wrap & knit over. Place cast on row back on pegs & knit over.
Rows 9 – 30: E-wrap & knit over see Create ripple before you start to knit this section.
Create Ripple (inside rows 9-30): Randomly lift a strand of yarn from the inside of the body and place back on peg; continue to do this until all pegs for the length of ripple you want have 2 loops yarn over bottom loop. Work these two loops as one when knitting off next row. Create ripples in different places and rows as you desire.
Ice Cream Cone Cocoon Shell:
Attach the yarn for the cone (brown).
Rows 31+: using the double knit stitch continue knitting in the round until the cocoon measures 23 inches from the top of the ice cream brim to the bottom of the cone.
Finish:
Bind off using gathered bind off (Kristen's tip: or modified gathered bind-ff for smoother finish VIDEO LINK)
Weave in ends.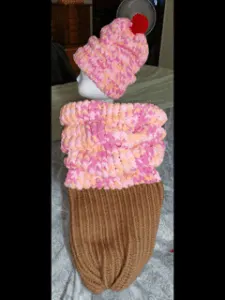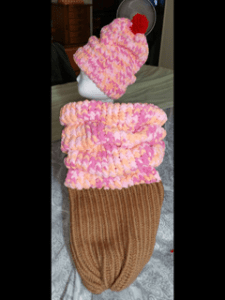 Ice Cream Cone HAT:
For the hat using the 31 peg loom follow the same pattern for the Ice Cream Cone Cocoon Brim & Body in the same ice cream flavor to match.
Follow rows 1-30 until desired length reached. Use gathered bind off. Make 1 red cherry pom pom and tie onto the crown to complete the look.
Editors note: Thank you so much to Jeanie for sharing her pattern with our readers. Be sure to give some love to Jeanie! I hope you enjoy your Ice Cream Cone Cocoon and Hat. I can't test and video all patterns but hope you enjoy seeing new designs and designers. Please comment or leave a heart below! -Kristen Mangus (A special thank you to our editor Carol Lilydot!!)