Rainbow Loom LoomiLoom is the latest creation from the makers of Rainbow Loom. Create hook only designs with the double ended crochet hook!
Loomigurumi patterns are really fun and cute…now you can start your first ones with the easy LoomiLoom to make your magic ring out of rubber bands! Make a crochet-like amagurumi out of rubber bands instead of yarn or even take your rainbow loom jewelry to a whole new level.
Rainbow Loom LoomiLoom
What comes in your kit:
One double ended hook.
Two rubber grips that easily come on and off.
Three Rainbow Loom LoomiLooms
Intruction and pattern book.
The clamshell package easily holds the tools you need but does not include bands. The bands can be ordered separate. The intruction book is very clear with full color photos and has step by step instructions. The diagrams included are also clear. They show different rows in different colors and also if a stitch increases or decreases.
Also included in the book are the many YouTube and other indie designers with their channel names and thumbnails. Isn't that handy?!
The three Rainbow Loom LoomiLooms make three different band size magic rings for 4, 5, or 6 stitches of bands in a circle. Use the pattern in the book to get you started on making a ball and go on to bigger projects. There is also a cute flower pattern to be made as well in the book. The techniques included, along with the hook and loomilooms, are a great jumping point to creating your own things quickly.
A special thank you to Annie's Attic for supplying the Rainbow Loom LoomiLoom and bands. Annie's also sponsored the step-by-step video tutorial below. To get your Rainbow Loom LoomiLoom click the sponsored link. Thanks for checking it out!
https://www.anniescatalog.com/detail.html?prod_id=130944&cat_id=24
If you'd like to see more videos on the Rainbow Loom LoomiLoom patterns or ideas please let us know!
TUTORIAL VIDEO! —> https://youtu.be/GXXwSOHrAxU
Sponsored post by Annie's Attic. Product in link features Annie's stock while supplies last. Get yours as soon as you can! If I find new deals for you from Annie's I'll be sure to update the link. Thanks for reading and subscribing! -Kristen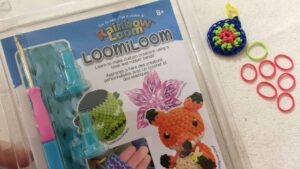 https://www.anniescatalog.com/detail.html?prod_id=130944&cat_id=24