Spring Vine Infinity Scarf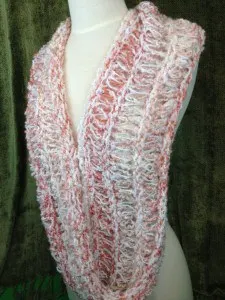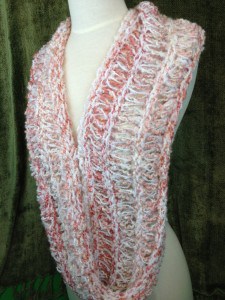 Spring Vine Infinity Scarf
(Originally Published in Loom Knitters Circle Magazine Spring 2012 Issue.)
The spring vine infinity scarf was created as a spring birthday gift for my mother-in-law. Spring is her favorite time of the year. Newly rooted vines will start to stretch up and eventually burst forth a utopia of blossoms. I wanted to make her something that reminded her of spring vines and the coming textures, of all the new growth to come. Choosing a pink that gently changes in color like the season, an infinity scarf to symbolize the promise, the renewal, she adored it! The scarf when worn singly around the neck hangs low to mimic a hammock in the breeze, double up around the neck for a cool crisp night before summer is upon us.
Add this project to your Ravelry cue!
http://www.ravelry.com/patterns/library/spring-vine-infinity-scarf
Materials Knitting Loom:
Large Gauge Loom with at least 88 pegs. Martha Stewart knitting loom was used in sample. Use the two half circle (28 peg holes) pieces, two longest 36 peg hole pieces, and four of the 12 peg hole pieces. Insert large pink pegs into every other hole 88 pegs total. (Could add two 6-peg units for total of 94 pink pegs.)
Yarn:
185 yards each of Bulky 5 yarn; two skeins. Bernat Baby Boucle in White & Lion Brand Homespun in Parfait were used in sample. Two strands held as one.
Notions:
Knitting tool, scissors Gauge: Gauge is not important on this item. 8 stitches on a 4 x 4 inches swatch, 1 drop stitch row is approximately 2 inches long alone.
Abbreviations:
co:cast on
ew: e-wrap
p: purl
yo: yarn over
Directions:
Crochet CO 88, join to work in the round
Row 1: ew
Row 2: p Drop stitch section pattern:
*Row 3: ew & yo 3 times on same peg, repeat on all pegs
Row 4: p first stitch & take off all yarn overs, repeat
Row 5: ew
Row 6: p* Repeat 3 times between * to *
Row 15: ew
Row 16: p
Row 17: ew
Bind off:
Use the loose slip knot bind off or stretchy bind off.
Cut tail & weave in ends.
For Visual/Auditory learners please watch the video below for a Loom Along Tutorial.
Wednesday, June 27, 2012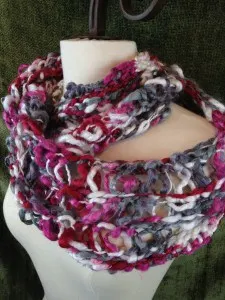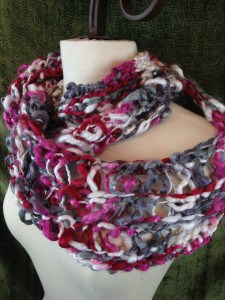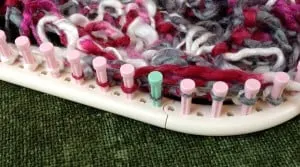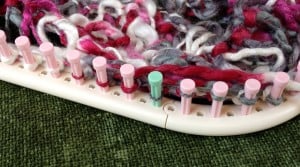 Spring Vine Infinity Scarf by Kristen Mangus – Originally published June 27, 2012