Trellis and Tassels Knit Afghan
This blanket is both cozy and stylish. Learn how to knit the Trellis & Tassels Knit Afghan, featured in the February 2017 Lookbook from Yarnspirations. Thanks to Yarnspirations.com for sponsoring this tutorial and providing the pattern and yarn.
The trellis stitch makes a beautiful afghan. Even if you just did that you'd have a perfect cuddle blanket for watching a movie on a chilly winter evening. But you'll seriously take it to the next level when you add the contrast color on top with a slipped stitch technique and mega tassels for a style that really turns heads!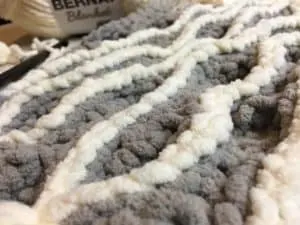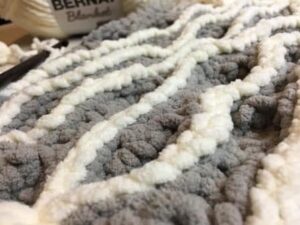 Use this technique for other items as well! How about some slipped stitch stripes down your scarf? Or just a couple for a pop of colorful detail on a hat. This technique can be used anywhere your imagination takes you.
This complete KAL (Knit Along) tutorial takes you all the way through the project from cast on to bind off. I even teach you how to add the tassels and work a slip stitch stripe on the front of your afghan.
Let's knit the Trellis and Tassels Knit Afghan together!
Pattern
Trellis and Tassels Knit Blanket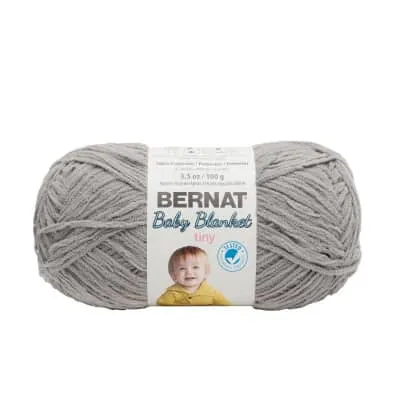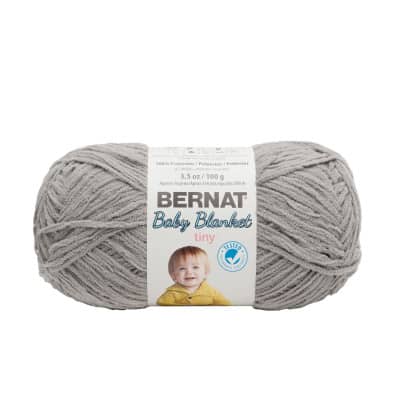 Yarn
Bernat® Blanket™ (10.5 oz/300 g; 220 yds/201 m)
Contrast MC Pale Grey (10046) 5 balls
Contrast A Vintage White (10006) 2 balls
Supplies
Needles US 11 (8 mm)
Hook US L (8mm)
Skill Level
Intermediate
Size
Approx 52 x 62″ [132 x 157.5 cm].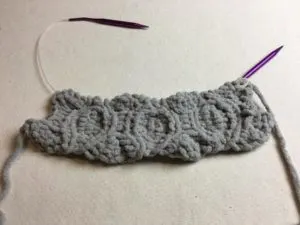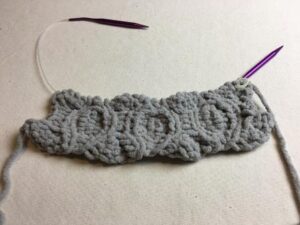 Skills demonstrated in tutorial
Cast on – Backwards Loop (Thumb cast on)
Knit stitch
Purl Stitch
Kfbfbf in same stitch (Inc1to4)
K5tog
Reading a pattern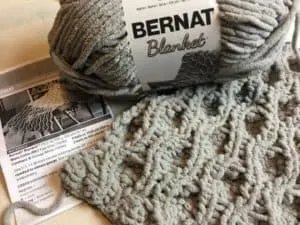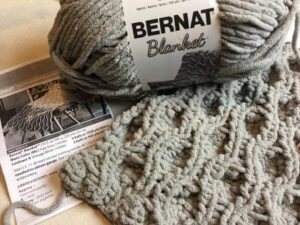 My video tutorial walks you through the entire pattern from start to finish.
If you need videos on basic stitches (double ewrap cast-on, knit, purl & bind-off) or other techniques, please check out my beginner tutorials on GoodKnit Kisses YouTube Beginner Loom Knit playlist.
This blog and video are sponsored by Yarnspirations and may contain affiliate links.