2017 Bernat Blanket Stitch Along Clue 1
I can't believe the day has finally arrived! I'm so excited that we can get started with the 2017 Bernat Blanket Stitch Along Clue 1 today. Do you have any idea how hard it is to see those squishy soft skeins of yarn in my craft room day after day and know I have to wait to use it? What am I talking about? OF COURSE, you understand. You've been waiting too. Click here to get Clue #1 from Joann.com!
Wait no more! We are off on our journey of discovery together. Each week will reveal a new clue and you'll find your knitting skill growing week by week. This whole project is easy and you'll find that each week will give enough practice with the new stitch patterns to allow you to master the skill without having time to get bored. Let's get started!
2017 Stitch Along Supplies: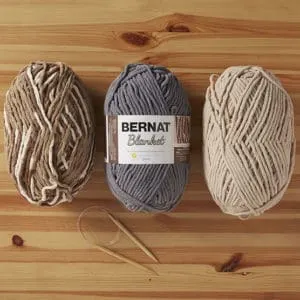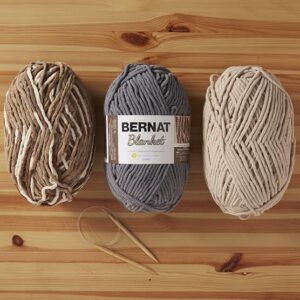 Bernat Blanket Yarn (10.5 oz/300 g; 220 yds/201 m)
Contrast A Dark Grey 3 balls or 540 yds/492 m
Contrast B Sonoma (shown above) / Light Teal (shown in video) 2 ball or 270 yds/246 m
Contrast C Almond 2 balls or 436 yds/397 m
Size U.S. 11 (8 mm) knitting needles or size needed to obtain gauge.
Two (2) size U.S. 11 (8 mm) circular knitting needles 40″ [101.5 cm] long.
(Note: Two circular needles are used to join Strips in Week 5.)
Stitch markers
Tapestry needle for weaving in ends
Measuring tape
Size:
Approx 50″ x 64″ [127 x 162.5 cm].
(Shows size of completed project after six weeks.)
Gauge:
8 sts and 13 rows = 4″ [10 cm] in stocking st.
Skills shown in video:
Longtail cast on
Knit stitch
Purl stitch
Changing colors
Bind off
---
2017 Bernat Blanket Stitch Along Clue 1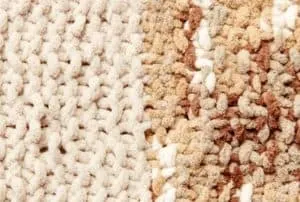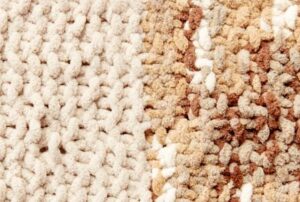 Overview and the G word…
Just like in a "Whodunit?" mystery we open our story meeting the cast of characters. Week 1 uses two stitch patterns that you may already be familiar with: Seed Stitch and Garter Stitch. Both of these stitches create unique textures. The first clue has us make 2 strips of alternating seed and garter blocks. Easy!
I know you're ready to jump right in with two feet and tackle the first clue, but I'm going stop you and bring up the "G" word.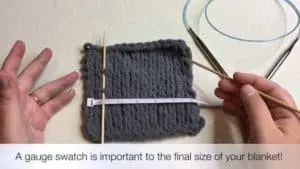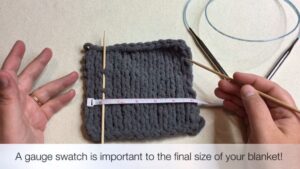 Yup, we're taking about gauge. If you expect your blanket to come out the same size as the pattern states you need to knit a gauge swatch. I'll show you how to measure and what to do to adjust your gauge up or down to get the perfect size. (If you don't care about gauge and ending up with either a baby blanket or area rug are fine with you, you can skip the gauge swatch!)
Finally, the stitches!
Now I'm done holding you back. Let's get knitting! Let's start with my favorite: the longtail cast on. Remember to keep it loose so your cast on edge is the same width as the rest of the panel.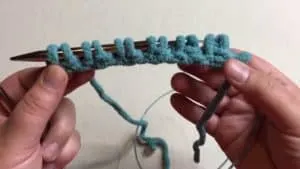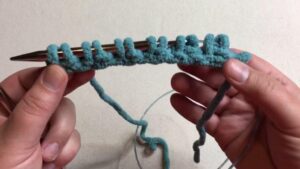 Clue 1 begins with an easy seed stitch block. To knit the seed stitch we'll be alternating knits and purls across the row. I'll show you exactly how to work the knit stitch and purl stitch so if you're a new knitter you'll be able to learn easily. If needed you can slow down the playback speed of the video and see the stitches in slow motion.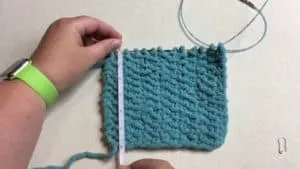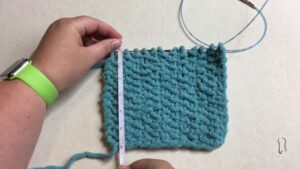 Each block is measured in inches not rows. This allows you to follow the pattern accurately even if your gauge is off by a little bit. Once you have 6 inches knit in seed stitch, I'll show you how to switch colors and start the garter stitch block.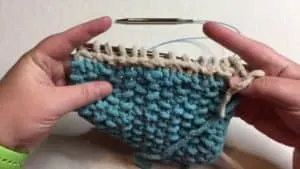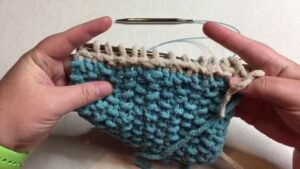 Next it's time for a change of pace. What's more relaxing than just knitting row after row? Well, nothing unless you can get someone to rub your feet while you knit. Garter stitch is simply knitting every row. The danger with the garter blocks is that you could easily get involved watching a real mystery on TV and knit more than 6″ before you know it.
Finshed… sort of.
That's it! Just keep alternating those two blocks until you have 4 seed stitch and 4 garter stitch blocks in your panel. Then I'll show you how to cast off loosely.
I know you feel so good finishing that panel, don't you? Now go back to the beginning and do it all again. If you know any sock knitters this is how they feel when they finish the first sock in a pair. While you can always wear just one mismatched sock, you can't leave a big hole in your blanket so you better get that second panel done.


---
Notes for Loom Knitters:
There's no reason why loom knitters can't join in the fun! After each clue is revealed I'll be posting loom instructions and notes for you here on the blog AND demonstrating the stitches during my live broadcast each Monday at 9 am central time on the GoodKnit Kisses Facebook Page.
LOOM: 5/8″ or 11/16″ gauge loom with at least 48 pegs. The Purple Knifty Knitter loom, CinDWood 5/8″ gauge loom, or Long Knifty Knitter (11/16″) are all great for this project.
Be sure to test your gauge by casting on 12 stitches and knitting every row until your square is about 4″ long. Place a measuring tape across the square and count the number of stitches in 4″. Your goal is to have 8 stitches in 4″. If you have too many stitches you should switch to a larger gauge loom. The project will still work if your gauge is off, but your blanket may be smaller than the pattern states.
Clue #1:
Instructions:
Make 2 strips
Cast on 13 sts with Contrast B.
**Row 1: *K1, P1. Repeat from * to last stitch. K1.
Row 2: *P1, K1. Repeat from * to last stitch. P1.
Repeat these two rows until piece measures 6″ ending after Row 2.
Change to Contrast C.
Row 3: K all
Row 4: P all
Repeat these two rows until piece measures 6″ ending after Row 2.
Change to Contrast B and repeat all instructions from ** three more times.
Basic bind off all sts.
The following video shows the stitches worked on the loom. The video automatically jumps to the section about the Stitch Along at minute 33:37:
Thank you for joining me for the 2017 Bernat Blanket Stitch Along Clue 1!
Be sure to share your progress pictures and color schemes on Joann's Bernat Blanket Stitch Along Facebook page and share on social media with the tags #handmadewithjoann and #goodknitkisses
I can't wait to see all the beautiful blankets!
This post contains sponsored content.