The 3-in-1 loom gauge tool is a must have for loom knitters!
Aren't you tired of squinting at your tape measure while you try to measure the space between the pegs on a small gauge loom? You know what I mean. You close one eye then turn your head from side to side to try and see which of those itty-bitty lines is the one that hits the center of the peg.
Who has time for that?
You need the 3-in-1 loom gauge tool. This downloadable PDF contains 3 handy tools just for loom knitters: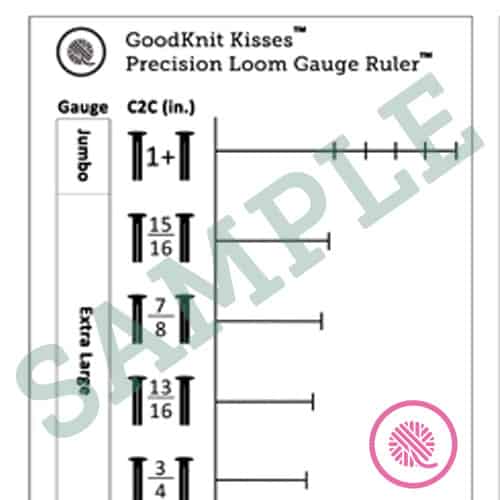 If you're not sure what loom gauge is you need to check out this post about 13 Questions for Beginner Loom Knitters.
3-in-1 Loom Gauge Tool Features
Precision Loom Gauge Ruler

Individual rulers for each center to center peg measurement accurate to 1/16″
Accurately measure any center to center peg spacing from 3/16″ to 2″
Easy to read at a glance. Align the gauge tool to the center of the first peg and immediately see which gauge lines up.

Loom Gauge Range Ruler

Rulers for each loom gauge category that includes marks for each center to center peg measurement on the same ruler
Accurate to the nearest 1/16″
Easy to read at a glance
Handy for when you don't need an exact gauge. See if a loom fits into a specific category like Large Gauge (LG) or Small Gauge (SG).

Knitting Loom Gauge Reference Card

Business card sized reference chart including loom gauge, center to center peg measurements and recommended US yarn weights
Keep it in your knitting bag or purse for a quick look when yarn shopping or browsing patterns.
Loom knit designers, if you like the loom gauge symbols I used on the ruler, you can download a free graphics pack that includes all 14 images.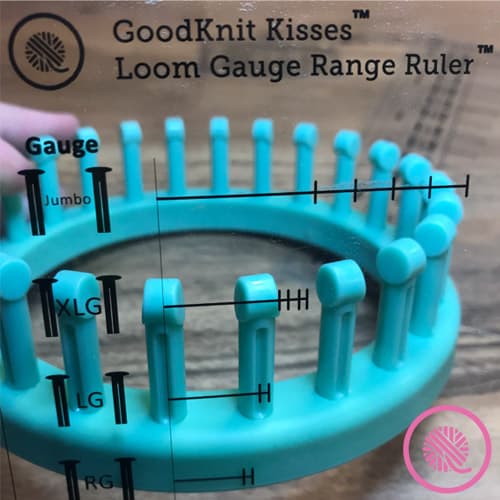 All three tools come on one printable sheet to make it easier for you. When you order the tool you also receive an additional PDF with instructions for printing and laminating for optimal durability and use.
I took mine to a copy store to have it printed on a clear transparency sheet then laminated. Then I cut out each tool for individual use. So easy and so handy!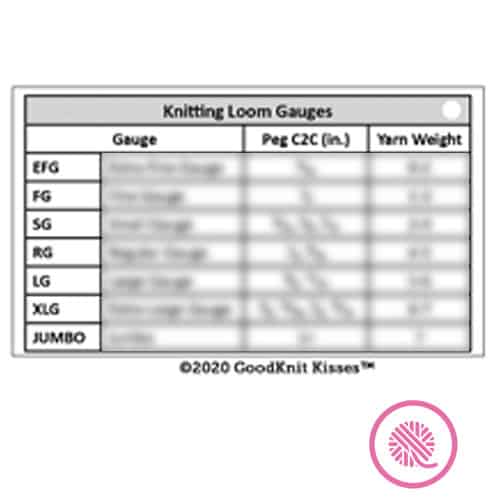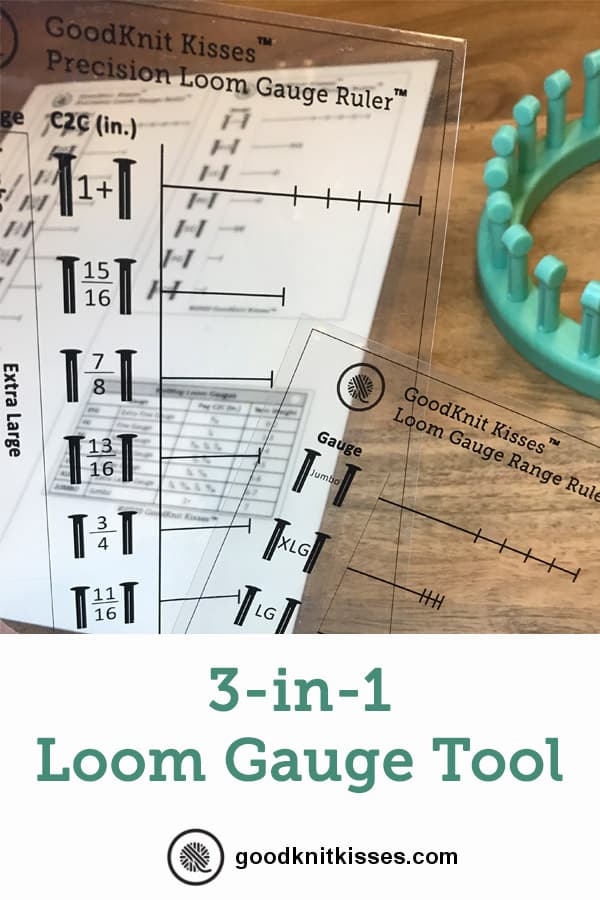 Available Exclusively on Etsy!
GoodKnit Kisses Etsy store has this handy tool ready for you to download today! What are you waiting for? CLICK the banner below!