6 Quick Gift Patterns
Guest Post by Mary Kathyrn of CrochetChiq
Gift patterns can be quite a task to hunt down just the right ones to make for our loved ones. Mary Kathyrn Guest blogs today on some different gift patterns to think about.-
By August I like to start making my Christmas gifts that way by November I can relax or start on valentines ( I always end up crocheting something for my son to gift to all his classmates, this year I will have 2 boys in school, so I really need to start early!) I wish I had the time to make everyone an afghan but I have trouble finishing even 1 a year!
So I like to try and get a good mix of projects so everyone can get something nice. One of my quick tricks is that I can loom a hat faster than I can crochet one, so for character hats I love to loom them then add different crochet embellishments or patches to personalize them for the person they are being made for. Below are some links to my favorite things to make and give as gifts.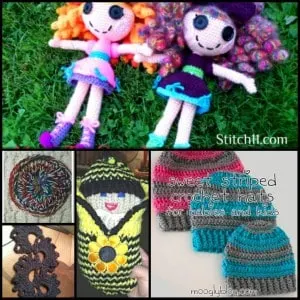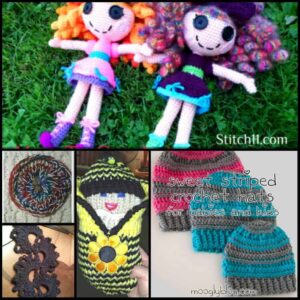 Baby hats are great to give to new moms, dads, Below is Kristen's loom video on how to make a baby hat, it's also fun to make mom and dad matching hats! https://www.youtube.com/watch?v=9DR5mN19Mbc&list=PLspNyS4jO47zxkKIUv-bEJeaj0lqqB2J4
Here is a crochet hat gift patterns for babies up to adult by Moogly
http://www.mooglyblog.com/sweet-striped-crochet-hat/
Scarves are also a fun a quick item to make, for a few years ruffle scarves were my thing to make but after making 100's of them I will be happy if I never see another ruffle yarn again!
On my blog I have a free crochet pattern and video for Queen Anne's Lace that works up very quickly once you get the hang of it.
http://crochetchiq.blogspot.com/2012/03/queen-annes-lace-scarf.html
Any little girl would love to have her very own crochet la la Loopsy doll.
Stitch11 has a great free pattern so you can make one for your favorite little girl.
http://stitch11.com/lalaloopsy-inspired-doll/
Sharona has a great but simple loomed doll pattern that even the most novice loomer can pick up! Basically if you can loom a hat, you can loom this doll!
http://crochetchiq.blogspot.com/2014/07/how-to-loom-simple-adorable-one-of-kind.html
Kristen's cute granny rounds can be put together to make a great blanket or make a set of 4 to be used as coasters! If giving as coasters it looks cute to tie with a ribbon and or back them with felt or cork ( available at most crafts store).
http://goodknitkisses.blogspot.com/2011/06/pattern-loom-knit-granny-round.html