Inside: Use a loom stand with a clampable loom for an adaptive loom knitting technique if you have mobility or dexterity issues.
Why did you start loom knitting?
I started loom knitting to help with postpartum depression after my youngest child was born. I turned to crafting to keep my hands and mind busy. In my earliest videos the tapestry background is actually the ottoman for the glider rocker in my baby's room.
I know many loom knitters got started because crochet and needle knitting became difficult because of carpal tunnel, arthritis or other health issues. Gripping a hook or set of needles can cause stress or pain while allowing the loom to hold your stitches is easier.
Loom knitting is also great for those with vision difficulties. Again, since each peg holds 1 stitch it's much easier to be able to knit and keep track of your stitches on a loom.
But I've also seen some loom knitters that only have the use of one hand and still successfully loom knit.
A few years ago I even made a video showing how to purl on the loom using one hand:

New Tools for Adaptive Loom Knitting!
CinDWood Looms recently came out with Clampable Looms. These looms have an additional portion on the base that allows you to use the included C clamp to anchor the loom to a table, desk or even the arm of a chair.
Currently, they offer the following two looms in a clampable version: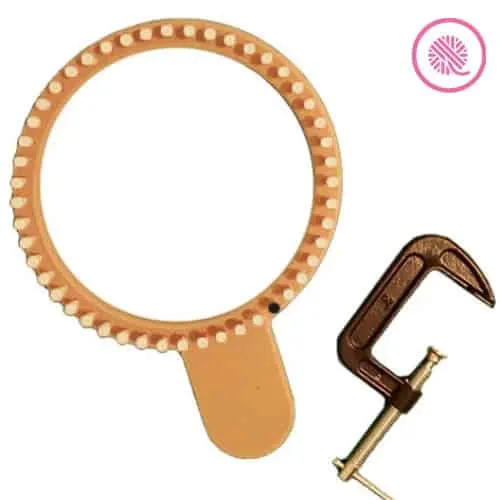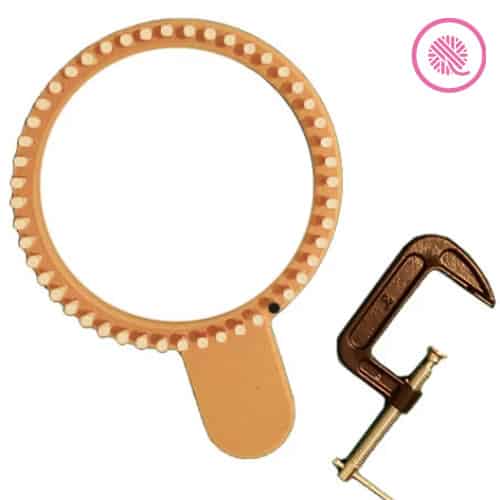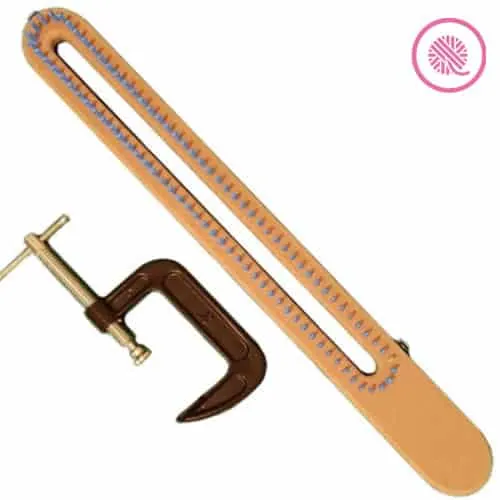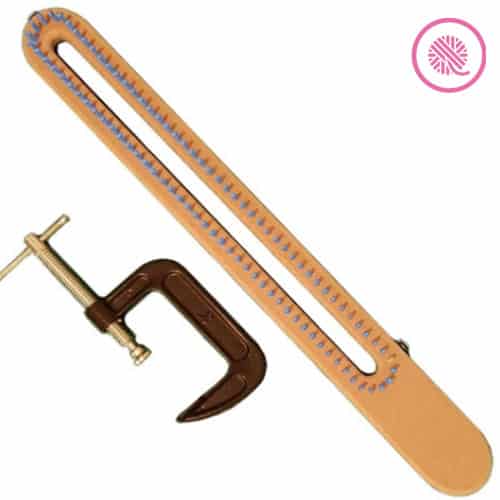 However, CinDWood Looms does offer custom looms so it may be worth it to contact them about creating a clampable loom in your favorite gauge or size.
Also, as side note, if you use code "goodknitkisses" you can get $5 off your loom purchase from CinDWood Looms.
These looms got me thinking…
When I first got my clampable looms I was showing them off to my YouTube VIPs in our weekly Zoom call. I had the idea that attaching the loom to a stand would make it even easier to use.
One of my VIPs, Lori Carrol, found a wonderful option! The Daylight Stitchsmart Stand is designed for holding an embroidery loop or scroll. I ordered one to test out and it works great for loom knitting.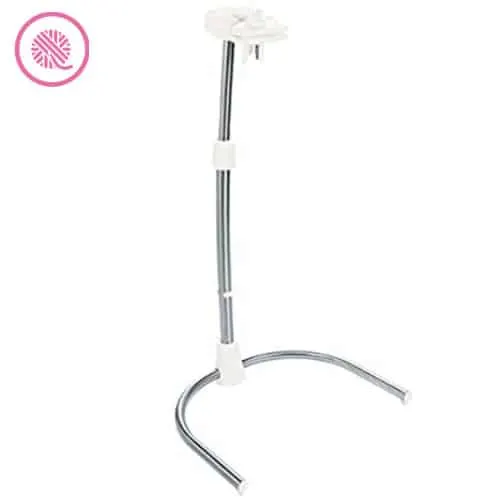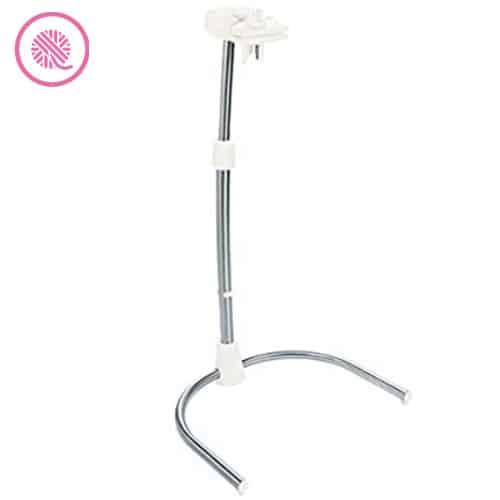 Here's the PROs for this stand:
Holds the loom securely!
Adjustable height
Adjustable angle – Tilt the loom up and down or rotate forward and back to reach stitches
Fits around a variety of chairs (and even over the arm of a couch)
Optional Lamp Kit (with magnifier and clip for holding pattern/chart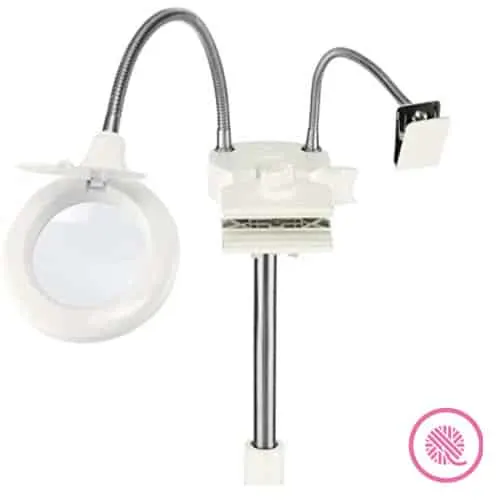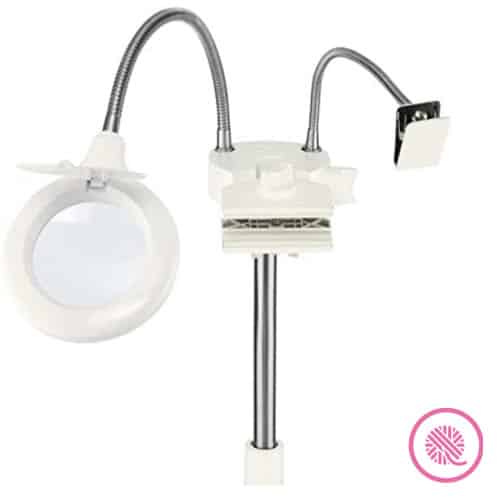 NOTE: The portion of the loom where you clamp it is longer than is best for this stand. I spoke to Kristi at CinDWood Looms and they will shorten the clampable part of base 2-3″ if you ask. Now that's customer service!
Watch the video below and I'll show you adaptive loom knitting in action.
---
PIN IT!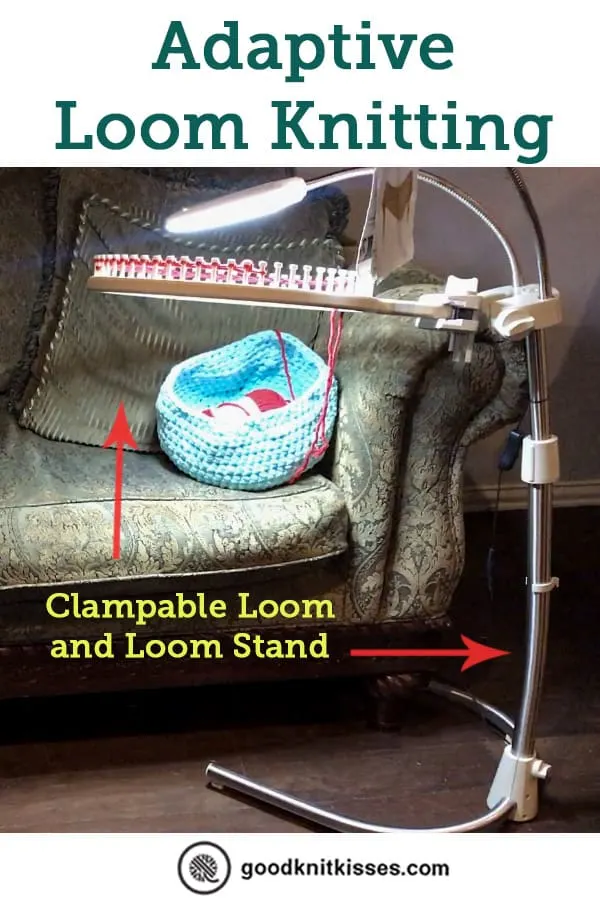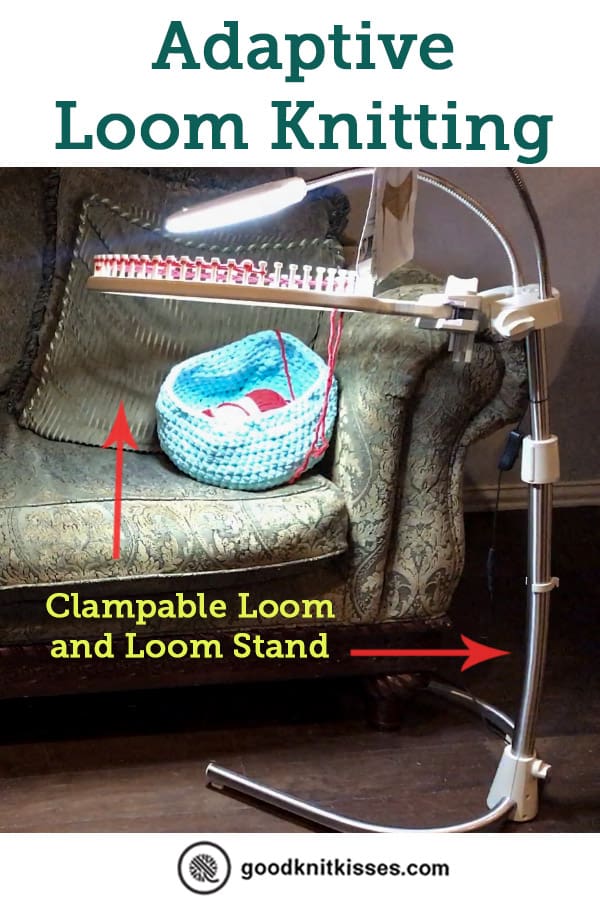 ---
Adaptive Loom Knitting: Using a Loom Stand with Clampable Looms Video
If any of the videos below do not show they may be restricted to GoodKnit Kisses YouTube members only. Find out more about GKK Membership HERE!
I hope this video helps you or someone you know to be able to loom knit more easily and comfortably!