Inside: Learn how to make the loom knit Basketweave Cowl with this free pattern and tutorial videos.
Cold winds are blowing, but they don't bother me a bit!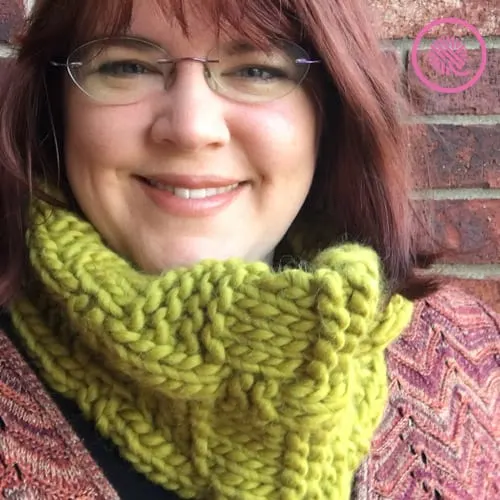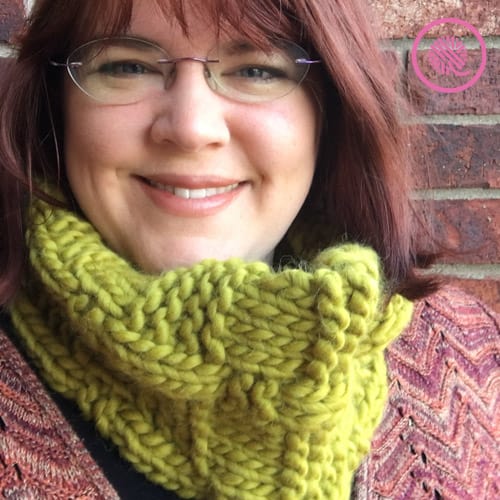 Stay cozy this winter with a super chunky Basketweave Cowl. This easy loom knit pattern uses just knits and purls to create the iconic basketweave pattern.
This basketweave stitch pattern is unique. Instead of the typical squares of knits and purls I chose to use varying widths of rows and columns to create an unusual texture.
The jumbo yarn makes this weave POP! You can clearly see each stitch and those purl bumps jump out at you.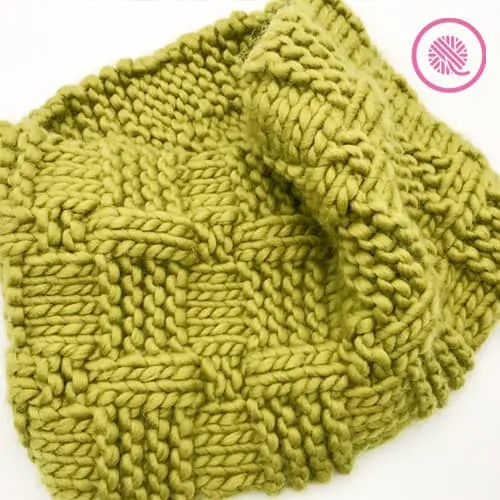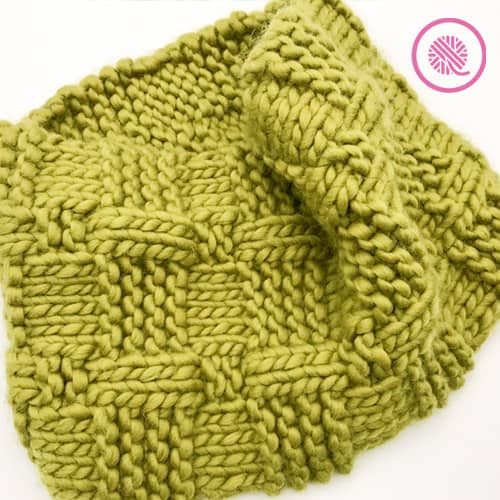 The Basketweave Cowl is loom knit as a flat panel over 19 stitches then seamed after you bind off. If you choose to use a smaller yarn or gauge to duplicate the stitches you'll want to make sure you cast on a multiple of 7 +5.
Loom Knit Basketweave Cowl
By Kristen Mangus
A downloadable PDF of this pattern is available in my Etsy store and from Ravelry at the links below:
MATERIALS
Links below are affiliate links to products I used to create this pattern/video. Clicking the links costs you nothing, but helps support GoodKnit Kisses.
Yarn
#7 (Jumbo) weight yarn, approx. 95 yds.
Wool & The Gang's Crazy Sexy Wool Color Moss Green.
200 g (80m /87 yards) 2 balls used in sample.
Loom
¾" extra large gauge (XLG) loom with at least 19 pegs
Knifty Knitter 36 peg round loom used in sample.
Tapestry needle for seaming and weaving in tails.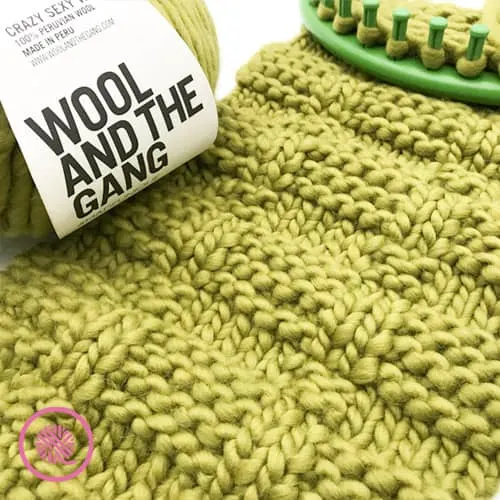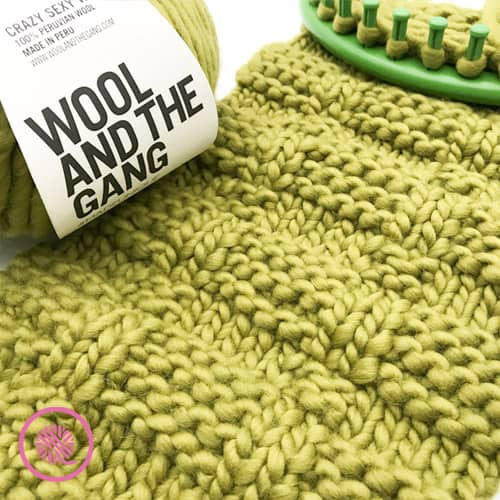 ABBREVIATIONS
K = Uwrap knit
P = Purl
Rep = Repeat
St(s) = Stitch(es)
GAUGE
9.5 sts x 20 rows in 4" in basketweave pattern
SKILL LEVEL Easy
MEASUREMENTS
8" x 24" (20 cm x 61 cm)
NOTES
I recommend the long tail cast on for this project.
The basketweave stitch pattern is a multiple of 7 +5.
INSTRUCTIONS
Cast on 19 sts.
Row 1: K all.
Row 2: *P5, k2. Rep from * once. P5.
Row 3: K all.
Row 4: Same as Row 2.
Row 5: K all.
Row 6: Same as Row 2.
Row 7: K all.
Row 8: Same as Row 2.
Row 9: K all.
Row 10: *K5, p2. Rep from * once. K5.
Row 11: K all.
Row 12: Same as Row 10.
Repeat Rows 1-12 nine more times (10 repeats total). Bind off leaving long tail. Use tail to seam cast on and bind off ends together.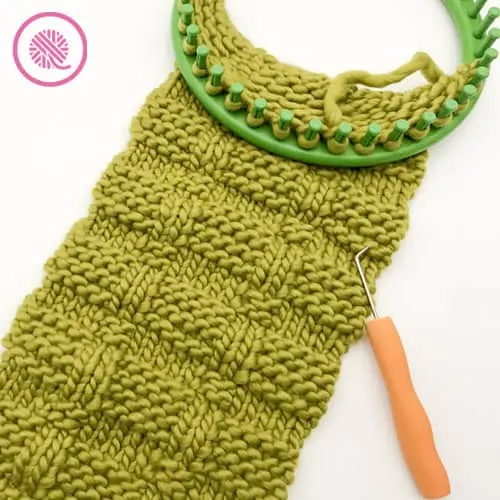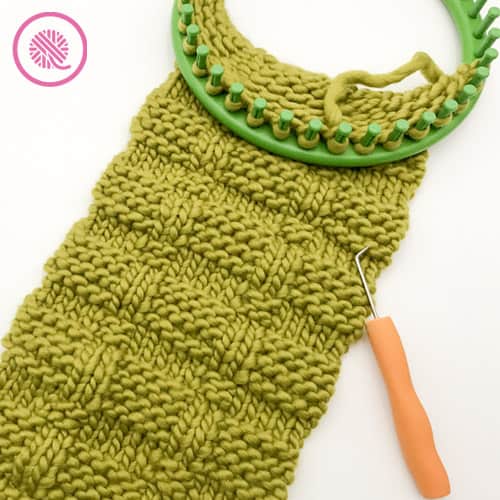 ---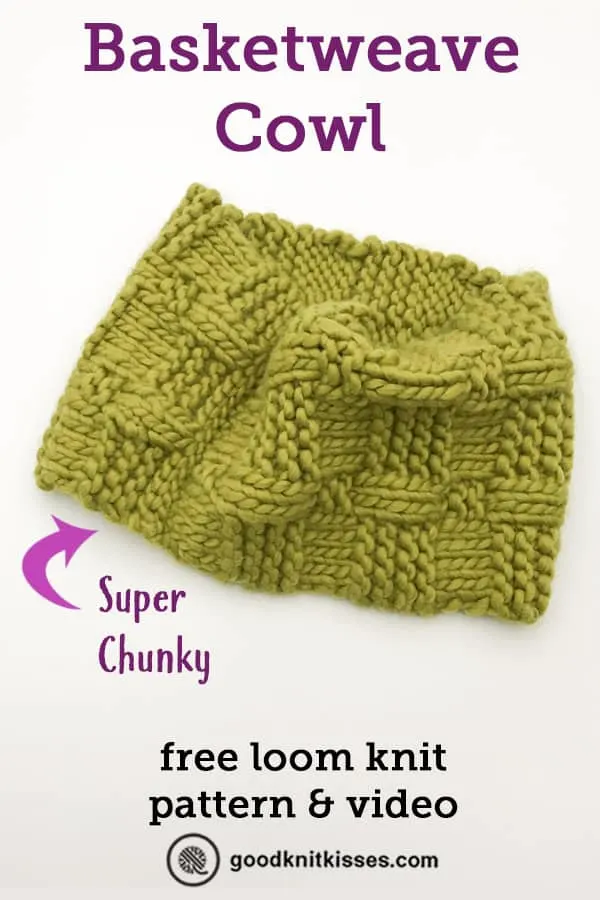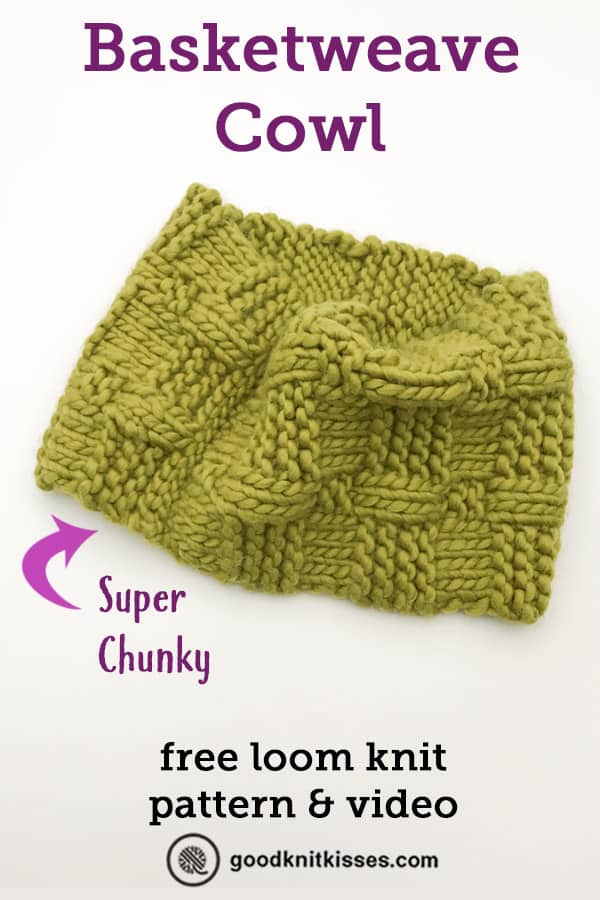 ---
Loom Knit Basketweave Cowl Tutorial Videos
If any of the videos below do not show they may be restricted to GoodKnit Kisses YouTube members only. Find out more about GKK Membership HERE!
This video tutorial teaches you all the skills to complete the pattern. It includes a review of the supplies, cast on, stitch pattern, bind off and even seaming. I also included both left and right handed videos so you can always see the project from your point of view. Enjoy!
Right handed


Left handed
---
You may also enjoy some of my other loom knit cowl patterns and tutorials:
Two Color Brioche Cowl
Fair Isle Cowl
Rolling Waves Cowl
Sisal Cowl
Striped Garter Stitch Cowl