You guys know that I'm a crafter and I LOVE my crafts. Whether I'm working on a new project to film a tutorial or crocheting a baby blanket to give to charity or a braiding a quick friendship bracelet with one of my kids I've always got a craft going. (Or a dozen… or possibly more, but I'm getting off topic.) So I thought what better way to help out the non-crafters in your life by sharing some crafty gift ideas I found from Mary Maxim. I'm not saying this is my Christmas list, but I'm also not saying it isn't. 😉
Thanks to Mary Maxim for sponsoring today's post and sharing their love of crafting with all of us.
Pin this post so you can share it with your friends and family!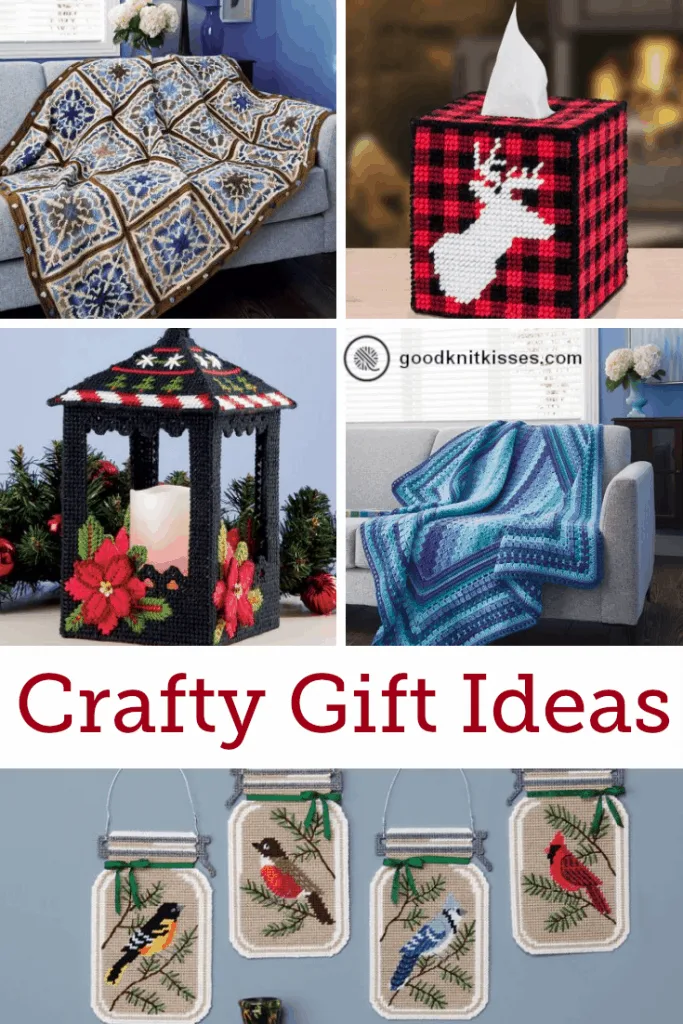 And just to make it easier for you this holiday season Mary Maxim has offered a coupon code just for YOU! As followers of GoodKnit Kisses you can use discount code: GOODKNITKISSES for 20% off your next order from marymaxim.com. Yes!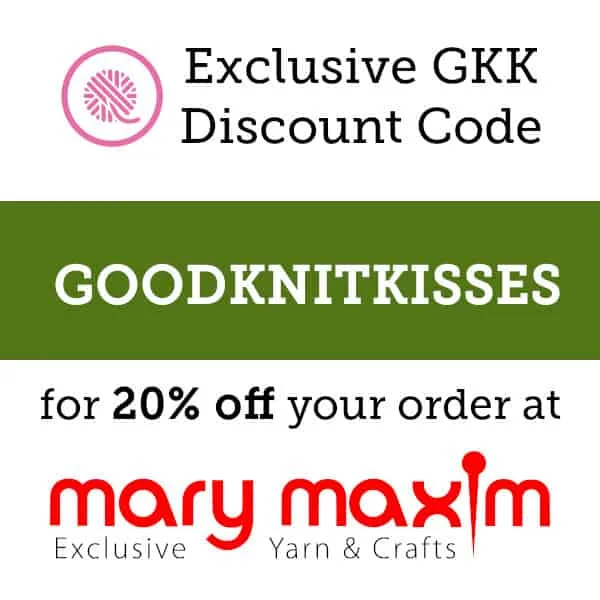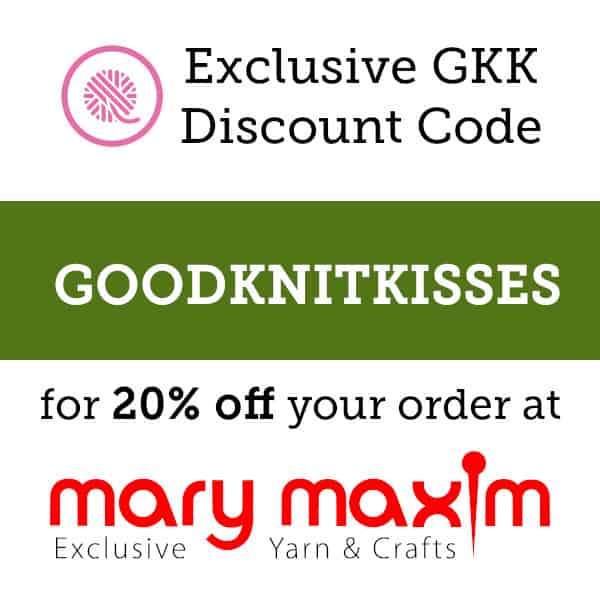 Crochet Crafty Gift Ideas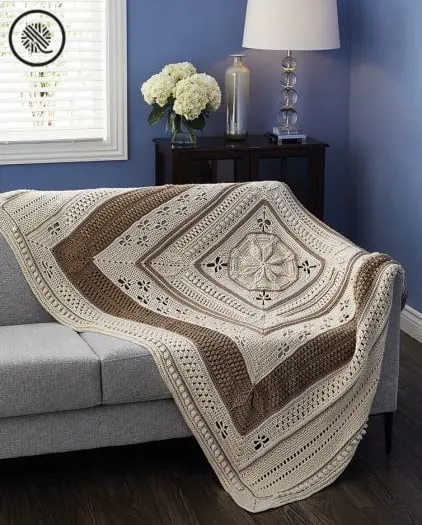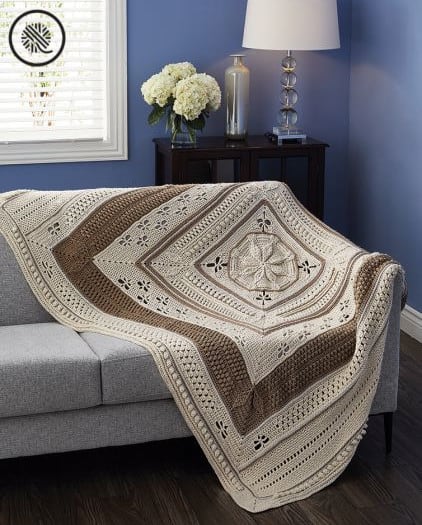 Kay's Creation Afghan will dazzle you with unique stitch combinations in a monochromatic color palette. The neutral colors make the stitch patterns and textures come alive. Kit includes Mary Maxim Best Value Yarn and a I-9 (5.5 mm) crochet hook. Mary Maxim's Best Value Yarn is one of the softest value yarns you will ever feel, and has impressive yardage.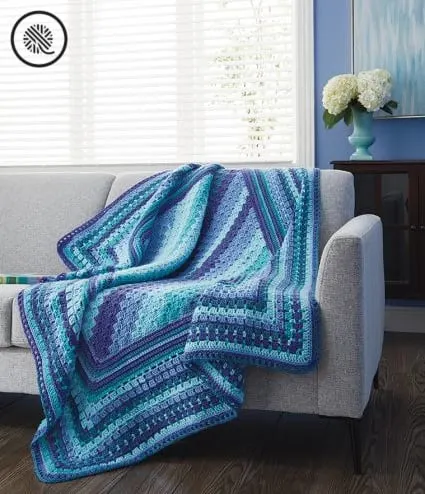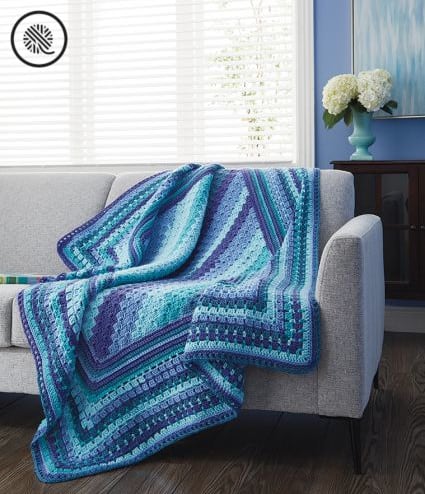 The Blue Love Afghan is a crowd favorite at Mary Maxim. This is a crochet showpiece, the kit includes Bernat Pop yarn shown in Blue Blaze. But there's no reason why you can't grab a few cakes of Violet Vision and have a Violet Love Afghan or love all the colors with a Paisley Love afghan in Paisley Pop.
This kit is available in the following Bernat Pop colorways: Scarlet Sizzle, Lipstick on your Collar, Full Spectrum, Blue Blaze, Planetary, Gold Rush, Violet Vision, Moonshadow, Paisley Pop, Ebony and Ivory, Hot Chocolate, Foggy Notion, Snow Queen, Pop Art, Radical Botanical, Birch Bark and Blue, Blue Chambray, Rainy Days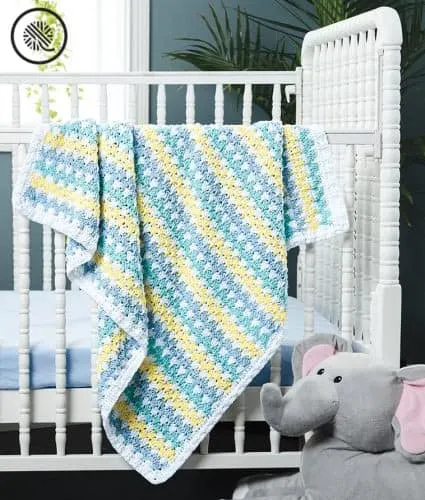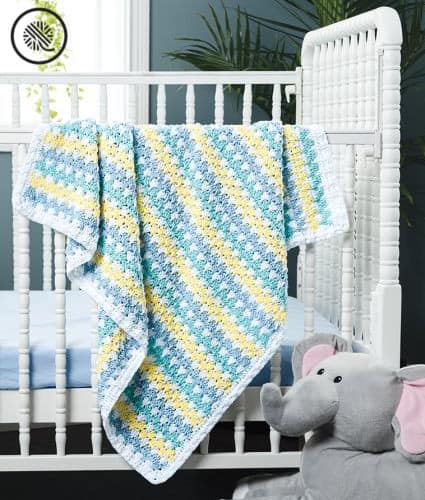 This beautiful stitch combo is absolutely gorgeous and adds to the wow factor of the Side to Side Blanket. This is the baby blanket you'll want to adapt to a full size afghan. The best part of this blanket is the yarn. Mary Maxim's newest yarn line "Oh My" is one of the softest yarn's you will ever feel. This single ply 100% polyester yarn comes in 16 beautiful colors and boasts gorgeous stitch definition.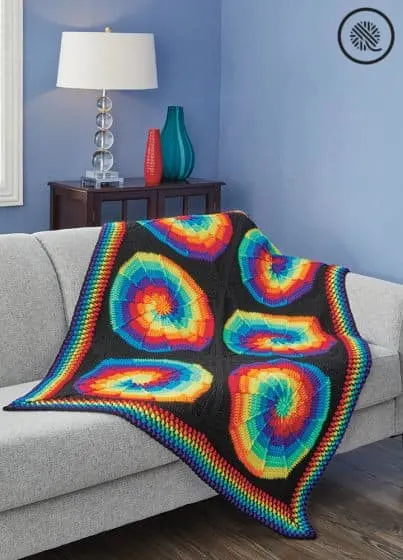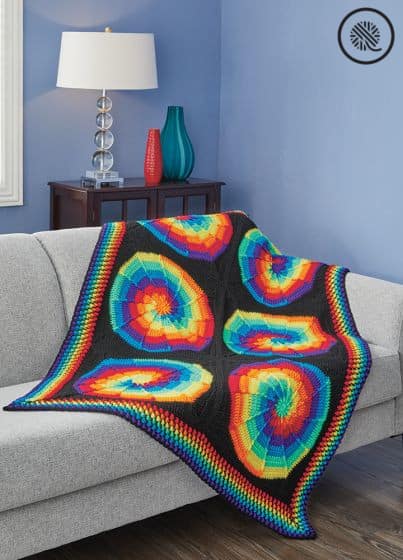 Crocheted swirls of bright colors create this fun Tie Dye afghan. Aside from the fun, retro vibe the design on this one is stunning. This afghan won third place the Mary Maxim annual design contest and is truly breathtaking. This kit is designed by Janice Slocum and includes Red Heart Super Saver yarn.
Plastic Canvas Crafty Gift Ideas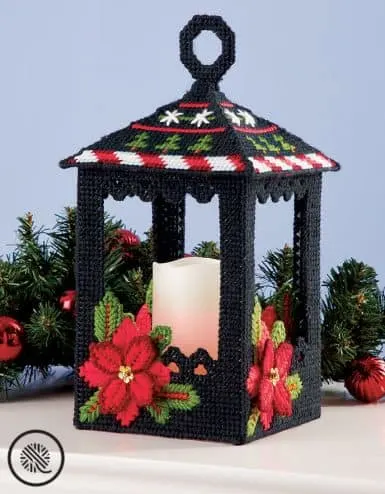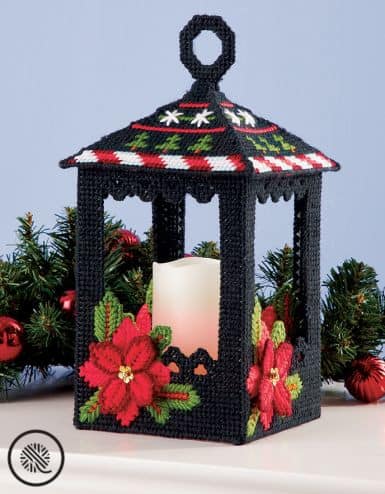 The Christmas Lantern kit makes a delightful holiday centerpiece. Kit includes canvas, yarn, needle and battery operated flameless candle.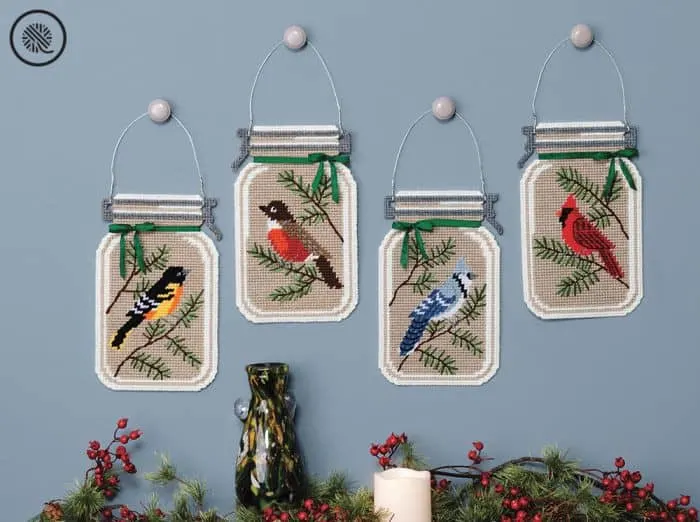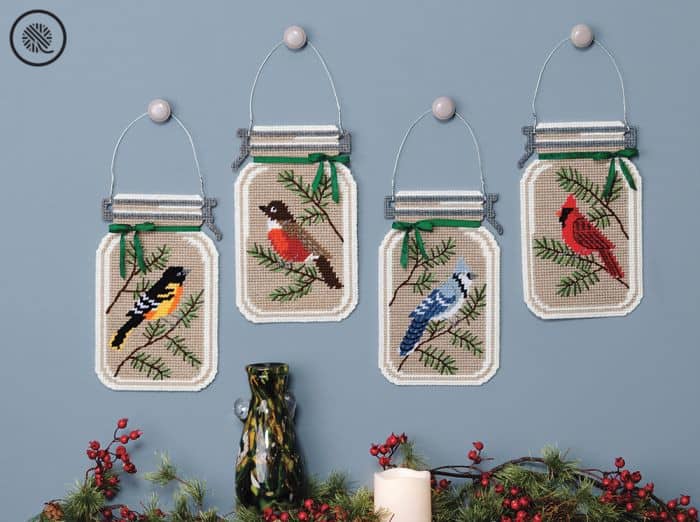 Bring these birds into your home with the Backyard Beauties kit. Enjoy these colorful birds of winter all year long as they are captured on a beautiful Mason Jar. This plastic canvas kit includes everything you need to make this adorable wall hanging set. (Ribbon color my vary.)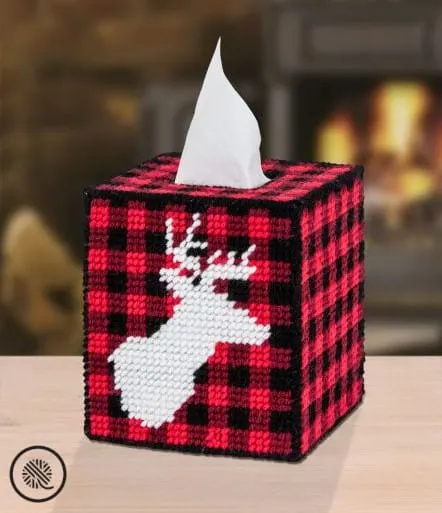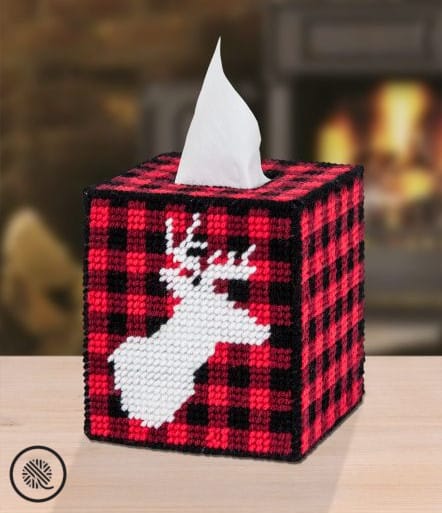 Buffalo check is all the rage right now and the Stag Head tissue box cover is the perfect trendy addition to your home. This kit includes everything you need to make the box.
Knit Crafty Gift Ideas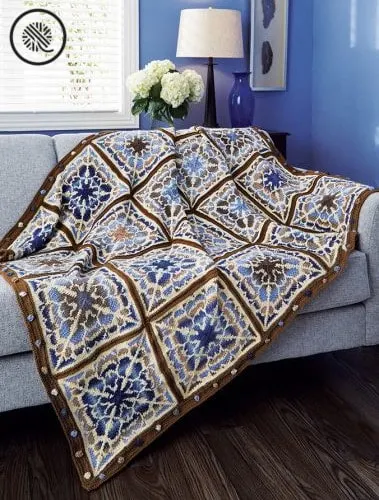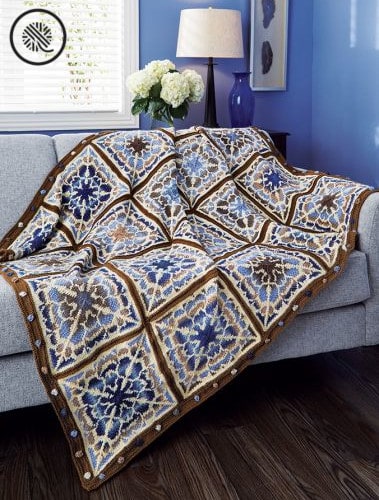 Mandalas are not just for crochet anymore! The Flowering Mandala Afghan features Fair Isle knit squares that are sewn together to create this masterpiece. Grand Prize Winner Billie Birchfield crafted magic again when she designed this stunning afghan using Mary Maxim Prism and Ultra Mellowspun yarn.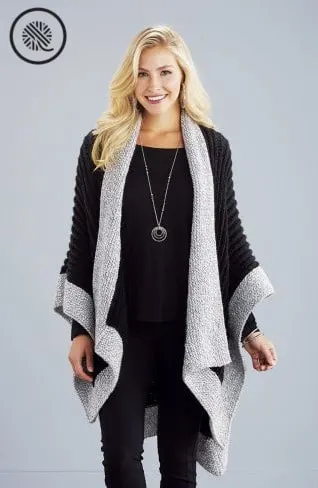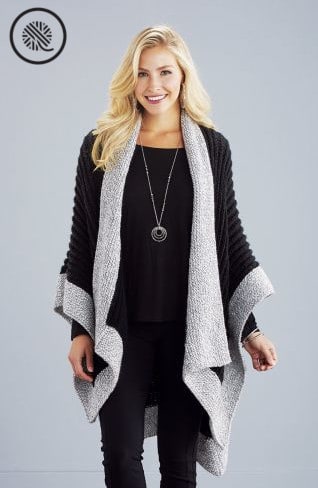 The Ribbed Ragg Serape is the stylish and comfy winter garment to have for the winter season. Knit with Mary Maxim Starlette and Mary Maxim Starlette Ragg. Starlette is one of Mary Maxim's oldest yarn lines and has 40 different colors to choose from. Customize it and make it your own!
Yarn Crafty Gift Ideas
Let's face it at the end of the day we're here because we love yarn! That is always the perfect gift because it keeps on giving. Giving hours of enjoyment, satisfaction and relaxation as you work on a special project. Mary Maxim has dozens of unique yarns and opening a box full of those colorful, soft skeins will make you feel … well, like a kid on Christmas morning. See! Perfect! Now go browse the wonderful yarn selection and see if it doesn't put a sparkle in your eye and warm your heart.
About Mary Maxim
Mary Maxim is family run company that has been sharing the gift of crafting for over 60 years. Since the 1930's when they sold their first spinning wheel and began manufacturing their first yarn product, the McPhedrain family has been committed to helping people discover their inner creativity. With over 45 yarns exclusive to Mary Maxim they are passionate about bringing the finest yarns, needlework and kit designs from all over the world to you. You can learn more about this excellent company here.