Yarn Project Organizer & Workbook:
Tear-out project pages for knitters and crocheters
The Yarn Project Organizer & Workbook is a simple, yet comprehensive approach to organizing your knitting and crochet projects and inventory. This book includes 130 tear-out worksheets for knitters, loom knitters and crocheters. It includes project planning sheets with pattern, yarn and tool information to keep you on track with extra graph and note pages. Also, donation, gift and sales logs so you know where your finished projects are going. Plus inventory sheets to help you see at a glance what needles, hooks and knitting looms you have before you start a project.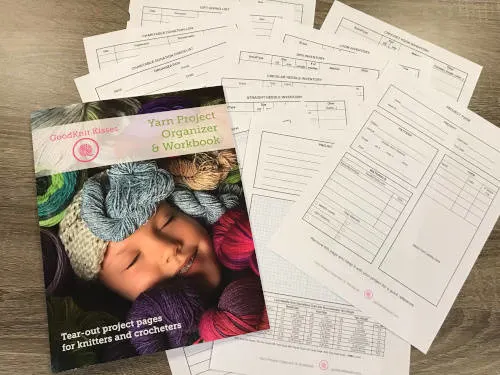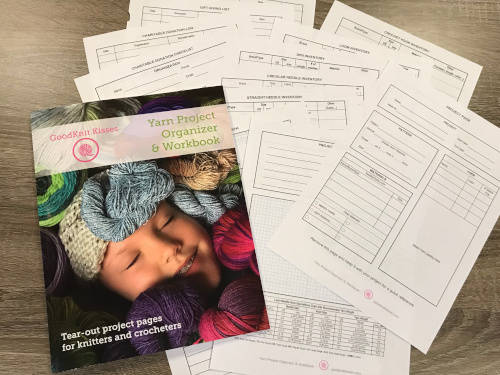 This workbook is for the yarn enthusiast with tear-outs to plan and track your projects from start to finish! The Yarn Project Organizer & Workbook is what you have been looking for.
Project Pages
If you are anything like me you get excited about a new pattern and want to dive in, so your current project gets set aside. You know what I'm talking about! Soon you have projects in every room with scribbled notes in the margins of the pattern. Or worse yet the pattern gets lost and you can't even remember the name of it. To help stay organized I sat and thought out my ideal way to keep track of my WIP. (That's Work in Progress in case you didn't know.)
That became the basis for the Project Page that any yarn crafter can use. It includes project vitals like pattern, gauge, yarn, tools and other details plus room for extra notes (goodbye margin scribbles) and a grid for making changes or adding embellishments that can be referenced again and again. The individual pages tear out easily so you can place it in protective sleeve with your pattern to take it on the go.
I also included a handy reference chart at the bottom of each project page that suggests equivalent needle, loom and crochet hook sizes for the appropriate yarn weight. Metric numbers are also included for the UK/AU standard for yarn. There are 30 double-sided Project Pages included in the workbook as well as extra pages for additional notes and full page graph paper for planning larger projects.
Tracking Logs
Once you finish a project it's also helpful to be able to keep track of where it goes. With that in mind I created three types of log sheets for your projects: Donations, Gifts and Sales.
Donations: If you knit or crochet for charity you already know that each organization has their own specifications for the types of items they accept. If you've ever knit 100 hats and had them rejected you NEED this workbook. The Donations Checklist includes all the information you need for each organization including, contact info, yarn and project requirements and more. On the back of the checklist is a log to keep track of each group donated items for that charity.
Gifts: Don't ever give the same gift twice! Keep track of who got the red fingerless gloves for Christmas and if you already gave Aunt Fran a blue hat with a yellow flower for her birthday.
Sales: The sales logs are for the crafter to manage your new business venture. Whether you sell at craft fairs, the local coffee shop, online storefronts or even commissioned work this is a great way to start tracking your sales.
Tool Inventory Sheets
I've also included Tool Inventory Sheets that will help track all of your knitting needles, crochet hooks and knitting looms. There are multiple Inventory sheets for use in each of these categories; Straight Needles, Circular Needles, DPNs (Double Pointed Needles), Knitting Looms, and Crochet Hooks. We tried to give enough pages in each for an average to large stash. In total there are 32 inventory pages.
Get your copy today and grab one for a fellow yarnie. Believe me they'll thank you!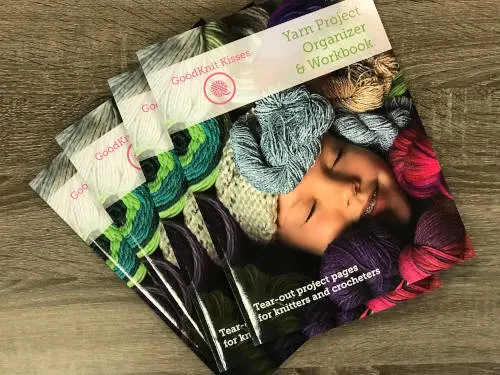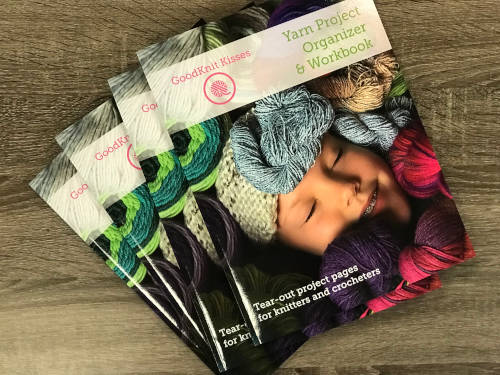 Table of Contents:
• Project Page sheets
• Project Notes sheet
• Additional Notes sheets
• Project Graph sheets
• Charitable Donation Checklist sheets
• Charitable Donation Log sheets
• Gift Giving List sheets
• Sales Log sheets
• Loom Inventory sheets
• Straight Needle inventory sheets
• Circular Need Inventory sheets
• DPN Inventory sheets
• Crochet Hook Inventory sheets
Title: Yarn Project Organizer & Workbook
Subtitle: Tear-out project pages for knitters and crocheters
Publication Date: 12/1/2018
On Sale Date: 12/8/2018
Product details
Publisher:

GoodKnit Kisses (December 1, 2018)
Product Dimensions:

8.5 x 0.28210 x 11 inches

Shipping Weight: 0.718 lbs
Reviews
We'd love to hear your thoughts! Please comment below with reviews or send us an email.
---
Current ONLINE Retailers:
---
Current STORE Retailers:
My Sister Knits – Local yarn shop in Fort Collins, CO
West 7th Wool – Local yarn shop in Fort Worth, TX