Inside: My review of the Crochet Cute Critters pattern book by Sarah Zimmerman from Repeat Crafter Me. BONUS: I'm giving away two copies of the book!
---
Congrats to our winners!!

Tami W. & Lindsay M.
---
"Hoot!", says Oswald the Owl.
"Baaa!" bleats Lilly the Lamb.
" … " hums Ginger the Giraffe. (Yup, giraffes hum. Google it!)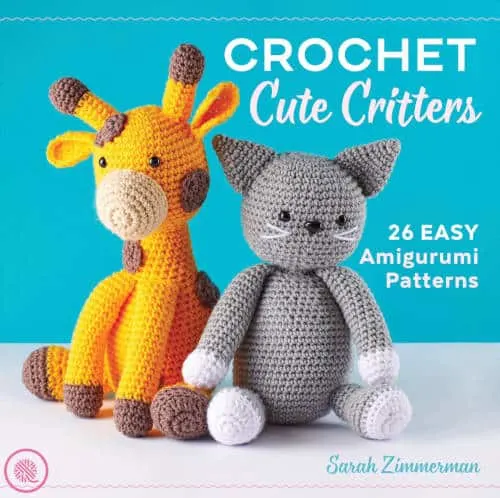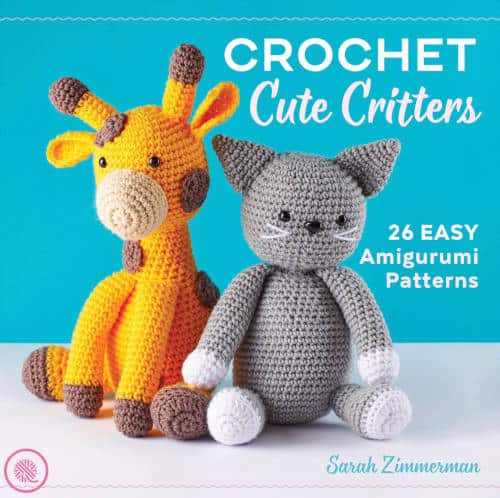 You've got to meet the adorable group of 26 amigurumi animals found in Sarah Zimmerman's new book, Crochet Cute Critters, yourself to believe how cute they are.
Sarah at Repeat Crafter Me designed each of these plushies with the care and love that I expect from her. Her sweet style goes hand in hand with kids and cuteness. She's taken her crochet design to the next level with the wild collection in Crochet Cute Critters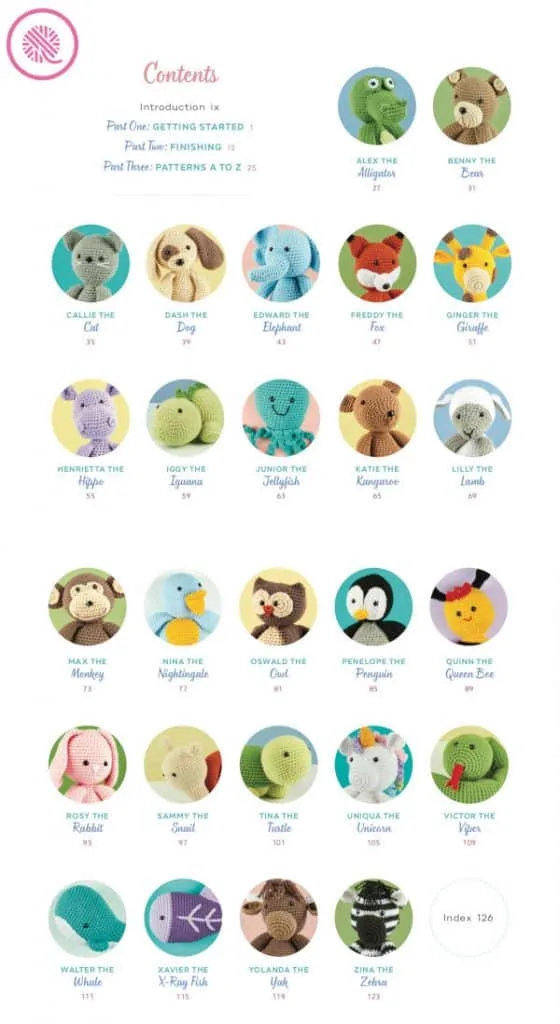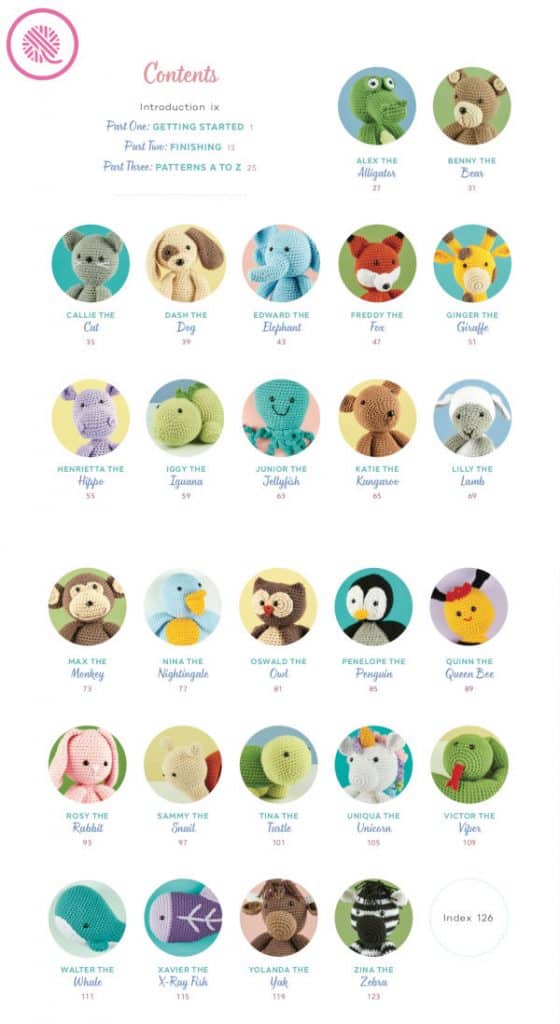 The book is really simple to read and understand. If you have basic crochet skills you can tackle any of the critters with ease. No experience in toy making needed! You don't have to have any knowledge of amigurumi or making crochet toys to tackle one of these projects.
Let me give you my thoughts on the book section by section.
Crochet Cute Critters Book – Part 1
Although this is a pattern book, it includes much more. The first part is all about the tools, materials and skills you need to crochet the patterns in the book.
Sarah covers absolutely everything you need from choosing your crochet and yarn to helping you decide what to use for the facial features. Great mom tip about using safety eyes and noses, Sarah!
Part 1 also includes a list of crochet abbreviations and a picture tutorial to help you understand the basic stitches. You know I'm all about the video, but these pics were clear and easy-to-follow.
Crochet Cute Critters Book – Part 2
This is the Finishing Section. At first it seemed odd to move from your material right to finishing, but it made perfect sense after reading it.
The tips in this section are as essential as the patterns.
I thought stuffing involved cramming as much fiber fil into the leg as you can fit.
Um, I was wrong. So, very, very wrong.
Sarah explains why some parts may need more stuffing than others. She also explains that using the right amount of stuffing will allow an animal to sit upright or stand. I loved that!
Then she covers piecing, adding facial features and even weaving in ends. There are oodles of tips in Part 2 alone that make this a great reference book for any crochet (or even knit) amigurumi maker to include in their library.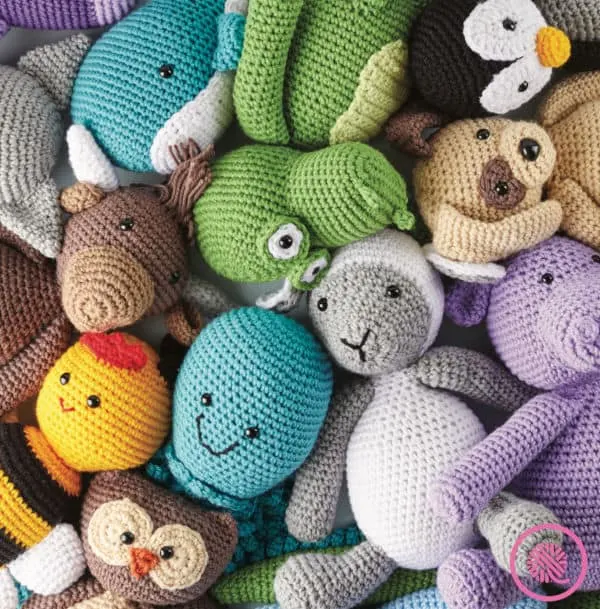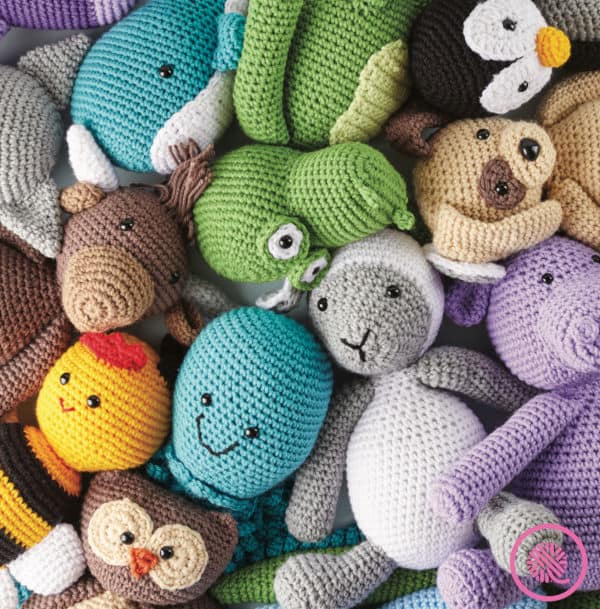 Crochet Cute Critters – Part 3
Come on now. The patterns are what we all buy books for, right?
You will be delighted by these characters. Sarah uses color, texture, and shaping techniques to infuse personality into each new friend.
From Dash's mismatched floppy ears to Quinn's crown you'll find unique details that bump up the cuteness factor.
I also want to note that these are not mini stuffies, they are full size cuddlers!
Many of the patterns use the same basic shapes. Creatively they are used different on the critters and with some colorful yarn changes and playful adaptations a new character comes alive! When you start on the patterns you see that all you have to do is make the parts and attach.

I hope you enjoy your Crochet Cute Critters book as much as I do.
Crochet Cute Critters Video Review
---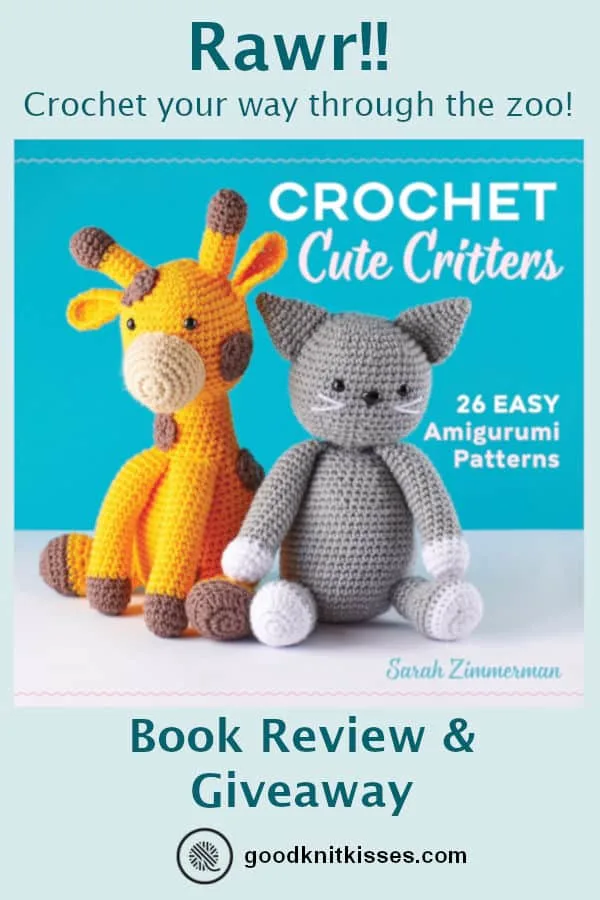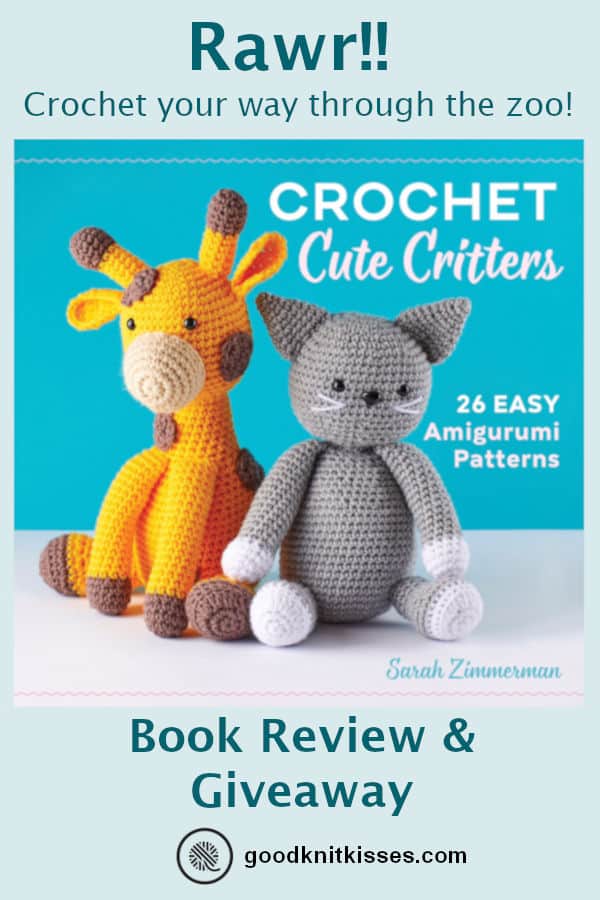 Crochet Cute Critters Book Giveaway!
Who can enter? Anyone 18 years and older in the United States.
When can I enter? August 9, 2019 12:00 am – August 15, 2019, 11:59 pm
How can I enter? Use the raffle widget below. Each entrant has 3 possible entries.
How many winners will you choose? There will be two (2) randomly chosen winners from all valid entries.
What can I win? Each winner will receive one (1) print copy of the Cute Crochet Critters book.
How will I know if I won? Winners will be announced here on the blog on Friday, August 16th
I love reading legalease. Can I see all the terms and conditions? Of course you can. Click here.
a Rafflecopter giveaway