Inside: The NEW Knitting Loom Guide 2019 Edition contains listings of hundreds of knitting looms with gauge measurements, peg counts and so much more!
There's an updated version of this book availble! See the 2021 Knitting Loom Guide post to get the current edition.
Are you frustrated because you don't have the exact knitting loom listed in the pattern?
Are you still trying to find an elusive purple Knifty Knitter Adult Hat Loom?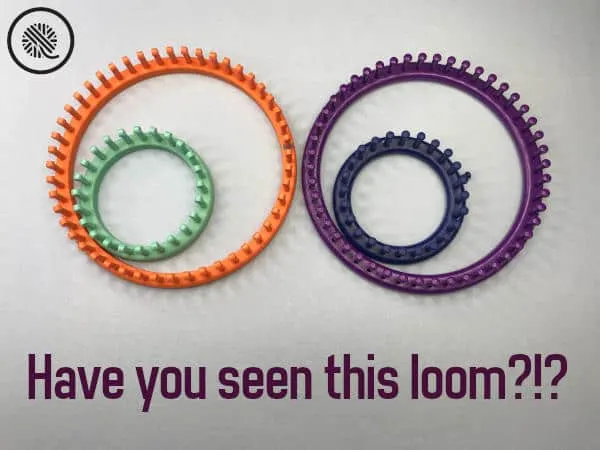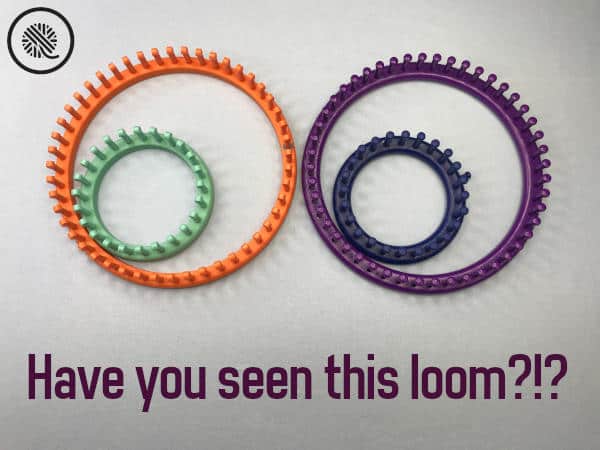 Help is here, my loomy friends!
The GoodKnit Kisses' Knitting Loom Guide is an essential resource book for loom knitters. This book is loaded with information about knitting looms. It's NOT a "how-to" book* that teaches you to loom knit, but it's a tool to help you find the best loom for your project. You can quickly and easily find the loom you're looking for in the intuitive, organized charts.
*If you need a "How to Loom Knit" book, I wrote one of those too.
The Knitting Loom Guide is your one stop resource for detailed information about knitting looms. It contains charts that list various looms by brand, loom gauge and special features, like whether a loom is adjustable or suitable for double knitting. Charts are easy to read and organized so you can quickly find the information you're looking for.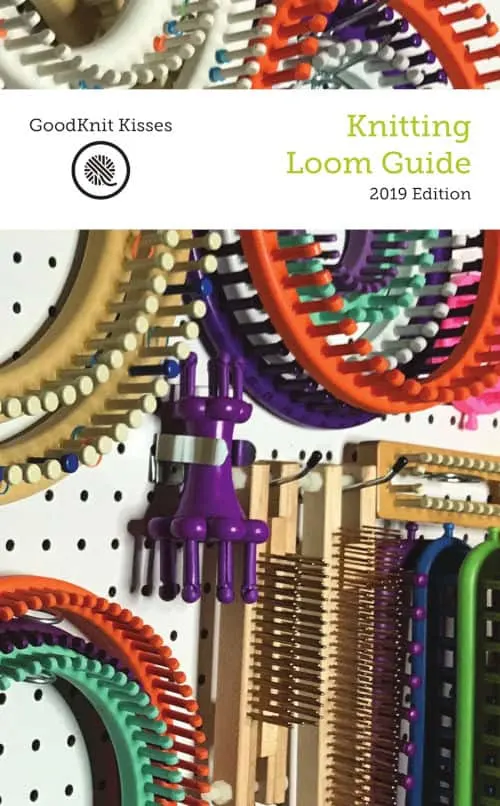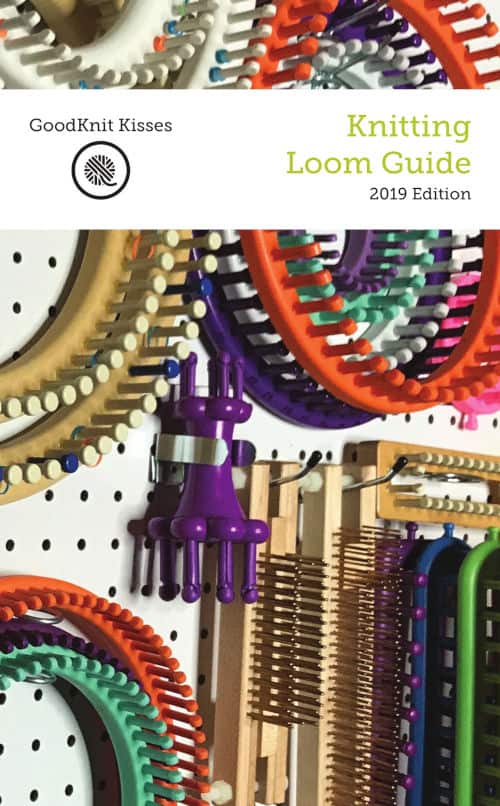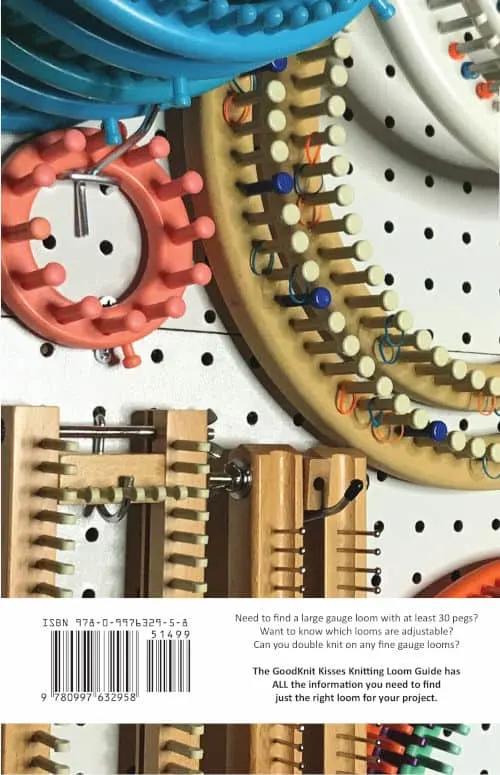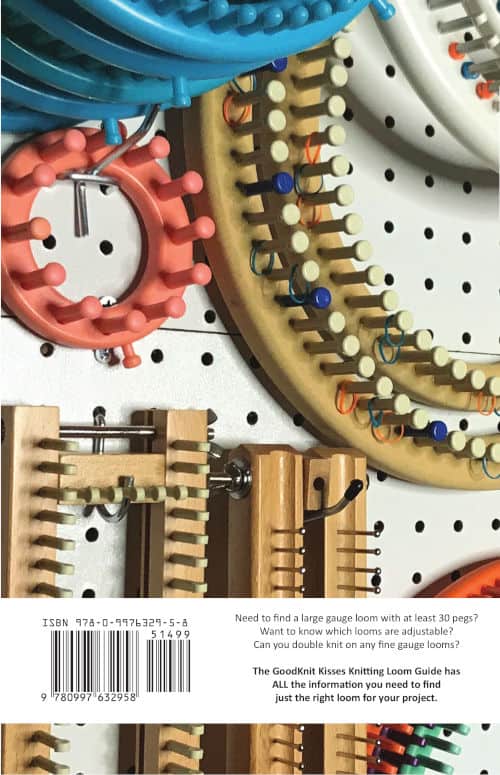 What's Inside the Knitting Loom Guide?
1. Looms by Brand – Each loom maker has a dedicated list that includes all their looms both current and discontinued. If there is a specific brand you prefer you can check there first to see if they make a loom in the size you need. (Discontinued looms are specially marked so you know they are no longer available.)
2. Loom by Gauge – Loom gauge tells you how big your stitches will be. When you find a pattern but don't have the exact loom the designer used you can look for a loom of the same gauge and peg count. You might be surprised to find that you already have a loom of the correct gauge in your inventory. Both loom gauge and center to center peg measurements are listed in the charts for your convenience.
3. Adjustable Looms – These looms can increase or decrease the number of pegs used when loom knitting in the round. They are great for decreased hat crowns, making multiple sizes of socks and shaping stuffed animals. Adjustable looms are marked in all the charts, but they also have a dedicated section of the book to save you time
4. Double Knitting Looms – If you love double knitting, this is a must. Now you can find all the looms that can be used to double knit in every gauge from Extra Fine to Jumbo.
5. I also talk about what the looms are made of: Wood vs. Plastic and the pros and cons of both materials.
6. The Loom Gauge Equivalence Chart in the back of the book details the best yarn sizes (both US and UK/Aus sizes) for each loom gauge including the average stitches per inch knitting gauge for each size. I also list the equivalent knitting needles or crochet hooks for each gauge for those that like to convert patterns.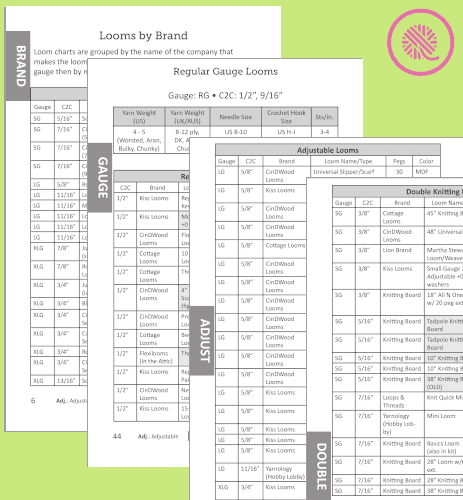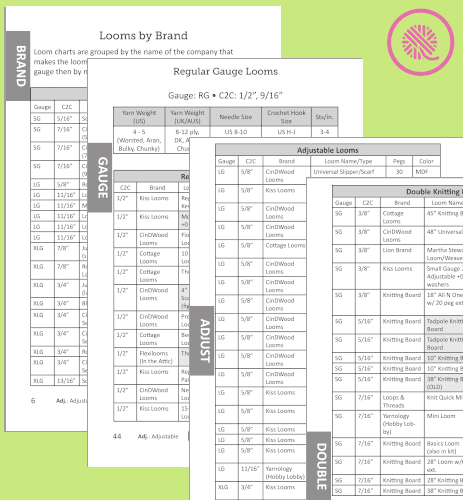 Charts include the Gauge, C2C (center to center peg measurement in inches), Brand, Loom Name/Type, Peg count, whether the loom is adjustable or used for double knitting, and the color of the loom (if plastic) or loom base material. Our goal was to give you as much information about each loom as possible.
I've got a handy tool to accurately measure the gauge on your looms. Check out the 3-in-1 Loom Gauge Tool in the GoodKnit Kisses Etsy shop!
This is a must-have book for your loom knitting library. Get your copy today and grab one for a fellow loomer. Believe me they'll thank you!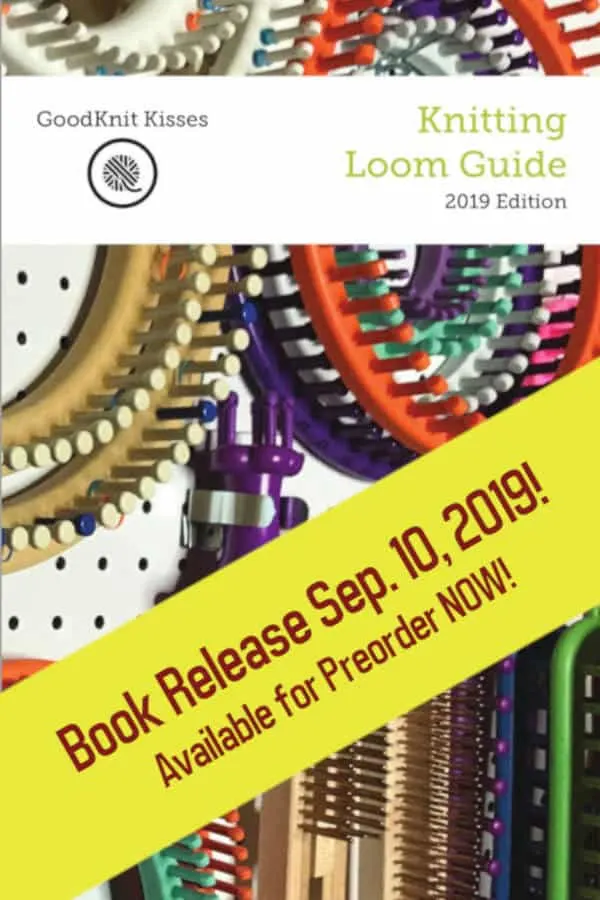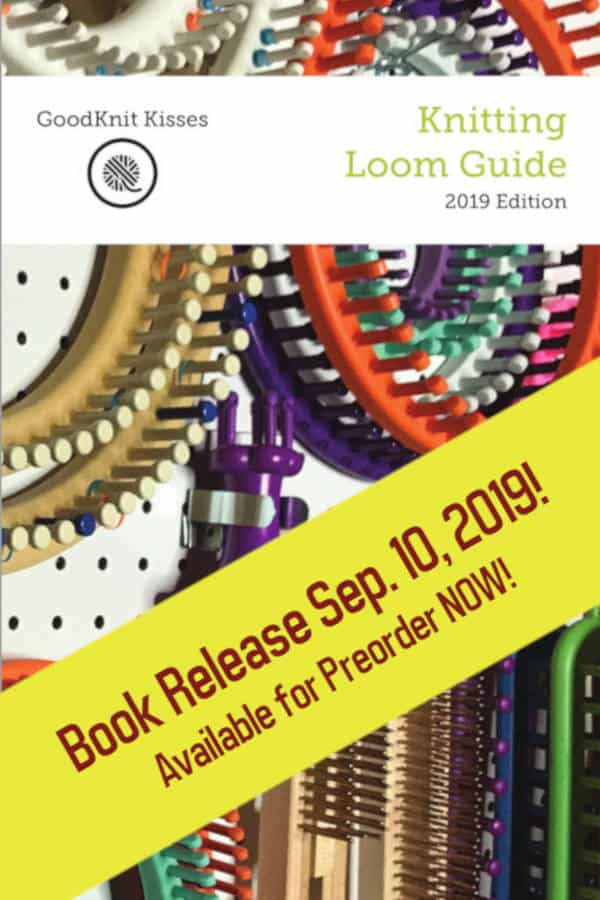 Where can I get a Knitting Loom Guide?
The Knitting Loom Guide is available in both paperback and digital versions for your convenience from the following sellers:
PAPERBACK
For those of you like me, I've created a high quality print book that you can keep in your knitting bag or on your craft room shelf. (Between us, it look AMAZING on my shelf!) Use the tabs in the margin to help you find the right sections quickly.
Amazon (affiliate link)
DIGITAL
The digital ebook lets you take the guide on the go! Use your phone or tablet to compare the new loom at the craft store with one in your inventory. Both the ePub and PDF versions allow to click to any section of the book using the table of contents. So easy!
Apple Books (ePub)

Kobo Books (ePub)

GKK Etsy store (PDF)
What are you waiting for? Order your Knitting Loom Guide today!
---
Since I'm still a video gal at heart I'll show you what you get in the Knitting Loom Guide…