Double Knit Alternate Rib Hat | KB Looms
Do you guys remember how excited we all were to see the new looms from KB a couple months ago? (If you missed the unboxing video I did for the new looms check them out HERE!) KB went above and beyond our wildest dreams with the Rotating Double Knit Loom or, as it's been affectionately named, the DKL. You asked for videos to help you learn the ins and outs of this loom. KB reached out to me and is sponsoring a series of videos to teach some of their new patterns and techniques. Our first project together is the Double Knit Alternate Rib Hat.
This hat features a ribbed brim and the Alternate Rib stitch pattern in the body of the hat. Not only does the double knit give you a wonderfully thick hat, but the amazing Preciosa Tonal yarn from Knit Picks keeps you extra toasty with its soft merino wool. You're sure to love not only the hat, but the experience you get working on this unique loom.
Pattern
Double Knit Alternate Rib Hat from KB Looms
Yarn
1 hank Preciosa Tonal Worsted from Knit Picks Color: Anemone
Supplies
KB Rotating Double Knit Loom
Loom hook
Crochet hook
Tapestry needle
Scrap yarn for anchor yarn
Stitch marker (optional – for marking starting peg)
Skills learned in this tutorial
Cast on (including placing an anchor yarn)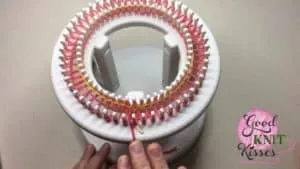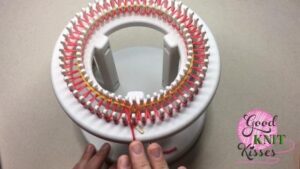 2 x 2 Ribbing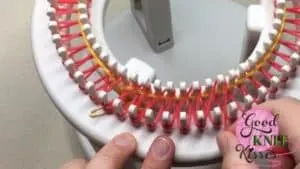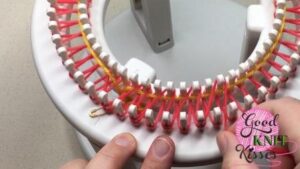 Alternate Rib stitch pattern (done in two passes around the loom)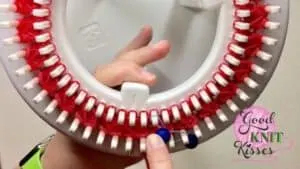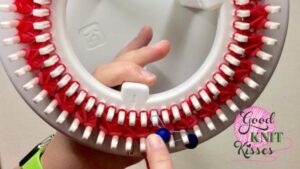 How to Bind off
I hope you enjoyed this tutorial and if you make the Double Knit Alternate Rib Hat please share it on social media and tag me with #goodknitkisses. I love seeing the beautiful projects you all make!
Happy Looming,
Kristen
Sponsored by: This pattern and video are brought to you & permission given by Knitting Board (KBlooms.com). Thank you KB Looms!