Loom Knit Faux Braid pattern can easily be a headband, cowl, infinity or regular scarf. Add length or width to suite your personal project needs or repeat the directions width wise for a triple braid! Thank you Denice for this pattern. (More on original inspiration at bottom of pattern)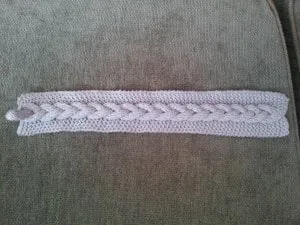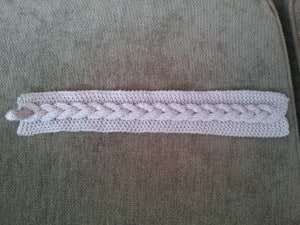 Loom Knit Faux Braid Pattern
by Denice Johnson
This Faux Braid Headband is made to fit my 22 inch head. It's stretchy and can be lengthened to be a nice scarf, too!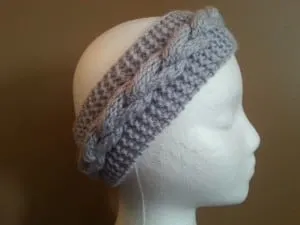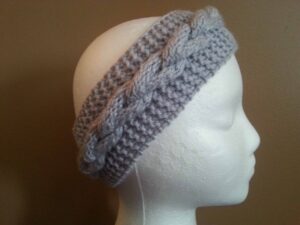 Materials:
Medium weight yarn
Approx. 118 yrds of Red Heart Super Saver in light grey was used
All-n-One knitting loom
Knitting loom tool
Tapestry needle
Notes:
Piece is worked as flat panel knitting (single knit)
Size:
3″ x 20″ long
Instructions:
Double EW cast on 24 pegs from left to right
Row 1: EW 1 peg, purl 22, EW 1
Row 2: EW 6 pegs, purl 12, EW 6
Repeat Rows 1 & 2 for a total of 6 rows.
Row 7: EW 6 pegs, bind off 12 pegs, EW 6 pegs
ending on left side of work
Row 8: EW 6 pegs, EW cast on 12 pegs, EW 6 pegs
Repeat rows 1-8 for a total of 17 times for a snug fit headband
or 19 times for a looser fit. (17x – Fits a 22 inch head). Continue repeating until desired length for a cowl, scarf or infinity scarf.
Assembly:
*Step 1: Twist bottom cord
Step 2: Poke second cord through first loop (made on Step 1) and twist in same direction as first loop.*
*Repeat Steps 1-2 for remainder cords.
Finishing:
Fold and sew in place to connect.
***************************************
Quick Faux Braid Pattern
Adapted from Denice Johnson
By Kristen Mangus
(With permission)
Use 24 pegs. Set stitch markers on pegs 6 and 19.
Double E-Wrap Cast on 24 pegs (stitch marker on pegs 6 & 19)
Row 1: Purl 1, EW 22, Purl 1
Row 2: Purl 6 to marker, E-wrap 12, at marker Purl 6
Repeat rows 1-2 two more times (total 3 repeats for rows 1-6)
Row 7: Purl 1, E-Wrap 5, Bind off 12, E-Wrap 5, Purl 1
Row 8: Purl 6, Double E-wrap cast on 12, Purl 6
Repeat rows 1-8 for a total of 17 repeats (last repeat rows 1-6 only)
Loose Basic Bind off with E-Wrap
Cut long tail to use for sewing ends together.
Turn work to the "wrong side". This will become the "right side". On bottom cord pinch in the middle and twist clockwise 180 degrees to make a loop. Pull cord above through the new loop and repeat twist. Repeat pulling through and twisting until all cords are now pulled through the one below and twisted.
Sew ends together with tapestry needle & tack down loop. Add button if desired.
Loom Along | Faux Braid | Headband or scarf http://youtu.be/4ICTaNdsyoU
Editors note: If making a non-connecting Faux Braid scarf tack down loop in back. Add fringe, tassels, pom-pons or leave plain to finish. Optional, add large button at connecting point for cowl or infinity scarf!
Editors note 2: Inspiration for the headband was from a knit pattern by a designer, Yana Bekkel, in Russia. While Russian copyright does not apply here I will attempt to contact the designer prior to making a video. (Original inspiration from a needle design in Russian. Original designer, Yana Bekkel, had a pictorial tutorial and her own inspiration was drawn from slit t-shirt designs, hers had non-twisted stitches, different repeat, different cast-on, different stitch repeat, and other elements not even translated from Russian. Link is found here http://www.livemaster.ru/topic/193207-mk-povyazki-na-golovu-originalnye-kosy)