Feather Stitch Pattern for loom knitting and Feather Stitch Hat pattern included after.
(Editors note: I hope you enjoy the Feather Stitch pattern and Feather Stitch Hat. I can't test and video all patterns but hope you enjoy seeing new designs and designers. Please comment or click a heart! -Kristen Mangus)
Feather Stitch
Designer: Dedi Herold Boyer
I modified this pattern for the loom from the booklet 96 Stitches Knit Stitch Guide by Rita Weiss.
MATERIALS:
36 peg round loom (3/4″ C2C gauge)
(Hobby Lobby's Yarnology 36 peg round knitting loom was used in sample).
YARN:
At most, 268 yards of #4 Worsted Weight yarn.
Loops & Threads Charisma Yarn color yellow was used in the sample.
NOTIONS:
Knitting tool
Scissors
Yarn needle for weaving in ends
GAUGE:
Multiples of 6 stitches and 4 rows on 4 x 4 inches swatch.
YO = yarn over
K1 = knit the next peg
TECHNIQUES:
Yarn over
Feather Stitch:
P peg 1, P2tog pegs 2 and 3 by moving stitch from 3 to 2, YO peg 3 by simply putting your working yarn over the front of the peg, K peg 4, YO peg 5 after moving stitch from peg 5 to peg 6, P2tog stitches on peg 6, P peg 7, Repeat stitches all the way around the loom, K last peg.
Feather Stitch Hat
Cast on:
Cast on 36 pegs, the ewrap cast on was used in the sample however, use the cast on of your choice.
Row 1: Follow the Feather Stitch as outlined above.
Row 2: K each peg
Row 3: P each peg
Row 4: K each peg
Repeat Rows 1-4 until desired length is reached.
FINISH:
BIND OFF:
Modified Gathered or drawstring bind off.
Weave in ends.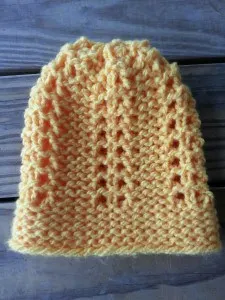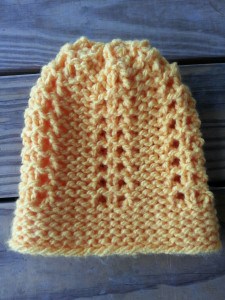 Editor's notes: We hope you enjoy making the Feather Stitch Hat. Thank you to Dedi for sharing her pattern. Please note that Kristen has not tested the pattern. -Edited by Carol Lilydot.