Loom Knit Simple Scarflet Neck warmer
Simple Scarflet Neck warmer
by Kristen Mangus
June 24, 2013
Button up with this no purl ribbed Scarflet! It's simple to make. Change the look of each Scarflet you make by changing the buttonhole placement. Make it asymmetrical, as pictured, or make a shortened neckwarmer with a line of 4 buttons for a bold look and warm accessory. Directions for making into a circle for a cowl included.
Add this project to your Ravelry cue!
http://www.ravelry.com/patterns/library/simple-scarflet-neck-warmer

Loom(s):
Sample tested on Knitting Board Basics loom (found in the Loom Knitting Basics Kit); it is 7/16 gauge . Can use any knitting board or long loom at min 3/8″ gauge to 3/4″ with minimum 1 cm spacing between boards. May need to adjust yarn size or number of strands for gauge. Use AllnOne for wider scarflet or cowl; Cast on more repeats.
Finished Size:
4″ x 28″ (approximately; not blocked)
Gauge:
Not important; just use an appropriate weight yarn for your loom for an ewrap stitch. The spacing between both boards on above loom is a bit wide so between ribs the gauge will be a bit more open.
Yarn:
Worsted or Bulky. less than 1 skein. Red Heart Boutique Unforgettable color Petunia was used in sample. It was nice and light weight.
Buttons:
2 – 1″ (inch) buttons
Abbreviations:
FB – Front Board
BB – Back Board
CO – Cast on
EW – EW
Sl – slip stitch
St – stitch(es)
Cast on 20 pegs in ewrap cast on in the following pattern (see illustration)
FB: Double EW CO 4 pegs (Video link)
BB: Skip pegs 1-2. Cast on 3 pegs
FB: CO 3 pegs
BB: CO 3 pegs
FB: CO 3 pegs
BB: CO 4 pegs.
Main pattern:
Use Slip Stitch flat panel method on all rows.
Row 1: EW.
Repeat Row 1 till length is approximately desired length.
Your knitting looks like 3 columns of ribs; the reverse is identical if item flips.
I suggest placing your knitting around your neck to see where it falls and you will want the free end of the scarflet to hang. (My sample was 138 rows).
Add buttonholes:
Choose pegs you want buttonholes placed and move those stitches over to the adjacent peg. (Sample bound off pegs 3 and 9; as wrapped sequentially on loom).
E-wrap the entire row one more time. Work stitches.
Repeat Row 1 again 1 time.
Bind off:
Stretchy bind off.
Finishing:
Add buttons where desired for an a symmetrical look. I sewed sample buttons on in the following positions. Button one (opposite buttonhole side of peg 3) is 6.5 inches in from opposite end. Button two (opposite buttonhole side of peg 9) is 5.25 inches in from opposite end.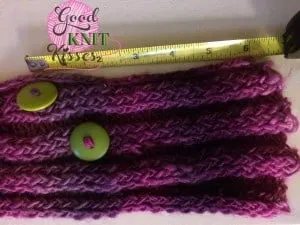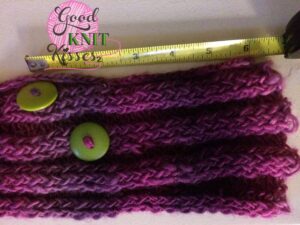 Weave in tails.

Alternate:
Use loom knitting Kitchener stitch notes as below to connect as a cowl. See video link for additional help.
http://youtu.be/2IBM8CbvmNo
An easier method is to use the Russian grafting technique with a crochet hook; it navigates back and front working each stitch. Use knitting needles of a smaller size than your loops just to hold the stitches. See end of the following video of the hexagon blanket for this technique. Start at minute 24:40. http://youtu.be/SZZt6cOFu2Y
As always in grafting there will be a half stitch jog. You can also sew your ends together with a tapestry needle and matching yarn.
Weave in tails.
Happy Looming!
Kristen Mangus
©2013 GoodKnit Kisses
Http://www.goodknitkisses.com
Http://www.youtube.com/goodknitkisses