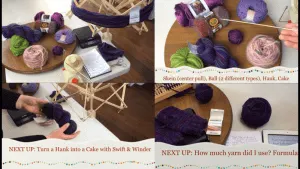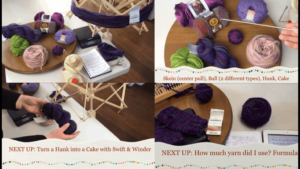 Yarn Class
Yarn Slang explained (skein, ball, hank, cake), How to use a Yarn Swift and Ball Winder, and How to calculate yards used on a knit or crochet project. Take our starter Yarn Class here. Watch the yarn class 101 video below. Be sure to grab some scratch paper to help you figure out how much yarn you need for a project or check the math for something you have recently made to help confirm what the video talks about.
I recommend purchasing an inexpensive gram scale that can switch between ounces and grams. Personally I use grams for weighing because it seems to be the most precise. I got my scale at a local office supply store for under $25 USD.
What is a skein of yarn?
What is a center pull ball?
What is an LYS?
What is a hank?
What is a yarn cake?
What is a Yarn Swift and how do I use one?
What is a Yarn Ball Winder and how to I use one?
How to figure out how much yarn I need or know how many yards are left?
How can I use a gram or postal scale to determine yards of yarn?
http://youtu.be/H8GCve7Vm8Q
All these questions compacted into this yarn class in less than 15 minutes. Sit back, watch and share. If you like what you see please subscribe! If you don't have a yarn class near you here is the next best thing to help figure out how much yarn your project will take.
Happy Crafting!!
Kristen Mangus
Copyright 2014 GoodKnit Kisses
GKK YouTube Http://www.youtube.com/GoodknitKisses
Http://www.facebook.com/groups/LoomKnitClub
Patterns for sale:
Cowl-lick Knitwear a miniponcho Triangle Cowl http://etsy.me/127HQh9
Chic Retreat Cowl http://t.co/D05voukj
Striped Afghan on S loom http://ow.ly/fQveA
Slouchy Newsboy Hat (with alternate for no slouch) http://ow.ly/fQwgj
Twisted Keyhole Scarflette or Scarf Double Knit (unisex all ages) http://ow.ly/fQwNB
Mossy Earflap Hat (specify for infant or toddler) http://ow.ly/fQxjN
Ribbed Banded Beanie with 4 point flower top (EASY) http://ow.ly/fQxGA
Thank you for subscribing & watching!
Yarn class rocks, just saying' 😉