Loom Knit Towel Topper
by GoodKnit Kisses
Today I'm going teach you how add a Loom Knit Towel Topper to a standard kitchen towel. We've seen the classic design for years and now it's coming to the loom!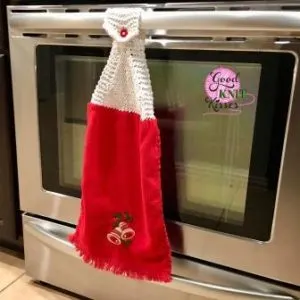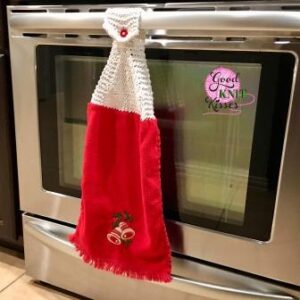 Loom:
SG ⅜" gauge loom with 29-45 pegs depending on the width of your towel. Sample used 29 pegs. KB looms premium round loom used in sample.
Supplies:
Skip-Cut Rotary Cutter Blade "Wide Spaced Cuts" 45mm
Standard rotary cutter blade.
Cutting mat
Straight-Edge ruler
Measuring tape
Button
Tapestry needle
Sewing needle & thread
Towel – Kitchen towel widths vary; 11" x 16" size used in sample.
Cotton yarn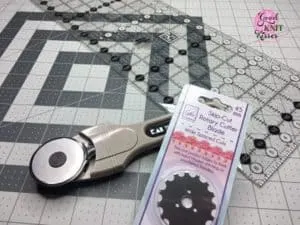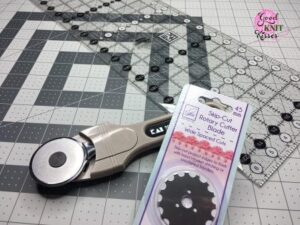 Prepare towel for topper:
Using a Rotary Cutter Blade and straightedge ruler to guide the blade, cut off the top fringe of a hand towel or finger towel. Position ruler approx ½" from edge of fabric. Switch out rotary blades. With Skip-Cut Blade placed in rotary cutter, cut along edge of ruler. Use just enough pressure to perforate fabric. Too much pressure may result in unwanted results. Test on scrap fabric as needed till satisfied with your results. If needed, cut a new straight line and start further down on towel. The number of perforated holes (slits) in each towel will vary depending on towel width and skip-cut rotary blade spacing. Sample used "Wide Spaced Cuts" 45mm blade.
Instructions:
Cast on:
Count the number of slits cut into your towel. This is how many pegs you will need! Hang towel on loom with one peg per slit. (NOTE: The towel acts as your cast on for this pattern. You will not need to cast on additional stitches.)
Start slip knot on far left (for right-handed knitters).
Row 1: Knit all
Row 2: P5. Knit to last 5 sts. P5.
Rep last 2 rows until piece measures 2".
Before row starts move decreasing stitches inward.
Row 3: K5. K2tog. Knit across to last 7 sts. Ssk. K5.
Row 4: P5. Knit to last 5 sts. P5.
Rep last 2 rows 7 more times.
NOTE: You will need to decrease to 12 or 13 stitches. With a narrow towel you may have already reached that width. If so, skip to Row 7. If you have more than 12 or 13 stitches on your loom continue to Row 5.
Row 5: K5. K2tog. Knit across to last 7 sts. Ssk. K5.
Row 6: P5. Ssk. Knit across to last 7 sts. K2tog. P5.
Rep these 2 rows until 12 or 13 sts remain.
Handle:
Row 7: K all.
Row 8: P all.
Rep last 2 rows until handle measures 3 1/2".
Row 9: K5, K2tog, YO, K6.
Row 10: P all.
Row 11: K all.
Repeat Rows 10 & 11 once more and purl bind off.
Weave in ends. Sew on button with needle and thread to correspond to buttonhole. Using the needle and thread sew down the cut edge at the top of the towel to keep it from fraying or treat with Fray Check.
Watch the video tutorial for the Loom Knit Towel Topper below:
This video was filmed during a live Facebook broadcast and shows the entire project from start to bind off. Enjoy and if you make a towel topper of your own please share it and tag me with #goodknitkisses!