Have you seen Red Heart Loop It Yarn yet? It's pretty amazing! Red Heart sent me a couple skeins to try out and I am loving it. I designed this loop yarn seed stitch cowl and it knit up in just a couple hours. You seriously won't believe how easy this yarn is to use.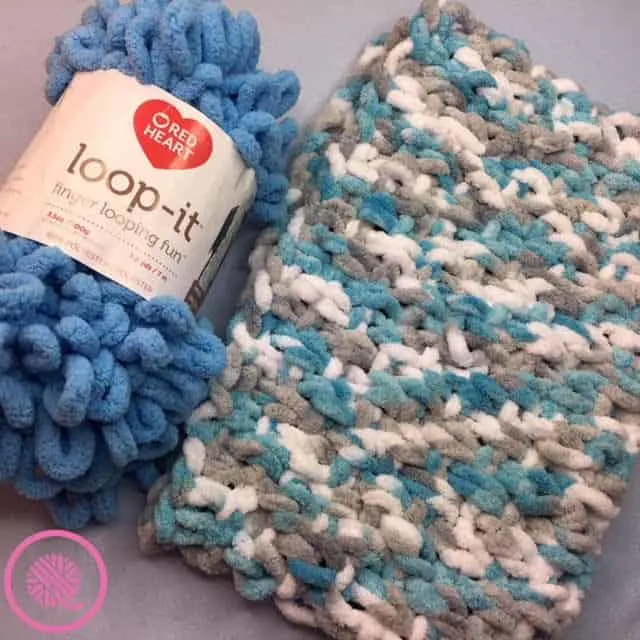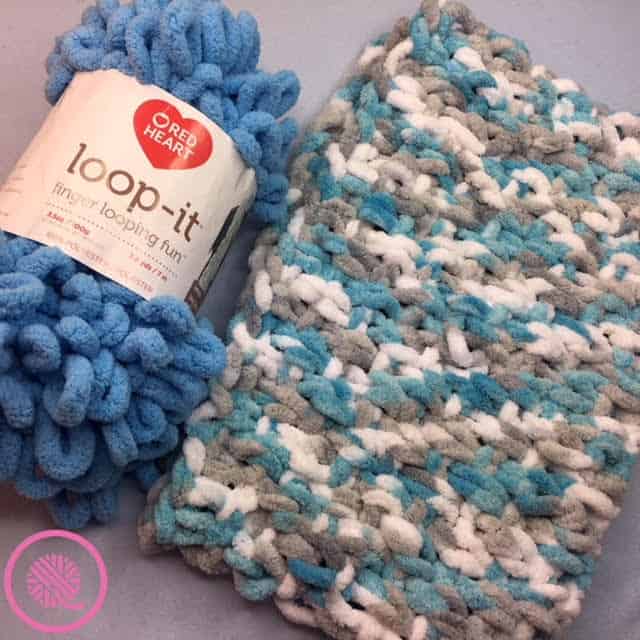 In case you missed it, loop yarn is a new trend this year. The yarn comes with individual loops already formed in the yarn. These loops are your stitches and since they're all the same size you will never, ever, EVER have any issues with your gauge being off. Did you get that? Your gauge will always be perfect. This is like one of those knitter's dreams.
You join the loops into knit or purl stitches with your fingers so you also have the advantage of not needle tools. Gone are the days of researching the internet to see if you can bring knitting needles on your next flight. Say goodbye to the not-so-quick craft store trip because you don't have the correct length circular needle. All you need is the yarn!
Now on to the good stuff….
PIN IT!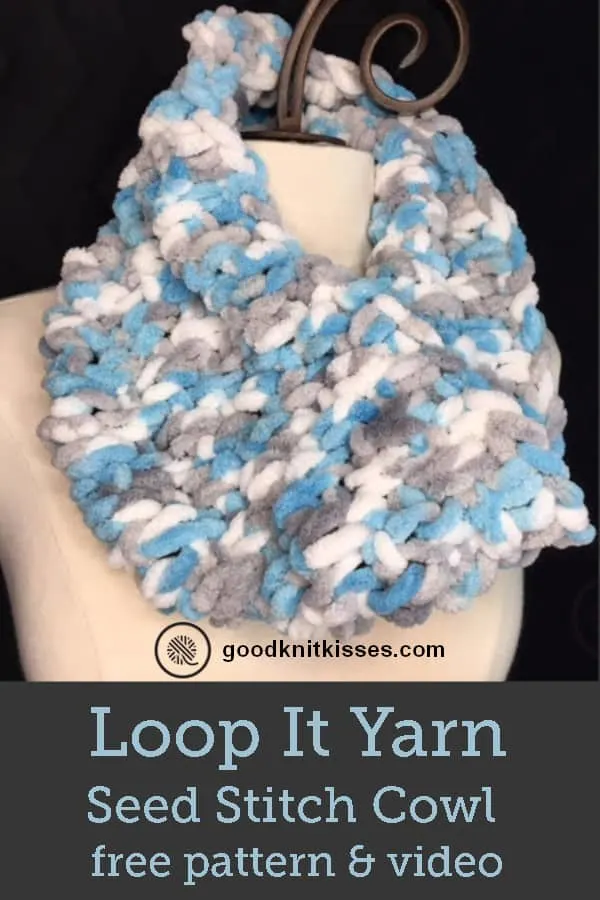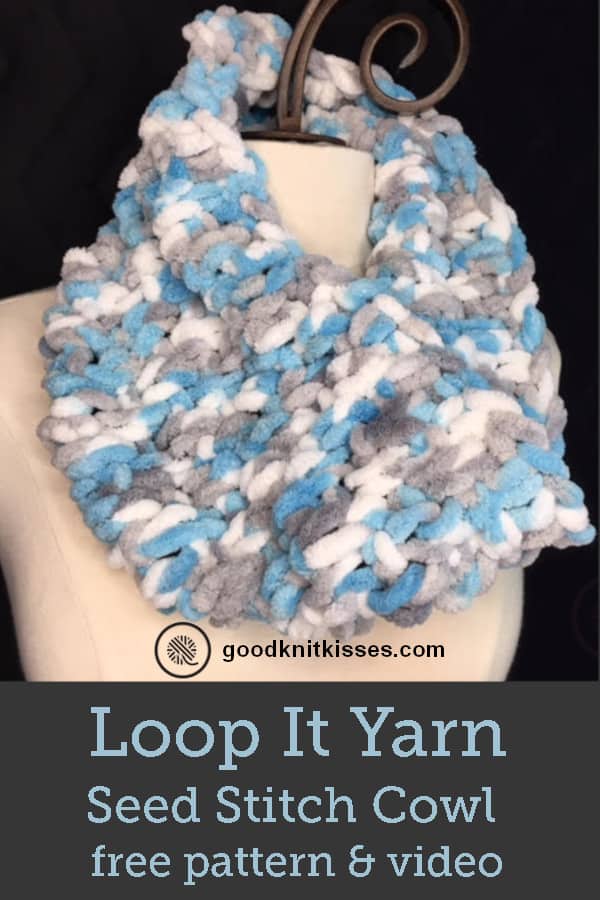 Loop Yarn Seed Stitch Cowl Pattern
Yarn
1 ball Red Heart Loop-it
Notions
scissors, locking stitch marker, wide eyed tapestry needle
1. Open up 2 loops to create yarn tail by cutting thread on first 2 loops.
2. Count out 47 loops.
3. Place marker on last loop.
4. Lay loops flat to untwist.
5. Connect in a circle, without twisting the yarn itself, by making a Knit Loop stitch (see step 6)
6. Place the next working loop, coming from the ball, behind the first loop. Pull through the new loop making sure not to twist. This makes a Knit Loop.
7. **Place a new working loop on top of the next loop and push through to the back to make a new loop to Purl Loop.
8. *Make a Knit Loop again by placing working loop behind next loop and pull through.
9. Repeat Purl Loop** followed by Knit Loop* (steps 7 and 8 ) until 1 complete round has been worked and stop at the stitch marker. This completes one round.
10. Repeat step 9 for a total of 7 rounds.
11. When you have about 30" left that will be enough to complete your last round and still have a tail to weave in.
12. After you finish the last round cut open two loops to create a yarn tail.
13. Beginning at next loop (after last loop with tail) pull through the very next loop to form your First chain. This binds off one stitch.
14. Repeat bind off one stitch at a time until last loop with tail remains.
15. Pull tail through loop.
16. Close the gap. Bring tail through inside of first chain, going through both loops, pull to outside of Cowl. Bring tail through Last chain loops to repeat and complete the look of a chain.
17. Weave in all tails.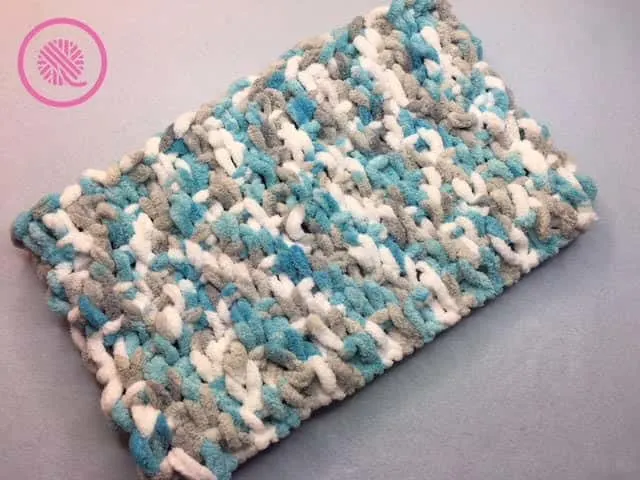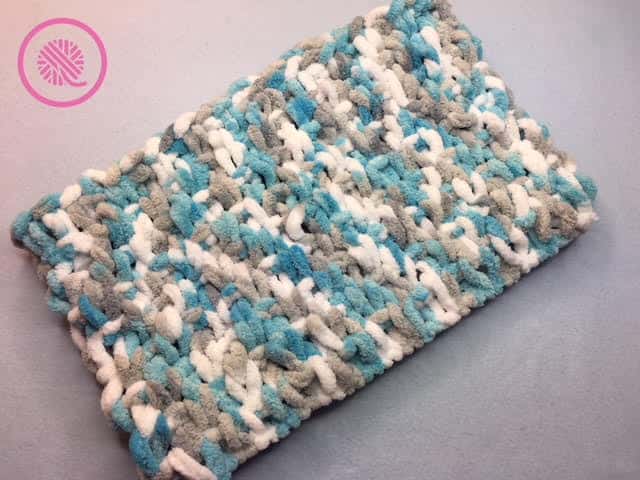 See the full video below: