Inside: Knit Coral Breezes Infinity Scarf pattern with easy to follow tutorial video and chart.
I love water.
More specifically, I love the ocean. The salt air, the gentle breeze, the sound of the waves splashing on the shore. There are few things in life more relaxing than sitting by the ocean. Unless it's sitting by the ocean at sunset.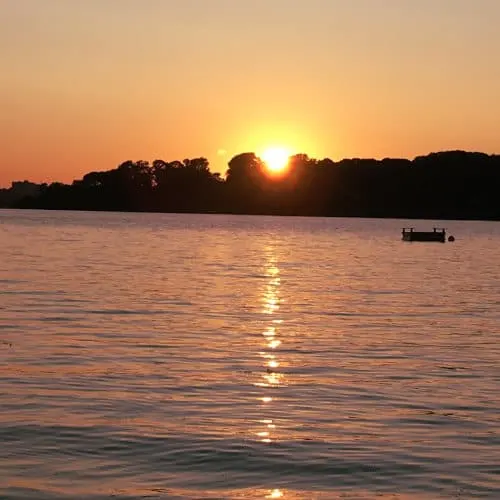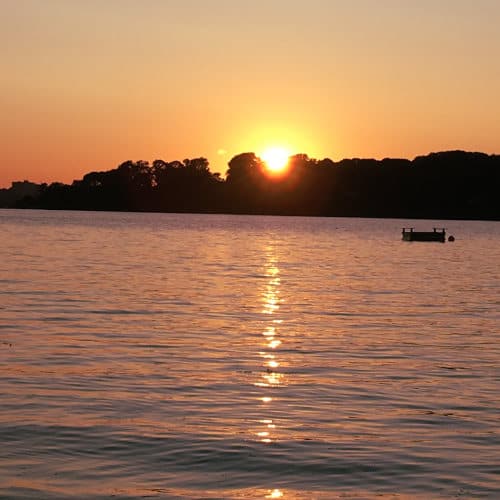 I love the play of color as water and light dance with each other as waves ripple towards the sand.
I designed the Coral Breezes Infinity Scarf to reflect the sparking waves of color and transport me back to the beach. Summer may be over, but the memories don't have to be.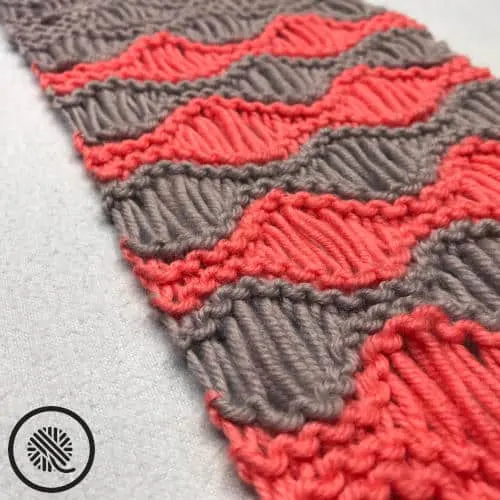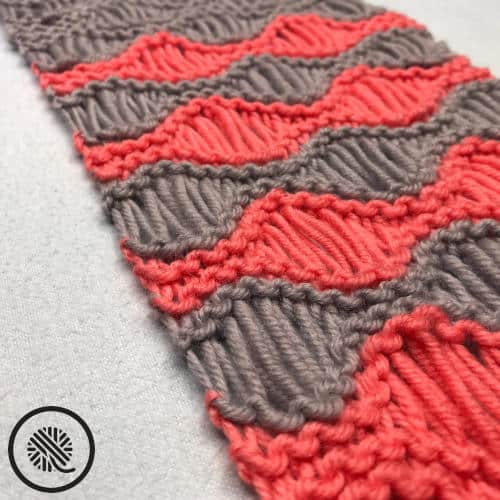 Needle Knit Coral Breezes Infinity Scarf
By Kristen Mangus
This pattern is available as a downloadable PDF at the locations below:
This scarf features the sea foam stitch, a garter stitch pattern that uses dropped stitches of varying heights to create rippling waves. The Coral Breezes Infinity Scarf plays right along by creating movement in one color and then shifting to a two-color design and back again. Stitching it all together makes the waves and breezes continue forever in this fun infinity scarf pattern.
MATERIALS
Materials list may contain affiliate links to products I use.

Yarn: Red Heart Chic Sheep (100g / 3.5oz, 170 m / 186 yards)
Contrast A -Color Mai Tai used in sample.
Contrast B- Color Sterling used in sample.
US 10 (6 mm) knitting needles Knitter's Pride Interchangeable used in sample.
Tapestry needle
ABBREVIATIONS
K = Knit
Patt = Pattern
Rem = Remain(ing)
Rep = Repeat
RS= Right Side
St(s) = Stitch(es)
WS= Wrong Side
YO = Yarnover
Yo2xk = Yarnover 2 times, knit 1
Yo3xk = Yarnover 3 times, knit 1
Yo4xk = Yarnover 4 times, knit 1
GAUGE
10 sts x 8 rows in 2.5" x 1.875" (6.35 cm x 4.76 cm) in sea foam stitch pattern
SKILL LEVEL
Easy+
MEASUREMENTS
Approx. 5.75" x 42" (14.6 cm x 106.6 cm)
NOTES
Chart showing both single color and two-color stitch pattern included on the last page.
The sea foam stitch pattern is a multiple of 10+6.
Each 8-row repeat of the sea foam stitch pattern will add approx 1.75"+ to your scarf.
Color changes can be carried along side of edge, but cutting yarn and weaving tail is recommended for best results.
Block scarf before connecting ends. Unblocked dropped sts create uneven ripples.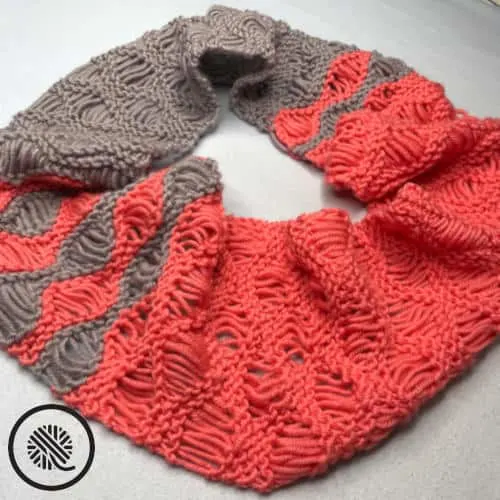 INSTRUCTIONS
With contrast A, cast on 26 sts using longtail cast on.
Setup:
Foundation Row (WS): Knit.
Sea Foam:
Follow the row instructions below and/or use the sea foam stitch chart on the next page.
Row 1 (RS): Knit.
Row 2 (WS): Knit.
Row 3 (RS): K6, *yo2xk, yo3xk, yo4xk, yo3xk, yo2xk, k5, rep from * to end.
Row 4: Knit; drop all yo's off needle.
Row 5: Knit.
Row 6: Knit.
Row 7 (RS): K1, *yo2xk, yo3xk, yo4xk, yo3xk, yo2xk, k5, rep from *; rep from *, end last rep with yo2xk.
Row 8: Knit; drop all yo's off needle.
Rep rows 1-8 nine more times.
Rep rows 1-4 only. Cut A leaving tail (leave tail each time yarn changes in rem patt).
**With B rep rows 5-8. Cut B.
With A rep rows 1-4. Cut A.
Repeat from ** three times.
With B rep rows 5-8. Do not cut.
Continue working in Sea Foam Stitch patt, rep rows 1-8 seven times in B.
Rep rows 1-4 only. Cut B.
With A rep rows 5-8. Cut A.
With B rep rows 1-4. Cut B.
With A rep rows 5-8.
Bind off and cut long tail to sew seam. Except for long tail, weave in all other ends with tapestry needle. Wet block drop stitches to show open stitchwork. After blocking, placing wrong sides together and sew seam. Weave tail.
SEA FOAM STITCH CHART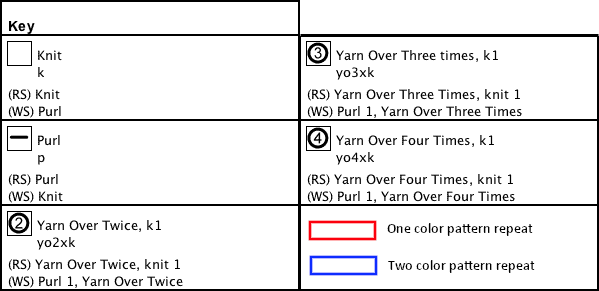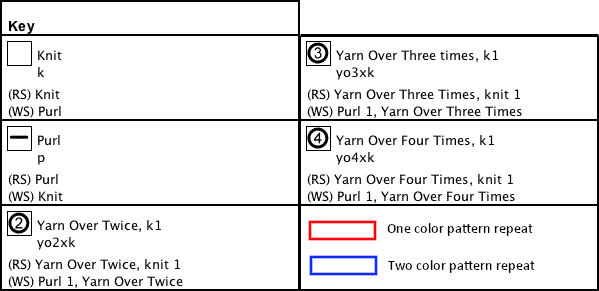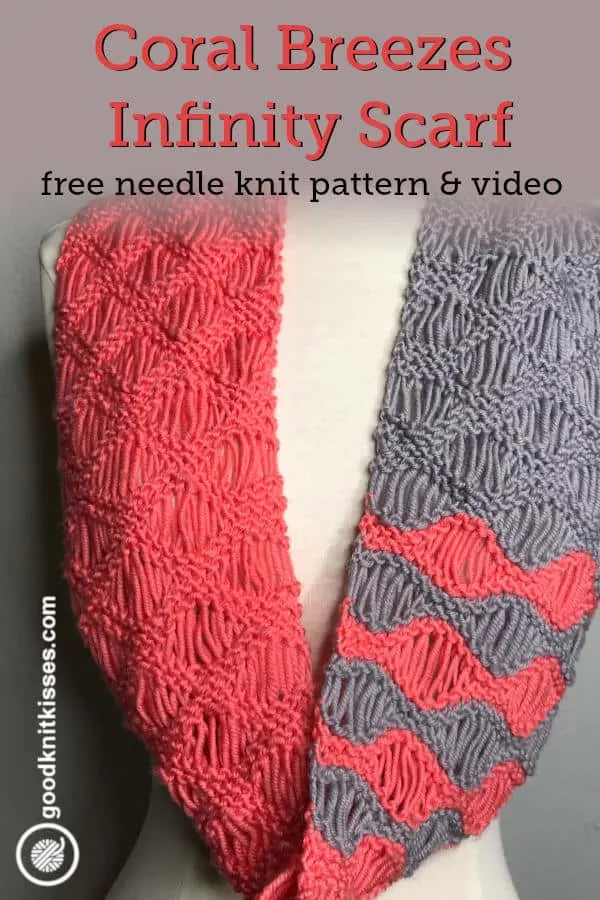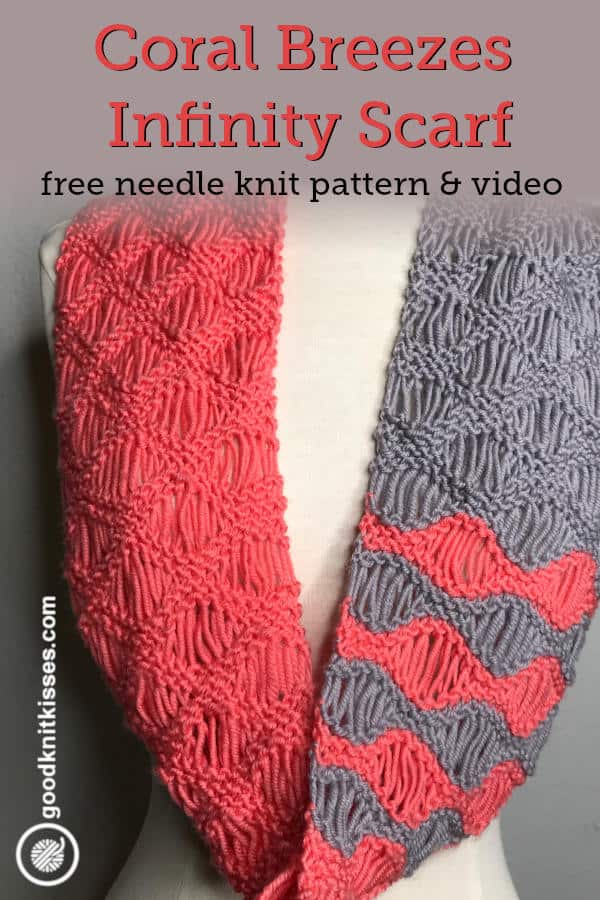 ---
Needle Knit Coral Breezes Infinity Scarf easily with my easy Sea Foam stitch video tutorial.
Sea Foam Stitch Tutorial Video for Right Handers
Sea Foam Stitch Tutorial Video for Left Handers