Inside: Make this easy needle knit Grandma's Eyelet Shawl with my free pattern and video tutorial. Sizes from small kerchief to full length shawl!
I don't know about you, but one of the first knitting projects I learned was Grandma's Favorite Dishcloth. It's a simple, adaptable pattern that's a classic for beginner knitters.
This pattern uses some of the same easy techniques to create a beautiful triangular shawl with a double eyelet edge and decorative picot bind off.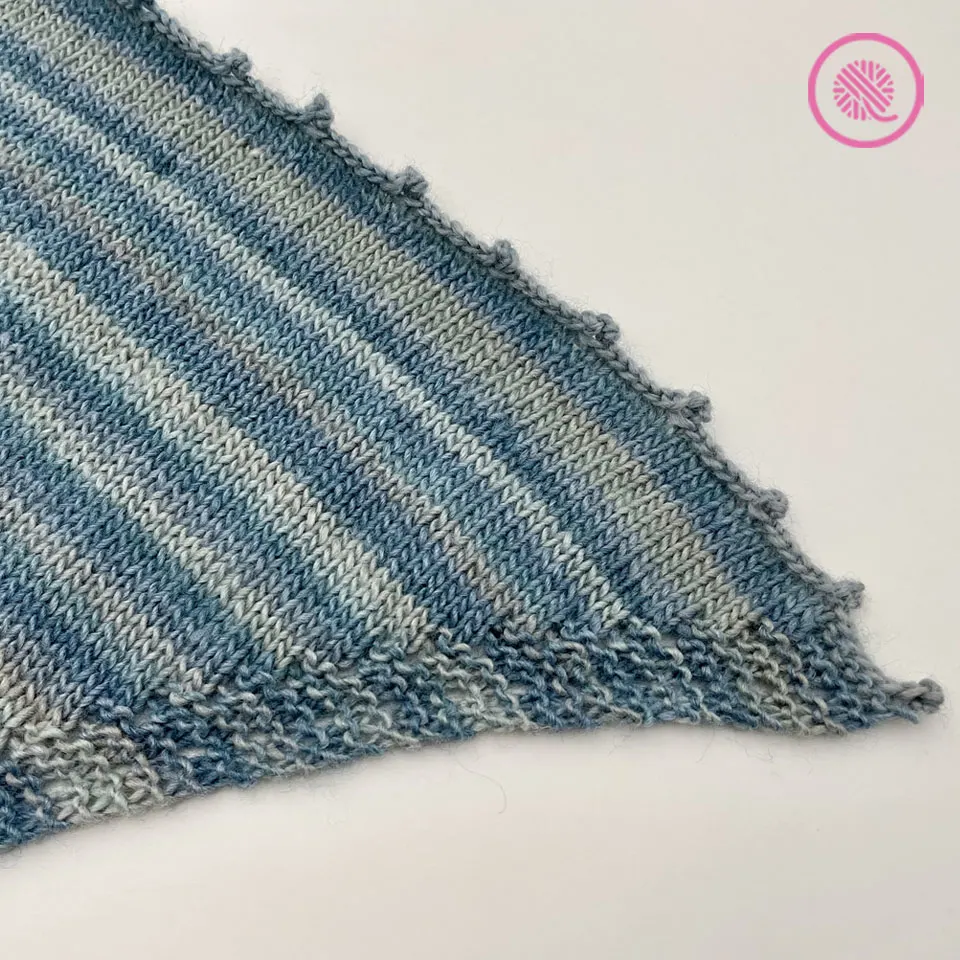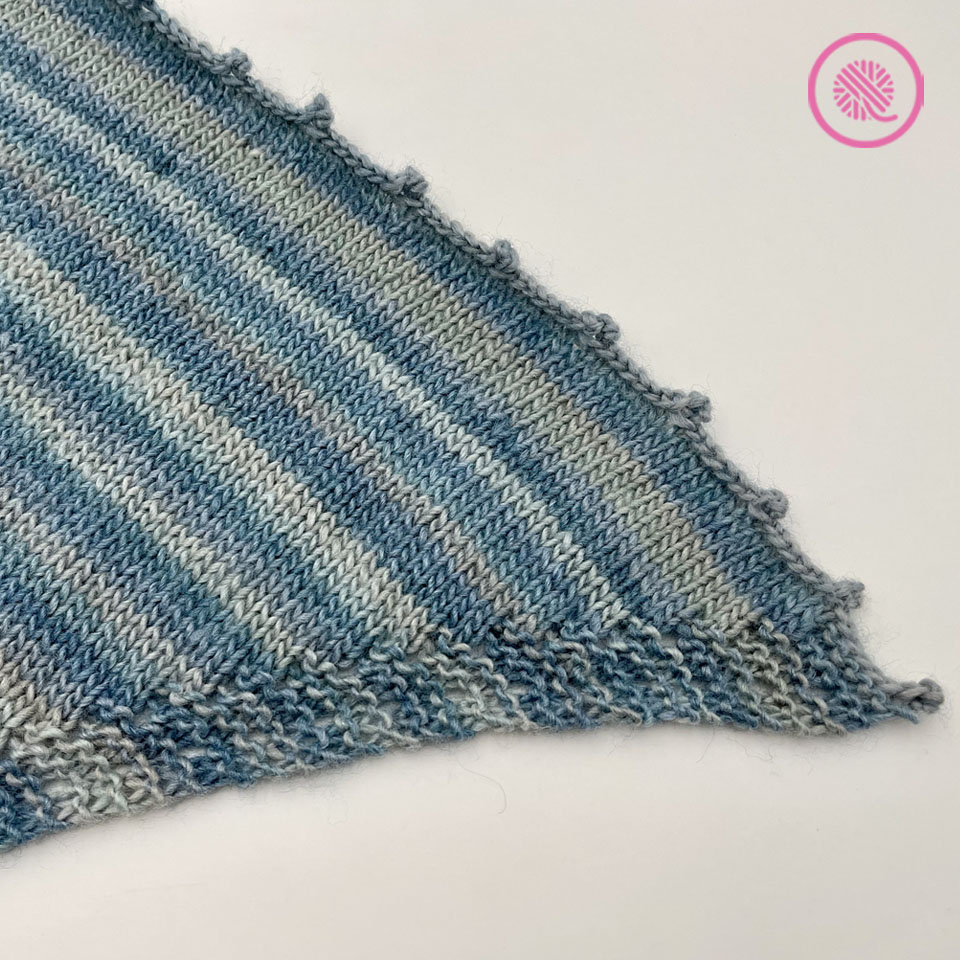 First, you cast on only 4 stitches. This is the bottom point of the triangle. Then you increase to widen the shawl and add the eyelets. The 4 row repeat is easy to memorize so once you get a few repeats into the pattern it's a simple project. (And, by simple I mean put on your favorite show and knit the evening away.)
It's easy to needle knit Grandma's Eyelet Shawl because you can make the shawl any size you want. The one pictured here is the smallest size. It's more of shawlette, or large kerchief, measuring 34″ across at the top. I want to show you this size because it used only one ball of the yarn. That makes it not only a quick knit, but a great project size for gifting or donating.
In the pattern below I also included approximate shawl sizes using 2, 3 or 4 balls of yarn. But you can make it even bigger if you like.
If you can't find the yarn listed in the pattern, that's okay. You can use the same pattern instructions with any yarn and the appropriate needle size! Need a bulky wrap for winter? This is your pattern! Looking for a lightweight cotton wrap for summer? This is your pattern!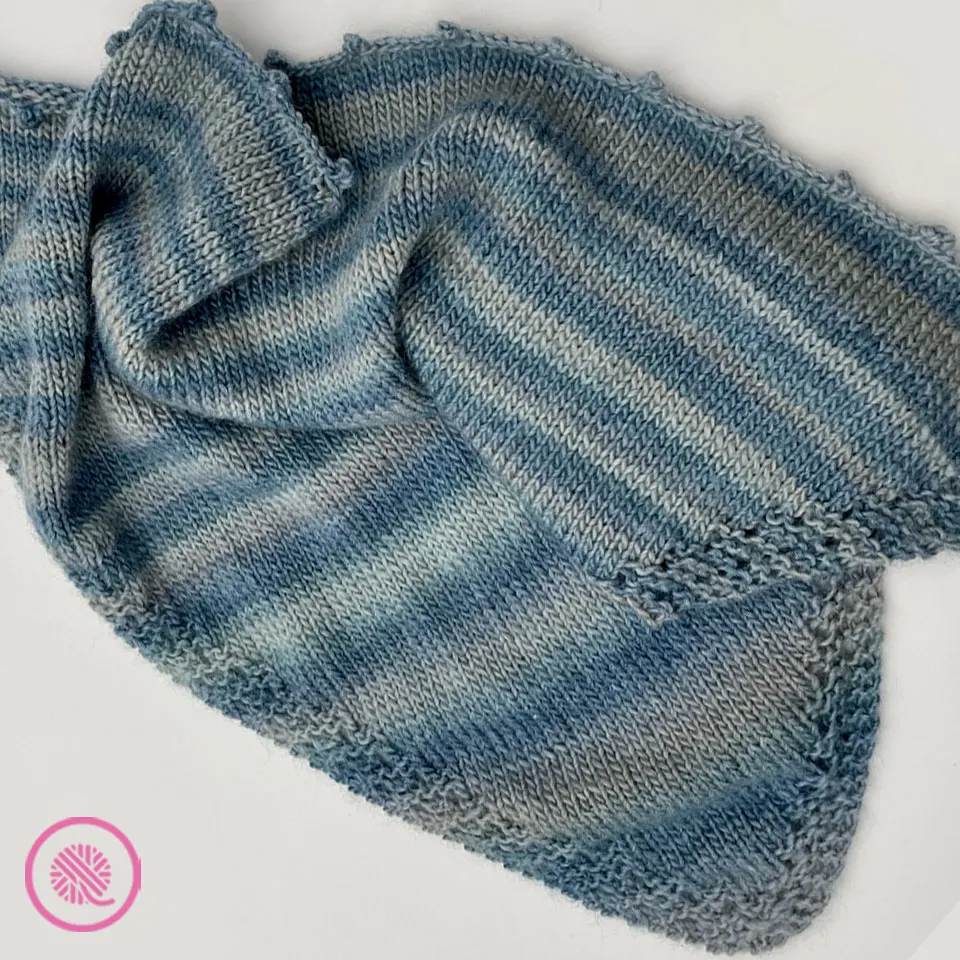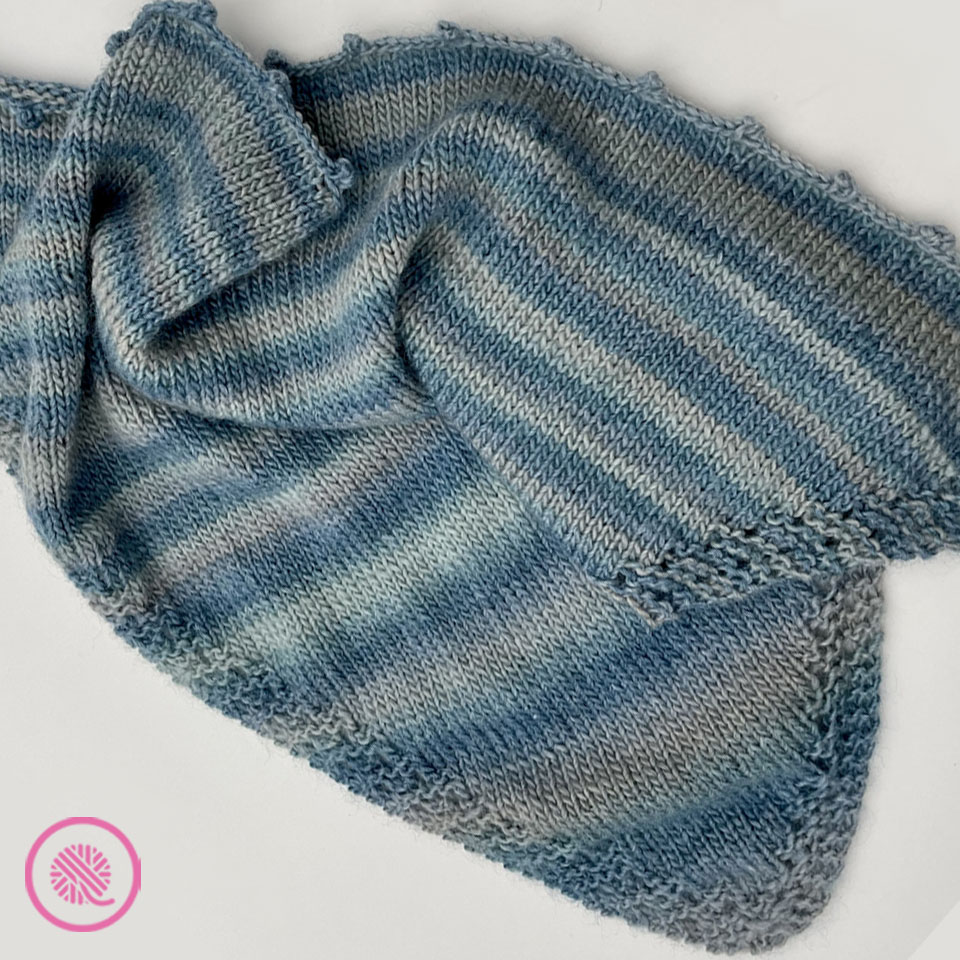 Needle Knit Grandma's Eyelet Shawl
By Kristen Mangus
A downloadable PDF of this pattern is available in my Etsy store and from Ravelry at the links below:
Grandma's Eyelet Shawl takes the classic triangular shawl to a whole new level. With a double eyelet edge and picot bind off you'll wrap up in both style and comfort. Working from the bottom upwards you can make a quick shawlette with 1 ball of yarn or add more balls for a full sized shawl.
Pattern contains written instructions and links to fully-captioned tutorial videos for both right and left handed knitters.
MATERIALS
(Materials list may contain affiliate links to products I used to make this project. Using these links cost you nothing, but helps support GKK.)
Yarn
Medium (#4) weight yarn
Yarn Bee Chloe (270 yds/3.53 oz., 247 m/100 g) in color Ocean Water used in sample.
Picture shows smallest size using 1 ball of yarn. Measurements and stitch counts are included for 1, 2, 3 or 4 balls.
Needles
US 9 (5.5 mm) 40" circular needle
Knitter's Pride Karbonz Interchangeables used in sample.
Tapestry needle
ABBREVIATIONS
K = Knit
Kfb = Knit into the front and back of the stitch
P = Purl
Pat = Pattern
Rep = Repeat
RS= Right Side
St(s) = Stitch(es)
WS= Wrong Side
YO = Yarnover
New to knitting? I've got a How to Knit Beginner Video Series to teach you ALL the basics.
GAUGE
19 sts x 25.5 rows in 4" (10 cm) in stockinette stitch
SKILL LEVEL
Easy
MEASUREMENTS
1 ball: Approx. 34" x 22" (86 x 56 cm)
2 balls: Approx. 48" x 31" (122 x 79 cm)
3 balls: Approx. 60"" x 39" (152 x 99 cm)
4 balls: Approx. 68" x 45" (173 x 114 cm)
NOTES
This pattern can be used with any weight yarn and an appropriate needle size. All measurements and stitch counts for the listed sizes are specific to the yarn listed above.
The pattern includes a picot bind off that gives the top of the shawl a decorative edge. The picot bind off involves casting on additional stitches before you bind off to create each picot. This takes more yarn than a traditional bind off. I estimate you'll need about 15 times the width of your shawl for the picot bind off. If you prefer you may work a basic bind off.
To customize the shawl size with the picot bind off, make sure your final stitch count is a multiple of 6.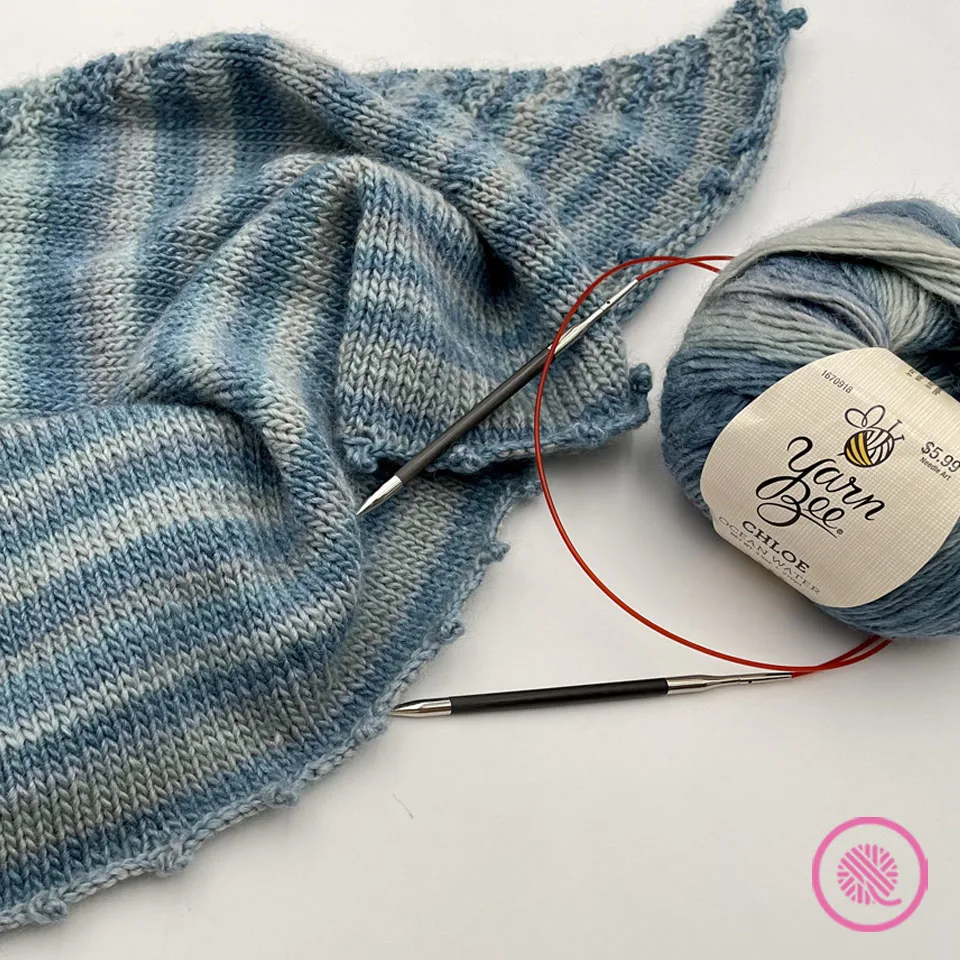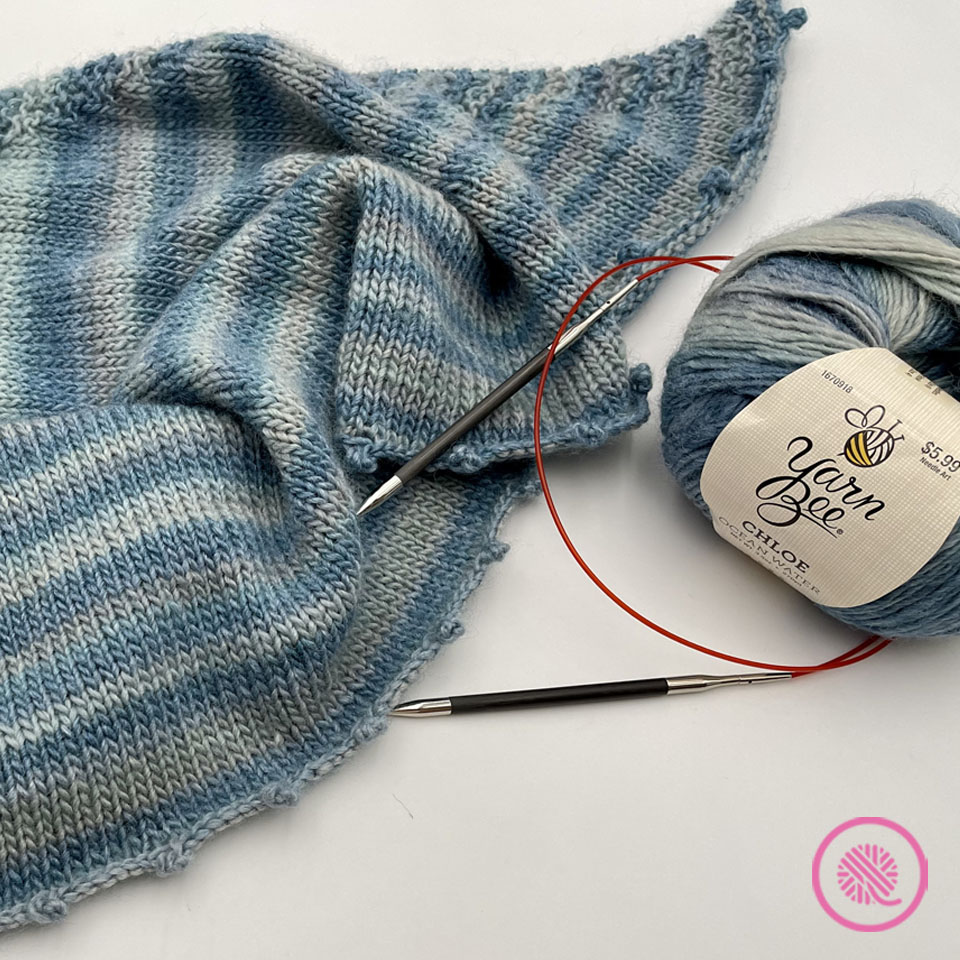 INSTRUCTIONS
Cast on 4 sts.
Row 1: Knit 4. [4 sts]
Row 2 (RS): K1, Kfb, k1, kfb. [6 sts]
Row 3: Knit all.
Row 4: K1, Kfb, k1, kfb, k2. [8 sts]
Row 5: Knit all.
Row 6: K2, yo, k2, yo, knit to end of row. [10 sts]
Row 7: Knit all.
Row 8: K2, yo, k2, yo, knit to end of row. [12 sts]
Row 9: K2, yo, k2, yo, knit to end of row. [14 sts]
Row 10: Knit all.
Row 11: K6. Purl to last 6 sts. K6.
Row 12: K2, yo, k2, yo, knit to end of row.
Row 13: K2, yo, k2, yo, k2. Purl to last 6 sts. K6.
Row 14: Knit all.
Row 15: K6. Purl to last 6 sts. K6.
Repeat Rows 12-15 until you reach 144 (204, 256, 288) stitches or until desired length ending after a Row 15.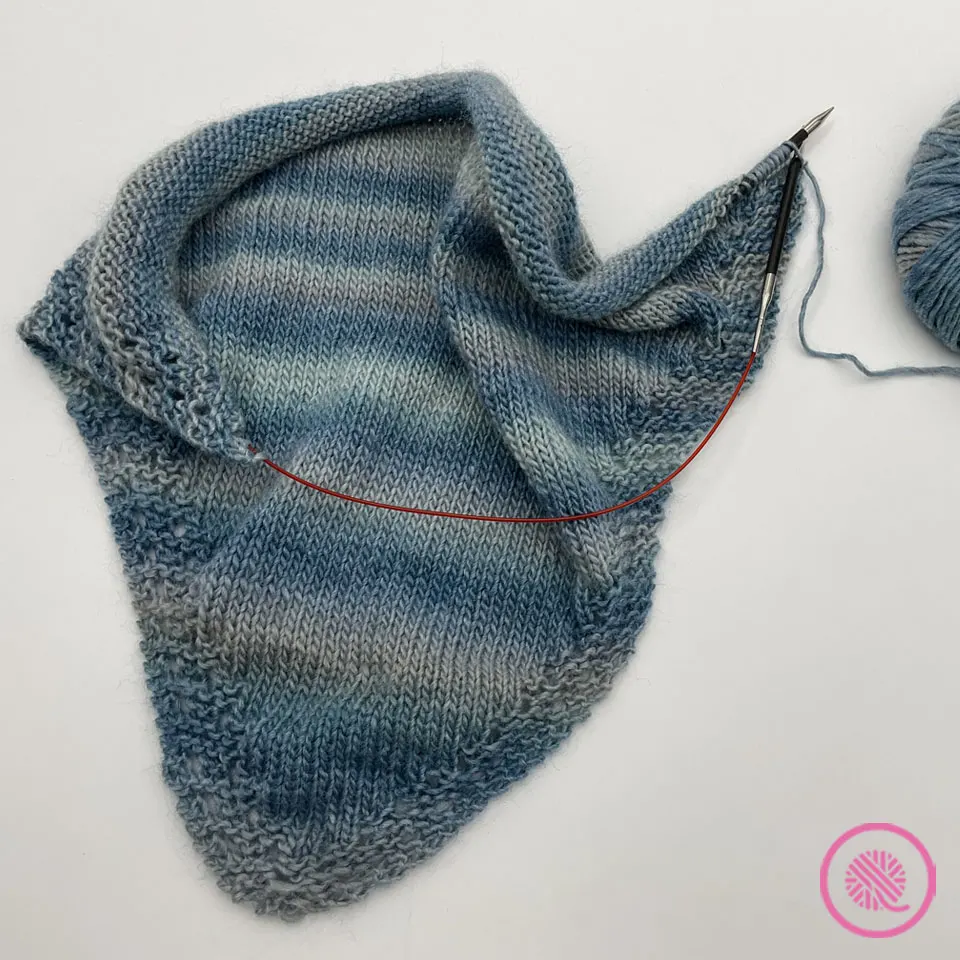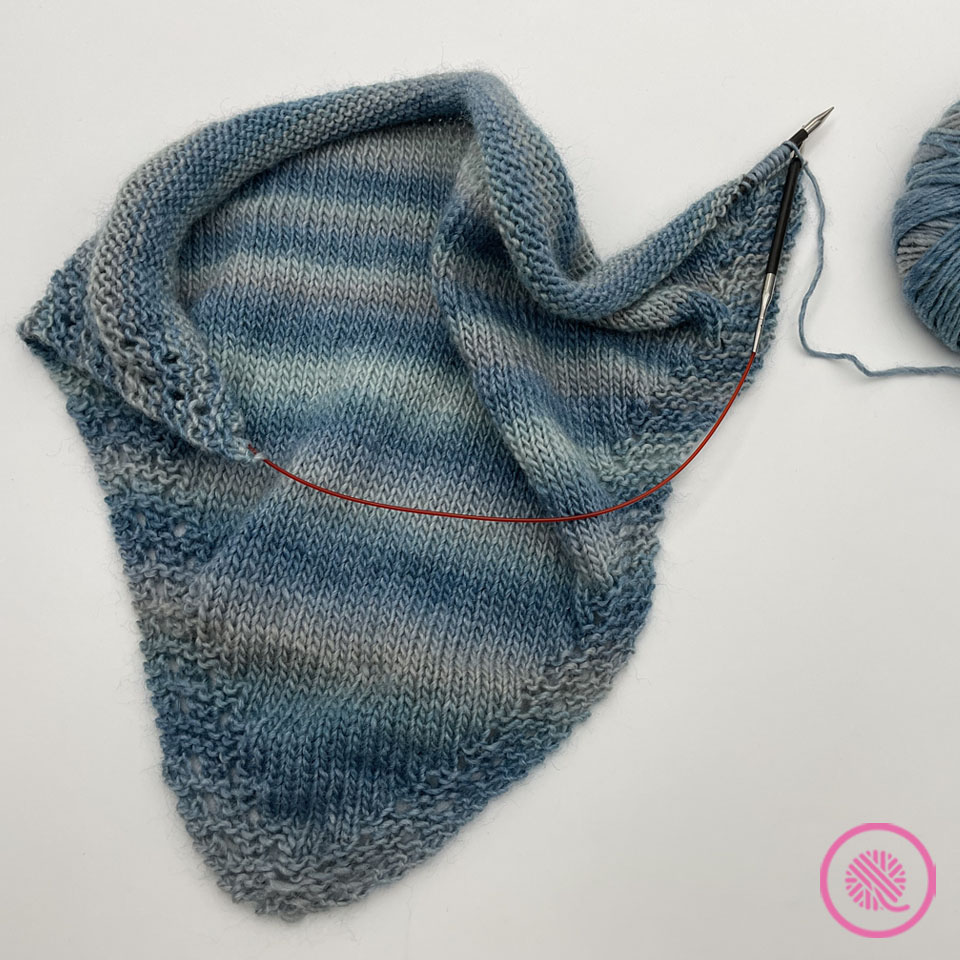 Work the Picot Bind Off below or if you desire a smooth edge work a basic bind off.
Picot Bind Off:
Row 16: *Cast on 2 sts. Bind off 8 sts. Rep. from * to last 6 stitches. Cast on 2 sts. Bind off 7 sts. Cast on 2 sts. Bind off rem sts.
Weave in ends and block.
---
PIN IT!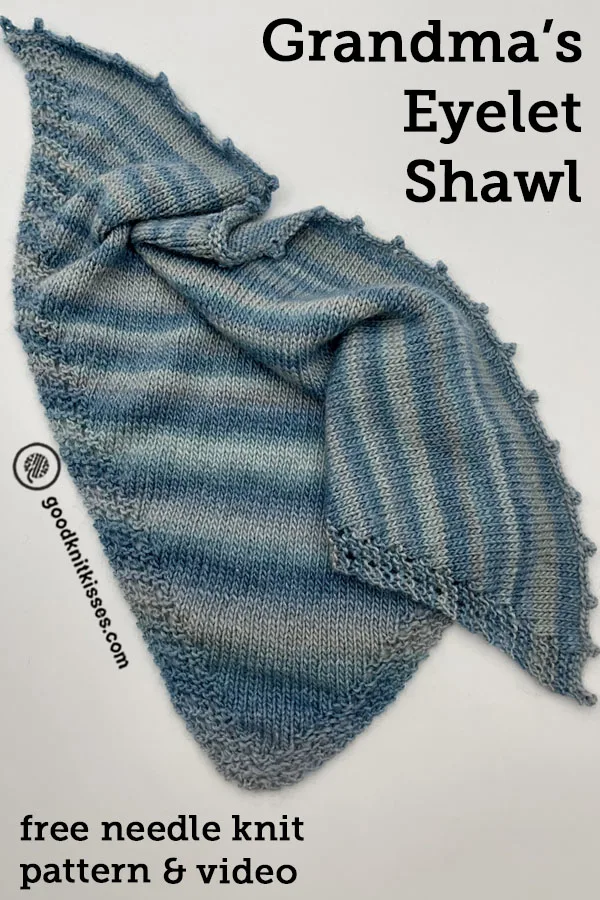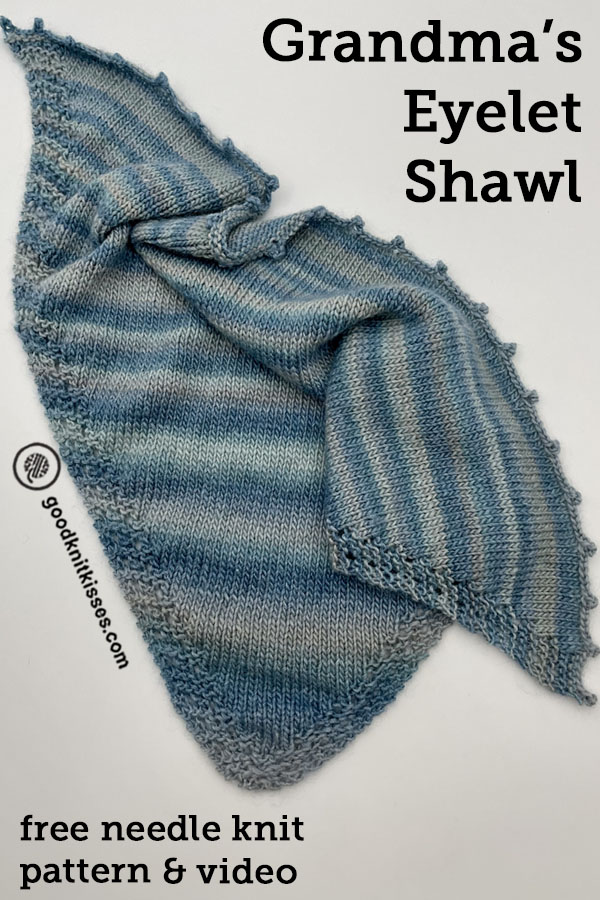 ---
---
Needle Knit Grandma's Eyelet Shawl Video Tutorial
Select videos are available to GoodKnit Kisses YouTube members only. To get exclusive access to GKK VIP-only content, free PDF patterns, weekly Zoom meetup and more, sign in to YouTube and join as a VIP Member today! Find out more about GKK Membership HERE!
The following tutorial videos walk you through the entire pattern from cast on to bind off, and even weaving in the ends. I encourage you to watch the entire video first, then use the time stamps below to help you find each section of the pattern as you come to it.
Time stamps:
00:00:00 Intro
00:00:46 Overview
00:02:16 Cast On 4
00:03:21 Row 1
00:03:45 Row 2 (RS) Increasing with KFB to 6 sts
00:04:33 Row 3
00:04:55 Row 4 Increasing with KFB to 8 sts
00:05:27 Row 5
00:05:50 Row 6 Increasing with Yarnovers to 10 sts
00:06:50 Row 7
00:07:20 Row 8 Inc to 12 sts
00:08:00 Row 9 Inc to 14 sts
00:08:53 Row 10 (RS) mark front with locking stitch marker if needed
00:09:37 Row 11 purls for rev stockinette start
00:10:41 Row 12 (Start of 4-row repeat!!) Inc 2
00:11:56 Row 13 Inc 2 with purl on WS
00:13:19 Row 14
00:14:04 Row 15
00:15:28 Instructions to repeat rows 12-15
00:16:05 Progress – when is it time to bind off?
00:17:08 Picot Bind off
00:21:28 Finishing last picot
00:23:29 Weave tail
26:06 Final Shawl
Right handed


Left handed