Inside: Make the needle knit Vertical Herringbone Ribbed Hat with this free pattern & tutorial video. Includes written instructions for 6 sizes from Baby to Adult and right & left handed tutorial videos showing the pattern from start to finish.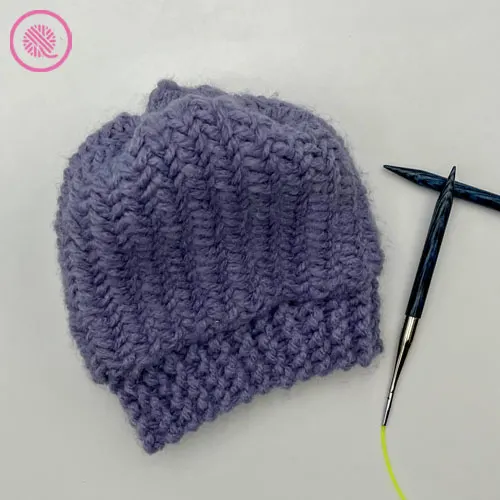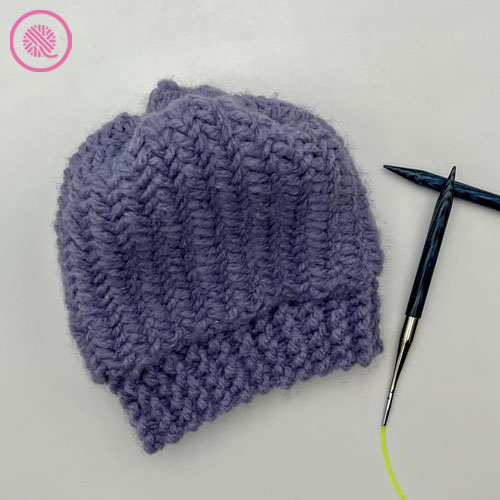 Vertical Herringbone Ribbed Hats
By Kristen Mangus
A downloadable PDF of this pattern is available in my Etsy store and from Ravelry at the links below:
The Vertical Herringbone Ribbed Hat makes a warm, thick hat perfect for the coldest weather. It features a ribbed brim, vertical columns of the iconic herringbone stitch and a drawstring crown. This hat is knit side to side as a flat panel then seamed.
Pattern includes written instructions for 6 sizes from Baby to Adult and links to fully captioned tutorial videos for both left and right handed knitters.
MATERIALS
(Materials list may contain affiliate links to products I used to make this project. Using these links cost you nothing, but helps support GKK.)
Yarn
Bernat Bounce Back (225g/ 7.9oz, 261 meters/ 285 yd.) in color Lilac used in sample.
Needles
US-11 (8.00 mm) – straights or circular needle
Knitter's Pride Dreamz Interchangeable circular needles used in sample.
Tapestry needle
ABBREVIATIONS
K2tog tbl = Knit 2 stitches together through the back loop
K = Knit
P2tog = Purl 2 stitches together
P = Purl
Rep = Repeat
RS = Right side
Sl = Slip stitch
St(s) = Stitch(es)
WS = Wrong side
New to knitting? I've got a How to Knit Beginner Video Series to teach you ALL the basics.
GAUGE
20 sts x 16 rows in 4" in herringbone stitch pattern
SKILL LEVEL Easy+
MEASUREMENTS
Baby: 6.5" x 15" circumference (16.5 x 38 cm)
Toddler: 7.5" x 17" circumference (19 x 43 cm)
Child: 8.5" x 18" circumference (21.5 x 45.5 cm)
Small: 9.5" x 19.5" circumference (24 x 49.5 cm)
Medium: 10.5" x 21" circumference (26.5 x 53.5 cm)
Large: 11.5" x 22" circumference (29 x 56 cm)
SIZES
Baby, (Toddler, Child, Small, Medium, Large)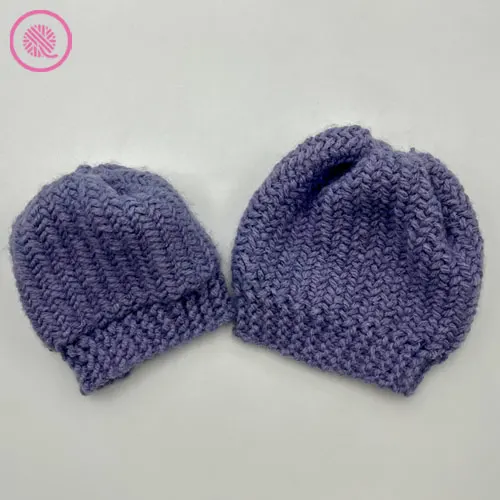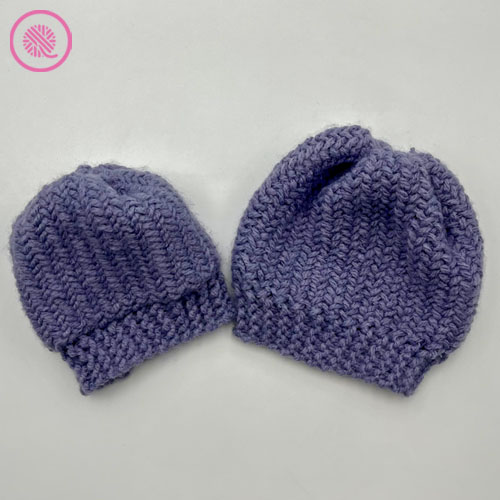 NOTES
This hat is worked side to side as a flat panel, bound off and then seamed.
Brim: Since the hat is worked sideways the brim is worked in garter stitch at the end of a row and not in a typical ribbing stitch. On the RS of the brim, knit stitches must be twisted, knit through the back loop, to create the height needed for an even ribbing.
Bind off: Because this stitch is very dense your bind off edge may end up too loose. If you find this is a problem for you, you can slip the first stitch and then bind off the next 2 stitches together at the beginning of the row; continue bind off as usual.
Traditionally, it is recommended that you use a larger size needle for this stitch pattern since it is very dense. I've included instructions and measurements for US 11 needles but you may want to jump up to a US 13 needle and adjust the cast on accordingly. The herringbone stitch pattern is a multiple of 1.
INSTRUCTIONS
Cast on 29, (34, 39, 43, 48, 53) sts loosely.
Row 1 (RS): *K2tog tbl drop only the first st off your needle. Rep from until last 6 (6, 8, 8, 8, 8) sts remain for brim. K1tbl to end of row.
Row 2 (WS): K5 (5, 7, 7, 7, 7). *P2tog drop only the first st off your needle. Rep from until last st. P1.
Rep Rows 1-2 until piece measures 15" (17", 18", 19.5", 21", 22"), or until desired hat circumference, ending after a Row 2.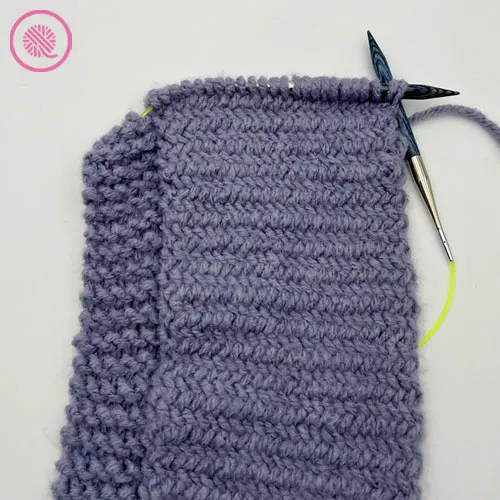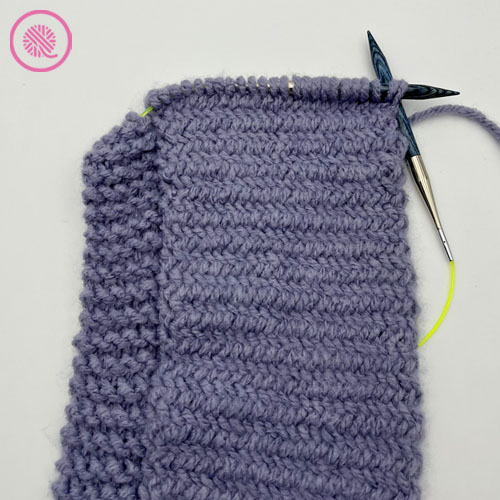 Bind off: Work a basic bind off, but slip first st and then bind off the next 2 sts together; continue bind off as usual. Leave a long tail to sew up seam and top of hat (about 6-8 times the width of your panel).
Seaming: Bring first and last rows together looking at the right side of the fabric. Using long tail begin seaming together at brim. Insert tapestry needle under full knit stitch V on the 1st row (between cast on and 1st Purl st in brim area) and pull through all of the tail. Insert needle under first full V on the last row and pull through all of the tail. Continue sewing back and forth this way to the end of the panels.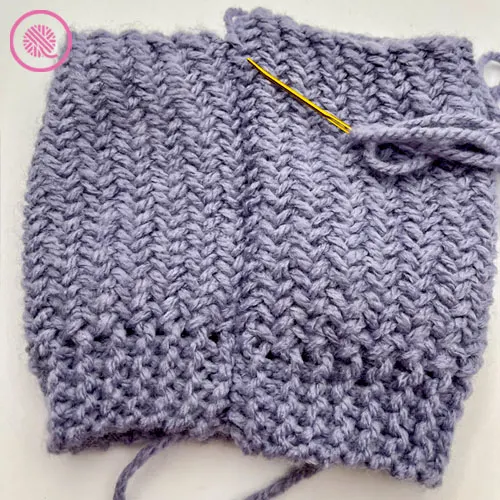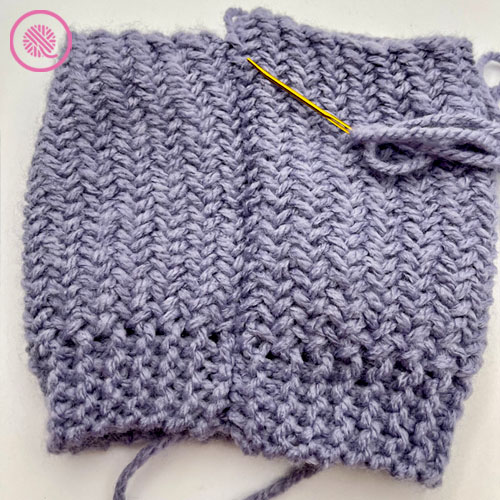 Gathered/drawstring top: Insert needle through top of seam from the front. *Skip a herringbone to top of next herringbone column and pull through from front to back. Continue from * to beginning seam. Place tail inside and turn inside out. Tighten drawstring by pulling gently. Do not break yarn. If your hat doesn't fully close then continue picking up every other stitch in the center to make another drawstring. Pull tight to close. Knit and weave in remaining tails.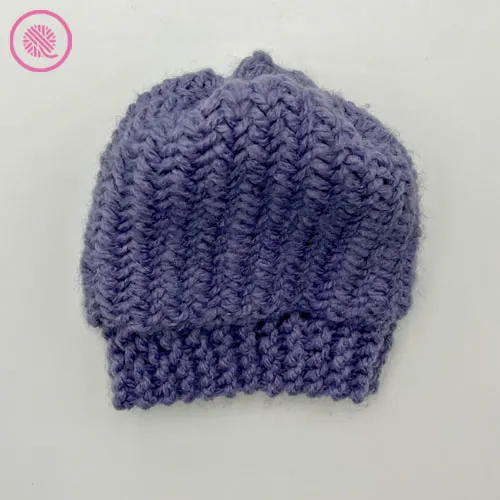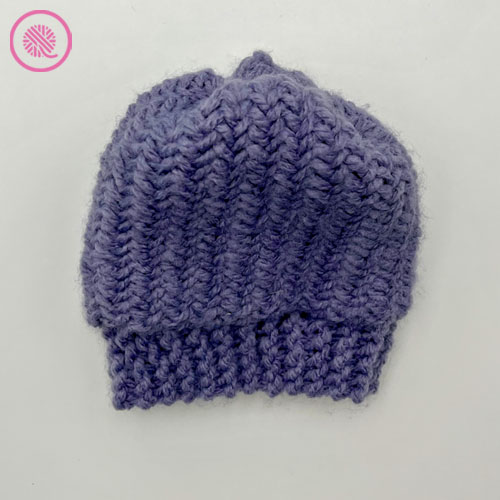 ---
PIN IT!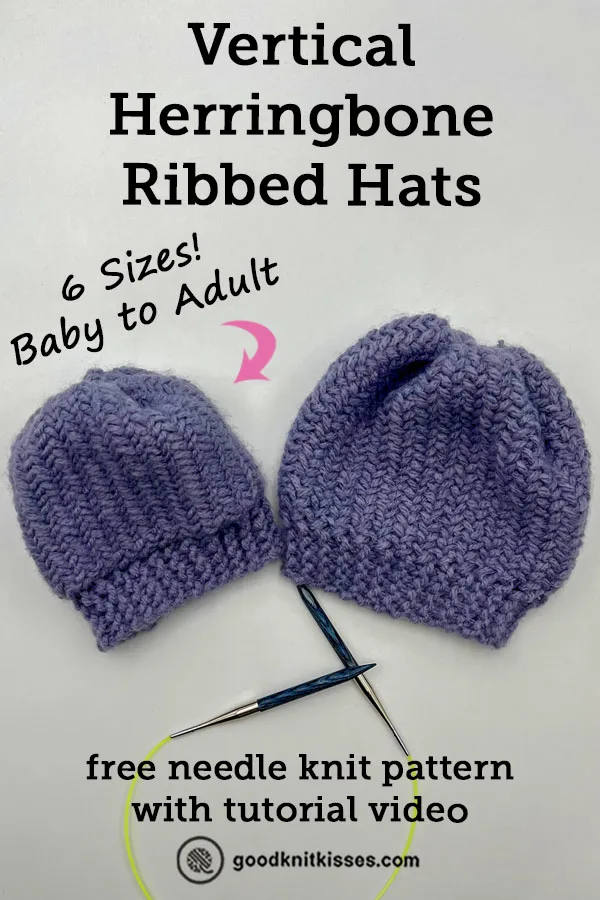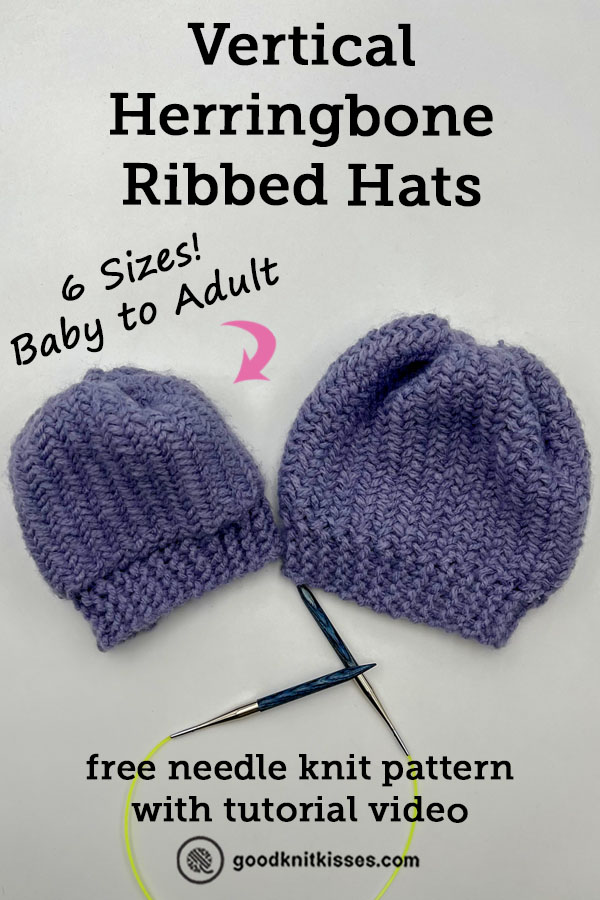 ---
---
Needle Knit Vertical Herringbone Ribbed Hat Video Tutorial
Select videos are available to GoodKnit Kisses YouTube members only. To get exclusive access to GKK VIP-only content, free PDF patterns, weekly Zoom meetup and more, sign in to YouTube and join as a VIP Member today! Find out more about GKK Membership HERE!
Right handed


Left handed