The Picot Booties are a loom knit baby bootie made in a preemie bootie or newborn bootie. We hope you enjoy this pattern and try out the whole Picot Layette set as well.
Picot Booties
By Kristen Mangus
GoodKnit Kisses
Free Pattern in Picot Layette Set
Loom Knit
May 27, 2013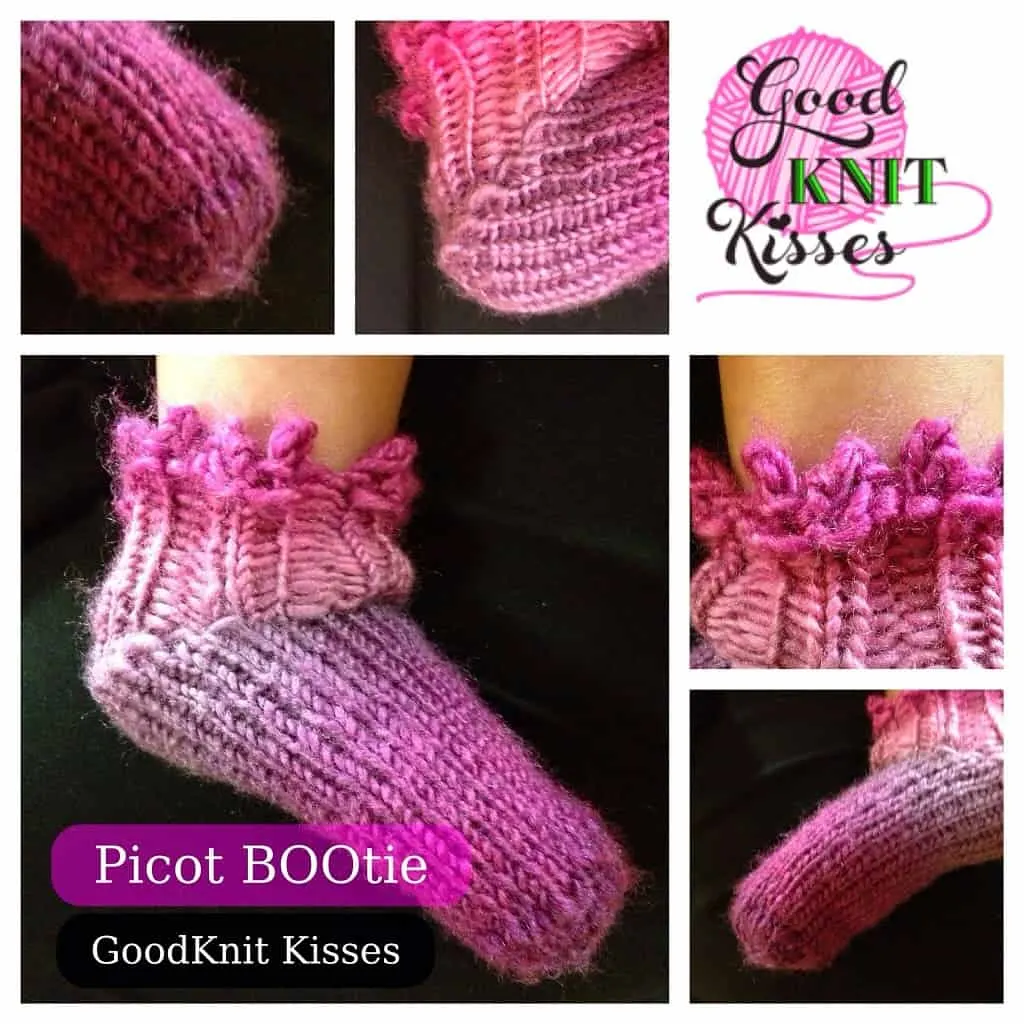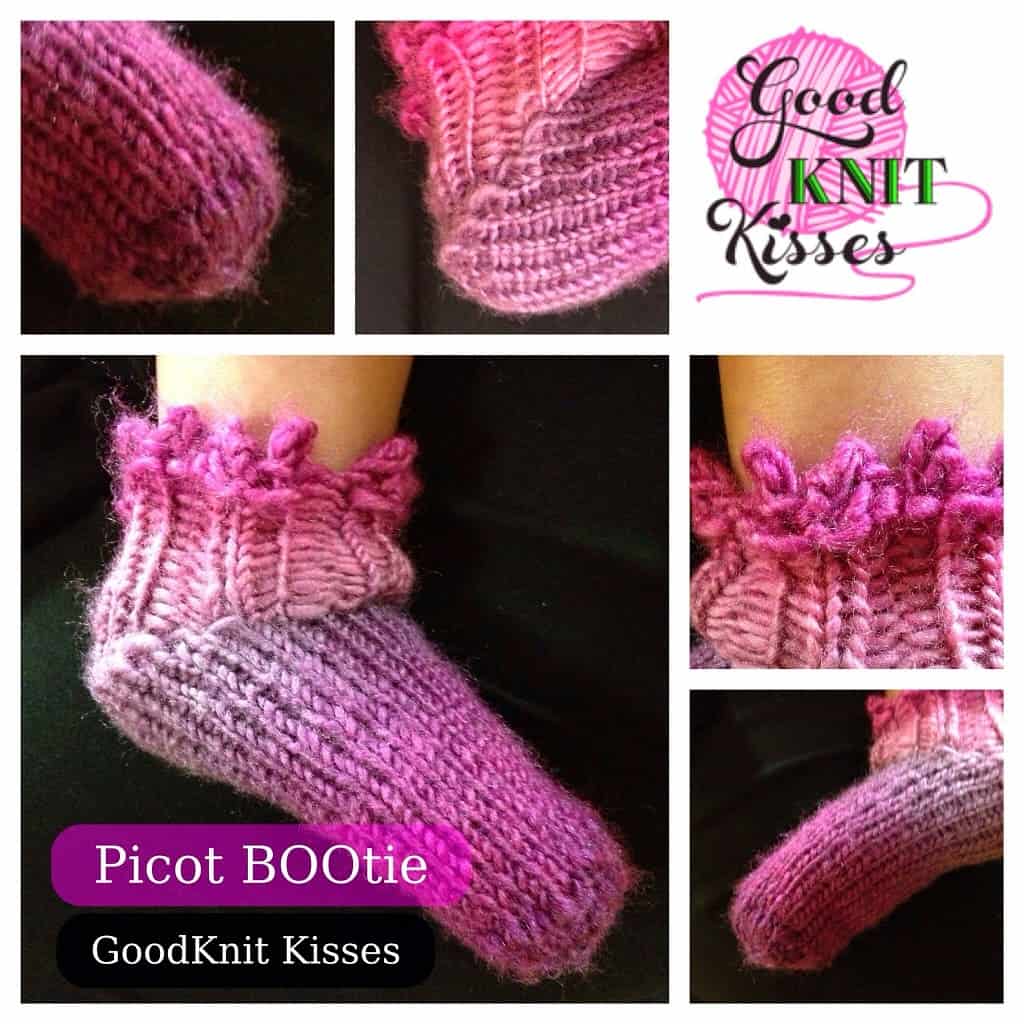 Loom:
3/8″ gauge adjustable loom. KnittingBoard Sock Loom 2 used in sample. (AllnOne adjustable loom is also recommended)
Yarn:
Worsted weight. Lion Brand Unforgettable color Petunia used in sample. Less than 1 skein.
Abbreviations:
K – Knit
P – Purl
FK – Flat Knit
Dcr – Decrease
St(s) – Stitch(es)
Cast On:
Picot CO 24 stitches in the round. Watch this video, after last peg in round knit peg 1 to connect. Row 1 will new start on peg one although it was just worked. Loom Knit Cast On: Picot Cast On http://youtu.be/MdtQZm9wUE0
Instructions:
Row 1 purl
Row 2 k2,p2 rep
Repeat row 2 until reaches 1″
Heel section (Short Rows):
short rows on 12 pegs. Wrap 2/3 of the 12 using short row technique. (Use standard short row technique used for heels & toes) see video if you need help http://youtu.be/5e3J0fuYz-U PART 1
http://youtu.be/HDCtTqjDDPE PART 2
Row 3: FK
repeat row 3 until bootie measures 3 1/4″ in length from back of heel.
Toe:
Use Heel technique again then close with Kitchener stitch, Russian grafting or use decrease & drawstring method below.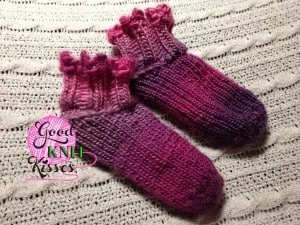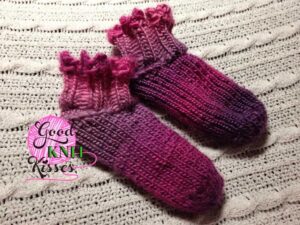 Decrease by 4 stitches; adjust loom down as you go. It is suggested to place yarn on scrap yarn and adjust loom down, then place stitches back on and double peg that will decrease.
FK 1 row
Dcr by 4 sts; adjust loom
FK 1 row
Dcr by 4 sts; adjust loom
FK 1 row
Drawstring bind off
Weave in tails.
Make two picot booties.
Try the whole layette set suite of patterns! Click this link here. Patterns are the Picot Bonnet, Picot BOOties and the Picot Lovey Mitered Square
©2013 GoodKnit Kisses
For personal use only.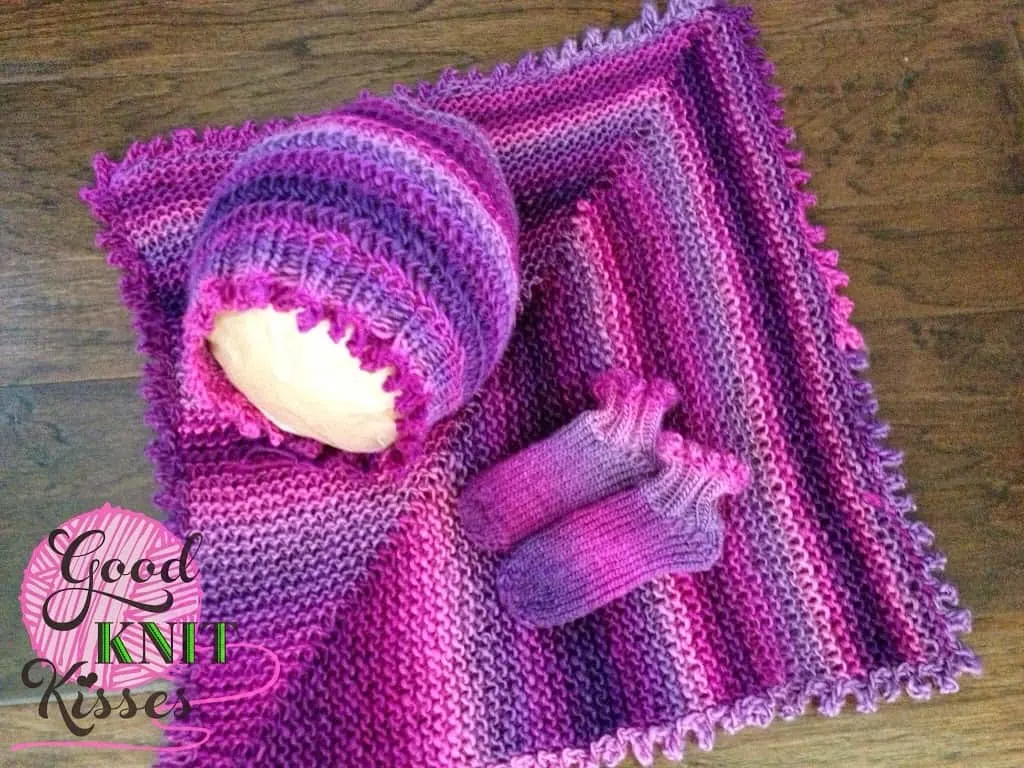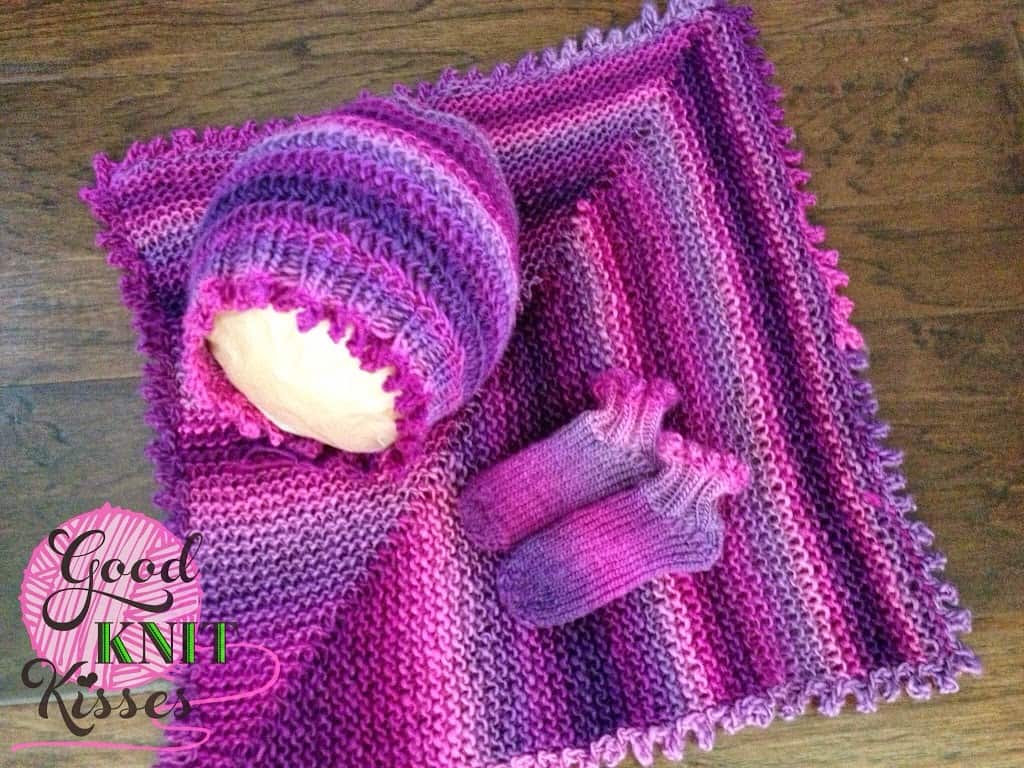 We'd love to hear from you if you try the picot booties!