The Picot Layette set is a set of patterns for a preemie or newborn baby.  The picot adds a sweet edging and we hope you enjoy it!
Picot Layette Set
Loom knit the whole set or just what you need.  The Set: A Picot Lovey (mitered square with picot optional add-on edge), Picot Booties, and a Picot Bonnet.
The set is girl centered but there are alternate to tweak for a boy or more unisex.
These patterns are written out in separate blogs and have a few video references.  There are no full video loom alongs at this point.  However, I challenge you to stretch yourself if you find you rely on full loom along videos too much.  The technique videos help demonstrate the techniques spelled out in the patterns.  This blog is a quick reference to all of the patterns in the layette set. Click on the ones you want to read down below.
The set was conceived by me and I partnered together with Charity, to design a mitered square that will work well for you. You can actually do this on any loom and with more stitches. This particular pattern was created to go with my Picot Layette set and was inspired by the new sock loom 2 from Authentic Knitting Board. I was privileged to get an advance preview of the loom and got so excited that I created 3 new patterns.
If you are familiar with Charity Windham's Hexagon baby blanket you will be able to make the mitered square in no time. The video for the Hexagon will help you understand the concept or process of steps.
Here are the pattern links below. I might create PDFs individually on Ravelry for convenience to have on your mobile device or to print off for personal use.  Enjoy!
(Originally written June 11th, 2013)
Best for girls; for boys or unisex substitute bind off for stretchy bind off.
Best for girls; for boys or unisex substitute cast on for ribbed cast on or a double e-wrap.
Best for girls; for boys or unisex do not add on the picot edging. Picot Layette is flexible, just change the cast on or bind off to be plain as a substitute for the picots.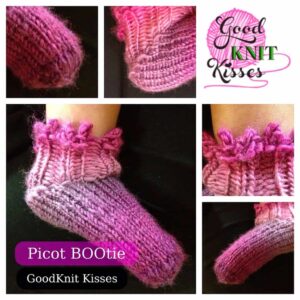 Happy Looming!!
Kristen Mangus
GoodKnit Kisses