Inside: This easy striped mock mitered square pattern includes written instruction and tutorial video.
Knit the classic design with a twist! This corner to corner square features both a solid and striped side using two colors. These squares can be used alone as a combined to create your own unique design.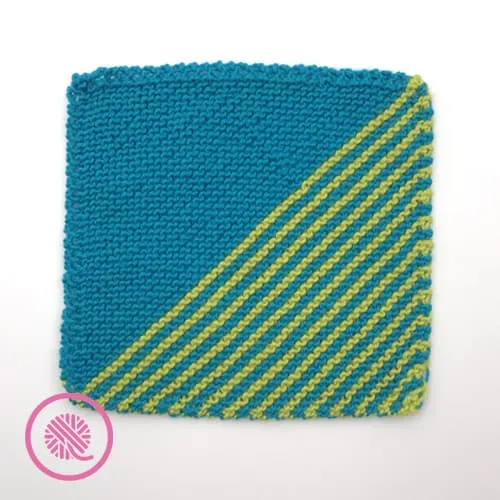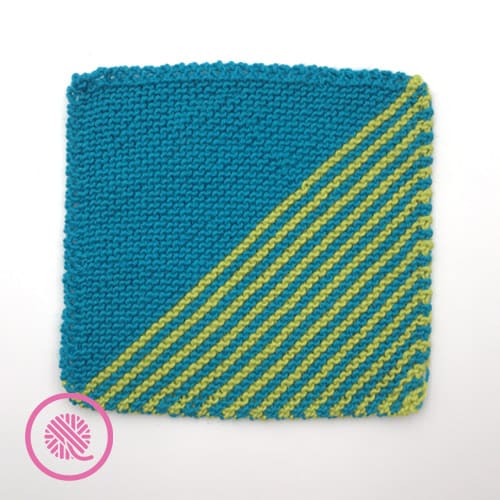 C2C Striped Mock Mitered Square
By Kristen Mangus
A downloadable PDF of this pattern is available in my Etsy store and from Ravelry at the links below:
MATERIALS
Links below are affiliate links to products I used to create this pattern/video. Clicking the links costs you nothing, but helps support GoodKnit Kisses.
Yarn
Medium weight (#4) Red Heart Chic Sheep (100g / 3.5oz, 170 m / 186 yards)
Contrast A – Color Green Tea used in sample.
Contrast B – Color Poolside used in sample.
Needles
US 8 – 5mm
Knitters Pride Dreamz Interchangeable Set used in sample.
Tapestry needle
ABBREVIATIONS
Approx. = Approximately
K = Knit
K2tog = Knit 2 together
K3tog = Knit 3 together
P = Purl
Rep = Repeat
St(s) = Stitch(es)
New to knitting? I've got a How to Knit Beginner Video Series to teach you ALL the basics.
GAUGE
20 sts x 42 rows in 4" in garter stitch
SKILL LEVEL Easy
MEASUREMENTS
8" x 8" (20.3 x 20.3 cm)
INSTRUCTIONS
Cast on 3 sts in Contrast A.
Foundation Row: Knit 3
Row 1: With Contrast B, Kfb, k to end of row
Row 2: Kfb, k to end of row.
Row 3: With Contrast A, Kfb, k to end of row.
Row 4: Kfb, k to end of row.
Repeat Rows 1-4 until you have 55 sts or continue until desired length ending with Contrast A. Break yarn.
Row 5: With Contrast B, K1, k2tog, knit to end of row.
Rep Row 5 until 3 sts rem.
Row 6: K3tog.
Knit last st, cut tail and pull through.
Weave in ends.
---
C2C Striped Mock Mitered Square Tutorial Videos:
If any of the videos below do not show they may be restricted to GoodKnit Kisses YouTube members only. Find out more about GKK Membership HERE!
NOTE: This pattern does not have a dedicated video teach the project from start to finish. However, ALL the skills you need to make this project are in the videos below.
Mock Mitered Square Right Handed


Mock Mitered Square Left Handed


How to Change Colors (Video begins at color change)