Inside: This free pattern with tutorial video is THE perfect beginner knitting project. Basic Garter Scarf is a classic style and easy to knit.
This is the easiest scarf pattern for a beginner knitter! The Basic Garter Scarf only uses the knit stitch so it's perfect for reinforcing your skills. This pattern includes instructions to make the scarf with either super bulky yarn or medium weight yarn.
I designed this pattern to go with Lesson 1 of my How to Knit for Complete Beginners video series. It is the perfect first project for a beginner knitter since you only need to know one stitch to complete it.
Learn all the basics of needle knitting!
How to Knit for Complete Beginners: Overview
How to Knit Garter Stitch for Beginners
But the tutorial video covers so much more than just the one stitch. You'll learn how to cast on, work the knit stitch, bind off, recognize mistakes and fix them plus weaving in your yarn tails at the end.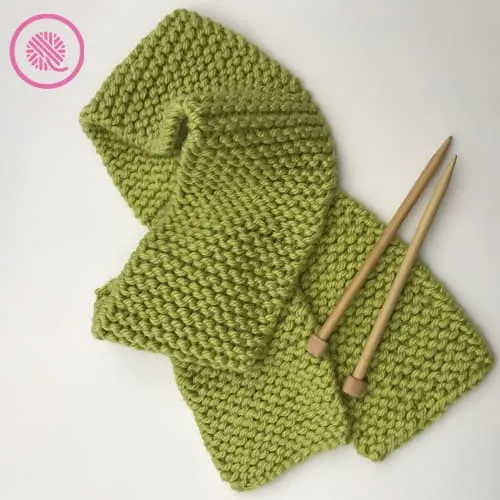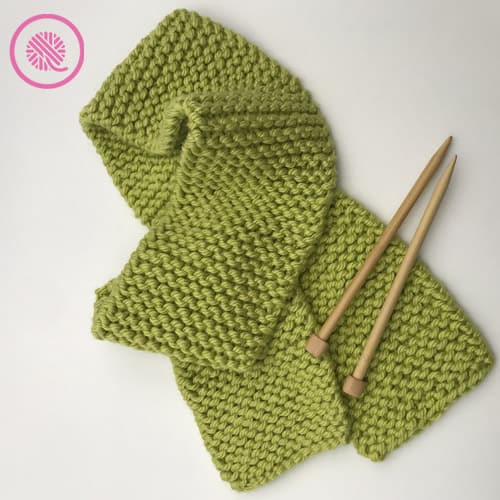 Beginner Knitting Project Basic Garter Scarf
By Kristen Mangus
A downloadable PDF of this pattern is available in my Etsy store and from Ravelry at the links below:
MATERIALS
Links below are affiliate links to products I used to create this pattern/video. Clicking the links costs you nothing, but helps support GoodKnit Kisses.
Yarn
Option 1: #6 super bulky weight yarn
Lion Brand Hometown USA (81 yards/ 5 oz (74 m/ 142g) in color Monterey Lime used in sample pictured above.

Option 2: #4 medium weight yarn
Premier Anti Pilling Everyday Yarn 203 yards / 4 oz (186 m / 113g) used in sample.
Needles
Option 1: US 15 (10 mm) straight or circular needles.
Option 2: US 8 (5 mm) straight or circular needles.
Tapestry needle
ABBREVIATIONS
K = Knit
Rep = Repeat
RS = Right side
St(s) = Stitch(es)
WS = Wrong side
GAUGE
Option 1: 8 sts x rows in 4" in garter stitch
Option 2: 16 sts x 26 rows in 4" in garter stitch
SKILL LEVEL Easy
MEASUREMENTS
6" x 68" (15.2 cm x 173 cm)
NOTES
Cast On: I recommend the long tail cast on for this project. However, you may use another cast on, if you prefer. I show both the long tail cast on and the thumb cast on in the tutorial video.
Measurements: This pattern is easy to adjust to meet your needs and style.
Width – To make the scarf narrower cast on fewer stitches; to make it wider, cast on more stitches. Example: In the super bulky weight yarn every 2 stitches adds one inch to the width of the scarf. If I want a scarf 8 inches wide I would cast on 16 stitches.
Length – Typically, for a winter scarf the rule is to knit it to match the height of the person who will wear it. I've found that a little bit shorter than that is perfect. My rule is from the chin to the floor is the perfect length. To adjust the length simply knit fewer or more rows. For a shorter person 60" may be more than enough, but for a tall one you may want to knit 72".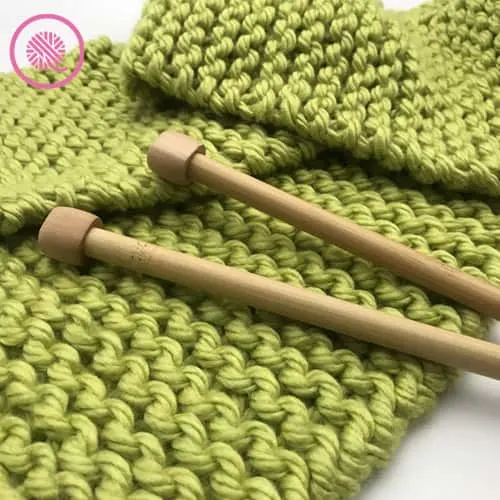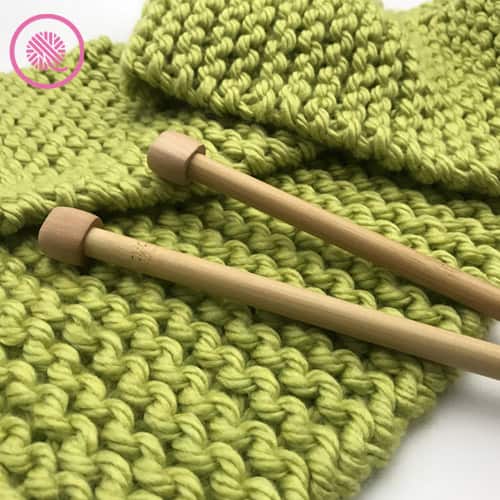 INSTRUCTIONS
Option 1: Super Bulky Scarf
Cast on 12 stitches.
Row 1: Knit all.
Rep Row 1 until scarf measures 68" (173 cm) or until desired length. Bind off and weave in tails.
Option 2: Medium Weight Scarf
Cast on 24 stitches.
Row 1: Knit all.
Rep Row 1 until scarf measures 68" (173 cm) or until desired length. Bind off and weave in tails.
---
PIN IT!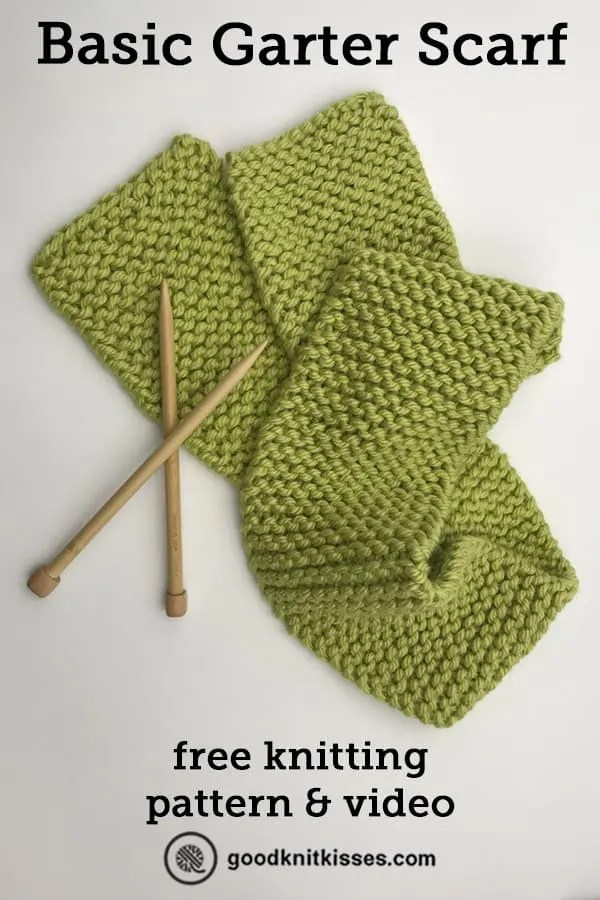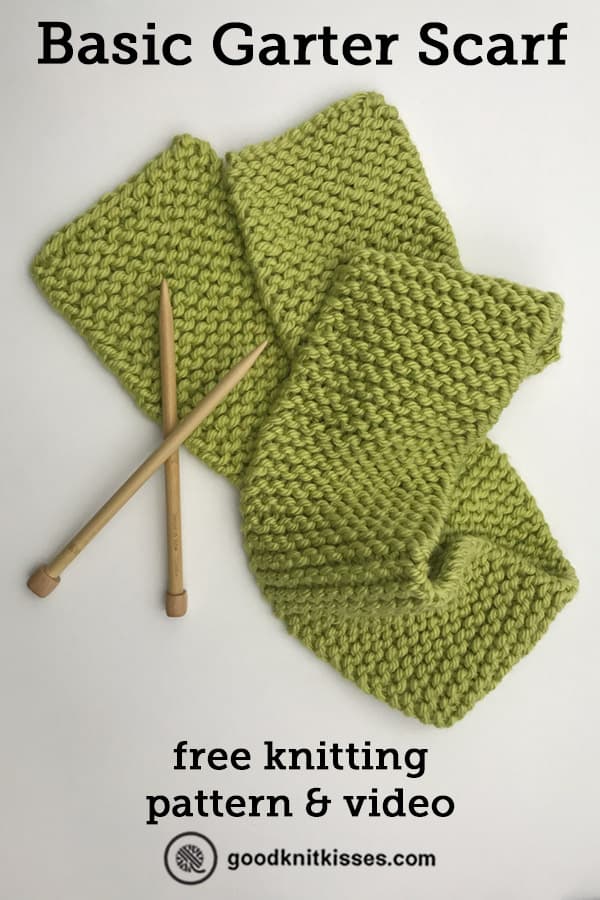 ---
Tutorial Video for the Beginner Knitting Project: Basic Garter Scarf
If any of the videos below do not show they may be restricted to GoodKnit Kisses YouTube members only. Find out more about GKK Membership HERE!
This tutorial video is Lesson 1 in my How to Knit for Complete Beginners Series. That's right you can make an entire scarf
Right handed


Left handed
---
Other helpful videos you may want to watch: