SUPER COWL CROCHET
By Kristen Mangus
This super cowl is meant to be worn closer to the neck. It is a stiffer cowl but cozy and warm. Wear with the straight foundation edge at top. It will lay more comfortably with the pillowy edge downward. Works well with a wrap or bulky overcoat.
You could make in a smaller yarn and repeat row 2 over and over until you reach the desired height for your cowl. Just chain a multiple of 2 stitches to the diameter you want and then add 3 chains. Follow the directions in the pattern below.
Sizes:
Size 31″ x 6″ (12 drop inside)
For this super cowl I'm using the following tools.
Tools & Yarn:
Size U hook/ US 50 if Tunisian hook used (25mm)
Bernat Blanket BIG yarn used in sample. Jumbo 7 weight.
1 ball Vintage (cream)26001.
(1 ball does 2.33 rows)
NOTE! Add 1 more ball for added insurance just in case your gauge is off.
[Alternate hook and yarn use appropriate hook listed on the yarn you want to use]
Abbreviations:
ch – chain
dc – double crochet
sc – single crochet
st(s) – stitch(es)
Gauge:
3 stitches and 1 row = 4 inches in Textured Stitch pattern
(1 ball does 2.33 rows)
Pattern Notes:
Fantastic thing about this Super Cowl is there is only 2 rows to crochet after the foundation chain.
Textured Stitch:
Row 1: dc in 3rd ch from hook. Skip next 2 ch. *(sc, 2 dc) in next ch, skip next 2 ch; repeat from * across, sc in last ch.
Row 2: ch 2, turn, 2 dc in 1st stitch. Skip next 2 sts, *(sc, 2 dc) in next ch, skip next 2 sts; rep from * across. sc in top of turning ch.
Pattern Instructions:
Chain 23. It is important to make sure foundation chain doesn't twist while establishing the foundation. The foundation row takes the longest.
Row 1-2 Textured stitch (see above).
Fasten off with sc and cut long tail for weaving. Put both ends together. With long tail weave both ends together. Weave in beginning tail. Turn inside out
*Wear your cowl with the way side down on shoulders. It will hug the body better.
The following is a full video tutorial by Kristen Mangus at GoodKnit Kisses. Live comments and interaction can be seen and heard as well. Be sure to catch the live chats and crochet demonstrations on Thursdays at http://www.facebook.com/goodknitkissesyoutube
Feel free to bookmark this page to come back for reference or catch us at www.youtube.com/goodknitkisses for more crocheting tutorials and more!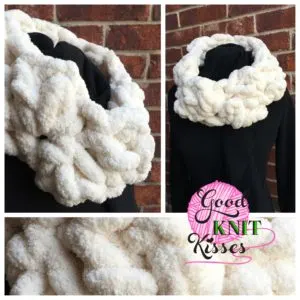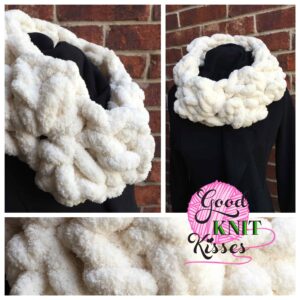 WE HOPE YOU LOVED THE SUPER COWL CROCHET PATTERN!