Travel with Knitting and Crochet
Want to Travel and take along your needlework? Our friendly Club members have some great things to say about their travel experience with Needles, Hooks and Looms.
Example Travel Questions asked most often:
Loom: "Does anyone have any experience taking a loom with you on an airplane? I have an original sock loom but I'm afraid to take it with me. I don't want it to get confiscated."
Crochet: "Question….can we take loom hooks in carry on bags on airplanes? According to TSA site, knitting needles are allowed. Just wondering if anyone has had any experience with this I am flying tomorrow
Thanks!"
General Travel answers:
"Read the tsa website!
Scissors less than 4 inches are allowed. Yarn cutters like this are NOT allowed.
" Scissors – metal with pointed tips and blades shorter than 4 inches are allowed, but blades longer than 4 inches are prohibited" ‪http://www.tsa.gov/traveler-information/prohibited-items
Circular thread cutters are prohibited. " needed are permitted in your carry-on baggage or checked baggage with the exception of circular thread cutters or any cutter with a blade contained inside which cannot go through the checkpoint and must go in your checked baggage." ‪http://www.tsa.gov/…/transporting-knitting-needles-and…
I'd hate to see people waste the money only to have them taken away. The blade can be opened and then you have an open razor. That is why circular cutters are not allowed. Why Scissors are not I'm not sure. I flew out of Newark, NJ in both February and June with thread Scissors on me no problem. Newark has some of the strictest regulations in the country since one of the 9/11 planes flew out of there." – Thanks to Kelly Lenahan for these links and tips! (response Dec 2014)
Call the airport and ask. :0) that way there are no issues
Call the airlines. I got to take mine in the US, but had to pack it in Canada in order to bring it home. Canada is very, very strict.
Scissors are ok under 4″
Go to the airline website and print off the page where it tells you knitting/crochet items are allowed.
I will find out tomorrow for sure. I'm flying to Canada. I checked our TSA site and knitting & crochet tools are allowed. I also checked catsa.gc.ca and it states they are allowed as well. My fingers are crossed!!
Thoughts on Nail Clippers as scissors
Just a thought for if scissors aren't allowed on the plane. I have used large nail clippers to cut my yarn in the past. I've had times I'd forgotten or couldn't find my scissors, but I always had my clippers. I don't think they'd confiscate nail clippers.
But then….large nail clippers will get confiscated as well; I have a small pair of folding scissors that I've kept in my purse for years and often forget about, I have flown many times with them and nobody ever said anything. *shrug*
However; I took a pair of nail clippers with me; small baby ones for clipping my yarn. Just had them in my purse and no one said anything when they scanned my purse. If you buy good quality ones and only ever use them for yarn, they will stay sharp.
Needle answers:
I was able to get large metal knitting needles on a plane without issues. BUT I Totally had forgotten about my water bottle because the person I was visiting took me to the airport and got me there late. So I was rushing. They took the water but the knitting was fine. But then I had to get searched because the big scanners that you walk though didn't get a full read of my body. So after a pat down and a hand swab to make sure I didn't have chemicals on me my knitting and I got to board the plane. I was fine with the knitting needles on two flights that day. So you shouldn't have an issue. Just don't bring water. Buy it after security check.
I have had trouble with wooden knitting needles before.
Ring the airlines, I was told I couldn't take my knitting needles on a plane in Australia, but found I could. Which is weird as I can't take scissors
I have no issues domestic US with knitting supplies
Crochet answers:
Yes you can. But take your favorite packed just in case.
I travel a lot including trips to Ecuador, Greece, Israel, Budapest, and many other countries in Europe just in the last year alone. I have brought my looming projects and my hook every time with no problems. So yes, take it along and enjoy!!
This has been asked many times. Yes, you may travel with it. You can travel with scissors with a blunt blade less than 4″, as well. I travel Southwest and have never had a problem.
Loom answers:
I would suggest not taking you favorite pick in your carry-on, just in case you get a cranky TSA agent. You wouldn't want to have to leave you KB orange pick in the bin…Oh, and you can't take those little yarn and thread cutters. They have razor blades in them.
I have travelled many times with my loom, hook and very small scissors. My last trip I put my 10″ knitting board loom (the one with the metal pegs) in my checked bag and one side of it is now bent inwards. I had it in the middle of the suitcase wrapped with clothes.
Another option is bent plastic needles. My friend teaches loom knitting to the boys in the juvenile facility where she is chaplain. The boys aren't allowed the metal hooks for security reasons but are allowed the bent plastic needles. She orders them from Hobby Lobby.
I traveled last July & took some looms with me on the plane. Also took my loom pick with no problems. Check the airlines website but knitting stuff is usually allowed.
I just came back from Cuba and took my 2 (plastic) looms with me […] with my hook and small scissors and no problems!! I would suggest calling the airline just to make sure! Have a safe and great trip!!
They are allowed in planes. When I've pulled mine out in the plane to work on the flight attendants always ask about it how does it work etc.
I have traveled by airplane and had no problems with my knitting loom or my looming hook or even carrying my small scissors. It just depends on the airline if there going to be picky about it or not. But so far I have had no problems going thru security or on the plane.
I was able to bring a metal loom hook on 2 diff airlines with no problems.
I traveled multiple times with looms and hooks and have never had a problem. I flew Southwest and Spirit Airlines.
When I flew with mine, plastic body/metal pegs, the scanners guys were stumped. I looked over and said "hey! Is that what my knitting loom looks like?" The senior laughed and told the operator to pass it.
I have flown to Florida and Washington with my loom and have had no problems at all.
I was on Allegiant Air and although it went thru security just fine, (I didn't even THINK about it before sending it thru), the flight attendant made me put it away during the flight…..go figure. I think she was having a bad day. The nap I took was nice.
A person needs something to do in airport and on plane. I have taken my KK loom on plane – carry on – and nothing is said. I have a small pair of child's "Fiskar" blunt tip scissors and nothing was said. Just in case, I would take a large paperclip to use as the hook.
I've never had a problem with my loom hooks.
This has been asked many times. Yes, you may travel with it. You can travel with scissors with a blunt blade less than 4″, as well.
I have even flown with the KISS looms which are made up of brass pins and pegs. If in doubt on the loom tool, I keep a cheap pick from a plastic spool loom and pack that. If my orange tool was taken I would be devastated. I also bring knitting needles and crochet hooks at times. I heard that travel to Mexico and outside the USA may be no problem here with boarding but coming back they may take them or not allow them back. I have not traveled to Europe so I do not know those regulations. Have a bit of knitting hanging on the loom. Then if they ask you what it is you have the pattern and example there on the loom. That did occur to me the first time I went with my KISS loom about 5 years ago.
In November I flew from California to Florida and back and I had a small pair of scissors and a needle (I took a plastic canvass project with me) in my carry on and I had no problem.
Special thanks to helpful travel answers from Josie Jones, Darlene Howitt, Alex Perez, Lisa Brideau, Michelle Briggs, Sandra Lang Jo Chatterton, Madaline Leoonick, Jewel Smith, Sue Luken, Cori Brophy, Mary Browning, Tina Wagner, Jeannette Vandewalker, Amy Bauer, Jill Dubler, Linda Hendrickson, Karlee Salmon-Jackson, Jammie Moss, Meg Anne, Gale Gilmer, Carol Dennis, Stephanie May, William Byrd, Jennifer Boyd
For more helpful travel tips check out this blog from our friends at Lion Brand yarns!
9 Travel Tips for Knitters and Crocheters
http://blog.lionbrand.com/2014/11/25/9-travel-tips-for-knitters-and-crocheters/
When in doubt check it out! The following is a link for all major airlines for planning your travel needs.
By popular demand I've listed my GoodKnitKisses or GKK Travel Tool Tin on Etsy. All items are FAA Aproved. https://www.etsy.com/listing/221428724/goodknitkisses-travel-tool-tin-with?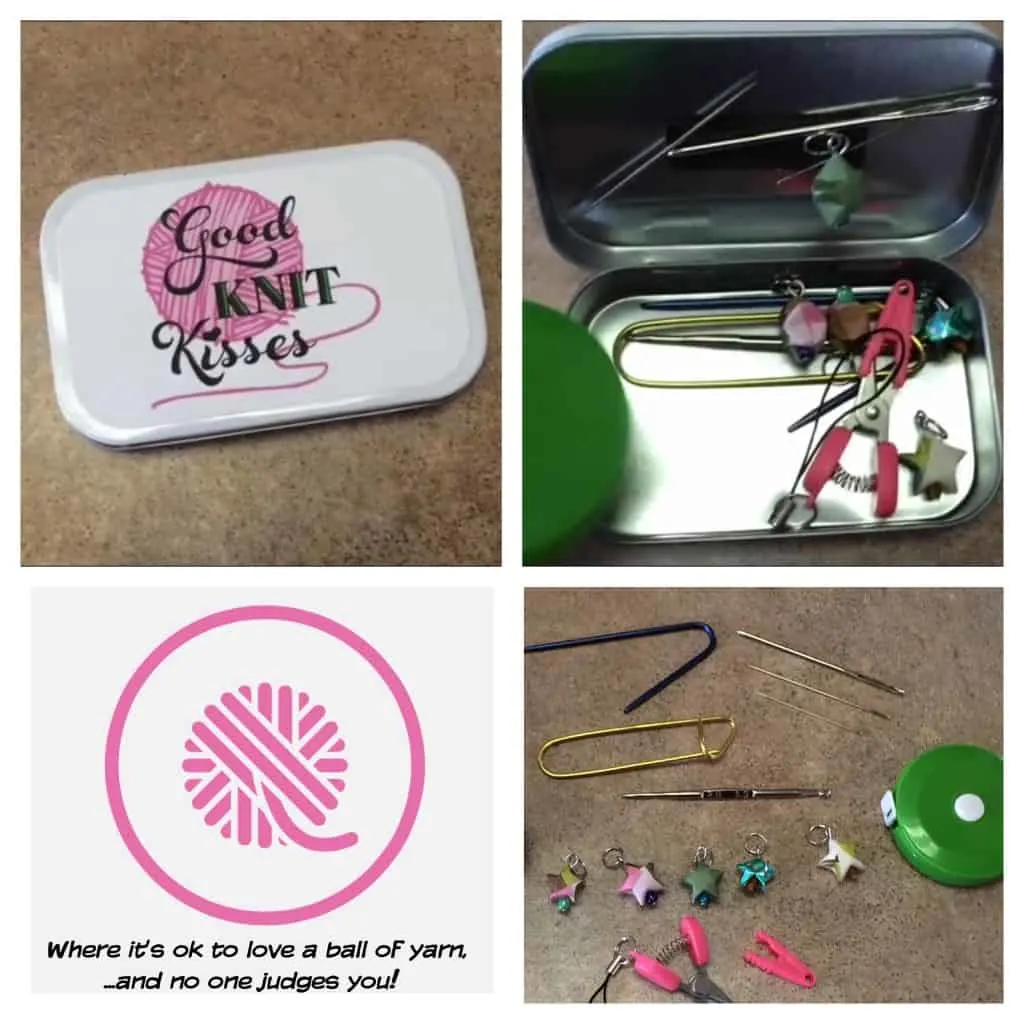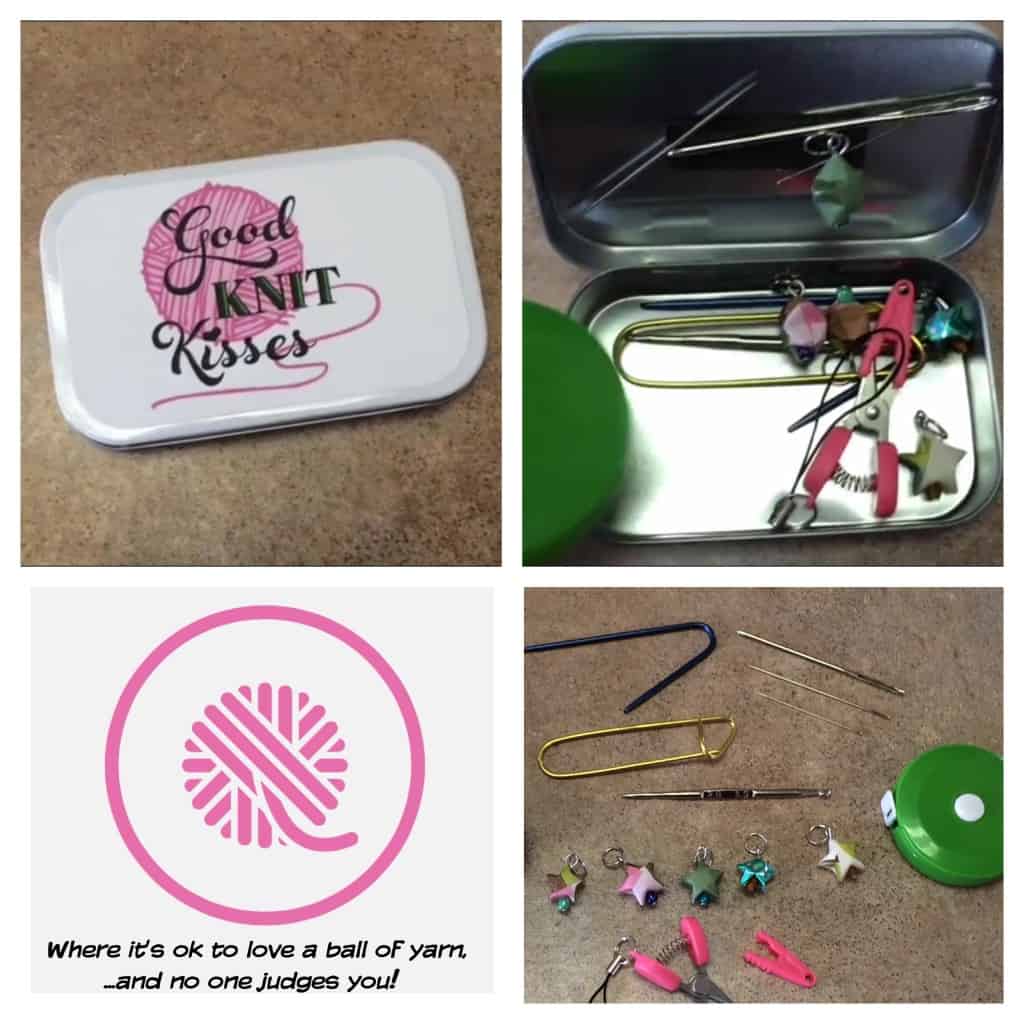 Editors note: A special thank you to our newest admin and copy editor 
Carol Blakeley.