Inside: Get the full Bobble Button Newsboy hat pattern in sizes for baby and adult woman.
Go retro with a little flair, a little spring in your step, a little bobble-studded topper.
The Bobble Button Newsboy hat has the classic style of a cloche and the edgy attitude of a newsboy.
It's like Downton Abbey meets My Girl Friday.
This loom knit pattern features a short visor, seed stitch band, bobbles galore on the body of the hat and slightly decreased crown for a smooth fit.
The pattern includes sizes for a newborn baby and youth/adult woman. This is an ideal Mommy and Me pattern for a retro photo shoot.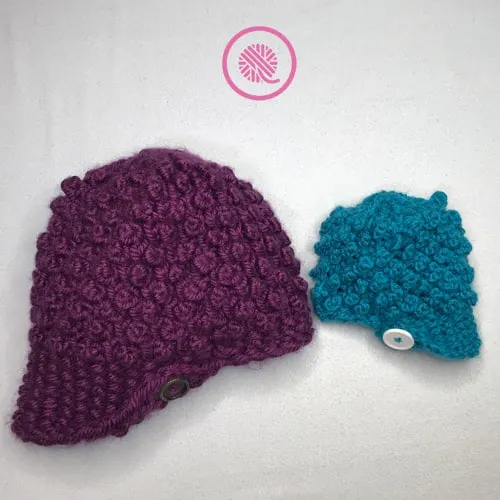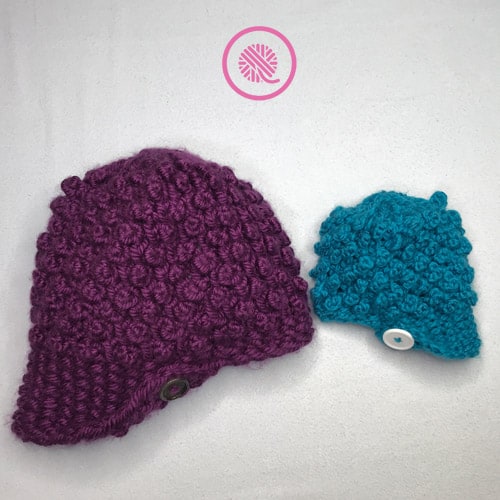 ---
Bobble Button Newsboy Pattern
By Kristen Mangus
A downloadable PDF of this pattern is available in my Etsy store and from Ravelry at the links below:
MATERIALS
Links below are affiliate links to products I used to create this pattern/video. Clicking the links costs you nothing, but helps support GoodKnit Kisses.
Yarn
Bulky #5 yarn
Loops & Threads Charisma Big (300 g / 10.5 oz, 300 m / 328 yds) in color Electric Blue used in baby hat sample.
Loom
5/8" large gauge (LG) loom with 24 (36, 48) pegs.
Suggested looms:
Knitting Board 'Premium' Chunky Round Knitting Loom 24 (36, 48 pegs); used in baby sample
Kiss Looms Small Gauge Short 2-Way Adjustable Loom (set up to use 24, 36 or 48 pegs in the round) [NOTE: This loom has an adjustable gauge so you must insert 3 washers to increase the gauge to 5/8".]
CinDWood 5/8″ gauge Adult Hat Loom (24, 36 or 48 pegs)
Stitch marker
Tapestry needle
2 – 1" buttons
ABBREVIATIONS
CO = Cast On
HS = Half Stitch
EWK = E-wrap Knit
UK = U wrap Knit
P = Purl
BO = Bind Off
MB = Make Bobble
K2tog = Knit 2 together
P2tog = Purl 2 together
PM = Place marker on peg
SK = Skip peg
St(s) = Stitches
Rep = Repeat

GAUGE 2 sts x 7 rows in 1" in seed stitch
SKILL LEVEL Intermediate
SIZES Newborn (Youth/Woman)
NOTES
Hat is knit from visor to crown. Visor works as a flat panel then additional stitches are cost on to connect in the round and complete the hat.

Cast On: I recommend the Flat Panel cast on for the visor and the True Cable cast on for the remainder of the hat.
Bind Off: I recommend the Modified Gathered bind off.
Knit stitches: I recommend the U knit (or flat knit) stitch for the visor to help it stand up. Use the E wrap knit for the main body of the hat.
Half Stitch: Wrap yarn to outside of row, bring to front of & knit
Band: When knitting the seed stitch band it is helpful to note that at the beginning of each round you will repeat the same stitch you used to finish the previous round.
Bobble (MB): EW and knit over 5 times on the same peg. Looking behind peg, pick up stitch from previous row and place on peg. Work bottom loop over top loop. This completes one Bobble.
Alternative size recommendations: This pattern can be loom knit on any loom with an even number of pegs. For visor cast on ⅔ of the total number of pegs. If this number is even add 1. Visor cast on should be an odd number.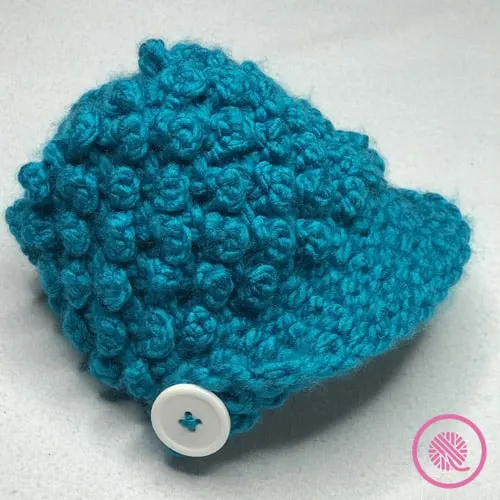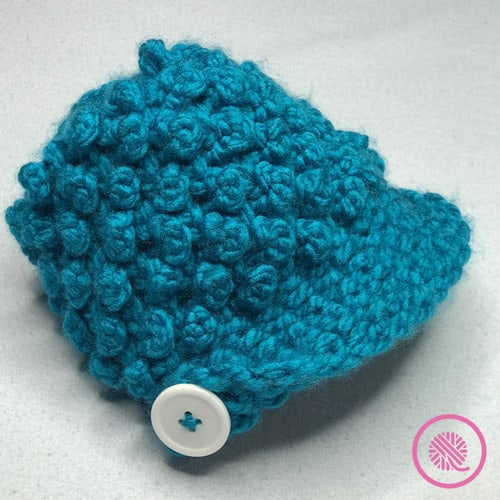 INSTRUCTIONS
Visor
Cast on 17 (25, 33) sts using Flat Panel cast on.
Row 1: HS, *UK1, P1* rep from *,* to end
Row 2: HS, *P1, UK1* rep from *,* to end
Rep Rows 1-2 until 1 ½"(2″, 2") ending on Row 2. Your working yarn will be at the opposite edge than your yarn tail.
Band
Cast on remaining stitches using True Cable Cast On.
To connect in the round cast on 1 additional stitch and place on first peg of visor section over existing stitch. PM on this peg to mark beg of rnd.
Foundation Rnd: P2tog. *K1, P1. Rep from * until 1 st rem. K1
Rnd 1: *K1, P1. Rep from * to end of rnd.
Rnd 2: *P1, K1. Rep from * to end of rnd.
Rep Rnds 1-2 1 (2, 2) more times.
Round 1: *K1, P1* rep from *,* to end
Main Hat
Setup row: EWK all.
Rnd 1: *EWK1, MB. Rep from * to end of rnd.
Rnd 2: EWK all.
Rnd 3: *MB, EWK1. Rep from * to end of rnd.
Rnd 4: EWK all.
Rep Rnds 1-4 3 (4, 5) more times or until desired length ending on an even rnd. Approx. 4″ (5″, 6″) from band.

Crown – Decrease section
Rnd 1: Move even pegs to odd. *K2tog, SK. Rep from * to end fo rnd.
Rnd 2: UK (SK empty pegs)
Rnd 3: UK (SK empty pegs)
Bind off using modified gathered bind off and draw hat top closed. Weave ends and block as needed.

Fold hat visor up at corners and sew into place with a button.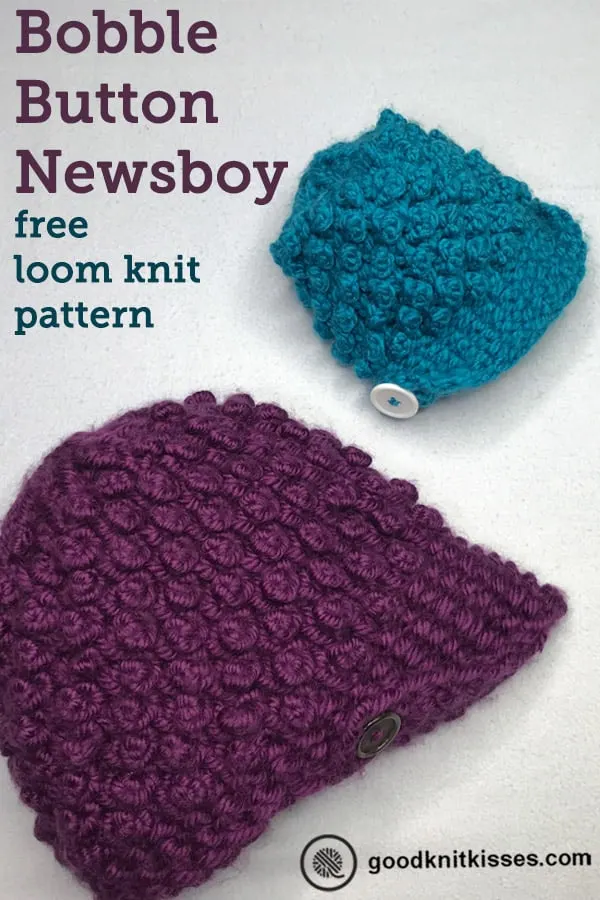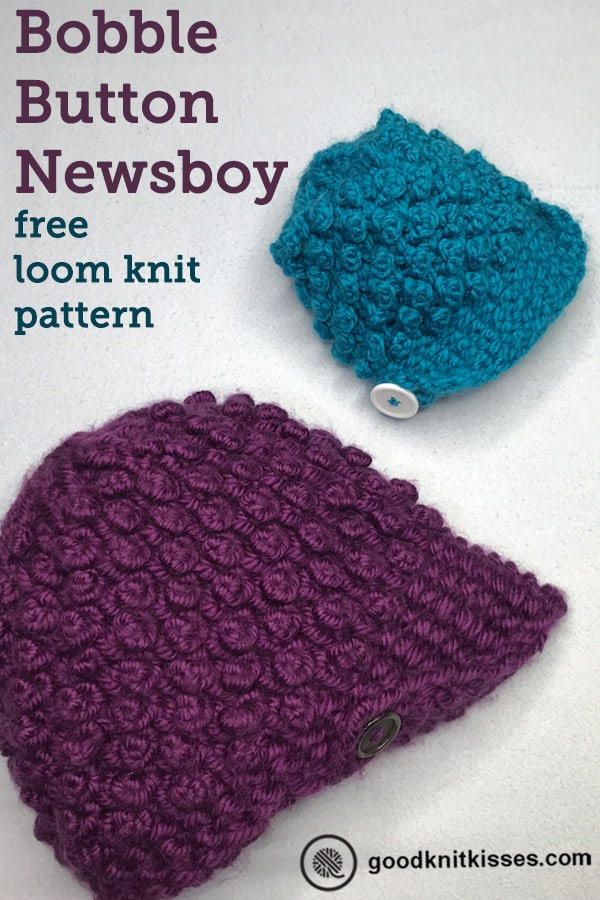 ---
Watch the Bobble Button Newsboy Hat full tutorial video! (Available March 28th)
This original hat pattern was inspired by the Women's Peaked Hat crochet pattern from Yarnspirations. Thanks to my test knitters, Denice Johnson & Joanna Brandt.