This is my journey for Week 1 Mystery Stitch Along for the KAL (Knit Along)
Week 1 Mystery Stitch Along
So today is the day! What will the first week pattern be? While we all waited for that first day to arrive, my needles seemed to itch to work with the Bernat Blanket yarn.
The yarn and supplies are all set aside. The needles look especially naked.
Monday arrives and I feel like the 11K people on the Facebook Event Page are just itching with needles and hooks at the starting gate or something. Maybe it's from the Olympics this summer or maybe it it is that I just love the feel of the Blanket yarn on my lap and arms when I knit. It's always so chilly watching shows and knitting up a blanket in the Fall just seems to feel good.
My mind drifts… But there is no time for shows!
The pattern is now up! It's like the start of a gun. Let's CAST ON baby!

Week 1 Mystery Stitch Along –
Cast On.
I've chosen my "Contrast A" as Light Teal. Boom! The first color up is already knit in Light Teal. I love it! So fresh.
After a few rows…Pardon me while I bend the circulars into a heart photo op. Okay, moving on.
Week 1 Mystery Stitch Along –
The Stitch.
It's a Diagonal Rib stitch with basic knit and purl stitches. Yolanda, the video host, explains it well as a 6 stitch pattern that moves along as go. It looks really nice. I do so enjoy a pattern that includes the chart.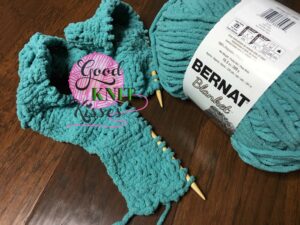 After casting on and starting the first row, I realized the need for my cast on to be loose for this yarn because it was tight and bumpy. Once I worked the first few rows, I gave the CO end a bit of a gentle tug here and there to even out the slack. From here on its all good.
Week 1 Mystery Stitch Along –
The Mantra.
My needles are starting to click away at a steady pace. 123, 123, 123… The mantra of knit 2, 3, purl 2, 3,…knit 2, 3, purl 2, 3 keeps me going. I love that.
Every row end I gaze back at my starting row to get bearings for the starting stitch numbers. But after the first few written stitches, that set-up the row, you just keep that k3, p3 mantra singing along and soon you are zooming.
The Hiccup.
Screech! But of course I had a hiccup.
A big distraction came and soon I realized a frog was in my future much to my dismay. Somewhere I'd knit 4 and kept going for several rows! BAH! Therefore, Rippit!
…Okay back on track and flying. LOOK!
Week 1 Mystery Stitch Along –
The Finish.
Can it be? Am I at the 14″?! YES!!!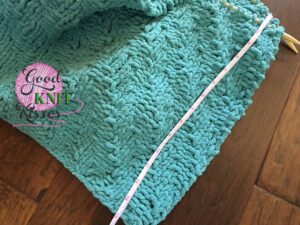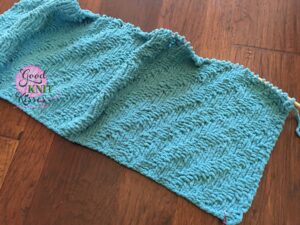 I measured and we landed at 14″ on a wrong side row. Now granted it was probably a hair shy of 14″ but I didn't need to add two more rows to end up on the same WS and overshoot the size.
I ended on Row 48. 4 full repeats of the 12 row repeat pattern.
So here we are! Finished for Week one. What to do? Now I get to look at all the fun colors picked on the Facebook page and check out the crochet, too!
Come on. Hurry up Week 2!
Are you ready to create this fun mystery project with Bernat Blanket Yarn with me? Rather, will YOU follow along? You are therefore invited to the Jo-Ann and Bernat Blanket Stitch Along!
Most importantly, supplies and current weekly patterns and videos, click here: http://www.joann.com/mystery-stitch-along/
Reminder: If you post also on Facebook, Instagram, Twitter or Pinterest use the hashtag #handmadewithjoann. If you follow me @goodknitkisses then tag me. I would squeal with delight knitting along WITH you! Most of all this is about having fun along with other crafters and sharing with each other as we mystery stitch along. See you soon ? -Kristen
P.S. If you are joining me for the first time, thank you! I am a YouTuber teaching how to loom knit, needle knit and crochet as well as other fun crafts. Join me on the GoodKnit Kisses FB Page for my daily broadcasts and/or weekly on YouTube. Happy Crafting!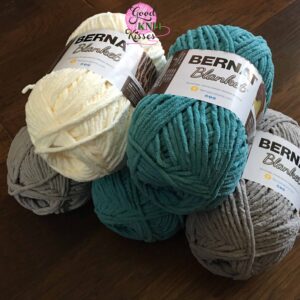 This blog is a Sponsored Post and may contain affiliate links.