Cross Stitch Cowl
By: Kristen Mangus
Y'all have heard the saying "Everything is bigger in Texas"! Well, Kristen has certainly met those standards with her design of the Cross Stitch Cowl made on the KB Zippy loom with Bernat Blanket Big yarn.
The Cross Stitch Cowl is BIG, it is as soft as a fluffy cloud, it is plush, it is like a great big marshmallow and so toasty warm. The Cross Stitch Cowl is perfect for those blustery, snowy cold days of winter.
The Cross Stitch Cowl is worked in the round. The cross stitches gives the cowl some extra fun texture.
A huge bonus it's easy and works up super fast with only 10 rounds.
PIN IT!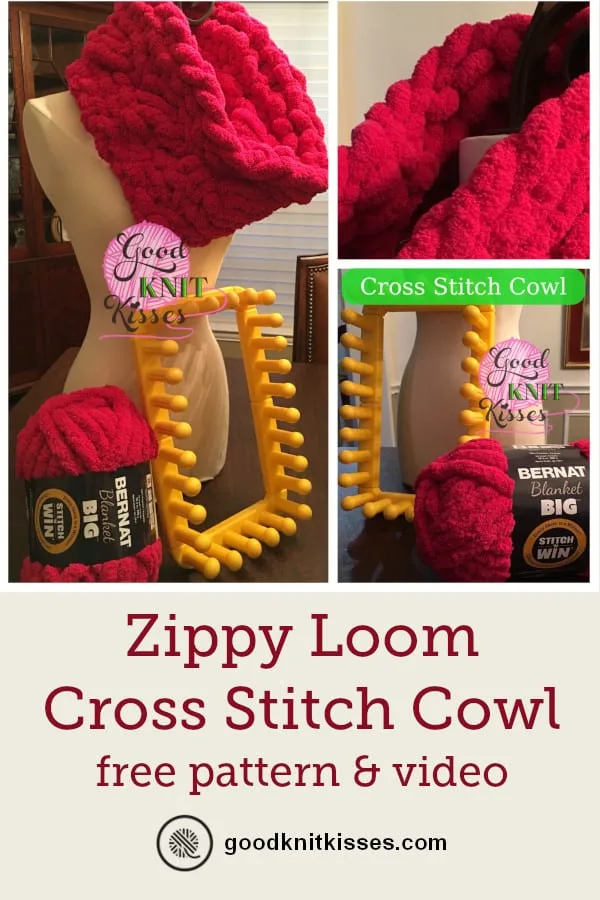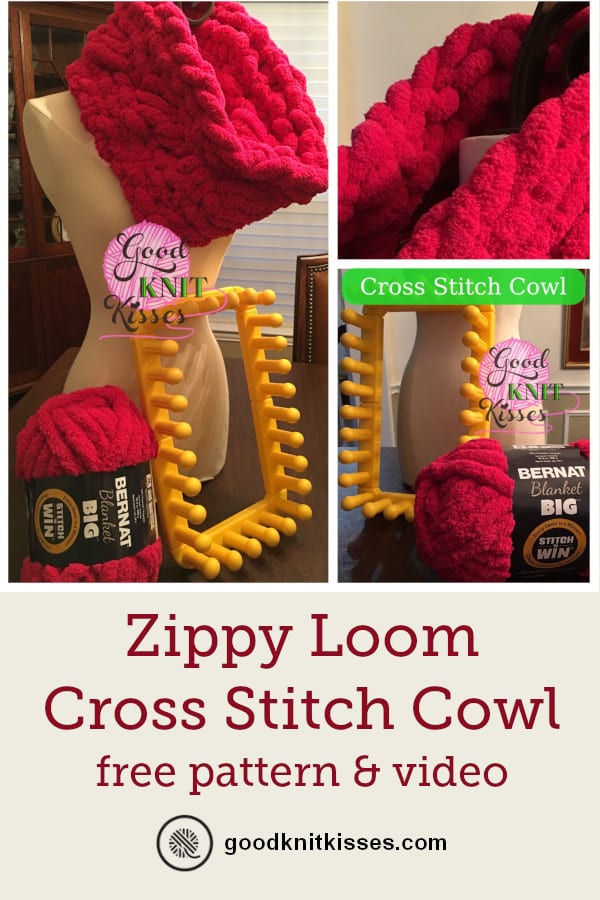 Materials: 6 Zippy looms plus 4 Zippy corners
Notions: Loom Hook, scissors
Yarn: Jumbo yarn Approximately 30 yards. 1 skein Bernat Blanket BIG yarn used in sample.
Stitches:
HH – half hitch cast on
Notes: All Knits are U-knit stitch.
Instructions:
Cast on: HH 28sts in the round
Round 1: Knit
Round 2: Purl
Rnds 3-4: Rep Rounds 1-2
Round 5: Peg 1- K1 & wrap twice. Repeat on all pegs.
Round 6: unwrap two loops on all pegs and pull down on knitting to reveal drop stitches. Pick up first two stitches and hold with right hand; hold toward inside of loom. Pick up next to stitches on the left and move to empty pegs on right. Place held stitches on empty pegs to left. Repeat on next four stitches to the left. Continue working around the loom until all drop stitches are crossed.
Round 7: Purl
Round 8: Knit
Rnds 9-10: Repeat Rounds 7-8 *last round keep tension loose.
Weave in ends.
Top of cowl is cast on edge.