This is my journey for Week 2 Mystery Stitch Along for the KAL (Knit Along)
Week 2 Mystery Stitch Along
Monday arrives, again and I check out the Facebook Event Page. Whoa! The participants number 13,651K people from last week that's about 2,500 more. Ha-ha! We have some early risers with a silly meme waiting. Love how we all wait.
It's up, finally Clue 2!
So my Week 2 had started off with a migraine therefore I'm relieved to see the EASY level. Wahoo!
It looked like the stitch pattern row count is short and easy to remember. The first thing will be to add the new color. I chose Vintage White from my Bernat Blanket yarn.
Week 2 Mystery Stitch Along –
Color Change for Clue 2 and Setup.
A new color is introduced. Because "Contrast B" for me is Vintage White it should contrast nicely next to the Light Teal from last week. I add my yarn as the video shows. Starting the Setup is easy with row 1 to knit.
Following that we need to increase from 78 stitches to 104 with the knit front & back (kfb). This will increase one stitch for every 3 stitches to get ready for a 4 stitch pattern repeat. Be sure to check your stitch count before moving forward!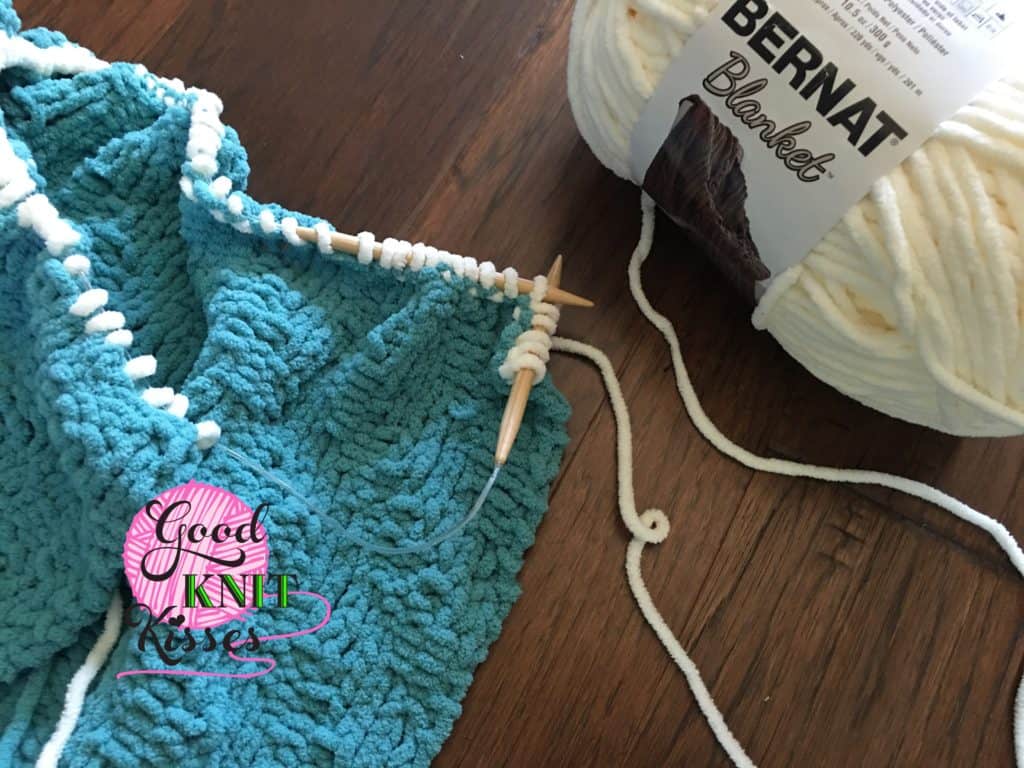 Week 2 Mystery Stitch Along –
The Stitch.
The name of the stitch isn't mentioned in the video. Throughout researching, we've found several names and variations for this stitch (Fretwork, Slip Stitch Lace and Waffle). Another knitter friend, Joann Gay, has been helping me translate it to the loom but has experience with needles, too. Maybe its this or that. But no matter the name this stitch is really quite cute and I'm excited to get it on the needles. It looks like a simple stockinette with long yarn overs in front and back.
The pattern also includes a chart in addition to the video being available on the site for reference.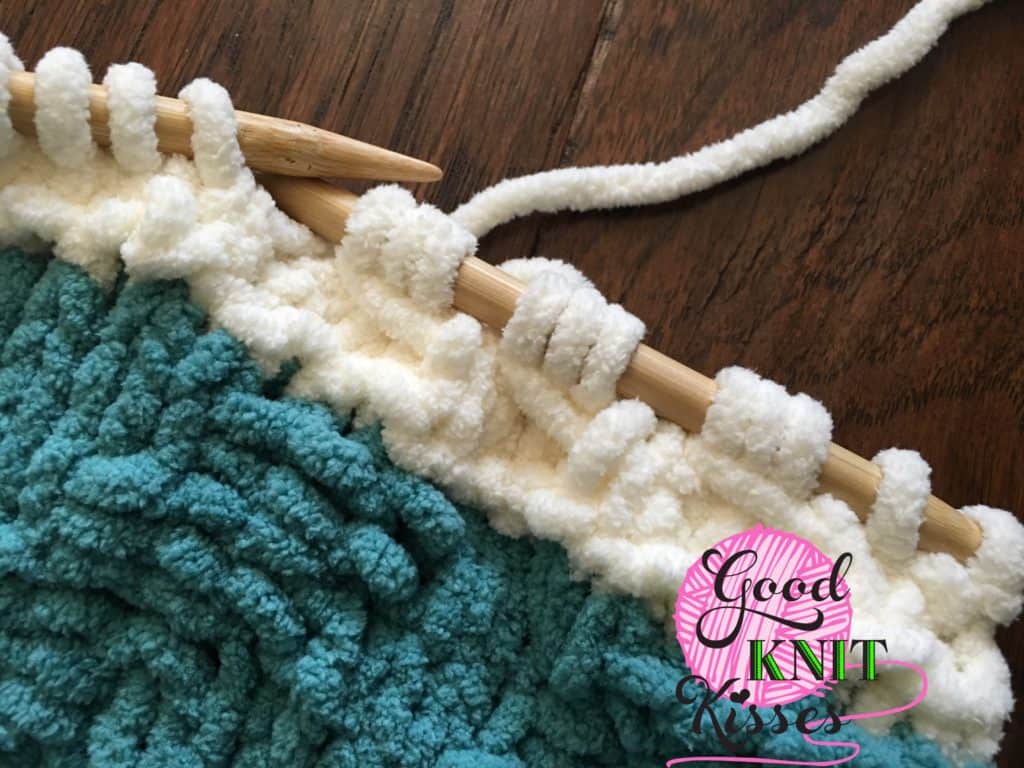 After the 2 rows of stockinette, I started row 3, what seems like the fun part…and it is!
This first photo shows the selvedge edge and then 3 pattern repeats I've worked. Do you see how they are drawn up together? This probably pulls in the stitches tighter using a slipped stitch instead of a yarn over.
I'm hoping it doesn't draw up the pattern too tight; though I did find it easy pass the slipped stitch over the 3 knits after the first few repeats.
Next is row 4 to increase again and set up for the next pattern repeat. You can see how the Wrong Side looks below.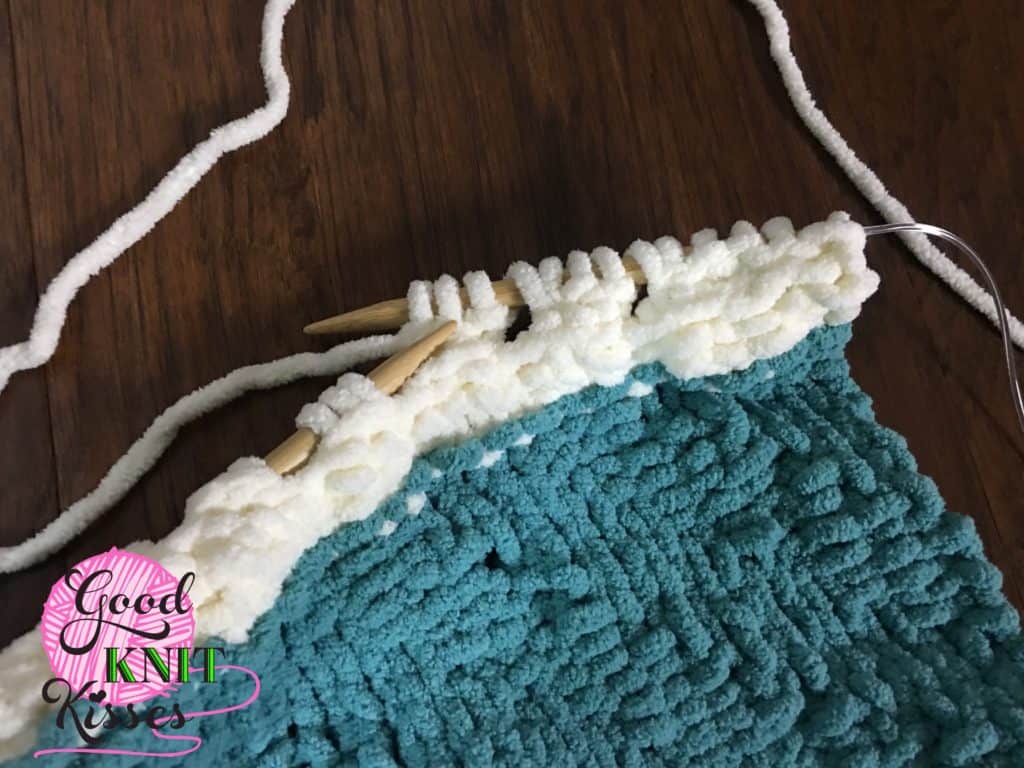 Week 2 Mystery Stitch Along –
The Mantra.
Here is the fun part. The mantra of singing along the catch phrase in your head for the stitch pattern. My needles are starting to click away once again at a steady pace.
The mantra of slip, knit 2, 3, PASS…slip, knit 2, 3, PASS has me humming along. Yep, that's the good stuff.
This blanket yarn loves the stitch this week!
The WIP.
Working along here is my work in progress as I watch a movie. This week I put my paper down and the pattern seems like it just flew by.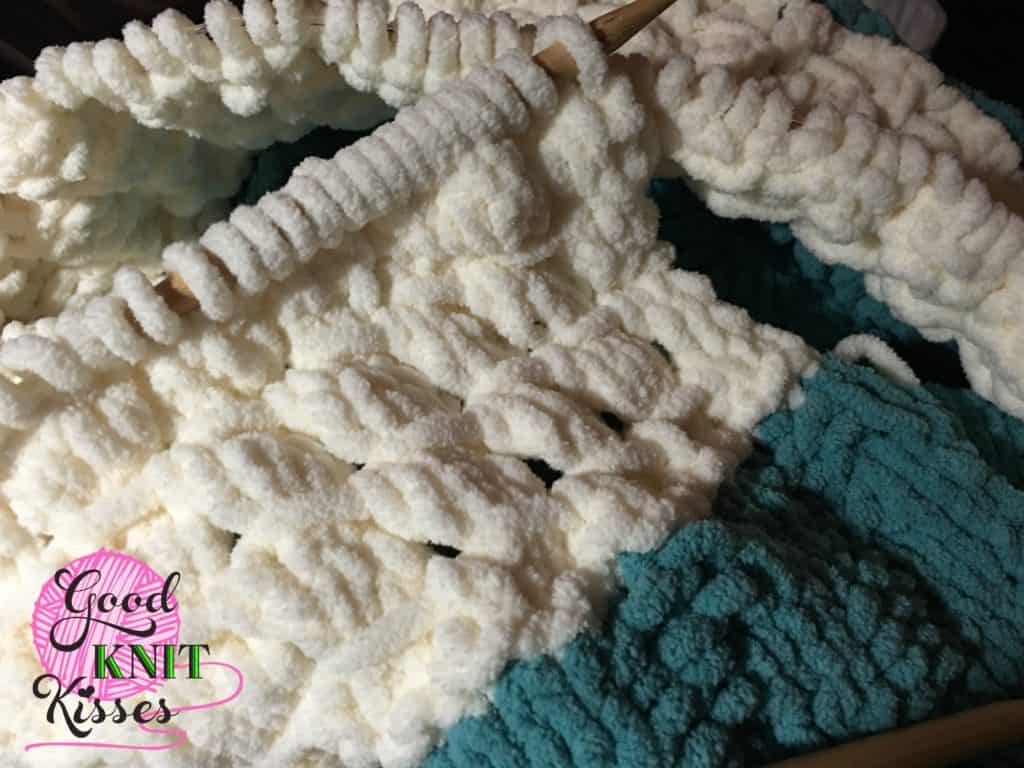 Week 2 Mystery Stitch Along –
The Finish.
I'm finally at the measured 30″ and done! Okay, well almost there but still good. Let's see the whole thing in a closeup photo.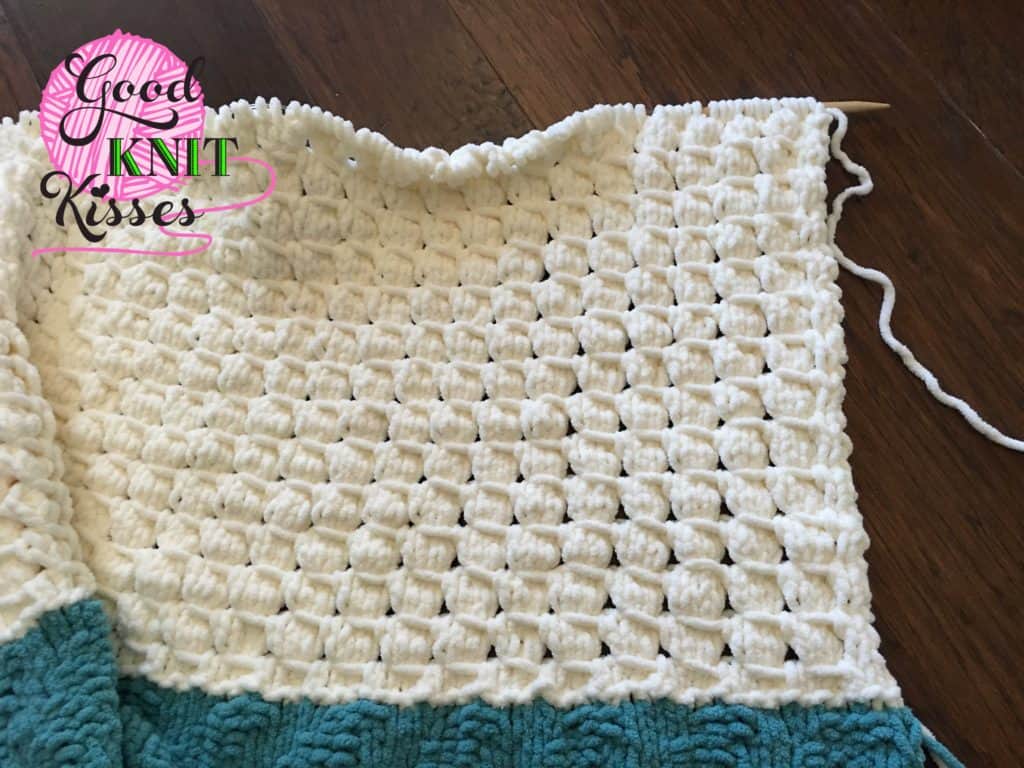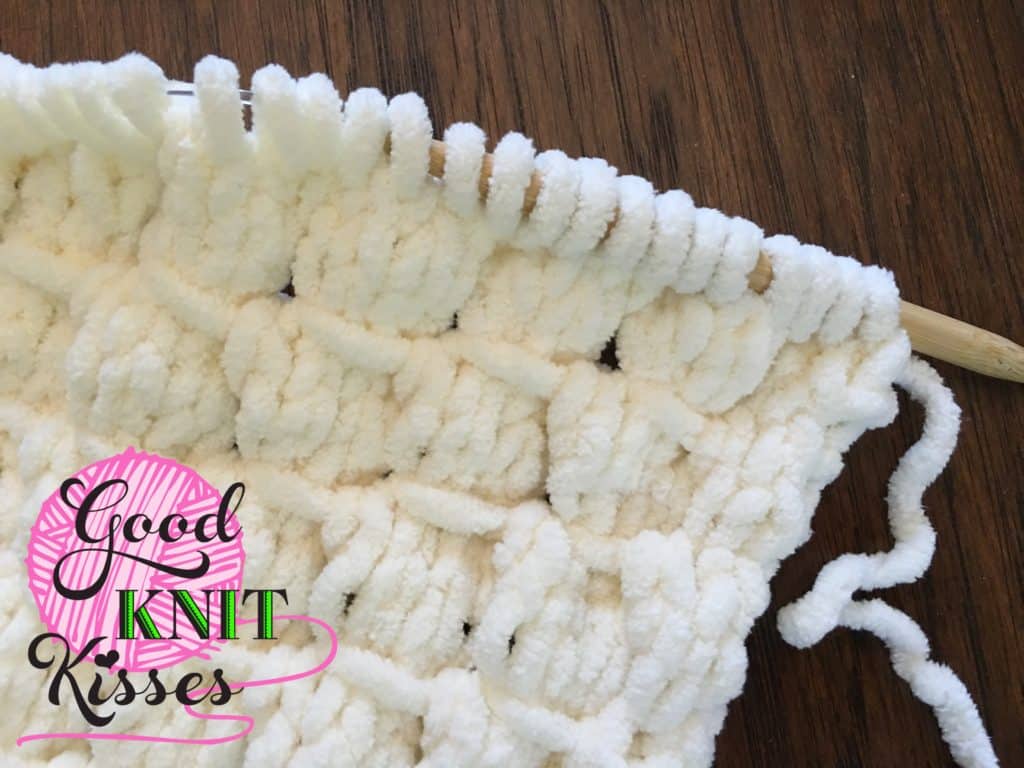 I ended this week on Row 2 as instructed. In total there were 13 full repeats of the 4 row pattern. Doesn't that look pillowy soft?
I will say that my suspicions were right. Due to the PSSO 3, the fabric does draw up last week's work. As a result, it makes it look a little bunched up from last week.
This week knitted up easier and behaved well with the yarn. After week 3 maybe I'll know more and will determine whether to block this blanket since it isn't laying as well.
Most of all, I want to make a blanket just out of this stitch alone later. Therefore, I have determined that this sampler blanket so far has been worthy of making. While I don't see many knitters joining in yet, I really think they should for this very reason.
So here we are! Finished for Week 2. Here I go again and look at all of the other knitters' the fun colors on Facebook!
Come on, Week 3, we are halfway there!

---
Are you ready to create this fun mystery project with Bernat Blanket Yarn with me? Rather, will YOU follow along? You are therefore invited to the Jo-Ann and Bernat Blanket Stitch Along!
Most importantly, supplies and current weekly patterns and videos, click here: http://www.joann.com/mystery-stitch-along/
Reminder: If you post also on Facebook, Instagram, Twitter or Pinterest also use the hashtag #handmadewithjoann as much as you like.
P.S. If you are joining me for the first time, thank you! I am a YouTuber teaching how to loom knit, needle knit and crochet in addition to other fun crafts. Therefore, please join me on the GoodKnit Kisses FB Page for my daily broadcasts and weekly on YouTube. Happy Crafting!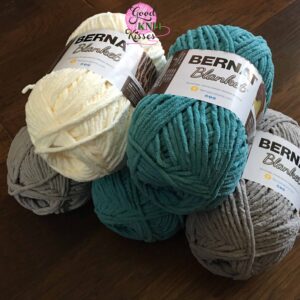 This blog is a Sponsored Post and may contain affiliate links.