This Woven Boho Bag puts the fun in functional! Woven triangles are seamed together to create this colorful bag. Use a large loom to make a great market tote or a small loom for a purse-sized bag.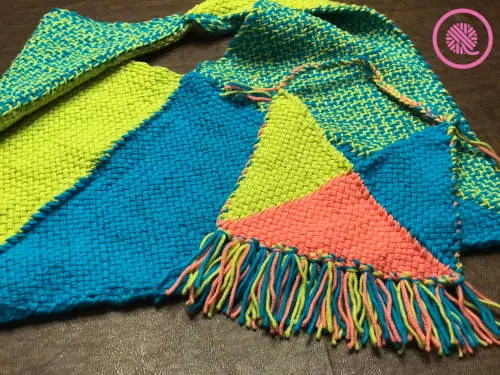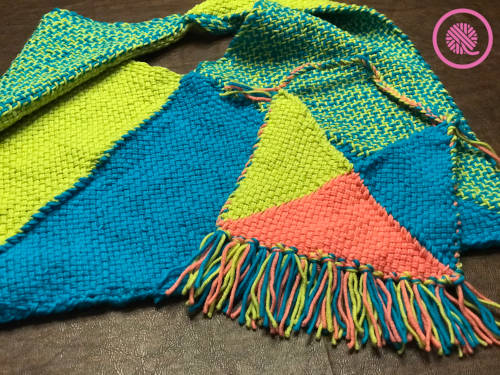 If you haven't tried weaving on a triangle loom yet, I think you'll be surprised how easy it is. I did a basic weaving tutorial earlier this year. It's a great reference to introduce you to triangle looms and learn some essential weaving skills.
I used a couple different sizes of Kiss Triangle Weaving Looms. The larger 50-peg loom was just perfect for a large market bag while the smaller 20-peg loom made the perfect size for a boho chic purse.
Pin the Woven Boho Bag!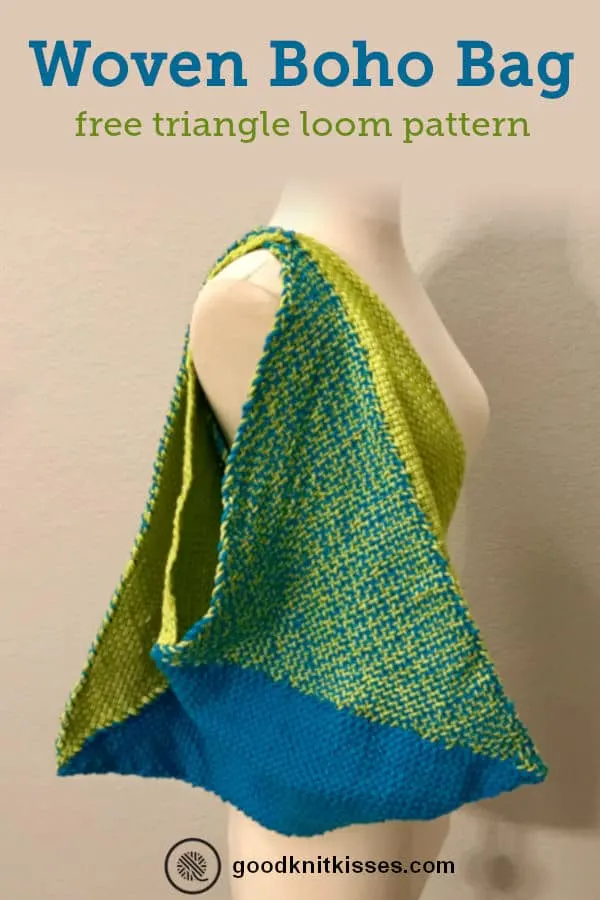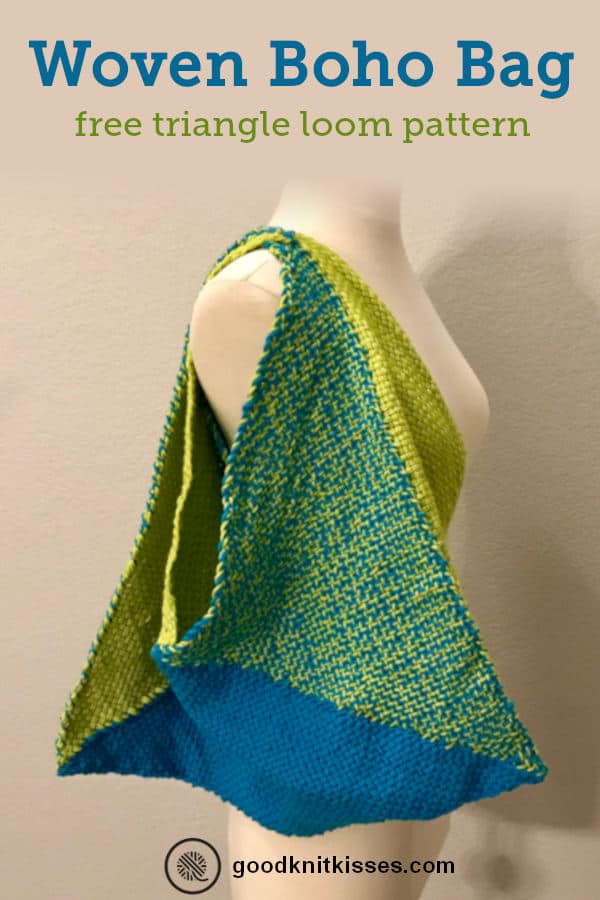 How to Make a Woven Boho Bag
MATERIALS:
Products listed below may contain affiliate links. Using these links doesn't cost you anything, but if you choose to buy it helps support GoodKnit Kisses.
Yarn:
Color A – Red Heart Chic Sheep by Marly Bird in color Green Tea – 2 balls
Color B – Red Heart Chic Sheep by Marly Bird in color Poolside – 2 balls
Loom: Kiss 50-Peg (2 ft. 3 in.) Triangle Weaving Loom
Tapestry needle for seaming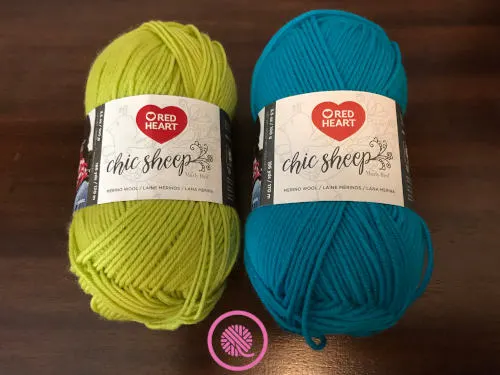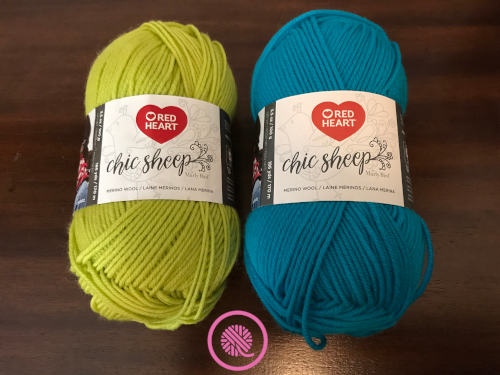 FINISHED SIZE: 20″ x 20″
INSTRUCTIONS:
Using two strands of yarn held together weave 6 triangles. I did two solid blue, two solid green and two triangles using one strand of each color.
The front and back of the bag will each use 3 triangles. For the front place 3 triangles with the long sides facing outward. Sew the triangles together along the short sides shown in red below. Repeat with the other 3 triangles for the back.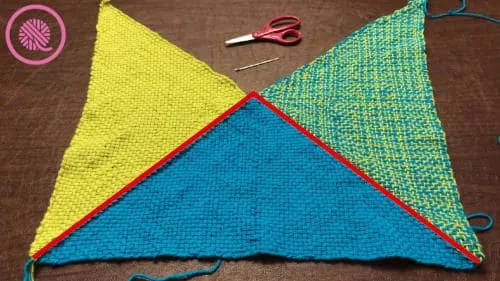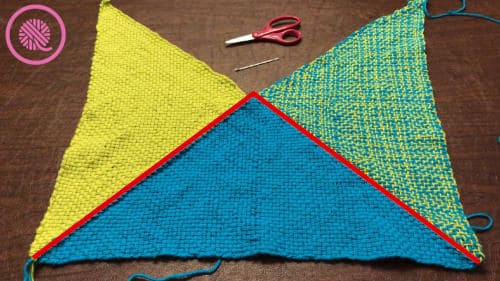 Place front and back on top of each other. Sew bottom and sides together with whip stitch. Do NOT sew middle V section together.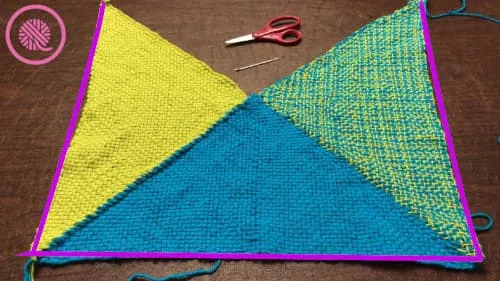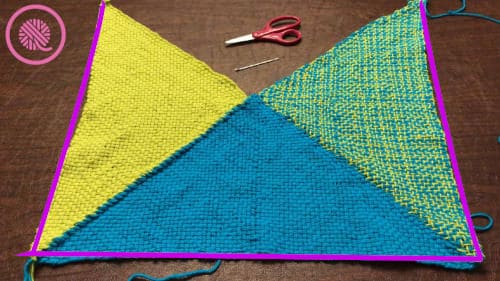 To create the handle overlap the tips of top triangles together by 1". Sew together along existing seam. Sew on decorative button (optional).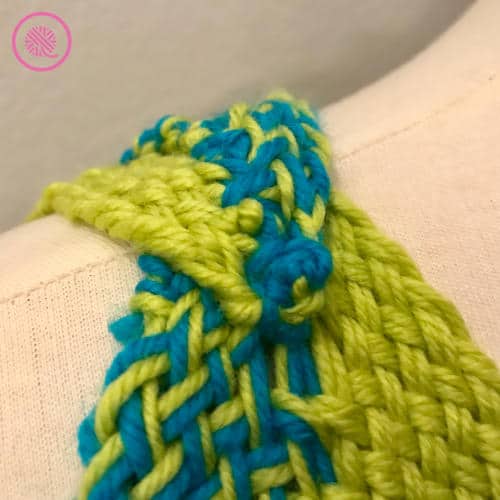 Your bag is done so sling it over your shoulder and go shopping.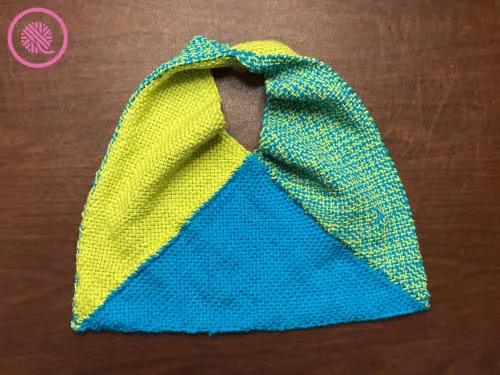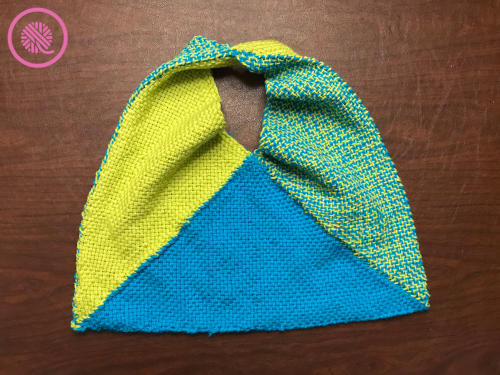 ---
Make a Woven Boho Bag!
Basic Triangle Loom Weaving tutorials for Right and Left-Handers: