Inside: Free pattern with instructions, photos, diagrams and tutorial videos to help you make the Woven Hexagon Scarf.
Enjoy a burst of color with the Woven Hexagon Scarf. This lovely scarf is made up of individually woven hexagons that are seamed together.
If you've already seen the Woven Hexagon Cowl, you're familiar with the basics of weaving the individual shapes and putting them together. But I wanted to show you another way to position the hexagons. This scarf matches the cowl perfectly, but is narrower and keeps the two-color hexagons separated by the solid ones.
But these are only 2 ways to put a hexagon design together. You are only limited by your imagination. Well, that and your yarn stash.
The Woven Hexagon Scarf pattern contains written instructions, design layout and links to fully-captioned tutorial videos that teach you both how to weave the hexagons and sew them together.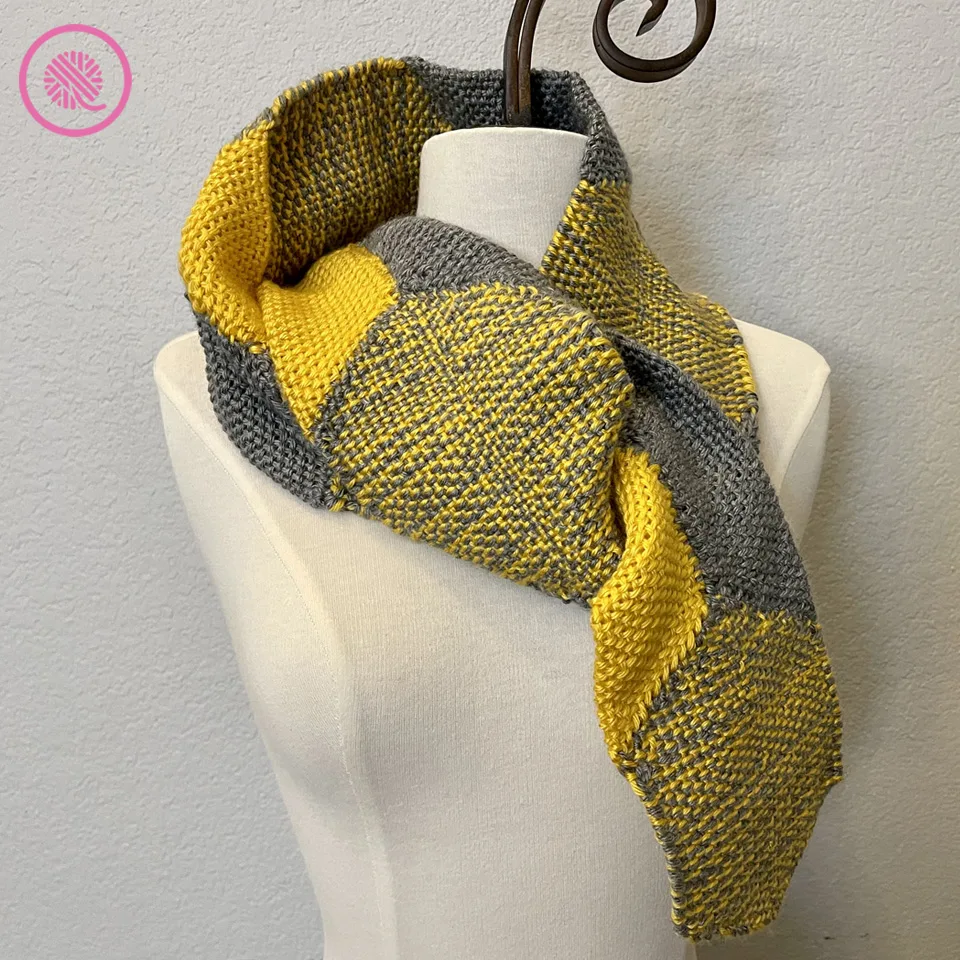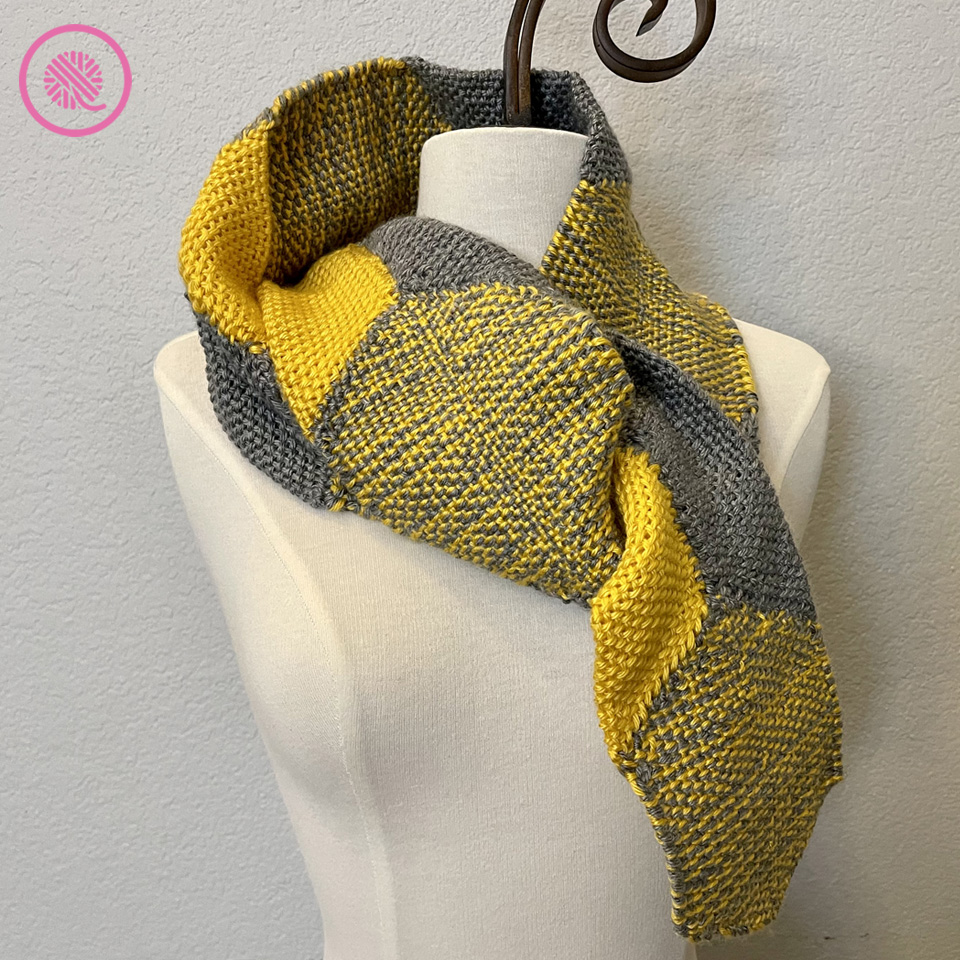 Woven Hexagon Scarf
By Kristen Mangus
A downloadable PDF of this pattern is available in my Etsy store or from Ravelry at the links below:
MATERIALS
Links below are affiliate links that benefit GKK if you make a purchase.
Yarn
Medium (#4) weight yarn in 2 colors
Caron Simply Soft (170 g / 6 oz, 288 meters / 315 yards) used in sample.
Color A: Gold
Color B: Gray Heather
Loom
6" hexagon weaving loom from Kiss Looms
Notions
Tapestry needle
Long crochet hook or locker hook for weaving
SKILL LEVEL Easy+
MEASUREMENTS
Approx. 5.325" wide x 46.25" circumference (13.5 x 118 cm)
NOTES
This project uses individual hexagons woven on a hexagon loom that are later sewn together. The hexagons are slightly longer than they are tall so be sure to line up the hexagons correctly so all sides seam smoothly.
The solid color hexagons use a single strand of yarn and the two-color one uses two strands (one of each color) held together.
On the design schematic below, the single color half hexagons are made by folding a hexagon in half along the center. It creates a double thickness that matches the weight of the two-color hexagons.
To lengthen the scarf: Make these additional hexagons: 1 Color A, 1 Color B and 1 Color C. This will add about 10 ⅜" to your scarf. Feel free to add as many of these repeats as you like.
To make an infinity scarf: Omit one Color C Hexagon at either end and seam both ends together. This will make an infinity scarf and shorten the length by approximately 6".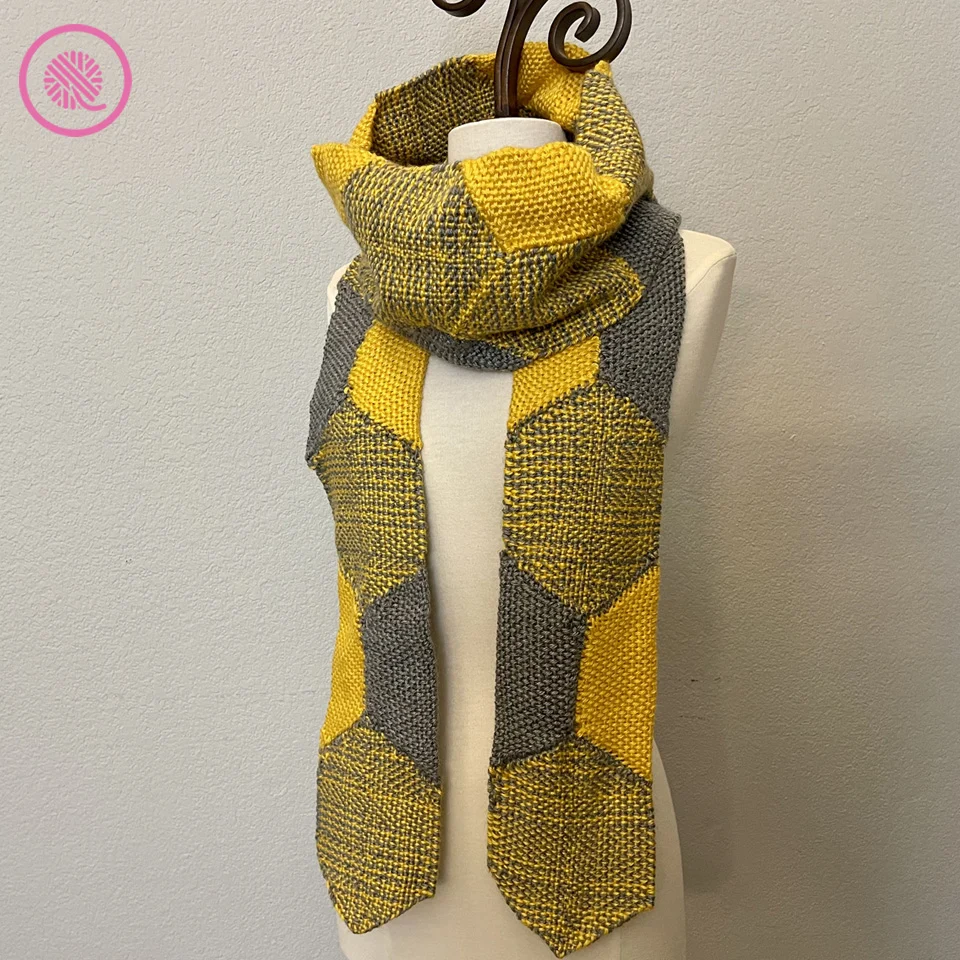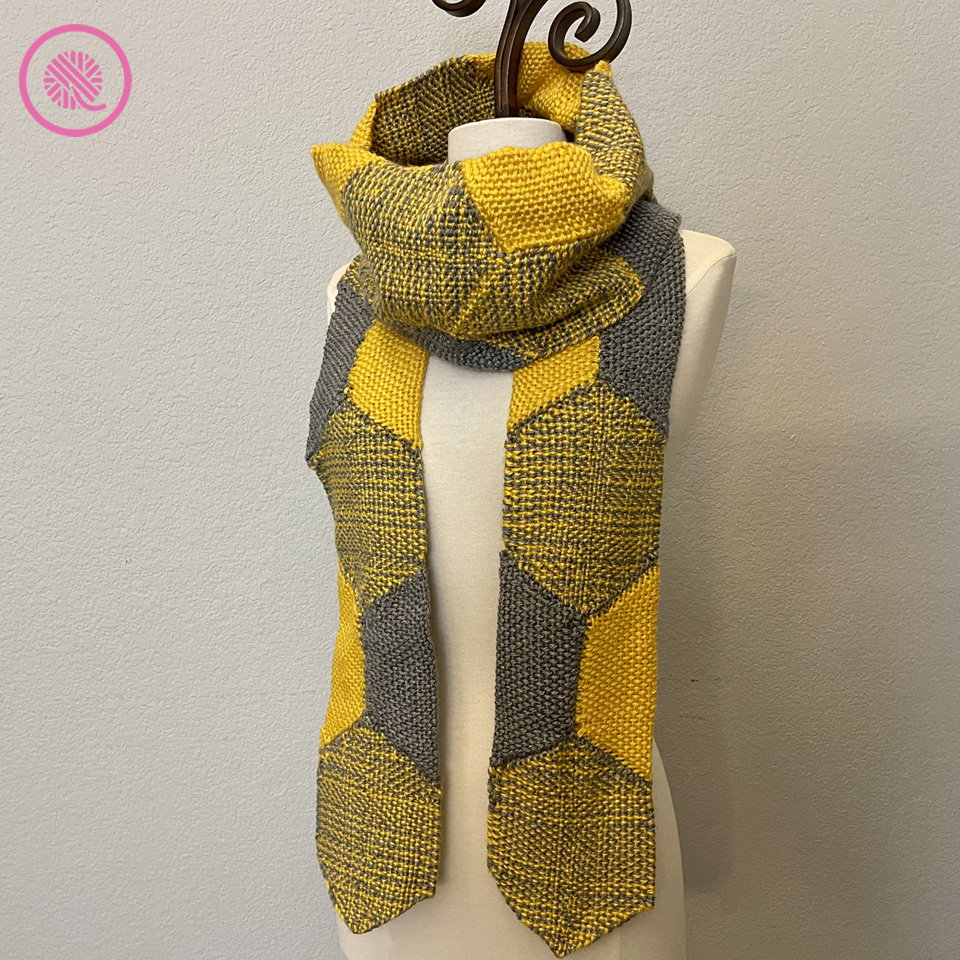 Here you can see the Woven Hexagon Scarf paired with the matching Woven Hexagon Cowl.
INSTRUCTIONS
Weave the following number of hexagons following the tutorial video:
Color A: 5 hexagons
Color B: 5 hexagons
Color C: 6 hexagons using Colors A & B held together
Weave in ends or use them for seaming your hexagons.
Arrange your hexagons according to the diagram below. Make sure that your hexagons are all aligned the same way. Your weave should line up straight across the scarf, not diagonally.
Using a tapestry needle sew all hexagons together as shown above.
NOTE: The hexagons for Colors A & B are folded in half so make sure to seam through both layers.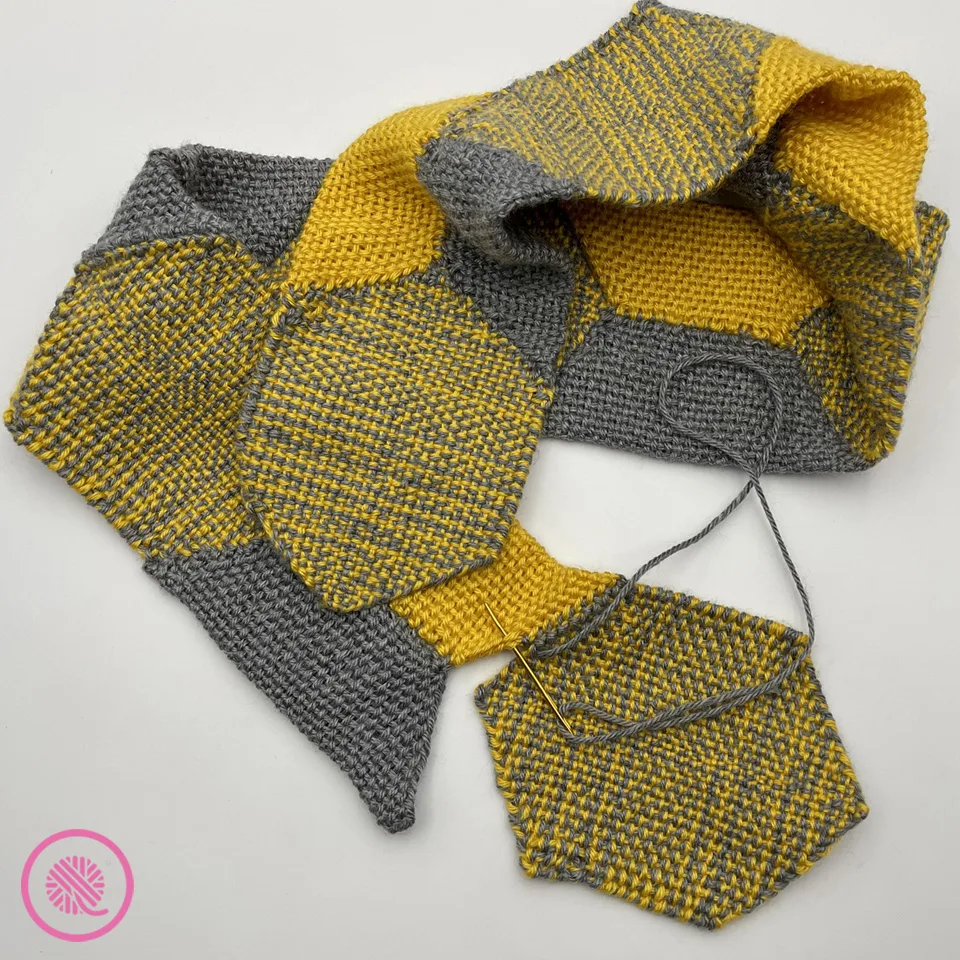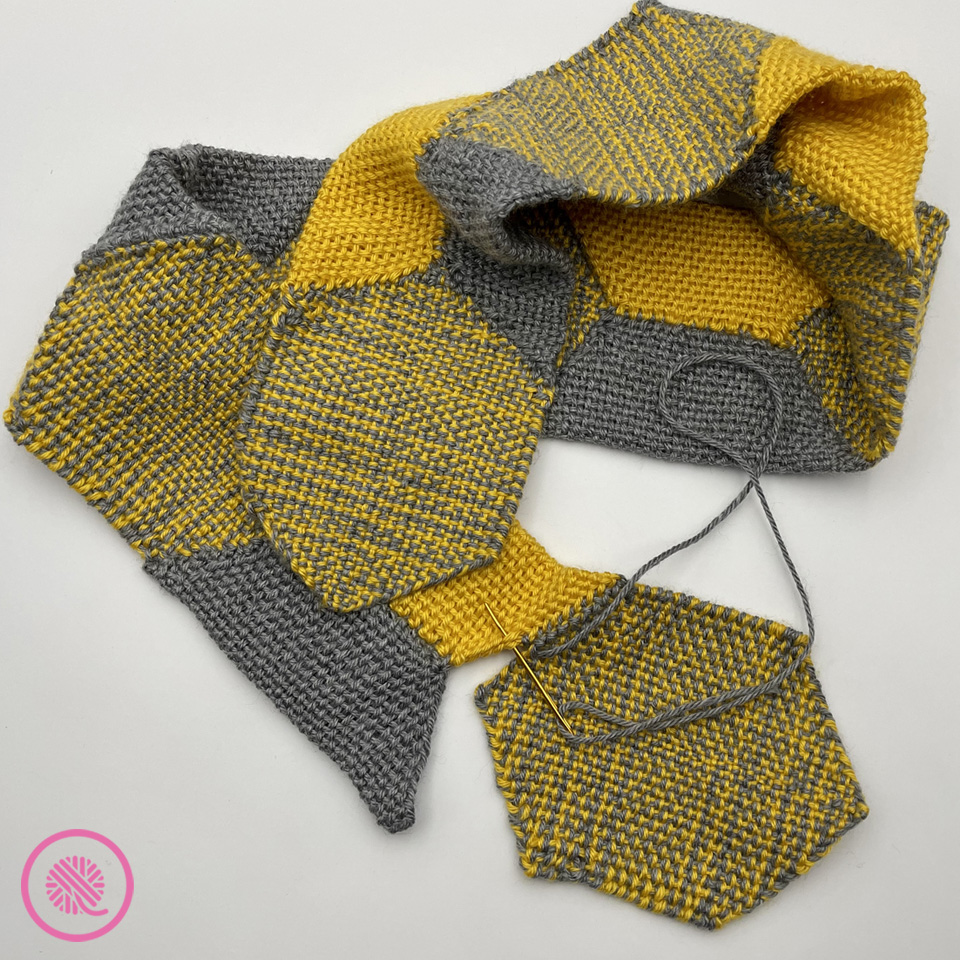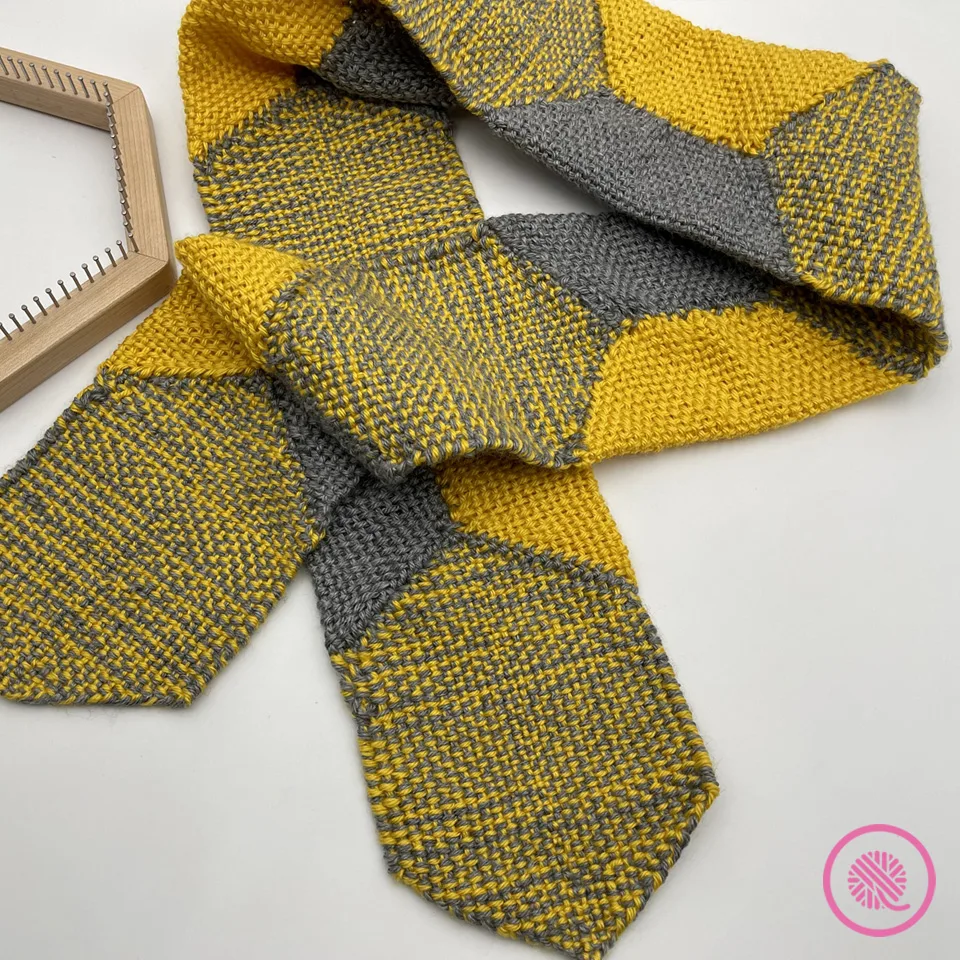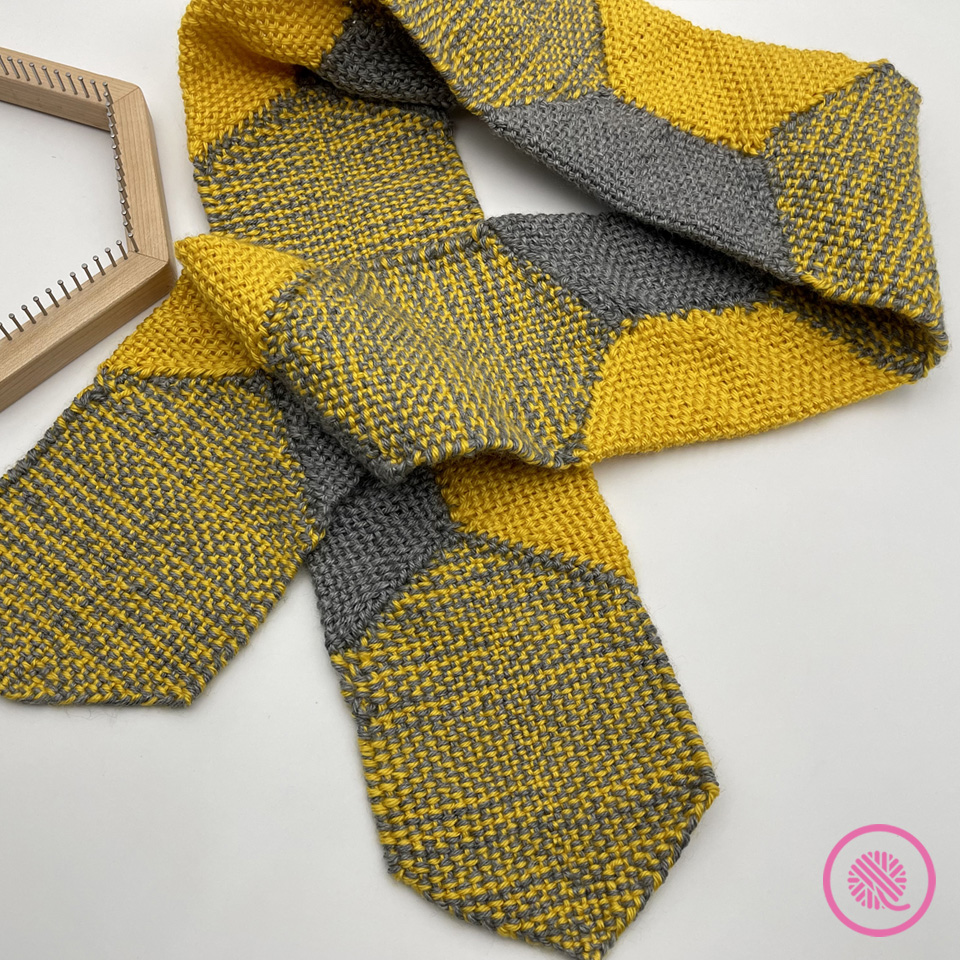 ---
PIN IT!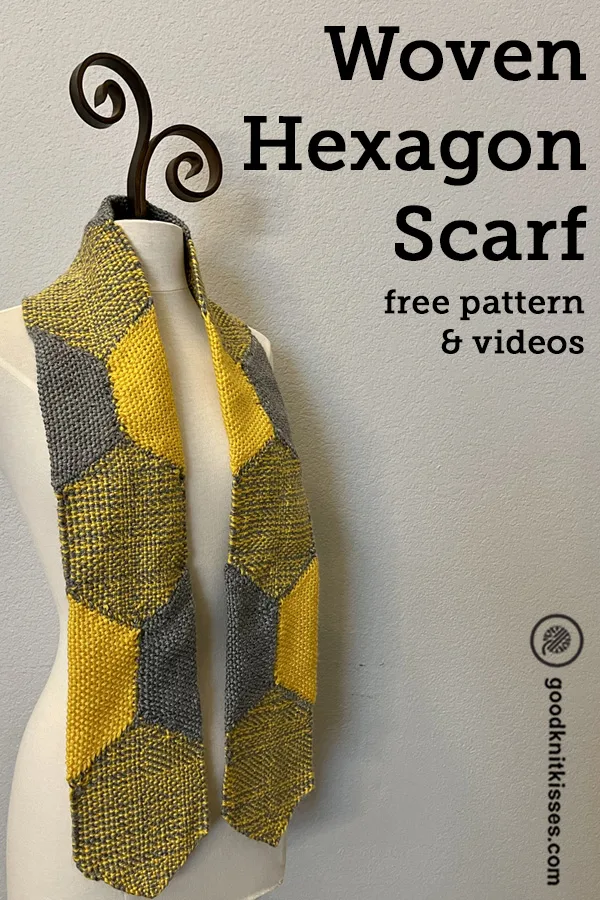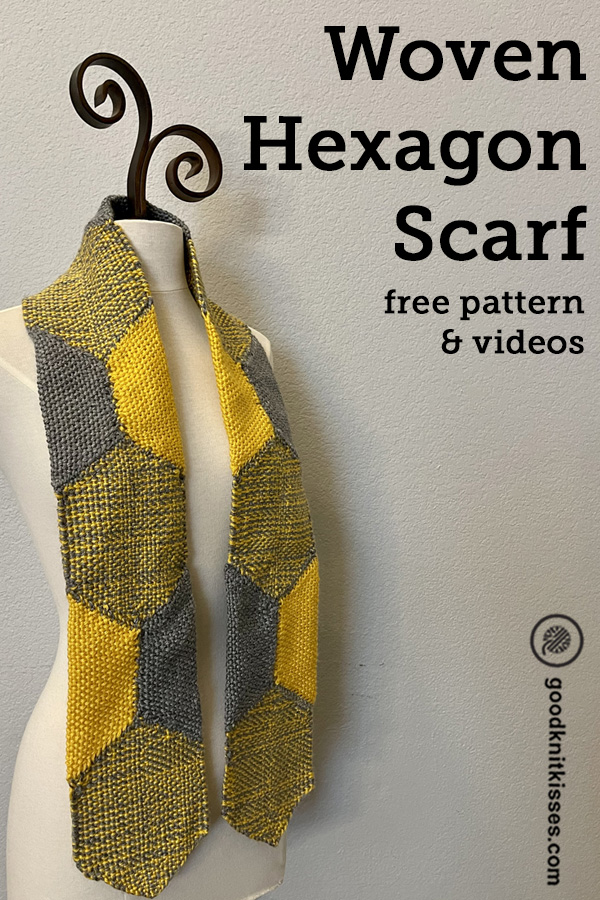 ---
Woven Hexagon Scarf Tutorial Videos
Select videos are available to GoodKnit Kisses YouTube members only. To get exclusive access to GKK VIP-only content, free PDF patterns, weekly Zoom meetup and more, sign in to YouTube and join as a VIP Member today! Find out more about GKK Membership HERE!
These tutorial videos show how to weave the hexagons and how to sew them together. You will want to watch both videos to complete the project.
Right handed


Left handed
---
Try some of my other woven projects: