Yarn Wrapped Letter | Craft
How did you like my new Winter PomPom Wreath? Those big fluffy pompoms tied onto a wreath form make an easy way to decorate your home. I chose neutral colors so I can keep it up all winter long, but it seemed a bit dull. I wanted to personalize the basic wreath with something special and unique so I went on a search through the craft store. Bingo! I found a wooden letter that I could personalize. It's perfect! Paint is nice and all, but you know my first love is yarn so I went stash-diving. I asked you guys during my live Facebook broadcast if you were interested in seeing how I covered the letter with yarn and the answer was, "Yes!" So this yarn wrapped letter craft is just for YOU!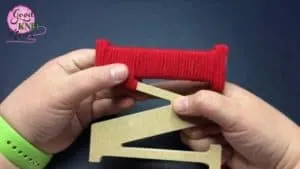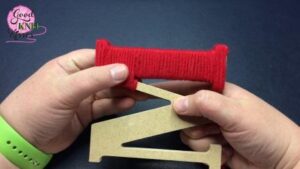 Think of all the ways you can use these yarn wrapped letters. Handmade Christmas ornaments for the whole family would be a snap. Large letters would make gorgeous wall or mantle decor. Small letters could be used for a baby mobile or nursery decoration to spell out Baby's name. Hey, you could even put them up on your craft room wall: Y A R N! There's really no limit to ways you can use this craft.
Supplies:
5″ Pressed wood letter – I used this one (affiliate): http://amzn.to/2zj6Kj8
Bulky weight yarn – Bernat® Beyond™ Red 1 ball (enough to wrap large letter)
Check out the video tutorial below to see how fast and easy it is to make a yarn wrapped letter.
Thanks for watching! You know what I love almost as much as making and teaching crafts? Seeing your unique touch on my crafts. If you make any of these letters, I'd love to see how you use them! Share your pictures on social media and tag me with #goodknitkisses.
PIN IT!