Inside: Learn all the basics of needle knitting with my tutorial series: How to Knit for Complete Beginners!
Here at GoodKnit Kisses my motto is
Stitch your love and love your stitches!
But it's more than a motto for me. Learning to knit is about sharing a piece of yourself with the world. I knit gifts for people I love, people that are hurting, people that need to know they're appreciated. Every stitch I take is a bit of my love that I can share.
And I want the gifts I share to be beautiful, not just to the receiver but to me. I want to be proud of the soft, fluffy cowl I just finished. (And I am!) I love the even, beautiful stitches in my cowl.
Have you ever seen a beautiful hand knit scarf and thought, "I wish I could make that."?
You CAN!
This How to Knit for Complete Beginners series is designed to help you share your love. You learn ALL the basics of needle knitting and work on small, manageable projects along the way with the free patterns showcased in the lessons.
This series covers basic techniques and stitch patterns including:
Casting on (getting the yarn onto your needles)
Binding off (taking your finished project off your needles)
Knit stitch and the garter stitch pattern
Purl stitch and the stockinette stitch pattern
Ribbed stitch patterns
Seed stitch pattern
Moss stitch pattern
Basketweave stitch pattern
Knitting a flat panel and knitting in the round
Increases (adding stitches as you knit)
Decreases (removing stitches as you knit)
Slipping stitches (moving stitches without working them)
This series teaches you to knit in 12 easy to follow video lessons and I'll tell you more about that below. But first, I want to give you an overview of some the supplies you'll need and how to choose the best supplies for getting started.
Choosing your yarn…
Yarn comes in a variety of thicknesses or weights and fibers. Some are very common and are at any craft store. Others are more rare and are from yarn shops or online.
Yarn is ranked according to the thickness on a scale from 0 (lace weight) to 7 (jumbo weight). The lace weight yarn is what's used for doilies and fine lace work. Jumbo is what you see with those super chunky scarves and blankets.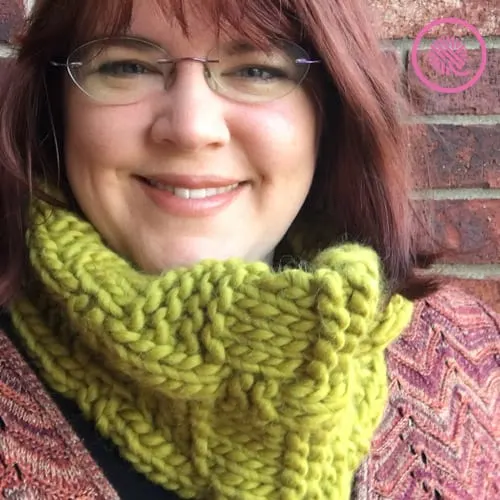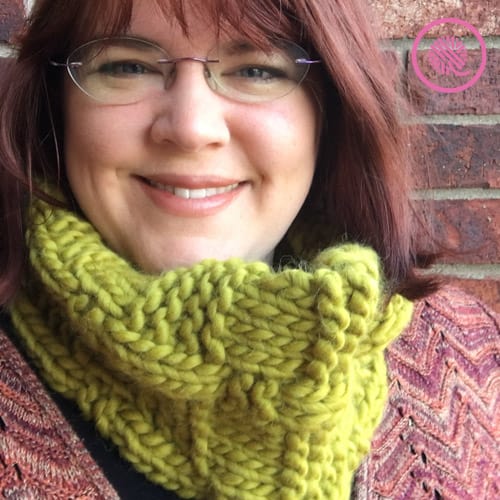 For more information about yarn weights check out this handy chart from the Craft Yarn Council.
But those are the extremes. As a beginner, I recommend you start with a #5 (bulky) weight yarn or #6 (super bulky) weight yarn.
This is not a typical recommendation. The most common yarn type you'll find anywhere is #4 (medium) weight, also called worsted weight yarn. Because this yarn is readily available it's a good choice, but I prefer a bulkier yarn for several reasons.
First, because you can see your stitches more easily with a larger yarn. It's important that you can see your stitches to know if you are working them correctly. Next, because it's easier to hold and manage the larger needles and yarn for a beginner. Lastly, big yarn means bigger stitches which means you'll finish a project MUCH faster. I think it's important for a beginner to be able to see visible progress quickly.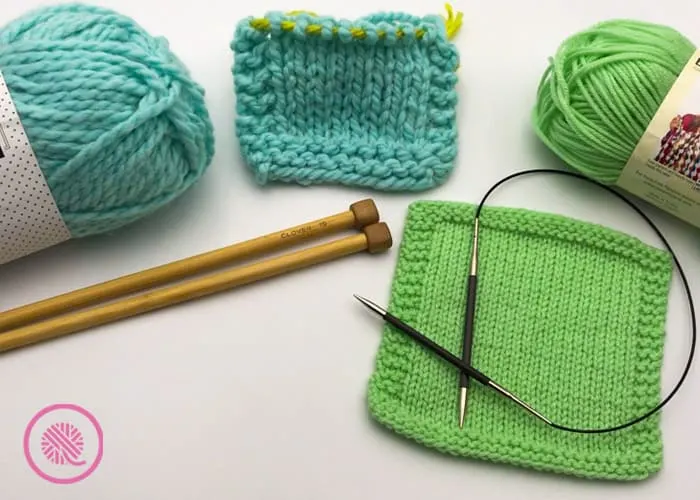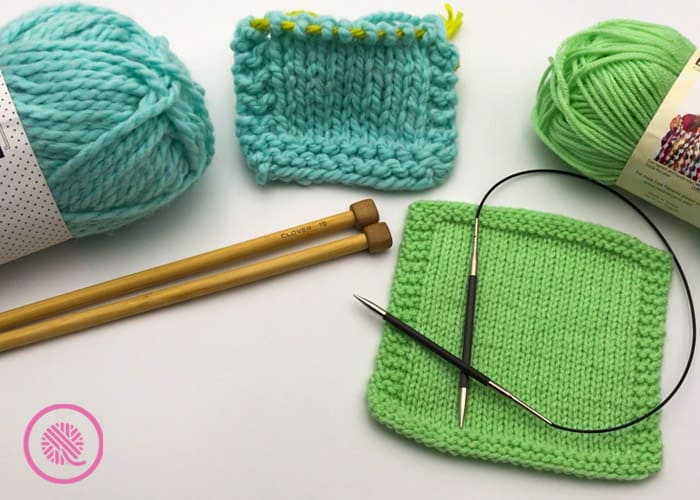 But…
Here's the disclaimer. If all you have is #4 weight yarn on hand and you still want to learn. You absolutely CAN!
In the How to Knit for Complete Beginners: Overview video below I'll show both sizes of yarn and a finished swatch of each so you can compare the two. But for the 12 lessons I'll only be demonstrating the stitches with super bulky yarn so you can see them clearly.
By the way, if you're curious about the yarn I'm using in this series, it's Luxe Craft Buttercream Alpaca Solid from Joanns. My #4 weight samples used Premier Antipilling Everyday Solids also from Joanns.
Choosing your needles…
Now that you have your yarn picked out you need some needles!
There are lots of different types of needles. You categorize needles by shape and size.
The three different shapes are straight, circular and double pointed needles. Why so many choices? Well, they each have unique uses when that type of needle is a good choice.
First, let's talk briefly about double pointed needles or DPNs. These are better for more intermediate level projects like socks or decreased hat crowns. They have points on both ends so you can knit from either side. The disadvantages for a beginner is that they are short and your stitches can slide off too easily.
Next, straight needles have a top or head at one end that keeps your stitches from falling off. These are the typical needles that a beginner knitter will start with. The disadvantages of the straight needles is they only hold a certain number of stitches and they can be a bit unwieldy if they are very long.
Last, circular needles are short needles connected by a length of cable. They are great for large projects like blankets, sweaters and shawls because you can fit as many stitches as the cable will hold. Cables come in a variety of lengths so if your cable is long enough you can knit an entire king size blanket. Circular needles are my favorite. I like being able to slide my work to the middle of the cable when I put it down and not have to worry about stitches falling off my needles.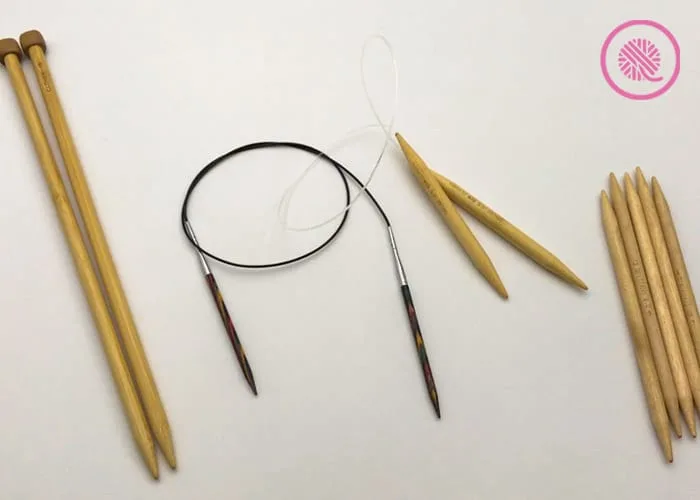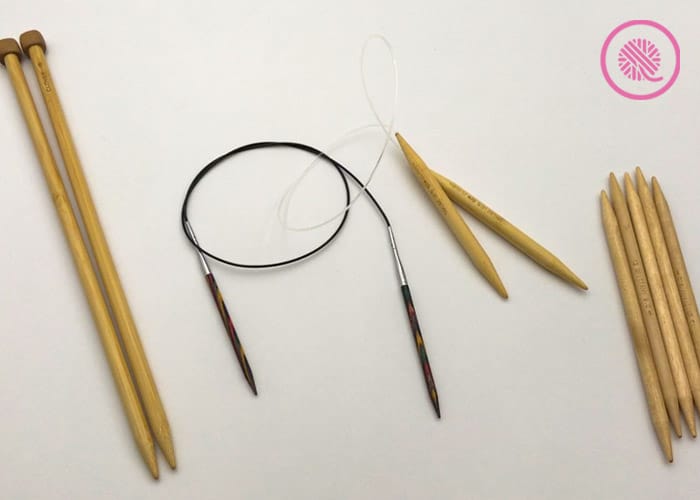 As a beginner you can use either a straight or circular set of needles. I'll be demonstrating the lessons with straight needles.
Needles also come in a variety of sizes. The size is measured by the diameter of the needle. There are standard US sizes that are numbered from 000 to 70. The higher the number the larger the knitting needle.
For those using #5 (bulky) or #6 (super bulky) weight yarn, I recommend size 15 needles. If you plan on learning with #4 (medium) weight yarn, use a size 8. If you need to go up or down a size because that's all you have on hand that's okay.
I also want to talk briefly about the materials used to make knitting needles. This may seem like overkill, but I sure wish I had known some of this when I got started.
Knitting needles are made, most commonly, from wood, metal or plastic. The material affects how much drag the needle has on the yarn. That means some materials allow the yarn to slide very easily along the needle while others have a bit of texture that slows the yarn down.
As a beginner, using needles that have some drag to them is useful. It will keep your stitches from sliding off too quickly while you're trying to work the stitch. So here's my handy list of needle materials to help you choose.
Bamboo – lots of drag (GOOD choice for beginners!)
Plastic – moderate drag (also a good choice for beginners and very cost effective)
Birch – low drag (much smoother than bamboo but still have some drag)
Aluminum – no/low drag drag (stiches slide like buttah)
Stainless steel – no/low drag
Other supplies…
The other items that are useful are called notions. These are all the extras. Some of them might be obvious, but others may not.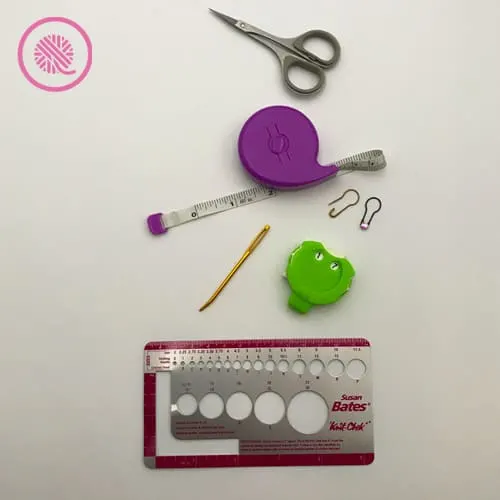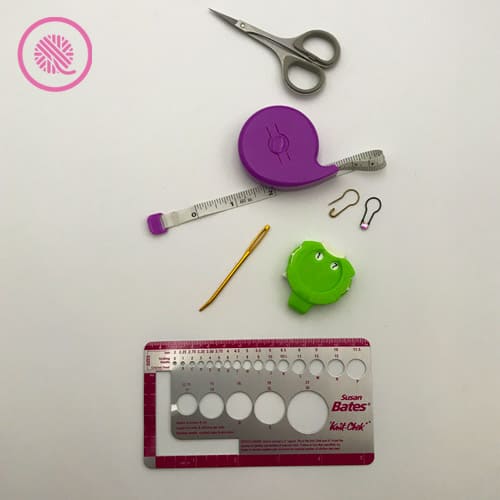 scissors
tapestry needle (for weaving in ends or seaming knit pieces)
measuring tape
stitch markers (to help you keep track of stitch patterns)
stitch holder (not shown above)
knitting gauge ruler (for checking needles size if needles are not labeled and measuring stich size for patterns)
row counter (to help you follow a pattern)
I hope you're excited to start knitting!
Make sure you have your supplies on hand before you start the 12 Lessons so you can knit along with me.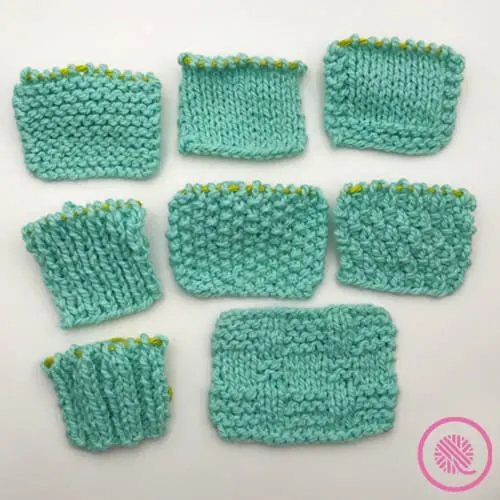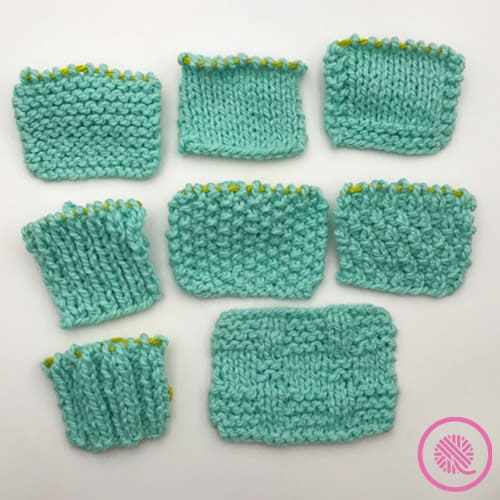 In case you want to know what's coming up here's a list of the lessons, a brief description and the pattern you'll be able to do as you go throughthis How to Knit for Complete Beginners series: (These links will be updated as each new video and pattern are published.)
Be sure to follow all the How to Knit for Complete Beginners Lessons.
Now are you ready to stitch your love and love your stitches?
---
PIN IT!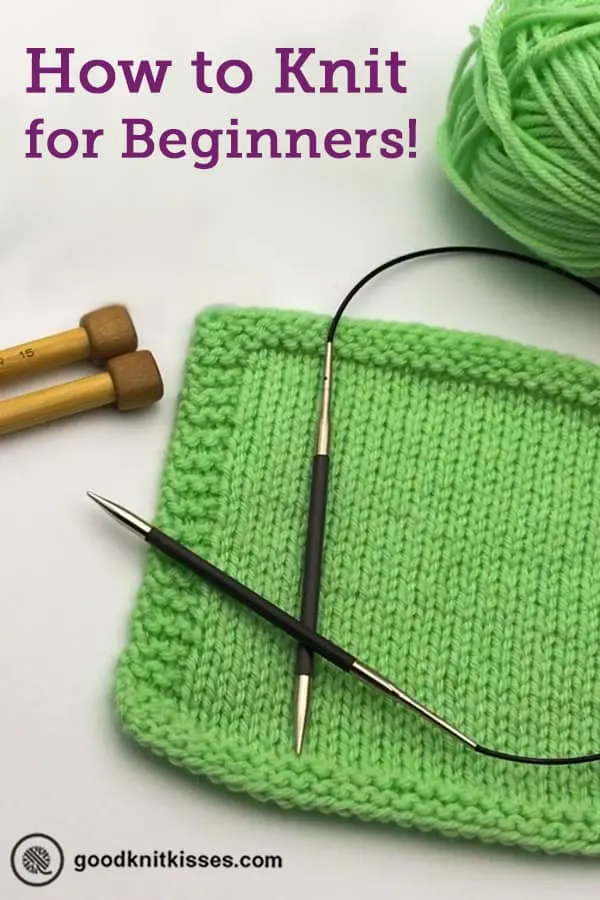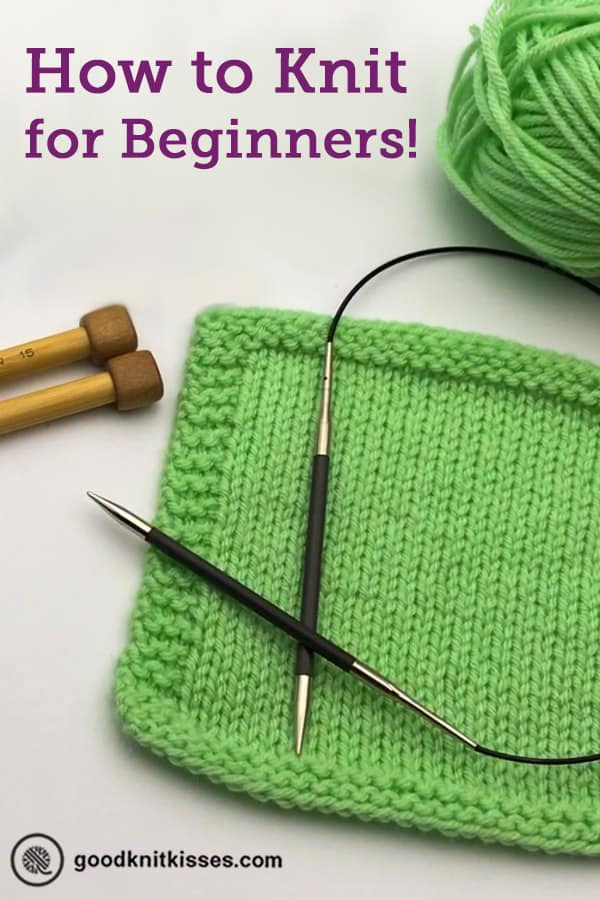 ---
---
How to Knit for Complete Beginners: Overview Video
If any of the videos below do not show they may be restricted to GoodKnit Kisses YouTube members only. Find out more about GKK Membership HERE!