Caron Cake Shop
Oh my! Caron has some amazing new treats for us this year! The Caron Cake Shop is fully stocked and open for business with an expanded menu of delicious new colorways. I know we've all been enjoying the long color changes on the original Caron Cakes since they were first released. Now we have so much more to be excited about. All the new Caron Cake Shop yarns and a stunning pattern collection are available exclusively at Michaels stores or online at Michaels.com.
Caron Cakes
The original Caron Cakes are back with 18 new colors! You're going to love the new warm tones designed with fall in mind. With colors like Pumpkin Spice, Poached Pear and Rum Raisin your projects will reflect the beauty of a crisp autumn day. The On the Double Knit Pullover below shows the unique color shift you get using two strands. LOVE IT!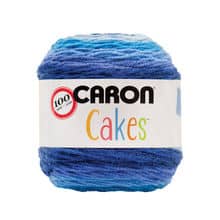 Caron Big Cakes
Okay, blanket makers, you're in for a big surprise. And I do mean BIG! The Caron Big Cakes have all the stunning colors you love in Caron Cakes, but now they are 100% acrylic. This makes your large home decor projects easy to care for. With a generous 603 yards in each of the giant cakes you'll only need a few them to complete your project.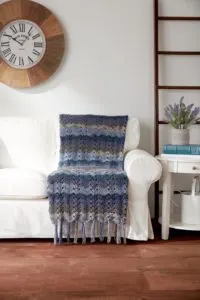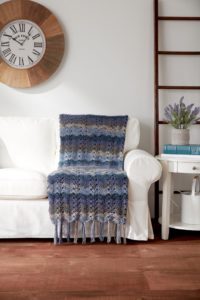 Caron Sprinkle Cakes
We all love sprinkles, don't we? The Caron Sprinkle Cakes are a super bulky acrylic and wool blend sprinkled with flecks of other fibers to give it an outdoorsy tweed look. Fall sweaters and cozy cowls showcase the earthy tones in this collection. The Big Knit Ribbed Cowl is shown in the Vanilla Bean color.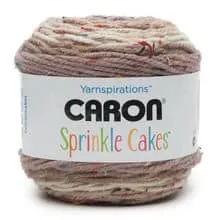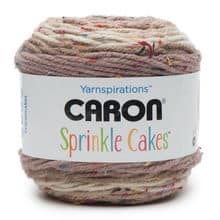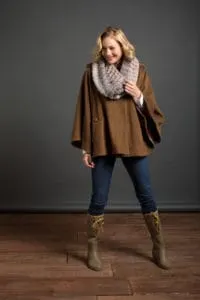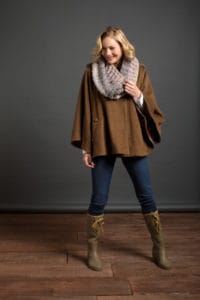 Caron Tea Cakes
Continuing in the super bulky line we give you the Caron Tea Cakes. The lovely heathered shades make this yarn the soft-spoken cousin of the original bold Caron Cakes. The Paneled Knit Afghan and Knit Poncho shown below are both knit in the Cornflower color.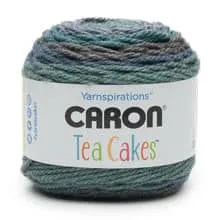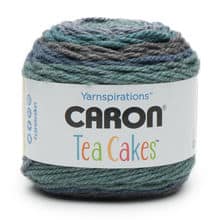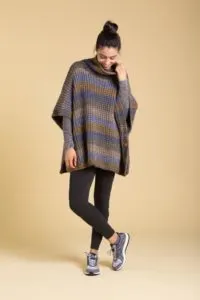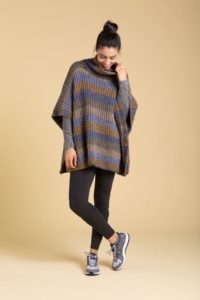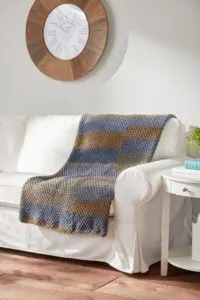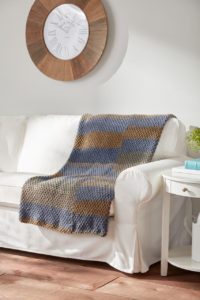 Caron Cupcakes
Big things come in small packages and the Caron Cupcakes are no exception. Sometimes you just want a small treat and these will satisfy your craving for a quick project. The Caron Cupcake features a lightweight #3 yarn in 12 fun, eye-popping colors complete with a coordinating ready-made pompom. It is one stop shopping for hats this year. We can all wear Caron Cupcakes!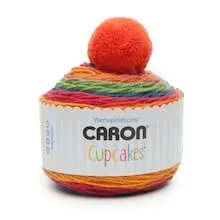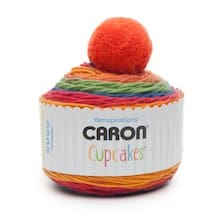 I put together a handy chart to help you decide which cakes to sample first!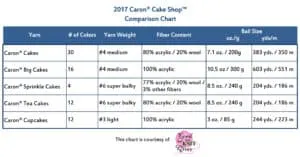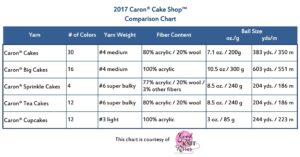 See all the gorgeous colors and styles at your local Michaels store or online at the Caron Cake Shop!