Watermelon Snuggle Sack | Yarnspirations
Today's Watermelon Snuggle Sack pattern is all about opposites! Watermelon makes me think of family picnics; scorching hot days filled with playing outside followed by gathering around the table to grab a cool, refreshing slice. A snuggle sack gets me ready for chilly nights and warm treats as we grab our favorite spot in the media room on a Friday evening to watch a movie together. What brings these two memories together is family!
Now you can get the same cozy family feeling that you've been enjoying all summer and bring it inside when the weather gets cool. The Watermelon Snuggle Sack is an easy knit pattern that will keep you warm and snug all winter. Let's get started!
Watermelon Wedge Snuggle Sack
Pattern
Click here to get the Watermelon Wedge Snuggle Sack pattern from Yarnspirations.
Yarn: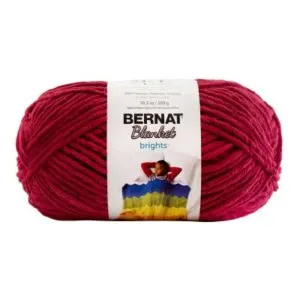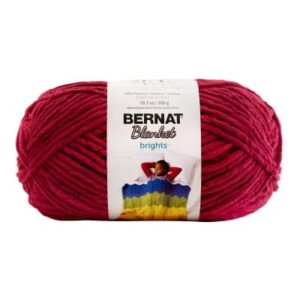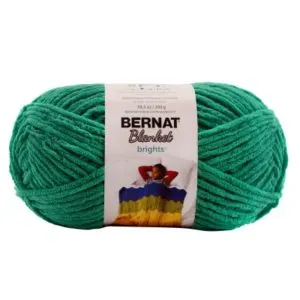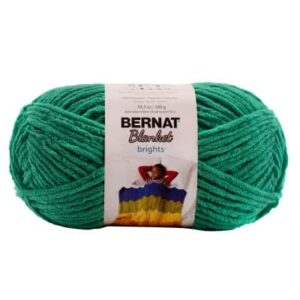 Child size:
Bernat® Blanket Brights
Contrast ARace Car Red (12001) 3 balls or 532 yds/487 m
Contrast B Go-Go Green (12004) 1 ball or 213 yds/194 m
Bernat® Blanket
Contrast C Coal (10040) 1 or 37 yds/34 m 1
Bernat® Baby Blanket
Contrast D Lemon Lime (04223) 1 or 49 yds/45 m 1
Bernat® Baby Blanket
Contrast E White (03005) 1 or 49 yds/45 m 1
Adult size:
Bernat® Blanket Brights
Contrast A Race Car Red (12001) 5 balls or 486.5 yds/445 m
Contrast B Go-Go Green (12004) 1 ball or 287.5 yds/263 m
Bernat® Blanket
Contrast C Coal (10040) 1 ball or 55 yds/51 m
Bernat® Baby Blanket
Contrast D Lemon Lime (04223) 1 ball or 53 yds/48.5 m
Bernat® Baby Blanket
Contrast E White (03005) 1 ball or 53 yds/48.5 m
Needles & Supplies
Size U.S. 11 (8 mm) circular knitting needles 29″ [90 cm] long or size needed to obtain gauge.
tape measure
scissors
blunt tapestry needle (for weaving in ends)
Skill Level
Easy
Sizes
Baby/Doll* Approx 18″ long
Child: Approx 60″ [152.5 cm] long x 84″ [213.5 cm] circumference. To fit
Child ages 4 to 8 years.
Adult: Approx 80″ [203 cm] long x 112″ [285 cm] circumference.
*NOTE: This size is not included on the original pattern. Details are listed below to make this size.
Gauge
8 sts and 13 rows = 4″ [10 cm] in stocking st.
Skills Demonstrated in Tutorial
Longtail Cast-on
K- Knit stitch
P-Purl stitch
Kfb – Knit into the front and back of the stitch (increase)
K2tog – Knit two stitches together (decrease)
Psso – Pass the slipped stitch over
S1 – Slip 1 stitch knitwise
Ssk – Slip next 2 stitches knitwise one at a time. Pass them back onto left-hand needle, then knit through back loops together.
Changing colors
Cast off (Bind-off)
Sewing the pieces together
If you need a slow motion video on the main stitches or techniques, please check out my slower tutorials on GoodKnit Kisses YouTube playlist.
---
Baby/Doll Size Snuggle Sack
Watermelon Wedge (Make 2)
Cast on 2 sts.
Follow pattern instructions for Rows 1-6 as written
Repeat 3rd-6th rows until your pieces measures 15″ (38 cm)
Add in Contrast E (White) and knit 4 rows in garter stitch (knit all rows).
Next add in Contrast D (Lemon Lime) and knit 4 rows in garter stitch.
Lastly, add in Contrast B (Go-Go Green) and knit 14 rows in garter stitch.
Bind off all stitches.
Seeds (Make 3 – 6)
The beauty is you can make these exactly as shown in the pattern. You'll only need 6 for the baby size.
Finish the snuggle sack according to the pattern instructions.
---
Ready, set, KNIT!
The Watermelon Wedge Snuggle Sack is knit in 2 pieces and seamed together. You'll be knitting two identical triangles using the stockinette stitch, one for the front and one for the back. We'll start with a simple cast on. I like the longtail cast on, but since we only need 2 stitches feel free to use any cast on you like. Then the increases begin! This pattern uses increases on either side to create the triangular shape. The Kfb, or knit into the front and back of the stitch, is easy to learn and you will be seeing it often.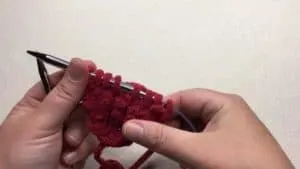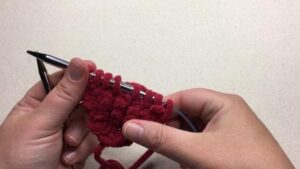 Once you settle into the pattern you'll be working the same 4 row repeat until you reach your desired length. After the main red part of the watermelon is finished add in the white yarn. I'm asked all the time, "What is the best way to add in a new color?" I'll show you in this video and it may surprise you.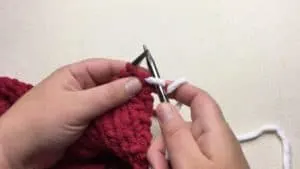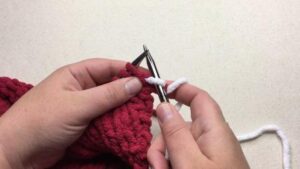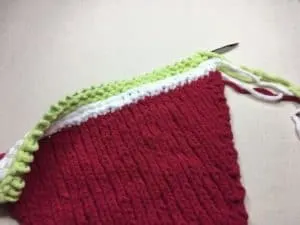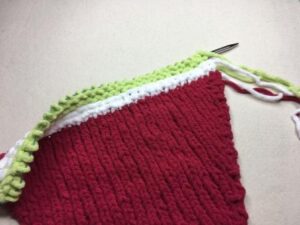 Continue knitting the rind of the watermelon in garter stitch (knit every row) by adding in the Lemon Lime and GoGo Green as specified in your pattern. Lastly, you'll bind off all stitches. That's it! Well, sort of…. Now you need to go back to the beginning and make another one exactly the same. This will give us the front and back of the snuggle sack.
There something seedy around here.
What's a watermelon without seeds? I know, I know! It really is easier to eat without them especially in fruit salad but for a snuggle sack they are essential to give it that cool summer vibe.
The seeds use increases and decreases to give it the classic teardrop shape. At this point in the pattern you may run into some unfamiliar abbreviations, but I can get you through. We've already done the Kfb increase, but I'm going to show you an alternate way of working that increase. It will look a little differently than method we used for the watermelon wedges so only use this method for the seeds. The decreases, K2tog and ssk, both decrease your work by one stitch but they do it in different directions. The K2tog has the stitches leaning to the right and the ssk shows the stitches leaning to the left. Using these two together will keep your knitting symmetrical.
Finish the seed according the pattern instructions and leave a yarn tail long enough to use to sew the seeds to the snuggle sack.
Putting it all together.
Sew the seeds onto the front piece of your snuggle sack before seaming the pieces together. Use the picture in the pattern to guide you when placing the seeds.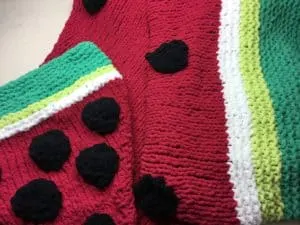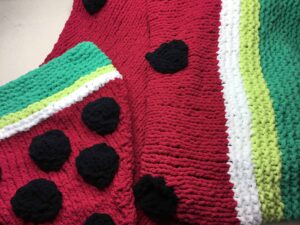 Lastly, I'll show you how to seam the two pieces together so you have an invisible seam. I know that seaming can strike fear into the heart of all knitters, but you CAN make a smooth seam. We'll also be changing colors as we seam so the colors are seamless all the way up the sides. Beautiful!
I hope you enjoyed working on the Watermelon Snuggle Sack with me and that it keeps you cozy this winter with warm blanket yarn and warm memories of summer fun!