Inside: Your ultimate guide to knitting looms! Loom gauge comparison charts help you find just the right loom for your project.
Loom Gauge
The spacing between the pegs, called loom gauge, determines how big or small the stitches will knit up on that loom. Just like knitting needles come in many sizes so do looms. Instead of switching to a different size needle to adjust the size of our stitches we can use a different gauge loom.
Just know that this spacing or loom gauge, along with the yarn you choose and the stitch you knit all work together to make the final size of the stitches you make which is the final gauge of the knitted fabric. This is the difference in a sweater that is too small or sock that is too big.
Loom gauge is the distance the yarn travels from one peg to another which makes up 1 stitch. The measurement from the center of one peg to the next is called C2C Peg Spacing (Center to Center). Note that the diameter of a peg can change the gauge. The distance from center to center determines the classification of a loom into a category.
The loom gauge categories actually are determined by manufacturer(s) test knitting several swatches (samples) in appropriate yarn to see which category that loom should fall under.
The categories actually line up with a range of needle sizes. Keep this page handy as well when converting needle patterns.
*Keep in mind not all companies note the gauge but whatever size they make will fall into these categories. One day we hope all will categorize in a standard format.
For more information on finding just the right loom for your project, check out my Knitting Loom Guide book. It lists all the popular loom brands by size, gauge and peg count. I update the book every year to add new looms that were introduced during the year.
Loom Gauge Categories:
EFG = Extra Fine Gauge (3/16″) = Equiv. Needle 1-3 (2.25 mm – 3.5 mm)
FG = Fine Gauge (1/4″) = Equiv. Needle 3-6 (3.5 mm – 4 mm)
SG = Small Gauge (5/16″, 3/8″, 7/16″) = Equiv. Needle 6-8 (3.75 mm – 5 mm)
RG = Regular Gauge (1/2″, 9/16″) = Equiv. Needle 8-10 (5 mm – 6 mm)
LG = Large Gauge (5/8″, 11/16″) = Equiv. Needle 10-13 (6mm – 9 mm)
XLG = Extra Large Gauge (3/4″, 13/16″, 7/8″, 15/16″) = Equiv. Needle 13-15 (9 mm – 10 mm)
JUMBO = EXL+ to JUMBO (+/- 1 1/2″) = Equiv. Needle 19-50 (12.75 mm – 25 mm)
Most manufacturers determine their gauge/set of their knitting loom product and will list it with the Loom Gauge abbreviation and/or the C2C fraction. If it is not listed you can usually measure this for yourself or check our chart. There are a few exceptions though. Different looms will have pegs of various diameters or even peg and pin systems (Kiss Looms) that make it hard to measure and also can change the gauge from one peg to the next.
Other contributing parts to determine the gauge of knitting are: Yarn weight, stitch, tension, your mood and even the type of peg material. Your knitting gauge can be different than a fellow knitter due to these even on the same loom!
Whether on a loom that is straight, round, oval, has one rake or two (also called the upper and lower of a long loom or a knitting board), your loom gauge will be measured from C2C. However if you have a double rake (double sided) loom like a long loom or knitting board, you can also measure a second gauge for double knitting.
Adjustable Looms
Some looms can adjust this spacing! Kiss Looms are unique in that the peg spacing can adjust the gauge of the loom (distance from one peg to the next) just by adding the thickness of a washer. Thank you Kelly Jones, owner of Kiss Looms for allowing us to post your handy chart!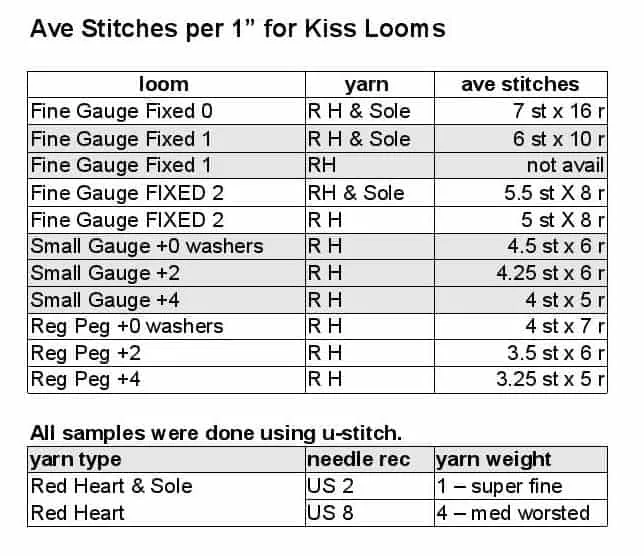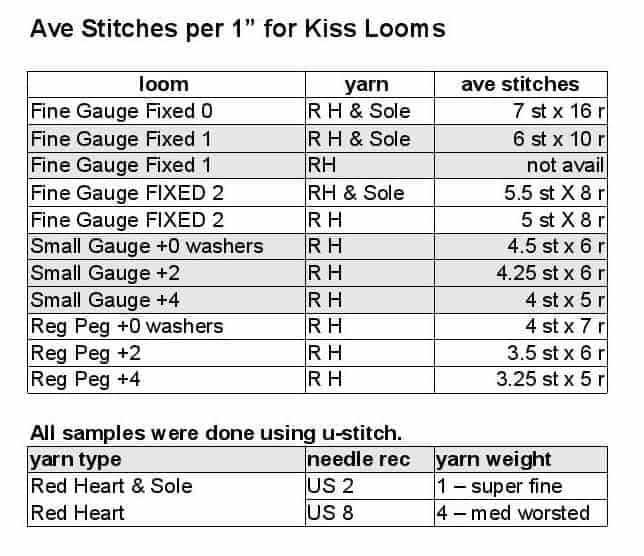 NOTE on Patterns for Loom Gauge
When loom gauge is called out it usually will not be mentioned as C2C. This term is used to explain HOW to measure. In loom patterns it may be written as a fraction, abbreviation or a specific loom may be called out.
Measurements for Loom Gauge
Be sure to take notes on that measurement and how you got it there and use a hard ruler or a digital caliper for accuracy.
Swatch and measuring knitting stitches/rows
Having a swatch made using different weight yarns (in the same stitch) on various looms and different adjustments can come in handy in your own homemade notebook or database.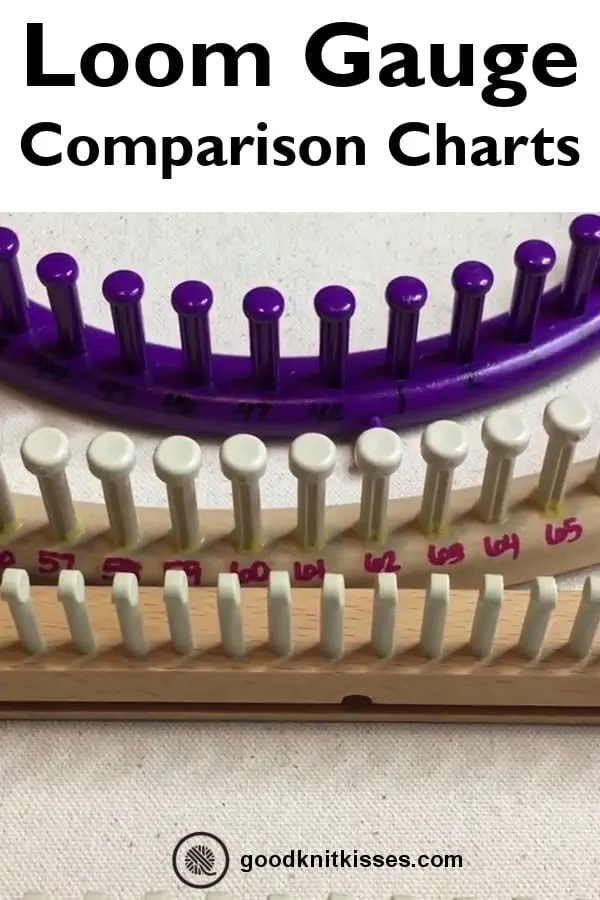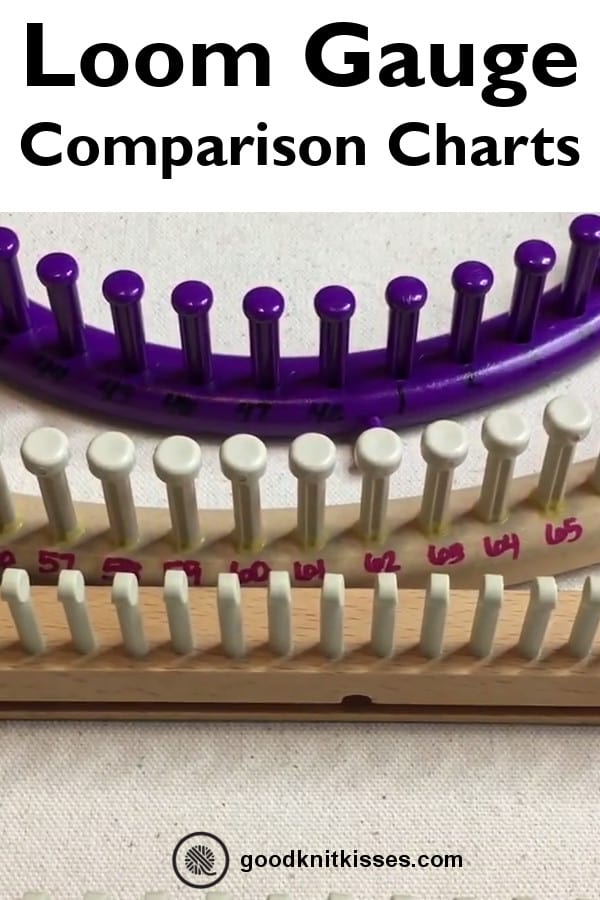 Loom Gauge Comparison Charts
The following Charts are popular looms and their C2C Peg Spacing measurements.
Brands included in the charts below:
Boye
CinDWood Crafts
D.A.Looms / Décor Accents (no longer in production; nick name DA).
Flexilooms (In the Attic – no longer in production).
Knifty Knitter (ProvoCraft – no longer in production; loom clips can adjust long loom peg count in the round; nick name KK).
Knifty Knitter (Mommy & Me – no longer in production).
Knitting Board (also called KB or Authentic Knitting Board; double knit, single, circular, weave and some adjustable looms; nicknames KB or AKB).
Knitting Frame Noble Knitter
Loops & Threads (Michael's Looms; similar to Hobby Lobby Looms; see Boye or Knifty Knitter similar patterns).
Lion Brand Martha Stewart Loom Knit & Weave Kit (adjustable size and pegs to knit or weave; nickname MS).
Reader's Digest (no longer in production).
(Update April 7, 2015 Yarnology rectangular long loom set is identical to the 4 Knifty Knitter gauges and peg count in chart. Yarnology not listed in chart.)
Please do not copy the charts from our website unless for digital storing for personal use. Our Charts are too large for regular paper to print but are perfect for those needing large clear print. Please link to this page on your own website or blog to help others find more resources! Thanks! – The GoodKnit Kisses Team
(Charts updated July, 2016)
[NOTE: As of September, 2019, this list was appended, reformatted and turned into the Knitting Loom Guide. This is a project that will continue to be updated yearly as new looms are released and retired from production.]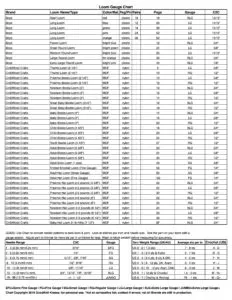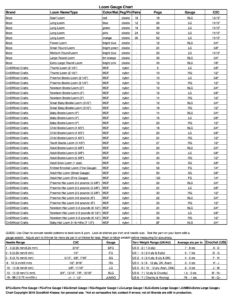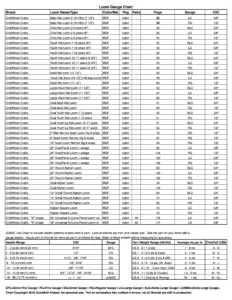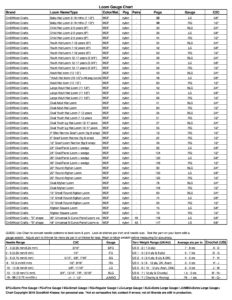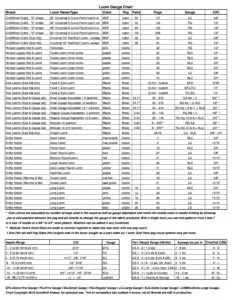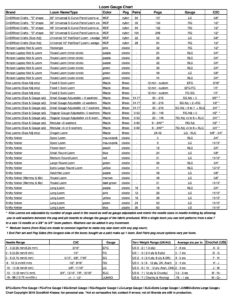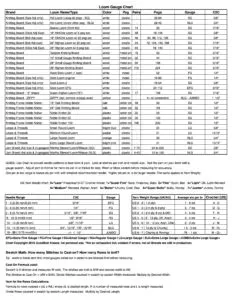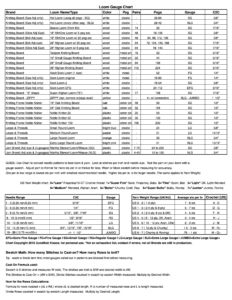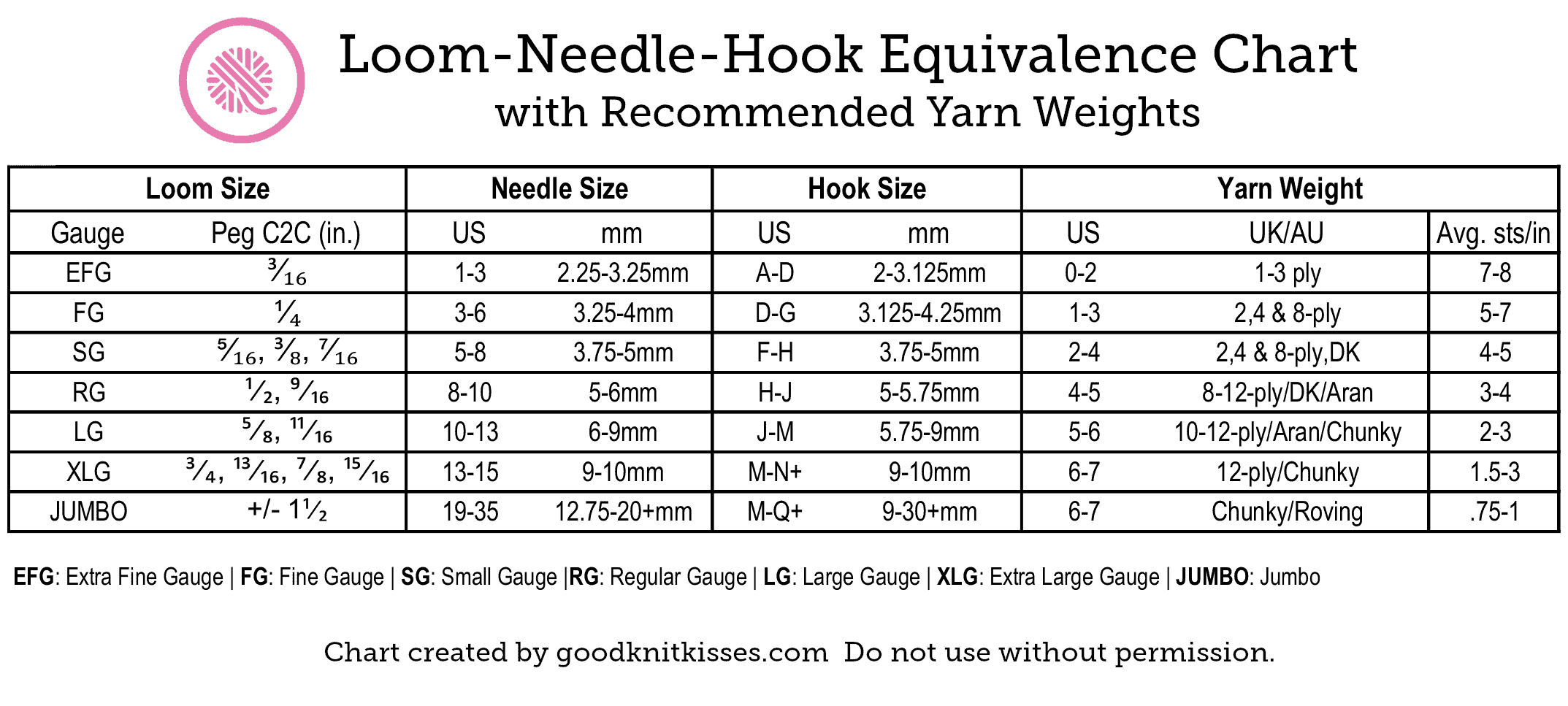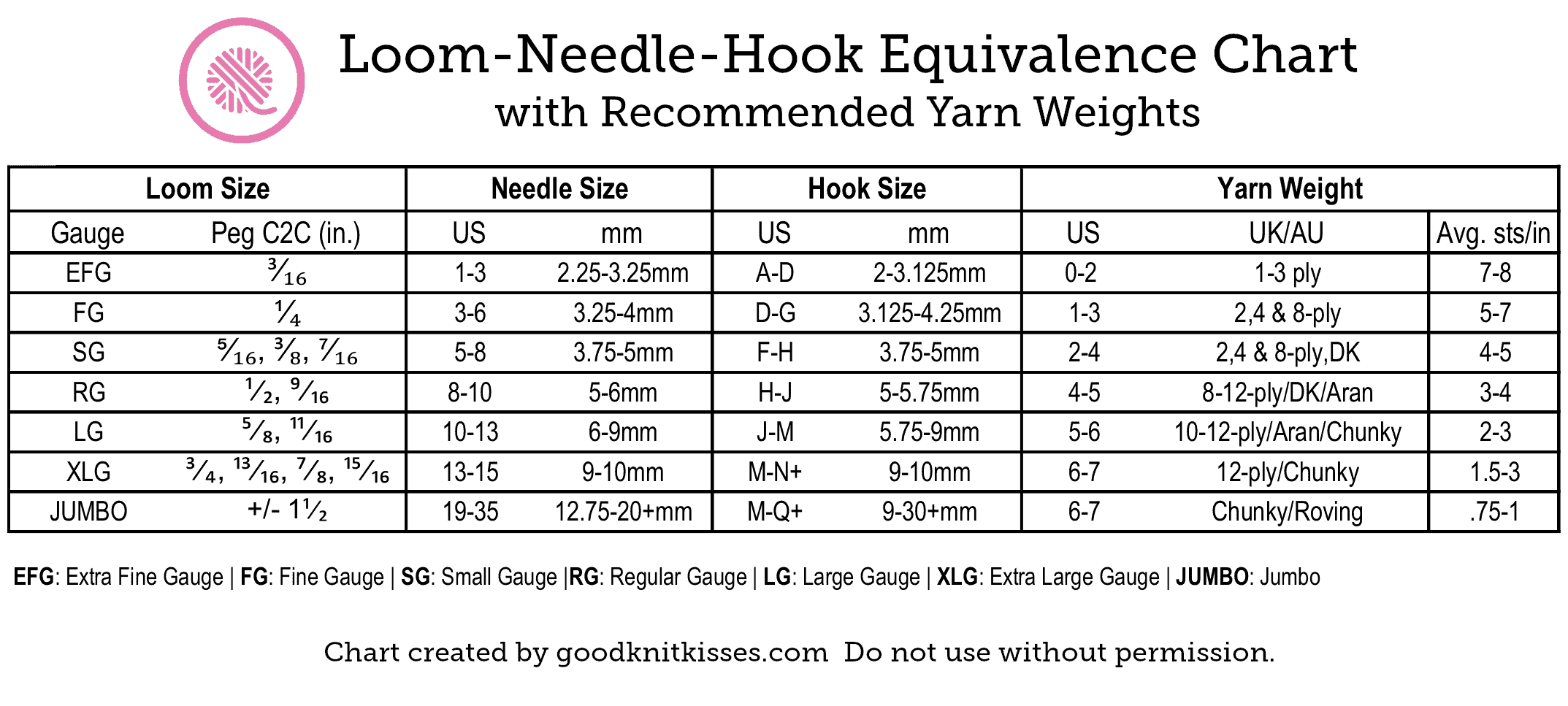 Needle Patterns – If you are converting a needle-knitting pattern to the loom, use our short chart as a guide! Notice the columns with the Needle Equivalent listed and stitches per inch. Also included are recommended yarn weights for the needles and looms "C2C" or "Gauge" listed. These appear in a range of needles & weights as your loom can handle different stitches per inch with a change in yarn, stitch pattern, and tension (how tight or loose you tend to knit). Please note that the US and UK/AU systems are noted. For stitches per inch in metric, multiply the number by 4. That will give you 4", which is 10 cm. Your new number will be roughly the number of stitches in a 10 cm swatch. (2.54cm = 1 inch). Keep in mind that stitches per inch listed are taken from averages and are not set in stone. The rows per inch are not listed on this chart.
Loom Comparison Examples
•Loom A & B are listed as SG and 3/8". They can both be measured from the center of the peg groove to the center of the next peg groove. However, Loom B's peg is just a little bit larger in diameter than Loom A. Here the stitches per inch could be slightly less on Loom B compared to a swatch from Loom A with the same yarn and type of stitch pattern.
•Loom C is a Kiss loom with a peg in front and a pin behind on a thinner pin board; this loom is listed as an SG but it is difficult to measure. Here the yarn travels in front of the peg and then behind the pin that is behind and offset from the peg. The distance between the peg and pin can get larger if washers are added between the front larger board and the thin pin board to change the overall gauge. Knitting a swatch (see Why Swatch) is the best way to confirm overall knit gauge.Again, other contributing parts to determine the gauge of knitting are:  Yarn weight, stitch, tension and your mood.  Your knitting gauge can be different than a fellow knitter due to these even on the same loom!
Adjustable Looms
This is an exciting feature but should come with an explanation as to what the word "adjustable" means. Adjustable can be a deceiving word. Most looms have a fixed number of pegs and a rigid frame. However, there are a few looms that can adjust the actual size of he stitches on the same loom.
Here are examples of how the word adjustable should be used:
If a frame can be adjusted to change the number of pegs then we would say it is Adjustable Size Only.
If you can choose between two or more gauges and it is also peg count adjustable we would say it is Size Adjustable & 2+ gauges.
If the distance between the pegs can be changed slowly with washers then we would say the loom is Size and Gauge Adjustable. Size adjustable looms allow the knitter to slide or move part of the frame to get the desired peg count.
---
Loom Gauge Comparison Charts Helpful Videos: