Here is a sweet loom knit five petal flower that will have your knits smelling like roses!…or is it daisies? ha-ha! At any rate this super-sweet Five Petal Flower with button accent has got us all in a tizzy. Check out the new pattern by Denice Johnson below. Here is a little note from her first. Welcome, Denice! -Kristen Mangus
I wanted to create a flower that was simple to make and also has detail of a five petal flower. I liked the look of Isela Phelps' flower headband so I came up with a pattern thats easy to follow and can be used on hats as an embellishment. -Denice Johnson
Design by Denice Johnson
Inspired by a knit flower by Isela Phelps. This is the perfect project for all those extra balls of yarn you have laying around.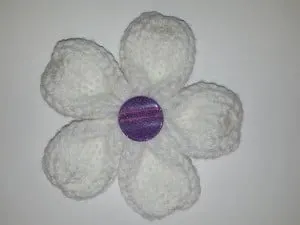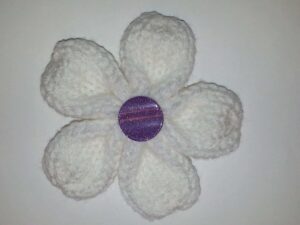 Knitting loom:
12 peg flower loom
Yarn:
50 yards of 4 medium weight in Red Heart Super Saver in white or any color
Notions:
Knitting tool
Tapestry needle
Gauge:
4 stitches and 6 rows to 1 inch
Abbreviations
K=knit stitch
Pattern note:
Use one strand throughout entire project, pattern is worked in the round INSTRUCTIONS
Petal:
Draw string cast on all 12 pegs, work in the round.
Rounds 1‐10: knit to the end of round.
Remove with basic bind off. Sew closed, give a little tug to set stitches.
Make 4 more Petals as instructed above.
FINISHING
Line up all 5 pieces side by side on a flat surface, on flat edge fold over so corner touch and place on needle. Repeat for remainder of petals. Run through the first petal again and pull tight. Turn over and sew the back in place, turn over to front side and add a accent button.
©2015, Denice Johnson
PIN IT!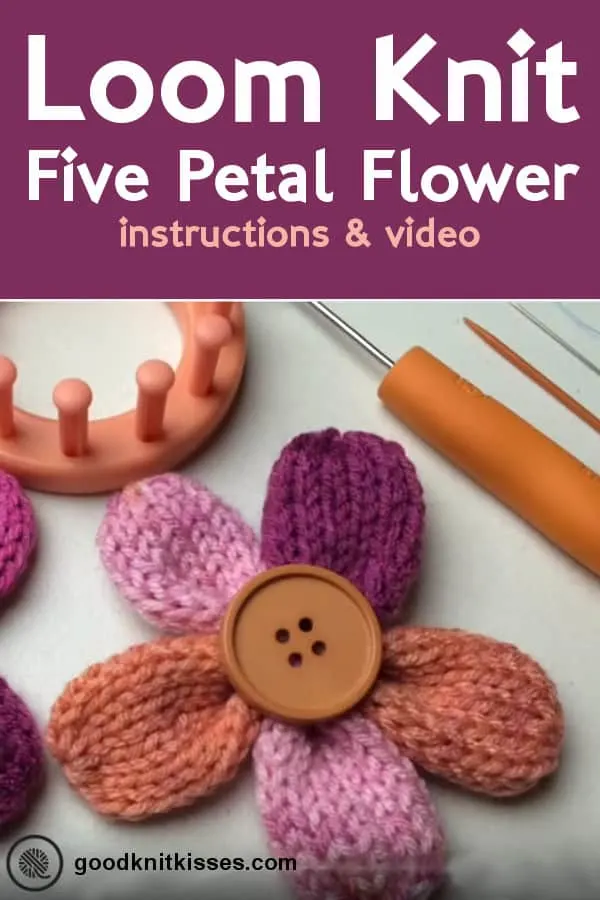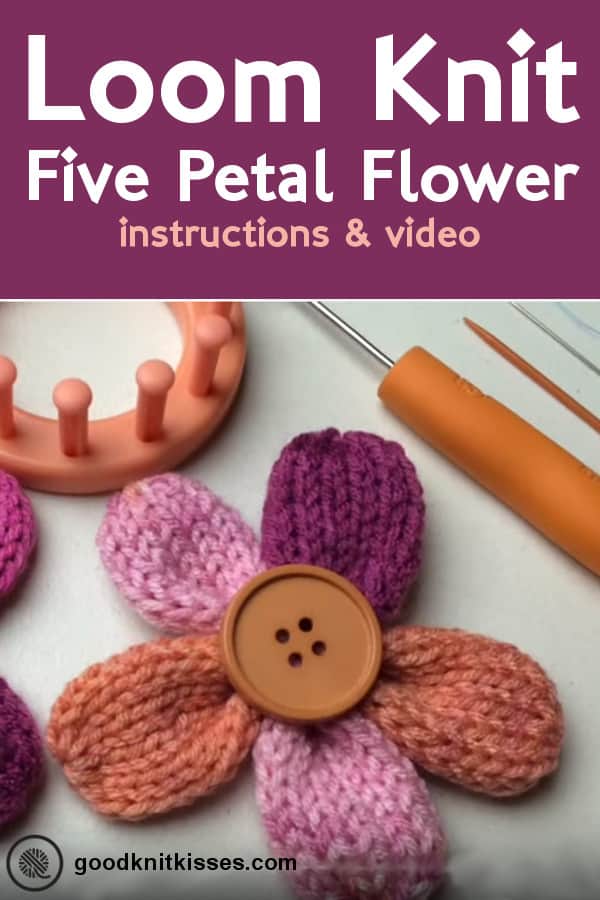 DOWNLOAD a copy of her pattern HERE: Five Petal Flower By Denice Johnson (Loom Knit Pattern)
We hope you enjoyed the Five Petal Flower for the loom. Be sure to post a photo on social media and tag #DeniceJohnson or @GoodKnitKisses to spread the loomy love!
Happy Looming!! -Kristen
(Editors notes: Use U-knit stitch and NOT an E-wrap stitch per Denise's recommendation. Pattern only altered slightly from Original file by Denice to fit format and style of GoodKnit Kisses and few grammatical corrections.)
Video loom along tutorial courtesy of permission by Denice Johnson. Thank you Denice!
Subscribe to GoodKnitKisses YouTube and we'll keep your inbox in stitches!