The Quick Knit Flower is another new pattern by Denice Johnson and promises to one of the easiest flowers you will make on a loom! Get your flower looms ready for this quick knit flower because it is so fast it may just make itself. Thanks again, Denice! -Kristen Mangus
Design by Denice Johnson
The quick knit flower is something that you can throw together fast when you're short on time and have little yarn to work with.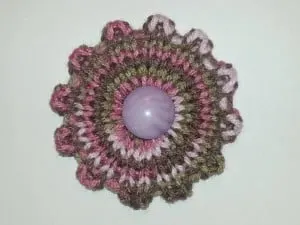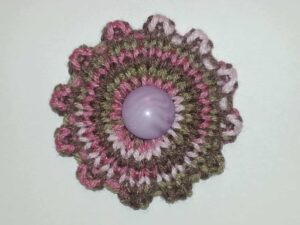 Knitting Loom:
24 peg round loom (Small Round loom LG Large Gauge 5/8″)
Yarn: Medium weight in any color
Notions:
Knitting tool
Tapestry needle
Accent button
Abbreviations:
K – Knit stitch
Pattern note:
Use one strand throughout the entire project, pattern is worked in the round.
Instructions:
E-wrap cast on 24 pegs, work in the round
Rounds 1-6:knit to the end of round
Round 7: knit peg 1, knit peg 2, place the stitch from peg 2 on peg 1 and knit over
place yarn over peg 2, knit peg 3, knit peg 4, place the stitch from peg 4 on
peg 3 knit over. Repeat for the remainder of the row.
Rounds 8-13: knit to the end of round
Round 14: bring up cast on row and place on pegs, knit one row
Finishing:
Using gathered bind off, bind off all pegs.
Tighten and tie string end and cut. This will be the bottom of the flower.
Give the flower a little tug at picot edges.
Secure flower at the middle with the accent button to your project.
©2015, Denice Johnson
DOWNLOAD a copy of her pattern HERE: Quick Knit Flower by Denice Johnson)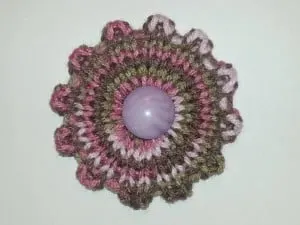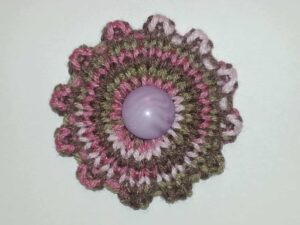 We hope you enjoyed the Quick Knit Flower for the loom. Be sure to post a photo on social media and tag #DeniceJohnson or @GoodKnitKisses to spread the loomy love!
Happy Looming!! -Kristen
(Editors notes: Use U-knit stitch and NOT an E-wrap stitch per Denise's recommendation. Pattern only altered slightly from Original file by Denice to fit format and style of GoodKnit Kisses and few grammatical corrections.) If you knit loosely I'd recommend the flat knit.
Video loom along tutorial courtesy of permission by Denice Johnson. Thank you Denice!
http://youtu.be/7Gvpq0TNiFc?list=UUnX7UcR442IoFPhBK9pPJew